PLANET OF PERIL (45)
By: Lynn Peril
December 18, 2019
This is the final installment in a long-running, much-admired series of posts, about forgotten fads and figures, by historian and HILOBROW friend Lynn Peril.
*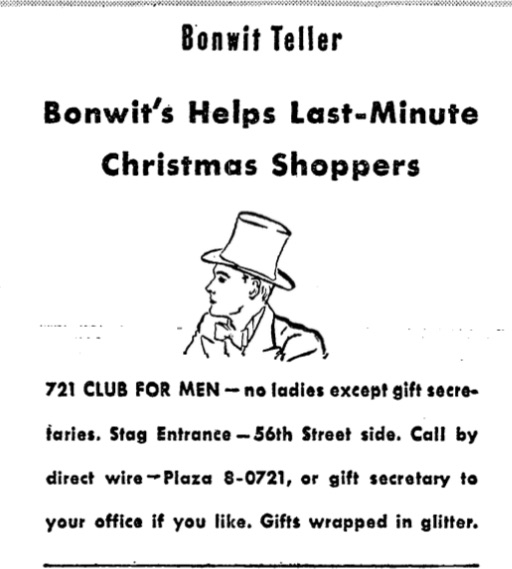 STAG SHOPPING
A recent article in the New York Times described how luxury department stores in Manhattan and elsewhere have added a new perc to draw customers out from behind their computer screens and onto sales floors: "the spiffy, up-to-date cocktail bar." A customer at Nordstrom, where the Shoe Bar, located near ladies footwear, was a big hit, thought it was "a great idea if you want to bring your husband shopping." The store's food and beverage director wondered, "Why didn't we do this a long time ago?"
Of course, nothing is new under the sun. The confluence of husbands, shopping, and booze was a mainstay of the men-only pop-up stores that were a regular part of the holiday shopping season across the United States from the 1920s until the early 1970s.
An unstated but frequently alluded to assumption behind the shops was that men were total dolts when it came to buying presents for the women in their lives. They were unable to remember a wife or sweetheart's size or learn, even in passing, any of the minutiae of women's wear. At a "posh" department store's men-only Christmas shop, a man discovered "that a boa is not necessarily a large snake" and that "St. Laurent" was "not a way-out stop on the… commuter train," according to a 1966 news story. (Boas seemed to have been a sticking point. A decade earlier, the same store reported that only requests it was unable to fulfill were those for a feather boa and a voodoo doll. Regarding the latter, one has to wonder just who the wife planned to use it on.)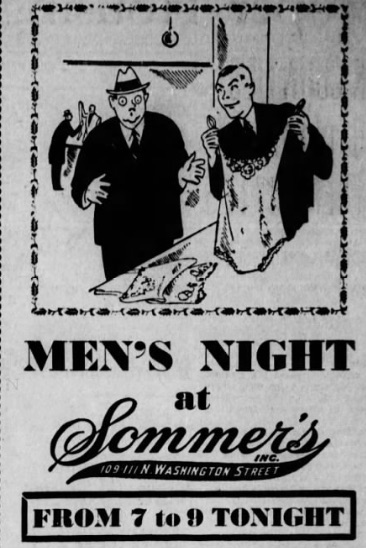 Men-only shopping nights originated in the 1920s, a sales gimmick developed in part because it was difficult for working men to get to the store during daylight hours. A Women's Wear Daily article from 1927 described how "secret shopping nights" had taken on the air of social functions, with invitations sent to men's clubs, and stores providing cigars and cigarettes to the shoppers. No women were admitted. Men could shop for gifts for wives and sweethearts "without embarrassment as only men" would be behind the counters. Sommer's, a women's apparel shop in Green Bay, Wisconsin, played up this kind of male camaraderie in a newspaper ad for its stag night event in 1931. "Not a Female in Sight! Can you imagine surroundings more perfect in which to do your Christmas shopping? Think of it!" There would be free cigars. "Better Drop In … All the Boys Will Be here!" A cartoon illustration showed one man's flustered reaction as a fellow shopper held a women's flimsy undergarment against his torso. Men-only events not only saved shoppers from the awkwardness of lingerie and perfume but also from "braving the female precincts of the sales floors" with its "crowd of frantic, elbowing women."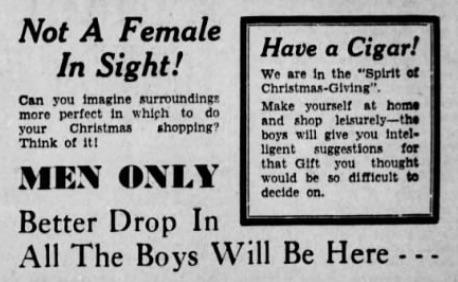 The addition of sexy salesladies and free cocktails may have been an innovation of Bonwit Teller's 721 Club, accessed by a special entrance, and named for the Manhattan store's address on Fifth Avenue. Any man could join the 721 Club, explained the Boston Globe in 1954. All he had to do was show up and say, "I want to buy a gift" for his "wife, mother, girlfriend, or secretary." He would be escorted to a table, and introduced to a "gift secretary — and all of the gift secretaries are models. A model is always a beautiful girl." The shopper could "order a cocktail or a highball on the house, place his problem in the hands of the gift secretary, sip his drink and sit back and relax." After he made a selection, the gift was wrapped in signature gold and silver paper. Thus, his "chore" was completed and he could "forget about Christmas presents for women" until the following year. "Man is King in Bonwit's 721 Club," proclaimed a mid-'60s ad, "and everyone is ready to jump through hoops to do Man's bidding in our Strictly-Men-Only shop."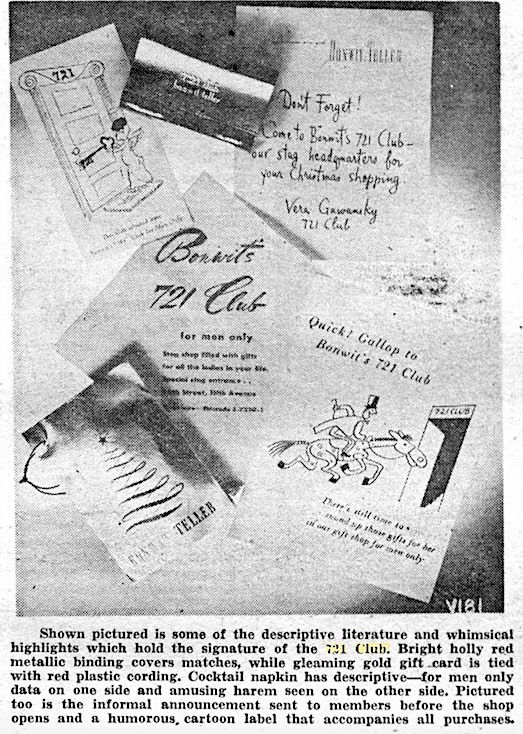 The 721 Club opened every year just after Thanksgiving and ran until Christmas Eve. From its inception in 1933 until what Women's Wear Daily referred to as the "war situation" led to its discontinuation in 1942, the event kicked off with an early evening "stag party." Held in a room arranged "cabaret style," with round tables and chairs scattered around a runway, attendees sipped cocktails and watched a fashion show "featuring models from stage, screen, and magazines." The parties were wildly popular. In 1937, 1500 men attended, as did fashion designer Elsa Schiaparelli, the only female guest. Seven hundred showed up the following year, and again in 1940. That year, to the "strains of sweet music, a series of Christmas scenes were enacted by the 'Lovelies' — the most beautiful models in advertising and illustration."
No doubt eyeing these big turnouts, other department stores opened their own men-only holiday shops throughout the late 1940s and '50s. There was the "Stag Shop" at Saks Fifth Avenue, the "57th Street Club for Men Only" at Milgrim's, "Man's World" at Gimbels. McCreery's "Wise Men's Shop" was "designed to encourage the blundering male to pick the right gifts for each of his female recipients." He was met at the door by a page (whose job in part was "to keep the women out"), then "taken in hand by one of 15 attractive 'McCreery's Belles,' secretary-girls, easily identified by their cheerful red dresses, and bell corsages." Women could fill out "Hint Slips" that McCreery's would make sure got to their husbands.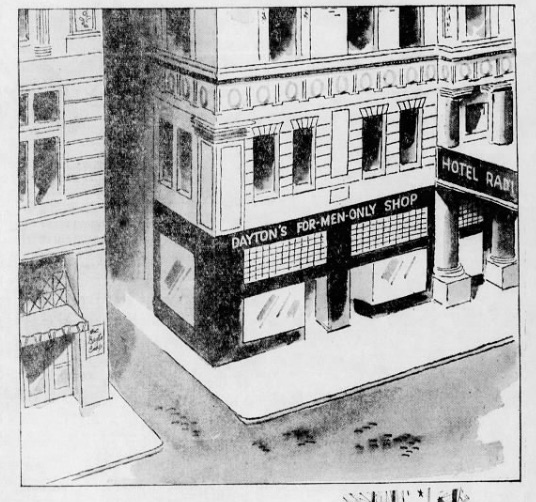 A young woman who worked as a salesgirl at the men-only holiday shop at Carson Pirie Scott in Chicago told her hometown newspaper in 1947 that it "was nothing" to help a man "select 35 or 40" presents in an afternoon. One of her coworkers sold $1700 worth of gifts to a "Texas oil man" in two hours. (Carson's offered men shoppers coffee and cookies. No booze was mentioned.)
Women liberationists began to infiltrate male-only restaurants and bars in the late 1960s. In 1971, New York's Human Rights Commission informed both the 721 Club and Saks's Stag Shop that their men-only status might run afoul of federal laws prohibiting discrimination. Along with other men-only shops across the country, they went coed. Now the 721 Club was advertised as "For men who need it and women who dare." According to a Miami News gossip columnist, the first female customer to visit the Manhattan 721 Club "brought her kids and proceeded to get bombed."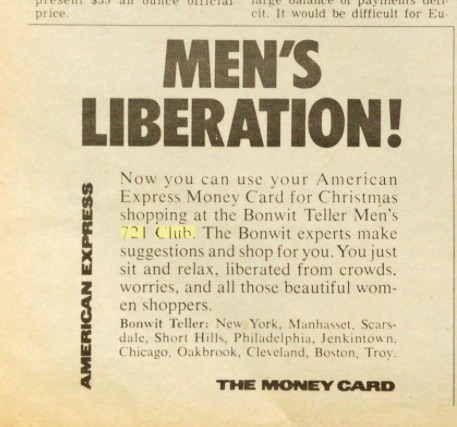 ***
PLANET OF PERIL: THE SHIFTERS | THE CONTROL OF CANDY JONES | VINCE TAYLOR | THE SECRET VICE | LADY HOOCH HUNTER | LINCOLN ASSASSINATION BUFFS | I'M YOUR VENUS | THE DARK MARE | SPALINGRAD | UNESCORTED WOMEN | OFFICE PARTY | I CAN TEACH YOU TO DANCE | WEARING THE PANTS | LIBERATION CAN BE TOUGH ON A WOMAN | MALT TONICS | OPERATION HIDEAWAY | TELEPHONE BARS | BEAUTY A DUTY | THE FIRST THRIFT SHOP | MEN IN APRONS | VERY PERSONALLY YOURS | FEMININE FOREVER | "MY BOSS IS A RATHER FLIRTY MAN" | IN LIKE FLYNN | ARM HAIR SHAME | THE ROYAL ORDER OF THE FLAPPER | THE GHOST WEEPS | OLD MAID | LADIES WHO'LL LUSH | PAMPERED DOGS OF PARIS | MIDOL vs. MARTYRDOM | GOOD MANNERS ARE FOR SISSIES | I MUST DECREASE MY BUST | WIPE OUT | ON THE SIDELINES | THE JAZZ MANIAC | THE GREAT HAIRCUT CRISIS | DOMESTIC HANDS | SPORTS WATCHING 101 | SPACE SECRETARY | THE CAVE MAN LOVER | THE GUIDE ESCORT SERVICE | WHO'S GUILTY? | PEACHES AND DADDY | STAG SHOPPING.
MORE LYNN PERIL at HILOBROW: PLANET OF PERIL series | #SQUADGOALS: The Daly Sisters | KLUTE YOUR ENTHUSIASM: BLOW-UP | MUSEUM OF FEMORIBILIA series | HERMENAUTIC TAROT: The Waiting Man | KIRB YOUR ENTHUSIASM: Young Romance | CROM YOUR ENTHUSIASM: Fritz Leiber's Conjure Wife | HILO HERO ITEMS on: Tura Satana, Paul Simonon, Vivienne Westwood, Lucy Stone, Lydia Lunch, Gloria Steinem, Gene Vincent, among many others.