PLANET OF PERIL (24)
By: Lynn Peril
January 8, 2018
One in a series of posts, about forgotten fads and figures, by historian and HILOBROW friend Lynn Peril.
*
IN LIKE FLYNN
Her story was almost a cliche, even by 1942 standards. Seventeen-year-old Betty Hansen left home in Lincoln, Nebraska, and moved to Hollywood, hoping to make it in the movies. She got a job in a drug store, where she met three young men who worked in the film industry. When one of them said he could introduce her to swashbuckling film star Errol Flynn, she didn't hesitate to say yes. She would do anything to break into pictures.
So it was that on September 27, 1942, the "movie struck waitress," as the papers dubbed her, found herself at a dinner party with the great star himself. "After dinner, I didn't feel so good," she later testified, "It must have been the cocktail I drank." She went into another room to lie down. Flynn appeared, and led her to an upstairs bedroom. He locked the door, undressed her, removed his own clothing (except for his shoes), and they had "illicit relations." Flynn kissed Betty before he left, and promised to call her the following night. He didn't.
Betty's story was splashed across the newspapers when the Los Angeles District Attorney brought a statutory rape charge against Errol Flynn. He was "bewildered," he told the press. "I can't understand it. I hardly touched the girl." Privately, he believed he was being "shaken down" by a district attorney bent on punishing the studio he worked for.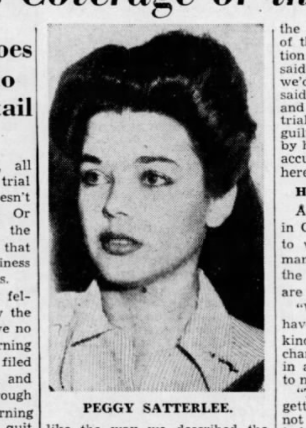 Another girl stepped forward a week later. Actress and showgirl Peggy Satterlee said Flynn had forced himself on her during a cruise on his yacht, the Sirocco, with a photographer from Life magazine during August 1941. She was 15 years old at the time.
Peggy said that Flynn gave her a glass of milk with rum in it. She kissed him goodnight and went downstairs to her cabin. Flynn burst in, undressed her, "and attacked her." The following night, Flynn lured her below decks by telling her "the moon looks prettier through a porthole. Come down and see." When she arrived, Flynn pushed her on to a bunk and "attacked her again," she said. Her mother complained to the sheriff's department the day after the cruise, but they declined to investigate.
The grand jury also refused to indict Flynn. "With my consent?" Betty Hansen responded when questioned about the events at the dinner party. "Why, of course, with my consent." District Attorney John F. Dockweiler was undeterred: "It doesn't matter whether she consented to these acts or not. She's underage. That's statutory rape under California law." Trial began on January 11, 1943, before a jury consisting of nine women, and three men.
Flynn hired celebrity attorney Jerry Geisler, who promptly put the girls' behavior and morals on trial. In the clinical words of the courtroom, Betty had participated in "the act of copulating with the mouth… the sex organ of another" person. Actually, she had done this with all three of the young men she met at the drugstore. Peggy had "undergone an illegal operation [an abortion, of course] at behest of a man she hoped would not be prosecuted."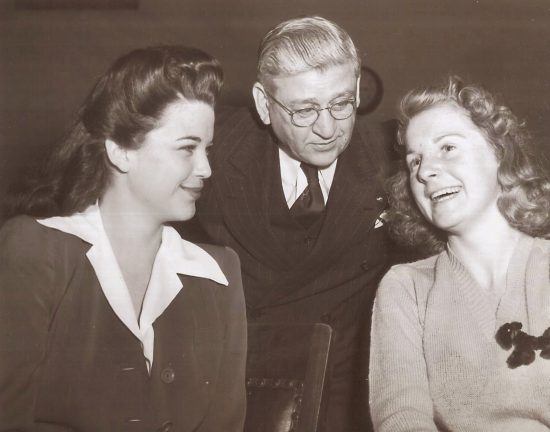 Salacious details filled the newspapers, titillating a war-weary public. Satterlee's rent was paid by her 43-year-old boyfriend, a Canadian serviceman whose pet name for her, she said, was "Strumpet." Surely she meant crumpet, one of the prosecutors interrupted. Geisler countered that strumpet was exactly what she meant. Peggy concurred. "I did say strumpet. It is a kind of English muffin." Geisler put the boyfriend on the stand, where he confirmed that the two of them had visited a morgue, where Satterlee "played hide-and-seek among the corpses."
Geisler also brought out that Flynn called Peggy "J.B." (for jail bait) and "S.Q.Q." (for San Quentin Quail). She knew that these terms "meant that if a man had relations with an under-age girl, he went to jail."
Geisler brought in experts to show that it was "impossible" for Satterlee to have seen the moon through the porthole (as if that had been the point of her visit below decks to begin with), and that it was "impossible" for the bedroom door to have been locked as Hansen said it had been.
Flynn took the stand and denied he had sexual intercourse with either girl. Before they retired to deliberate, the judge reminded the jury that Betty's oral copulation of the boys at the studio and Peggy's abortion both counted as felonies under California law.
Flynn was acquitted of all charges on February 6, 1943. He had received over 16,000 letters of support from female fans during his ordeal. Sounding a bit like one of them, Betty Hansen's mother said she had "no hard feelings" towards Flynn and pronounced her daughter "a clean little Christian girl."
"I think it's horrible," said Peggy Satterlee. "I knew those women on the jury would acquit him. They sat there and looked at him adoringly just like he was their son or something. They never did believe he was guilty." Two days before her seventeenth birthday, she felt "like a broken old woman" and wished "police had left me out of this altogether."
It wouldn't be the first or last time an overzealous D.A. with an axe to grind picked the wrong witnesses to bolster his case against a celebrity. Of course, Flynn's acquittal never meant he was innocent. A 1945 FBI memo noted that "it was well known that the actor was having relations with young girls" and had on at least one occasion raped an actress who had been slipped a mickey (as a result, the young woman tried to commit suicide).
Flynn's reputation slipped after the trial, but his interest in young women never wavered. He married his third wife, Nora Eddington, in August 1944. They met during his trial, when she was a 19-year-old working behind the cigarette counter at the courthouse where the trial took place. It was almost as if he was trolling the FBI agents who tailed him.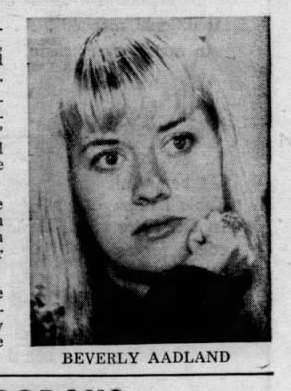 Flynn was long divorced from Eddington and separated from his fourth wife, when in 1957 he noticed a long-legged blonde working as an extra on the set of Marjorie Morningstar. Her name was Beverly Aadland and she was 15 years old. Flynn asked if she'd like to read for a part in a play.
It was all a ruse, she told People magazine in 1988. The part had already been given to someone else. She and Flynn went to dinner, where she had a little saki. When they arrived back at the estate where Flynn was staying, he invited her to lie down on a bearskin rug. "I knew next to nothing about sex," she told People. "I didn't know what was happening at first — I thought he was just trying to kiss me. He knew so many women who would say yes that when I was saying no, no, no, he thought I meant yes…. I was scared. He was just too strong for me. I cried. At one point he tore my dress. Then he carried me off to another room, and I was still carrying on." When it was over, and he realized Beverly was a virgin, he became "very unglued, extremely apologetic." She "felt used and abused," and went home in tears.
She nevertheless agreed to see him the next night, thus beginning the last relationship of Flynn's life. This time, perhaps because Beverly's star-struck mother approved of the relationship, law enforcement looked the other way. (Florence Aadland's memoir of her daughter's relationship with Flynn, The Big Love (1961) is jaw-dropping in every respect, not least for its famous opening line: "There's one thing I want to make clear right off: my baby was a virgin the day she met Errol Flynn.") Beverly seemingly adored Flynn, and he was true to her in his fashion. She was at his side when he died in 1959. Decades later, married to a construction supervisor since 1971, Beverly told interviewers she'd still be by Errol Flynn's side if he were alive.
Early in their relationship, Beverly asked him about the rape trial. Flynn "said he was innocent, that he never slept with one of them and that he didn't know the other's true age. I doubt that he attacked them," Beverly concluded, conveniently forgetting the facts of her first encounter with him.
Near the end of his life, Flynn told a reporter that he wanted to play alongside Beverly in a film version of Vladimir Nabokov's Lolita. "I just can't understand why people should think I wouldn't be the ideal actor for the job."
***
PLANET OF PERIL: THE SHIFTERS | THE CONTROL OF CANDY JONES | VINCE TAYLOR | THE SECRET VICE | LADY HOOCH HUNTER | LINCOLN ASSASSINATION BUFFS | I'M YOUR VENUS | THE DARK MARE | SPALINGRAD | UNESCORTED WOMEN | OFFICE PARTY | I CAN TEACH YOU TO DANCE | WEARING THE PANTS | LIBERATION CAN BE TOUGH ON A WOMAN | MALT TONICS | OPERATION HIDEAWAY | TELEPHONE BARS | BEAUTY A DUTY | THE FIRST THRIFT SHOP | MEN IN APRONS | VERY PERSONALLY YOURS | FEMININE FOREVER | "MY BOSS IS A RATHER FLIRTY MAN" | IN LIKE FLYNN | ARM HAIR SHAME | THE ROYAL ORDER OF THE FLAPPER | THE GHOST WEEPS | OLD MAID | LADIES WHO'LL LUSH | PAMPERED DOGS OF PARIS | MIDOL vs. MARTYRDOM | GOOD MANNERS ARE FOR SISSIES | I MUST DECREASE MY BUST | WIPE OUT | ON THE SIDELINES | THE JAZZ MANIAC | THE GREAT HAIRCUT CRISIS | DOMESTIC HANDS | SPORTS WATCHING 101 | SPACE SECRETARY | THE CAVE MAN LOVER | THE GUIDE ESCORT SERVICE | WHO'S GUILTY? | PEACHES AND DADDY | STAG SHOPPING.
MORE LYNN PERIL at HILOBROW: PLANET OF PERIL series | #SQUADGOALS: The Daly Sisters | KLUTE YOUR ENTHUSIASM: BLOW-UP | MUSEUM OF FEMORIBILIA series | HERMENAUTIC TAROT: The Waiting Man | KIRB YOUR ENTHUSIASM: Young Romance | CROM YOUR ENTHUSIASM: Fritz Leiber's Conjure Wife | HILO HERO ITEMS on: Tura Satana, Paul Simonon, Vivienne Westwood, Lucy Stone, Lydia Lunch, Gloria Steinem, Gene Vincent, among many others.