PLANET OF PERIL (25)
By: Lynn Peril
February 12, 2018
One in a series of posts, about forgotten fads and figures, by historian and HILOBROW friend Lynn Peril.
*
ARM HAIR SHAME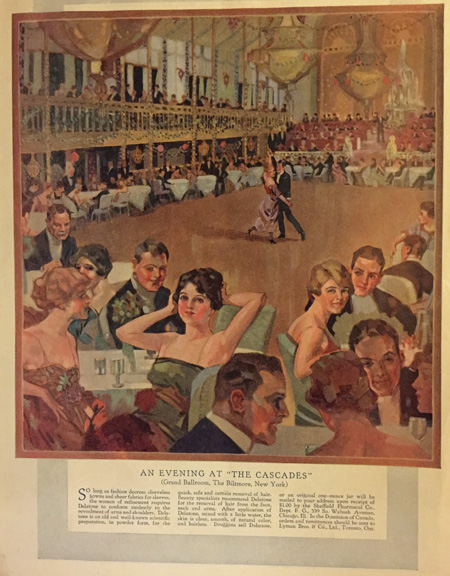 A full-color ad took up the entire inside back cover of the July 1918 issue of The Modern Priscilla, a women's magazine devoted to "Home Needlework and Everyday Housekeeping." Set in the glamorous Cascades ballroom at New York's Biltmore Hotel, a woman wearing a fashionable spaghetti-strapped dress leans back in her chair, while a pair of exhibition dancers foxtrot behind her, à la Vernon and Irene Castle. With both hands she reaches for her hair, done up in what almost appears to be the daring new style called a bob. "Look at us!" her exposed underarms fairly shout, "We're naked!"
The ad for Delatone, a powdered depilatory, is one entry in what Christine Hope dubbed "The Great Underarm Campaign" in her seemingly definitive 1982 essay "Caucasian Female Body Hair and American Culture." Based on her survey of Harpers' Bazaar and McCall's magazines, Hope found that advertisers mounted "an assault on underarm hair" that lasted for approximately four years between 1915 and 1919, the beginning of an American obsession with female armpits that has yet to abate.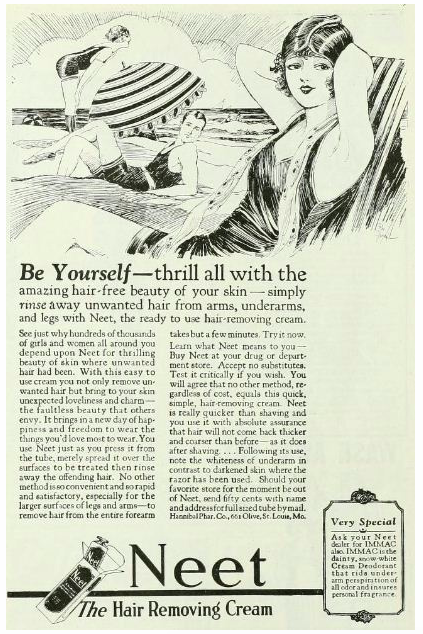 The newly bare evening dresses and beach fashions demanded hair-free armpits, or so the hair removal industry insisted. "Evening gowns must be sleeveless, or made with the merest suggestion of gauzy sleeves of tulle or lace," noted a 1915 ad for Gillette's Milady razor, illustrated with a drawing of a woman in a toga-like gown coyly exposing one of her pits. "The Woman of Fashion Says — The underarm must be smooth as the face," the copy concluded. Ads for depilatories showed women at dances, at the beach, playing basketball — all exposing their smooth and hairless underarms. A 1919 ad for X. Bazin, a depilatory by then available for a half century or so, cheekily claimed "It Made The Sleeveless Gown Possible."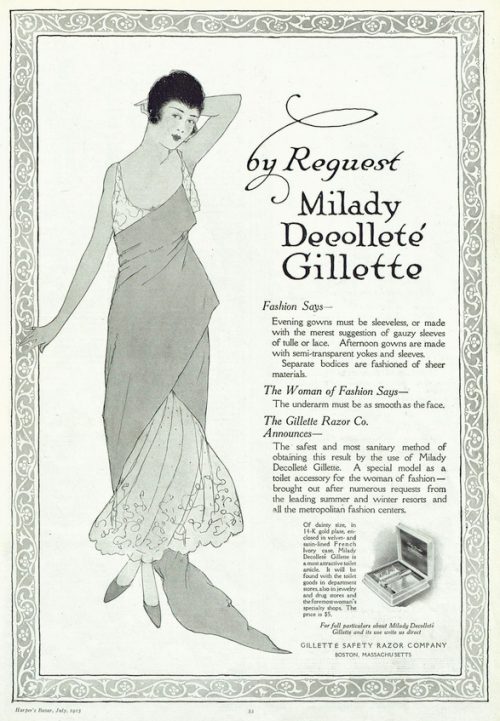 Men's gym suits and bathing outfits from this era were designed with attached tank tops that covered "objectionable" chest hair, but left the arms bare. Swimsuit ads often showed men's armpits as discreetly shadowed — something was there, but it was hard to tell what it was — or streamlined and naked, though manufacturers never pounced on this market with the vigor it reserved for women. (Delatone avoided the issue altogether in a 1920 ad wherein a bathing beauty shows off her underarms, while her beach date demurely sits fully clothed beside her.) Of course, hyper-reinforcement of secondary sexual characteristics was and is used to sell all manner of product: men's underarm hair is rugged and manly, women's is unfeminine and ugly, and must be removed, ideally with the depilatories or razors that we are selling.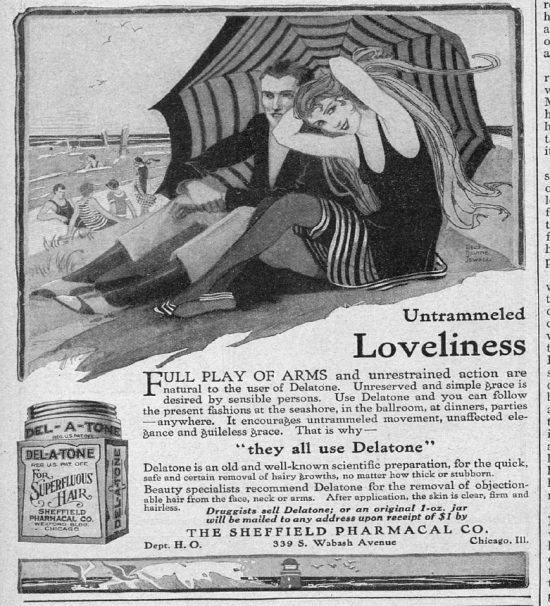 Hope suggests that prior to 1915, "very little of the body was actually visible" in the fashions of the day and thus the removal of "body hair was probably of little direct concern to most American women." Underarms were all covered up in 1908, yet that year an ad for X. Bazin appeared several times in Red Book magazine, a general interest publication, showing a woman holding a dumbbell overhead, her hairless underarm exposed for all to see.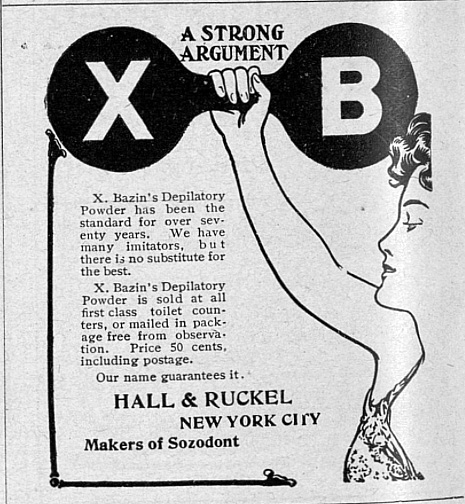 While mass-produced clothing and display advertising were all more readily available in the early flapper era, it was not the first time that sleeveless dresses were popular. There is evidence to suggest that the women who wore them sought out methods to remove unwanted hair.
Beginning in the mid-1880s, the trendy sleeveless ball gown showed naked arms along with an expanse of back and bust. As with flapper fashions and miniskirts to come, the public was initially outraged. An 1885 newspaper item on the doings of "High Society in Washington" decried the "low-necked, or no-necked, sleeveless dress" which left "vulgarly fat arms, pitifully thin and hairy arms exposed with an abandon that would do credit to the most celebrated exponents of the naked drama." Writing about "Autumn Fashions" in D.C.'s Evening Star newspaper in 1883, writer Jenny June clutched her pearls so hard it's a wonder she didn't strangle herself. "The length of the bare arm [in a sleeveless dress] and the exposure of its hollow and the socket in which it moves" revealed "too much of the machinery of the human form." Nothing could be more "vulgarizing" than such a display. One could "hardly imagine that any woman would subject herself to the comments" that her bare arms "would naturally excite." She provided a cautionary tale:
A well authenticated story is told of a fashionable married woman — not a beauty, but with superb arms — who in 'full' evening dress, bust exposed and arms bared to the shoulder, left a private party to 'see' a 'French' ball 'just for fun,' with a young unmarried man who was her cavalier for the evening. The license of the dancers and the sort of fun she saw made her feel that she had gone too far and done perhaps an imprudent thing, so she endeavored to beat a hasty retreat. Near the door she encountered a man in full evening dress, a stranger, who slapped her familiarly… making at the same time an insulting remark. Before the words were out of his mouth, his burly form was stretched out on the floor by a well-directed blow from the hand of the gentleman in attendance.
June followed up with some classic slut shaming. "But who was most to blame? The brute who simply acted out his own coarse instincts, or the lady who so misrepresented the refinement, the intelligence, the purity of her sex and station as to be mistaken for one of its most degraded examples?"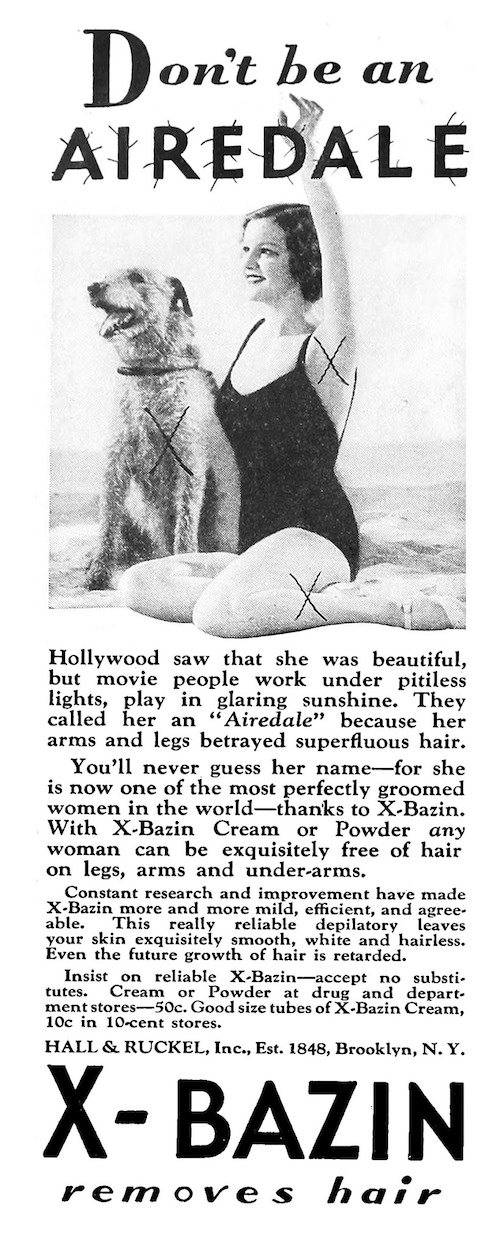 Body hair might well be considered part of the machinery of the human form that June and others found so very vulgar. How did society women deal with so-called "superfluous" hair in the 1880s? Like their descendants today, they visited an esthetician — or as The New York World called one such worker in 1889, "A Metropolitan Beauty Doctor":
Of all the remarkable things done by this very remarkable woman that of dressing a lady's arm exceeds everything else. Some otherwise beautiful arms are marred by a light growth of hair… [so that] it is necessary to pluck the arms before the fair creature can appear in evening dress. In this operation the madame [as the beauty doctor preferred to be called] is an expert. She goes over the arm with a pair of tweezers on the day of the opera, ball, or carpet party, and drawing out the darker hair from shoulder to wrist, resorts to some delicate paste [i.e., a depilatory] to conceal the down that remains.
Such visits were "kept profoundly secret." They were not cheap, though one woman tried to cut expenses by paying Madam "$100 a year to dress her right arm only" and did the left herself. (Madam also shaped eyebrows and provided electrolysis, sounding much like her modern counterparts.)
Did Madam simply stop at the top of a client's shoulder and ignore the dainty bird's nest beneath? Did women attending dances in sleeveless ball gowns keep their arms at their sides, after spending all that time and money having all but their pits plucked hairless (ow, ow, and ow)? Probably not, though that remained strictly between Madam and client.
***
PLANET OF PERIL: THE SHIFTERS | THE CONTROL OF CANDY JONES | VINCE TAYLOR | THE SECRET VICE | LADY HOOCH HUNTER | LINCOLN ASSASSINATION BUFFS | I'M YOUR VENUS | THE DARK MARE | SPALINGRAD | UNESCORTED WOMEN | OFFICE PARTY | I CAN TEACH YOU TO DANCE | WEARING THE PANTS | LIBERATION CAN BE TOUGH ON A WOMAN | MALT TONICS | OPERATION HIDEAWAY | TELEPHONE BARS | BEAUTY A DUTY | THE FIRST THRIFT SHOP | MEN IN APRONS | VERY PERSONALLY YOURS | FEMININE FOREVER | "MY BOSS IS A RATHER FLIRTY MAN" | IN LIKE FLYNN | ARM HAIR SHAME | THE ROYAL ORDER OF THE FLAPPER | THE GHOST WEEPS | OLD MAID | LADIES WHO'LL LUSH | PAMPERED DOGS OF PARIS | MIDOL vs. MARTYRDOM | GOOD MANNERS ARE FOR SISSIES | I MUST DECREASE MY BUST | WIPE OUT | ON THE SIDELINES | THE JAZZ MANIAC | THE GREAT HAIRCUT CRISIS | DOMESTIC HANDS | SPORTS WATCHING 101 | SPACE SECRETARY | THE CAVE MAN LOVER | THE GUIDE ESCORT SERVICE | WHO'S GUILTY? | PEACHES AND DADDY | STAG SHOPPING.
MORE LYNN PERIL at HILOBROW: PLANET OF PERIL series | #SQUADGOALS: The Daly Sisters | KLUTE YOUR ENTHUSIASM: BLOW-UP | MUSEUM OF FEMORIBILIA series | HERMENAUTIC TAROT: The Waiting Man | KIRB YOUR ENTHUSIASM: Young Romance | CROM YOUR ENTHUSIASM: Fritz Leiber's Conjure Wife | HILO HERO ITEMS on: Tura Satana, Paul Simonon, Vivienne Westwood, Lucy Stone, Lydia Lunch, Gloria Steinem, Gene Vincent, among many others.