PLANET OF PERIL (35)
By: Lynn Peril
January 10, 2019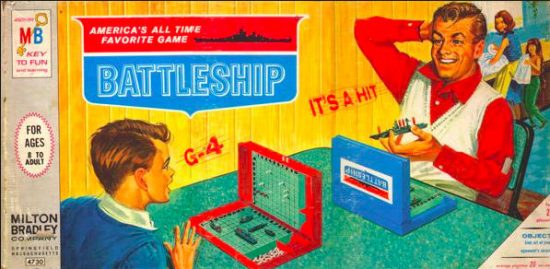 One in a series of posts, about forgotten fads and figures, by historian and HILOBROW friend Lynn Peril.
*
ON THE SIDELINES
A friend recently pointed out to me that the cover illustration on the Battleship board game from 1967 depicts dad and son having fun while mom and sis look on approvingly from the kitchen — where they are doing the dishes. I remember playing Battleship, probably a few years after the game was released (certainly at someone else's house as there is no way my WWII naval combat survivor father would have allowed it in ours). I already sensed, at a very early age, that some things about being female were unfair, but the cozy after-dinner scene on Battleship's box cover didn't register as one of them.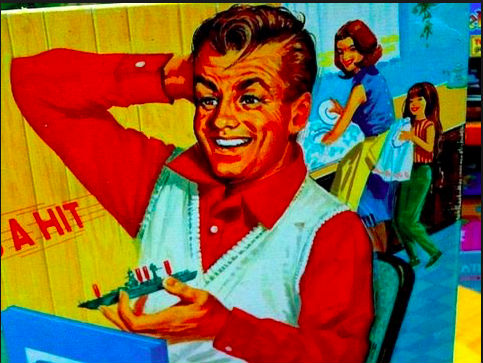 Why would it have? Images of girls and women sitting on the sidelines while they watched boys and men doing things were ubiquitous in mid-twentieth century advertising. Sometimes a girl watched her brother do things, like play the organ, shoot a pellet gun inside the house, or blow up an incredibly phallic balloon. Sometimes, as in a very odd ad that appeared in a 1958 issue of Boy's Life, a girl watches a boy who watches birds while holding a typewriter on his lap. Something about her mild leer suggests he is not her brother.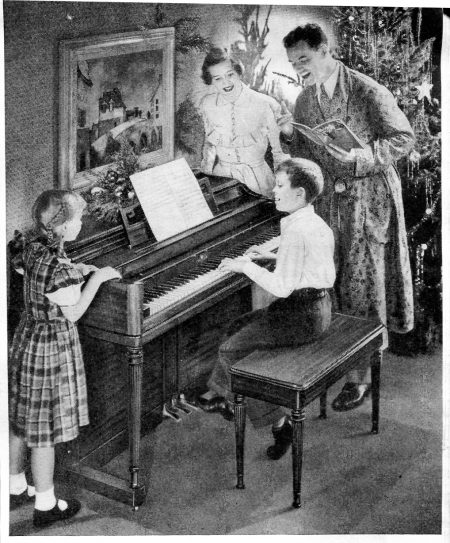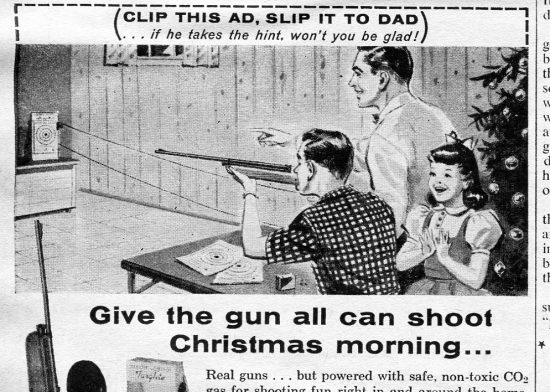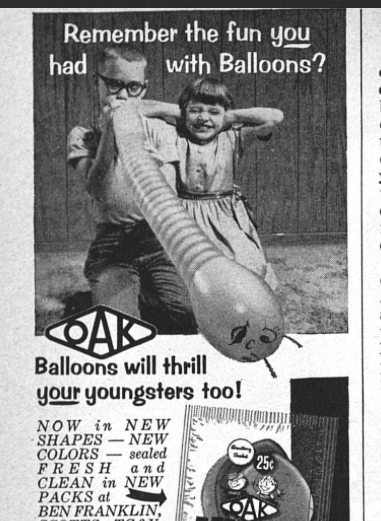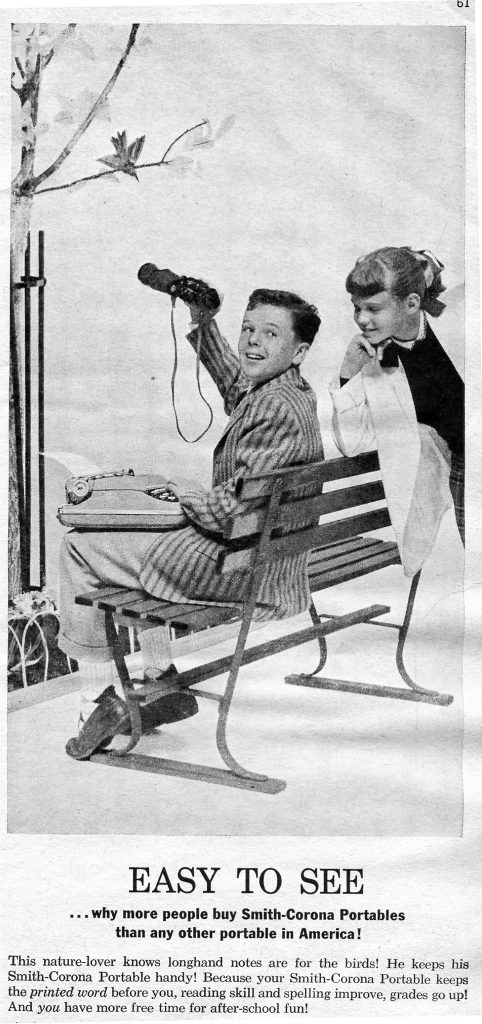 Perhaps these girls are waiting to take an unseen turn at the activity, though with the latter ad it's impossible to know whether she will watch birds or be pressed into secretarial service. But how exactly are we to read the mother who hovers omnisciently over her husband and sons as they play with a train set in a 1957 laxative ad that almost looks like a discarded episode of the The Twilight Zone?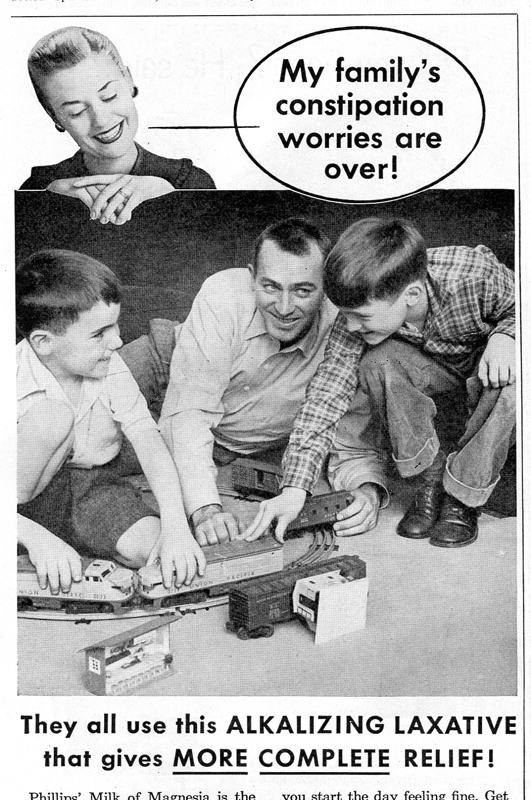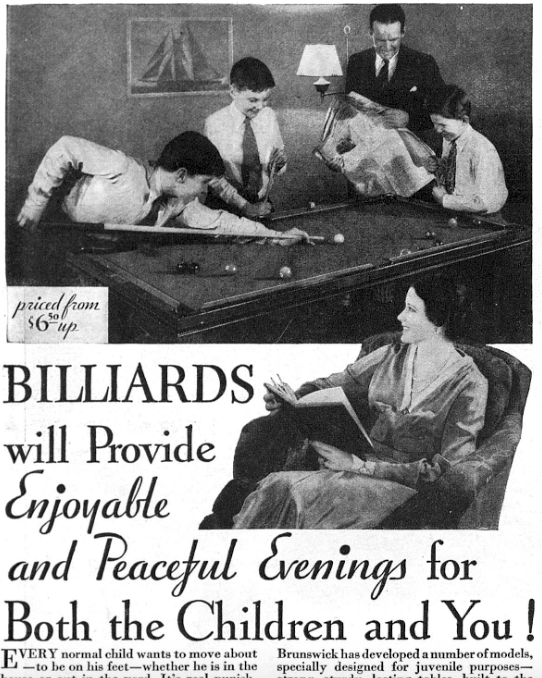 The woman gazing fondly at the men in her family as they shoot pool (wearing neckties) in a 1931 ad at least had a reason to be there. She is enjoying a "peaceful evening" while billiards provides exercise for her pent-up sons and husband. The idea that a mother might prefer to interact with a book instead of her family remains a somewhat radical one in advertising, though the copy's affirmation that the game was suitable for adults "when the spirit moves you" hints that she too might one day find herself with a cue in hand.
In fact, as far back as the turn of the twentieth century, ads for pool tables showed women and men playing together, possibly in an attempt to redeem the game from its unsavory association with gambling and sharkery, and sell tables to middle-class families. An ad from 1927 refers to billiards as providing "spirited competition without too vigorous effort." Competition that was more than merely "spirited" or involved vigorous effort ran the risk of making a woman unfeminine.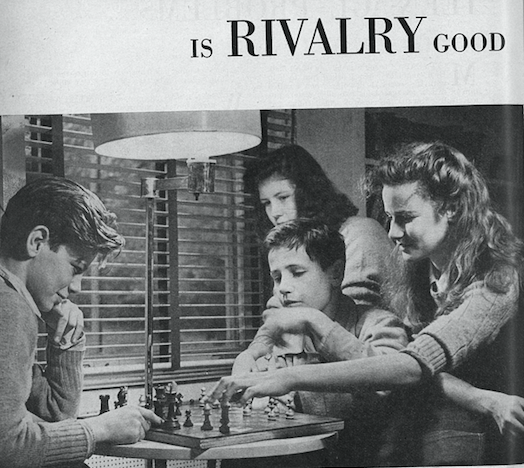 If girls and women played games and sports with boys and men, the consensus opinion of most dating experts was that nothing killed a budding relationship faster than performing better than one's date (assuming, as always in the mid-twentieth century, that everyone either was a cis-gendered heterosexual or aspired to be). "This is definitely not the time to put on an exhibition or give him a lesson, no matter how good you are," advised Datebook's Complete Guide to Dating (1960) in a chapter on "Active Sports Dates. "If you show off and show him up, you'll strike out permanently…. Never come on like a pro."
Sixteen-year-old Lois wrote to teen advice columnist Dorothy Ricker in 1956. She described herself as "a good athlete" who was better at sports than her boyfriend, and therein lay her problem. "Mother says I should always let boys win at sports. But daddy says that is being dishonest. I like my boyfriend enough that I don't want to embarrass him, but I do want to be honest. What should I do?" Ricker began by noting that when she asked readers to respond to a letter she printed from a boy complaining that his girlfriend could out-wrestle him, only a single boy wrote in to approve of the girl's "superior strength." Ricker told Lois: "Personally, I think you should let your boyfriend win, at least occasionally."
Women who sat on the sidelines cheering didn't challenge the authority of men, whether they were playing games, birdwatching, or having regular bowel movements. The very act of watching was a statement of submissive, noncompetitive femininity.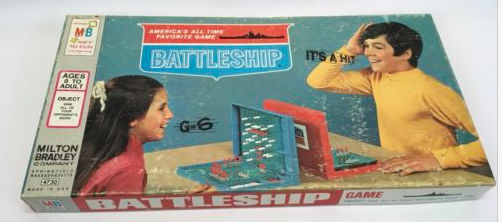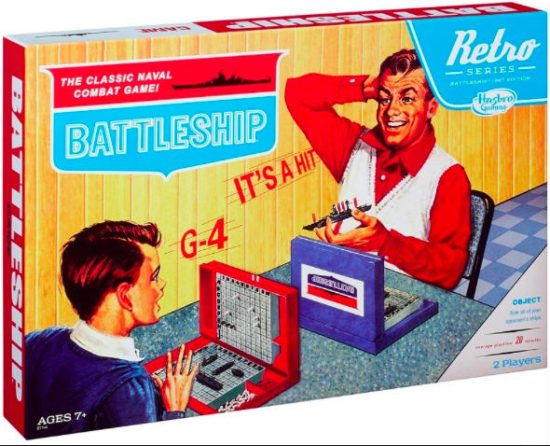 Quite likely taking a clue from the women's liberation movement, Milton Bradley updated Battleship's packaging in the late '60s or early '70s. Now, a smiling boy and girl played the game with no adults in sight. One might have imagined that when Hasbro recently released a "retro" version of its "classic naval combat game," it might have chosen this version, with happy kids dressed in perky Brady Bunch fashions enjoying some wholesome fun. Instead, they chose the 1967 cover and, in an act that in the twenty-first century it's difficult not to read more into, simply erased the problematic females.
***
PLANET OF PERIL: THE SHIFTERS | THE CONTROL OF CANDY JONES | VINCE TAYLOR | THE SECRET VICE | LADY HOOCH HUNTER | LINCOLN ASSASSINATION BUFFS | I'M YOUR VENUS | THE DARK MARE | SPALINGRAD | UNESCORTED WOMEN | OFFICE PARTY | I CAN TEACH YOU TO DANCE | WEARING THE PANTS | LIBERATION CAN BE TOUGH ON A WOMAN | MALT TONICS | OPERATION HIDEAWAY | TELEPHONE BARS | BEAUTY A DUTY | THE FIRST THRIFT SHOP | MEN IN APRONS | VERY PERSONALLY YOURS | FEMININE FOREVER | "MY BOSS IS A RATHER FLIRTY MAN" | IN LIKE FLYNN | ARM HAIR SHAME | THE ROYAL ORDER OF THE FLAPPER | THE GHOST WEEPS | OLD MAID | LADIES WHO'LL LUSH | PAMPERED DOGS OF PARIS | MIDOL vs. MARTYRDOM | GOOD MANNERS ARE FOR SISSIES | I MUST DECREASE MY BUST | WIPE OUT | ON THE SIDELINES | THE JAZZ MANIAC | THE GREAT HAIRCUT CRISIS | DOMESTIC HANDS | SPORTS WATCHING 101 | SPACE SECRETARY | THE CAVE MAN LOVER | THE GUIDE ESCORT SERVICE | WHO'S GUILTY? | PEACHES AND DADDY | STAG SHOPPING.
MORE LYNN PERIL at HILOBROW: PLANET OF PERIL series | #SQUADGOALS: The Daly Sisters | KLUTE YOUR ENTHUSIASM: BLOW-UP | MUSEUM OF FEMORIBILIA series | HERMENAUTIC TAROT: The Waiting Man | KIRB YOUR ENTHUSIASM: Young Romance | CROM YOUR ENTHUSIASM: Fritz Leiber's Conjure Wife | HILO HERO ITEMS on: Tura Satana, Paul Simonon, Vivienne Westwood, Lucy Stone, Lydia Lunch, Gloria Steinem, Gene Vincent, among many others.