PLANET OF PERIL (39)
By: Lynn Peril
June 15, 2019
One in a series of posts, about forgotten fads and figures, by historian and HILOBROW friend Lynn Peril.
*
SPORTS WATCHING 101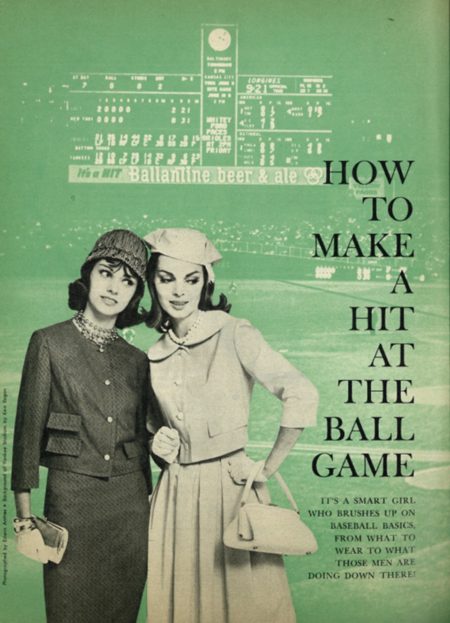 The mid-twentieth-century micro-genre of spectator sports explainers for women generally took two forms: dating advice written by women, and "how to watch" articles written by men. Learning about a game was supposed to increase the viewer's enjoyment, and there were books, pamphlets, and articles that dispassionately explained rules and history to fans who wanted to know more. Per these specialized explainers, however, women were supposed to learn the rules, not in order to enjoy the sport or activity themselves (though that may have been a real-life corollary), but so they didn't interfere with men's enjoyment by asking "stupid" questions or making other interruptions at inopportune times.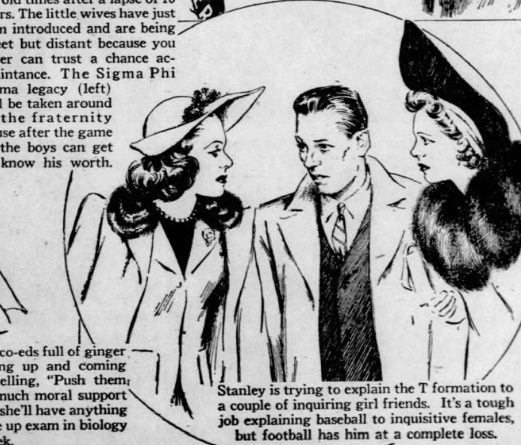 "If you want to be a popular football date," wrote Elizabeth Eldridge, author of CO-EDiquette: Poise and Popularity for Every Girl (1936), "learn something about the game." Nothing dampened "a man's enthusiasm" as much as a date who could "not understand the importance of arriving for the kick-off." Equally bad was the girl who wanted to leave early because she was cold or wanted "to set her hair for the dance," or who didn't want to "sit down because the step [i.e., bleacher seat] is dirty." But the cardinal sin was asking questions. "Don't ask obvious, endless questions," counseled Eldridge, "because if the play is tense, no one wants to stop to explain."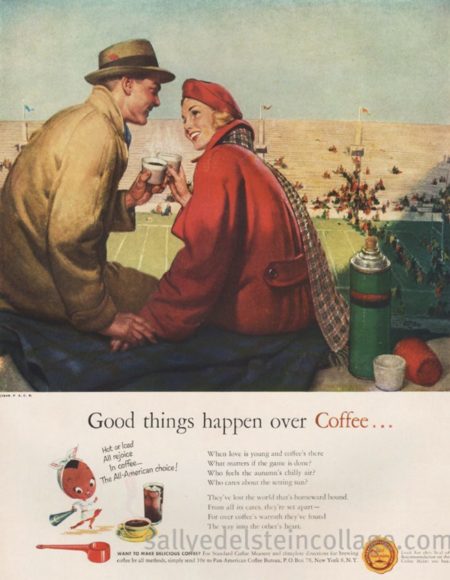 Dick Hyland, a former Stanford player turned sportswriter, called this type of woman a "throwback" and noted that many female fans were "just as rabidly interested in football as their brothers." He nonetheless led off his 1933 Good Housekeeping article on "How to Enjoy a Football Game" by describing what he clearly considered an all-too-familiar scenario:
A rabid young Harvard rooter took his best girl to the Yale-Harvard game last year. Just as Yale was about to make, or not make, a touchdown that would put his favorite team in the hole, the girl grabbed his arm frantically and, in a tense whisper that convinced him she had been shot from behind, gasped, "Look!"

His eyes swept from the desperate goal line stand being made by Harvard to the spot in the stands where she was pointing. He saw nothing.

"Look at what?" he asked, his heart still going pit-a-pat from the scare she had given him.

"'Did you ever see anyone who looked more like Buddy Rogers — it is Buddy!" she exclaimed.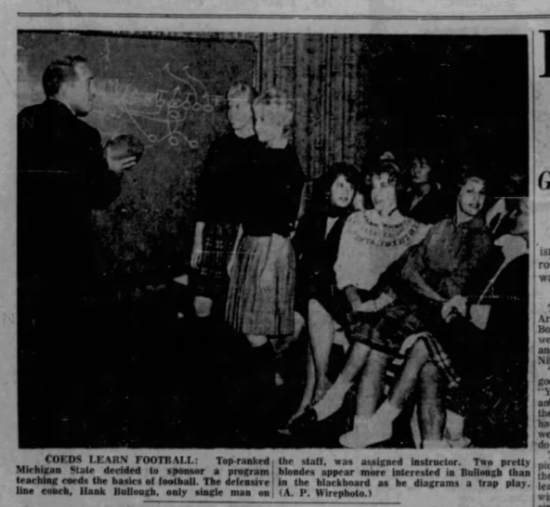 More than one college around this time actually offered classes for coeds that explained the basics of spectator sports, which formed the basis of social life on many campuses. A local newspaper reported in 1939 that seventy-five girls enrolled in Stanford's sports-watching course, then editorialized: "But might we suggest that Coach Dean instruct his pupils not to bother their escorts with silly questions… and not to expect their boyfriends to be too enthusiastic about nightclub celebrations after his team has taken a beating." A 1961 article about a football coach teaching the basics of the game to coeds at Michigan State University was brutally condescending right from the start: "'Is a touchdown really worth six points — or are there different kinds of touchdowns?' asked the pretty redhead." The photo accompanying the piece showed "two pretty blondes" who appeared "more interested" in the bachelor instructor "than in the blackboard as he diagrams a trap play."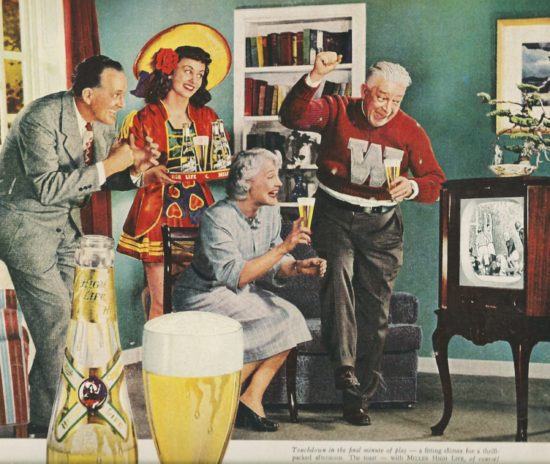 Though football was a popular subject for explaining, baseball was given the treatment as well. (There were fewer basketball explainers because, at least during the early years of the twentieth century, it was a game that college women played, albeit with special, less strenuous, "girls' rules.") "Women have more difficulty with baseball than most spectator sports," wrote Trent Frayne in a 1958 issue of Chatelaine, a Canadian women's magazine. "Hockey is bang bang. Football is crash. These things a woman can recognize on sight." Frayne went on to explain baseball's arcane and subtle rules, then finished up with something familiar. "Oh, yes. There's one final piece of vital strategy. In serving refreshments, the smart woman chooses the period between innings, the one devoted to commercials. In this respect, watching the World Series on television is just like watching any other program."
You know what women understood besides serving snacks? Laundry. That's why "A Housewife's Guide to Baseball" (1961) offered a "pre-shrunk list of the rules that govern the Great American Game." The Official Rules Book had so many pages! Eighty-five of them! All made "fascinating reading for umpires, quiz show contestants and the sort of people who devour encyclopedias, but in spite of their importance we fear there are sections… that are somewhat less than exhilarating. So don't bother your pretty wits about them; simply race through the few pages assembled here and we guarantee you'll know more about baseball than any man worth looking at twice."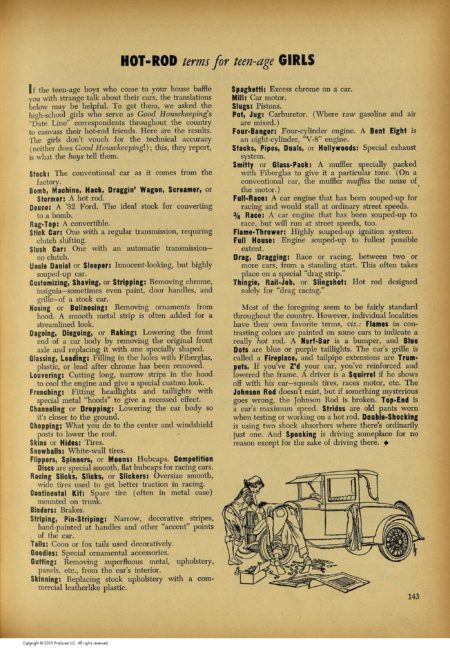 But it really didn't matter what the activity was — if it was largely associated with males, someone penned an explanation for women. Take the page of "Hot Rod Terms for Teen-Age Girls" that appeared in the September 1958 issue of Good Housekeeping. "If the teen-age boys who come to your house baffle you with strange talk about their cars, the translations below may be helpful." The glossary was compiled by GH's team of "Date Line" correspondents, a group of teen girls across the country who canvassed "their hot-rod friends" for the terms and definitions. But neither the Date Liners or GH would "vouch for their technical accuracy." They were, however, "what the boys tell them," emphasis in the original. (Perhaps the most important bit of information here was that the so-called "Johnson rod," a doubly phallic name if there ever was one, did not in fact exist.)
As always with mid-twentieth-century advice to girls and women, there was a line so fine as to be almost invisible between right and wrong behavior. "At sports events," wrote Enid A. Haupt in The Seventeen Book of Etiquette and Entertaining (1963), "the boy you're with will enjoy the date more if you know something about the game and the players. It's equally wise to appear a little unknowing, so he can instruct you — but not utterly ignorant, by doing something like turning to him in the middle of the first quarter and saying, 'What's a first down, Charlie?'"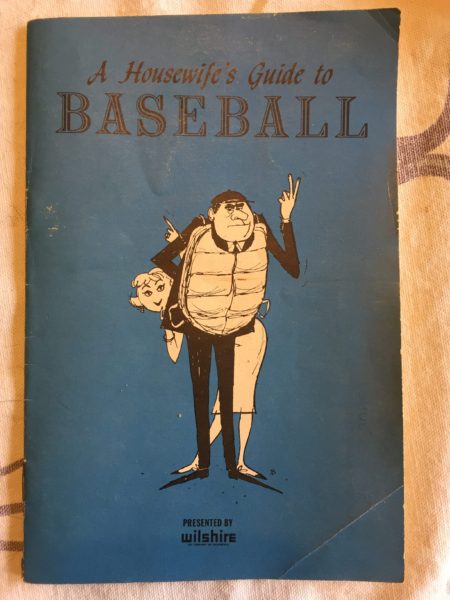 Along the same lines, authors of some sports explainers suggested their newly savvy readers temper their knowledge around the men in their lives. Once a woman finished reading "A Housewife's Guide to Baseball," she would be "in a position to look any argumentative male in the eye and say, 'Look, Mac, you don't know what you're talking about!' But, of course, you'd never do a thing like that."
"Now, no woman wants to know that much about the annual autumnal madness for the mere male has to be left some pride," wrote Trent Frayne in "How to Talk to a Man About Football" (1958). "But, by the same token, there's no reason for him to suspect he's married a mannequin. Surely, this is one case where a little knowledge isn't a dangerous thing."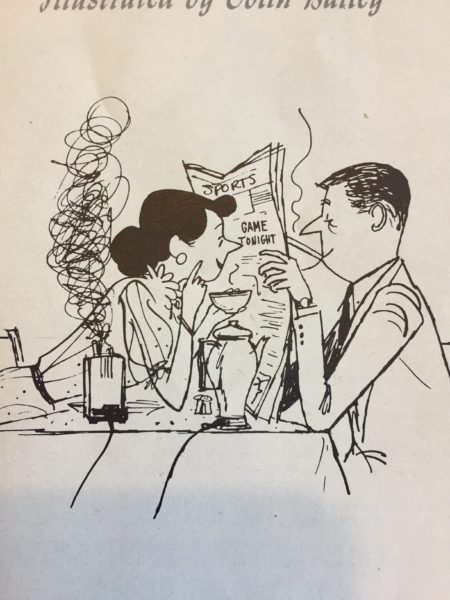 Too much knowledge about spectator sports veered dangerously close to competition itself. According to midcentury dating mavens, this made men nervous, and scared off eligible bachelors. [See PLANET OF PERIL #35: On the Sidelines.] In 1954, Ladies Home Journal ran a four-part series on "How to Be Marriageable." It tracked a single 29-year-old school teacher they called "Marcia" as she took a "Marriage Readiness" course in Los Angeles. A "temperament analysis test" showed that Marcia's "aggressive rating" was high. "So many girls have been brought up to believe that they must outdo boys at home or in school and compete with men at work," sighed a representative from the American Institute of Family Relations who sponsored the course. Marriage was cooperative, not competitive, and men hightailed it when they sensed "a lack of cooperation." But all was not lost. "We'll remind Marcia, for example, that while winning in tennis can be exhilarating, playing for love often has deeper rewards."
By the early '70s, with the first wave of the women's liberation movement in full swing, the response of many women, feminist or not, to sports explainers seems to have been a figurative eye roll. The Community College of Beaver County, Pennsylvania, offered a course for women in watching televised sports in 1972, but nobody signed up. By contrast, a "powder puff mechanics" class had attracted 35 students. The instructor was to have been the sports editor of the local paper. His wife "didn't understand sports," he said, but was "too busy" as a teacher to attend his class. He was ambivalent about her being in his class, anyway: "She might learn too much." The wife of the school's dean of continuing education also declined. "I guess she's just learned how to ignore me when I watch a football game," he concluded.
***
PLANET OF PERIL: THE SHIFTERS | THE CONTROL OF CANDY JONES | VINCE TAYLOR | THE SECRET VICE | LADY HOOCH HUNTER | LINCOLN ASSASSINATION BUFFS | I'M YOUR VENUS | THE DARK MARE | SPALINGRAD | UNESCORTED WOMEN | OFFICE PARTY | I CAN TEACH YOU TO DANCE | WEARING THE PANTS | LIBERATION CAN BE TOUGH ON A WOMAN | MALT TONICS | OPERATION HIDEAWAY | TELEPHONE BARS | BEAUTY A DUTY | THE FIRST THRIFT SHOP | MEN IN APRONS | VERY PERSONALLY YOURS | FEMININE FOREVER | "MY BOSS IS A RATHER FLIRTY MAN" | IN LIKE FLYNN | ARM HAIR SHAME | THE ROYAL ORDER OF THE FLAPPER | THE GHOST WEEPS | OLD MAID | LADIES WHO'LL LUSH | PAMPERED DOGS OF PARIS | MIDOL vs. MARTYRDOM | GOOD MANNERS ARE FOR SISSIES | I MUST DECREASE MY BUST | WIPE OUT | ON THE SIDELINES | THE JAZZ MANIAC | THE GREAT HAIRCUT CRISIS | DOMESTIC HANDS | SPORTS WATCHING 101 | SPACE SECRETARY | THE CAVE MAN LOVER | THE GUIDE ESCORT SERVICE | WHO'S GUILTY? | PEACHES AND DADDY | STAG SHOPPING.
MORE LYNN PERIL at HILOBROW: PLANET OF PERIL series | #SQUADGOALS: The Daly Sisters | KLUTE YOUR ENTHUSIASM: BLOW-UP | MUSEUM OF FEMORIBILIA series | HERMENAUTIC TAROT: The Waiting Man | KIRB YOUR ENTHUSIASM: Young Romance | CROM YOUR ENTHUSIASM: Fritz Leiber's Conjure Wife | HILO HERO ITEMS on: Tura Satana, Paul Simonon, Vivienne Westwood, Lucy Stone, Lydia Lunch, Gloria Steinem, Gene Vincent, among many others.