PLANET OF PERIL (33)
By: Lynn Peril
October 15, 2018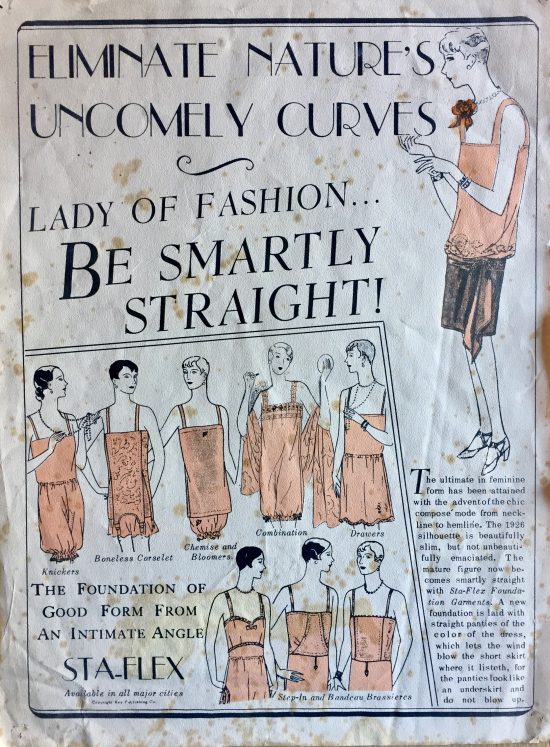 One in a series of posts, about forgotten fads and figures, by historian and HILOBROW friend Lynn Peril.
*
I MUST DECREASE MY BUST
A double-page spread in the July 1924 issue of Vogue compared modern fashions with those of 1904. On the left-hand page, a drawing of "the smart woman of twenty years ago" with her upswept hair, ruffled gown, and bosomy figure; on the right, a sketch of the modern woman, who dressed with "simplicity, comfort," and the "absence of superfluous furbelows," all of which suited her newly "active life." The text pointed out the "sadly constricted" waistline that resulted from "the cruel whalebone stays of 1904," and bemoaned that era's "tendency to disfigure the body" with heavy corsetry "and ignore the classical beauty and grace of its natural lines." What the article didn't mention was that what it praised as the "universal boyish silhouette" of 1924 could only be attained by most women if they used special flattening brassieres.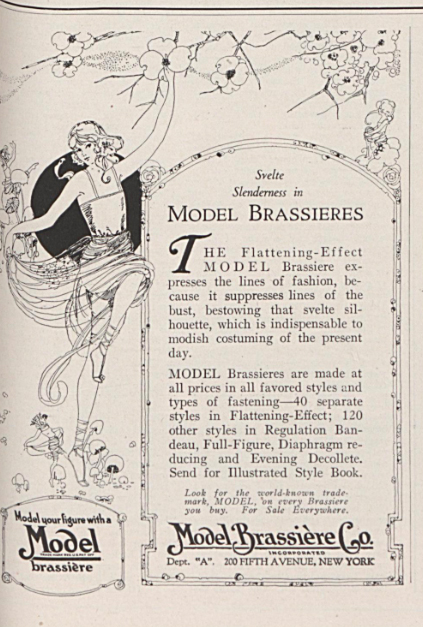 The fad began in the years immediately after the First World War. According to lingerie historian Jill Fields, one psychoanalytic reading of the flat-chested, bobbed haired flapper look was as a way to deal with societal grief at the loss of so many young men on the battlefields "by putting simulations of male adolescent figures on city streets." Or perhaps it wasn't so much about being boyish as it was about returning to a female pre-adolescent state, an "Infantilization of women's bodies timed to temper their burgeoning social and cultural power." Maybe the boyish look was like so many other fashion trends: quickly adopted by the young, indecipherable to adults — at least until they co-opted it.
In any event, by June 1922, Vogue reported that the "bust must be flattened and hips relentlessly suppressed" before a woman could consider herself fashionable. Then, as now, "some women with tall, thin figures" were "so fortunately constructed" as to "need as little corseting as the casual debutante. But most of us are not so blessed. We sag here; we protrude there; we spread as we grow older."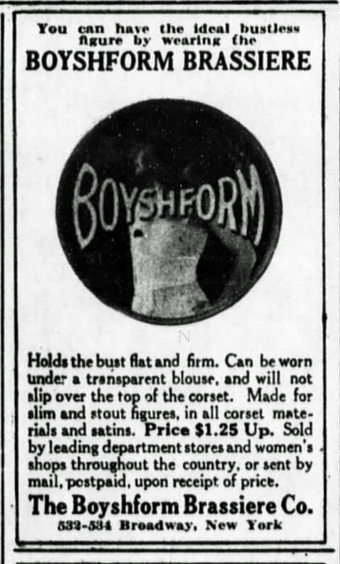 Beginning in 1919, one company went all in when it came to providing "the ideal bustless figure" to those who protruded in unfortunate ways. Other brassiere manufacturers provided "flattening effect" garments or promised to "eliminate Nature's uncomely curves," but Boyshform aggressively marketed itself from its name ("boyish form") to a nationwide advertising campaign in newspapers and women's magazines, along with special department store sales events. In 1921, a Boyshform event at Wanamaker's in Philadelphia "attracted hundreds of people and resulted in unexpectedly large sales." The event included demonstrations of how the product worked, and was the first time a "trademarked brassiere was given such a presentation before the public," according to a trade publication. In a timely reminder of the look one hoped to obtain with a Boyshform bra, an advertisement for a special fitting event in Akron was adjacent to one for "Authentic Spring Styles" that included fashion drawings of "mannish tailored suits" showing completely flat-chested women.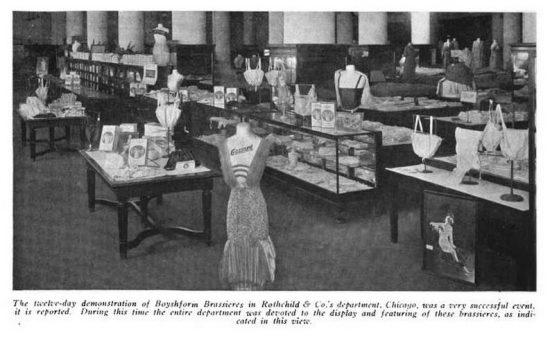 Boyshform promised "the smooth, flat, boylike figure every woman longs for" with "Absolutely no pressure, no pinching," but that seems highly unlikely. Indeed, perhaps the sheer discomfort of chest binding is what led to the rather rapid decline of the practice at its most extreme. The "type of brassiere which completely flattens out and binds the figure is no longer used," explained Vogue in 1923. Newer bra designs "tend[ed] to support the figure and its contours" without completely squashing the same. It was also right around this time that the owner of a New York dress shop, Enid Bissett, and her business partners, seamstress Ida Rosenthal and her husband William, trademarked the name Maiden Form for their company producing supportive brassieres that created a more natural looking bustline.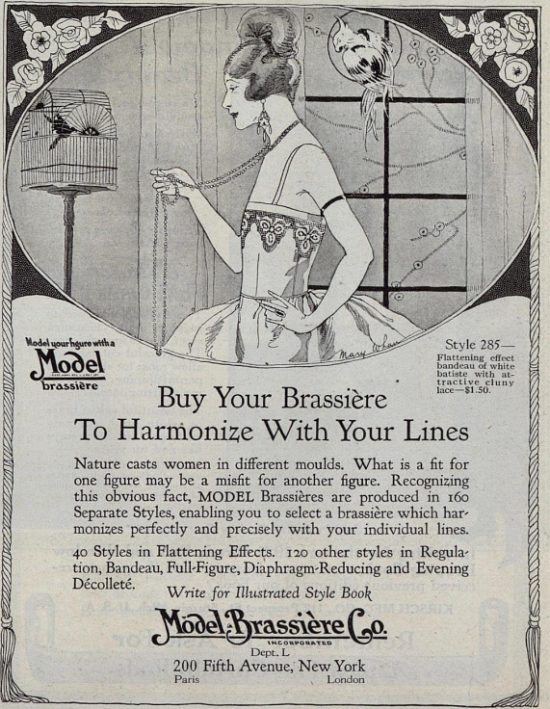 Maidenform (the name changed in 1950) legend holds that Enid Bissett and Ida Rosenthal started making bras at the request of a customer who hated the flattening models. She wasn't the only woman who felt this way. "Boyish Figure Must Go" was the headline on 1927 installment of journalist Coralie Van Paassen's syndicated column. "The so-called boyish type is an insane monstrosity to all aesthetic conventions of beauty," she wrote. Fashion designer Charles Worth told Van Paassen that, "The boyish type was first suggested as ideal for the young girl and later adopted by her mother, grandmother, and great-grandmother," a faint suggestion that everything was fine until these saggy oldsters got into the act. The only natural boyish types, he continued, sounding a wee bit like Humbert Humbert, were "young, unformed, charmingly unsophisticated sub-debutantes," i.e., preadolescent girls.
In a sign that the fad had really faded, a June 1928 letter to Viola Paris's "Beauty and You" column asked: "What can I do to build up a flat chest?" The correspondent was 27 years old, married, with two children, and had been told to avoid the bust developers she saw advertised in the backs of magazines. Paris saw the opportunity for a lecture:
I do not know, of course, but I wonder if this young matron is one of the myriads of women this side of 30 who are paying the price of going in for the recent "boyish figure" vogue. Only a little while ago, girls were making the mistake of binding the busts with tight brassieres to reduce them… Supporting muscles became weak and flabby, glands became inactive, and the busts lost their natural shape.

Matrons, especially the girls of yesteryear, are now discovering the mistake and the damage. Bottle babies, flat chests, queries as the one I have quoted, are the result.
Though little could be done once "firmness and natural lines have been lost," Paris deigned to provide some exercises for toning up the muscles.
The move away from the completely flat-chested look left Boyshform in a bind, so to speak. Competitors simply dropped words and phrases like "bustless" and "boy like" from its advertising and started selling uplift bras. In a particularly brazen about face for a company that only a few years previously sold a complete line of flattening bras, The Model Brassiere Company quoted what it said was a medical "treatise" in a 1927 trade publication: "Much of the serious bust troubles of to-day have been caused by flattening the busts and so breaking the tissues. The scientific purpose of a brassiere is to support the bust and to correct drooping." By 1929, they were advertising a "cup form" all-in-one body shaper in Vogue.
Stuck with a product line that nobody wanted, and a name that had become a liability, Boyshform declared bankruptcy in 1928.
***
PLANET OF PERIL: THE SHIFTERS | THE CONTROL OF CANDY JONES | VINCE TAYLOR | THE SECRET VICE | LADY HOOCH HUNTER | LINCOLN ASSASSINATION BUFFS | I'M YOUR VENUS | THE DARK MARE | SPALINGRAD | UNESCORTED WOMEN | OFFICE PARTY | I CAN TEACH YOU TO DANCE | WEARING THE PANTS | LIBERATION CAN BE TOUGH ON A WOMAN | MALT TONICS | OPERATION HIDEAWAY | TELEPHONE BARS | BEAUTY A DUTY | THE FIRST THRIFT SHOP | MEN IN APRONS | VERY PERSONALLY YOURS | FEMININE FOREVER | "MY BOSS IS A RATHER FLIRTY MAN" | IN LIKE FLYNN | ARM HAIR SHAME | THE ROYAL ORDER OF THE FLAPPER | THE GHOST WEEPS | OLD MAID | LADIES WHO'LL LUSH | PAMPERED DOGS OF PARIS | MIDOL vs. MARTYRDOM | GOOD MANNERS ARE FOR SISSIES | I MUST DECREASE MY BUST | WIPE OUT | ON THE SIDELINES | THE JAZZ MANIAC | THE GREAT HAIRCUT CRISIS | DOMESTIC HANDS | SPORTS WATCHING 101 | SPACE SECRETARY | THE CAVE MAN LOVER | THE GUIDE ESCORT SERVICE | WHO'S GUILTY? | PEACHES AND DADDY | STAG SHOPPING.
MORE LYNN PERIL at HILOBROW: PLANET OF PERIL series | #SQUADGOALS: The Daly Sisters | KLUTE YOUR ENTHUSIASM: BLOW-UP | MUSEUM OF FEMORIBILIA series | HERMENAUTIC TAROT: The Waiting Man | KIRB YOUR ENTHUSIASM: Young Romance | CROM YOUR ENTHUSIASM: Fritz Leiber's Conjure Wife | HILO HERO ITEMS on: Tura Satana, Paul Simonon, Vivienne Westwood, Lucy Stone, Lydia Lunch, Gloria Steinem, Gene Vincent, among many others.