PLANET OF PERIL (17)
By: Lynn Peril
June 4, 2017
One in a series of posts, about forgotten fads and figures, by historian and HILOBROW friend Lynn Peril.
*
TELEPHONE BARS
From Berlin to Paris to New York and points beyond, through Prohibition, Depression, and World War II, telephone bars combined technology, novelty, and the warm frisson of desire in what today is a largely forgotten phenomenon. The point of commonality was the telephone, more properly telephones, by the dozens or hundreds, that allowed patrons to call one another to flirt, ask for a dance, send over a drink, or make other, more personal assignations.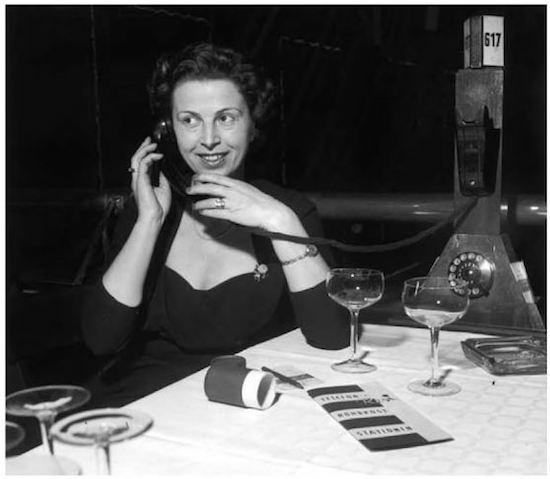 With its 200 telephones, not to mention a series of pneumatic tubes by which patrons could whoosh tiny gifts for sale at the club to one another, Berlin's Resi (already so meta that it called itself "not only a dance palace but an idea") was almost certainly the first of its kind. Built in 1908, it's unclear exactly when the phones were installed, but by the early 1930s, Resi was the leader of the pack. Femina, its main competitor, had 225 phones but was damned with faint praise as "a luxurious effete uptown version of Resi's" in Beer and Skittles: A Friendly Guide to Modern Germany (1932). Both places were enormous, with multiple bars and dance floors in addition to the telephones.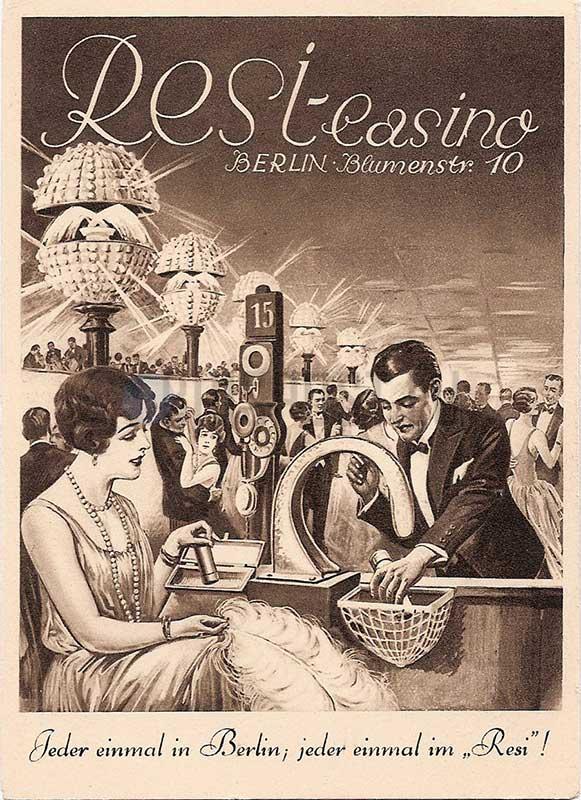 Germany on $50 (1933; that wasn't per day, but for the entire trip) explained how these clubs worked. "Germany's night haunts are equipped with telephones at every table and likewise every table is clearly numbered. If you, Jack, see a girl at table 46 with whom you would like to dance dial 46 on your telephone and ask her. She may not know from whom the invitation comes and that may add to its piquancy." Women, long counseled against "pickups" by strangers, were urged to "answer naturally" and in English if the phone on their table rang. "Make the party on the other end of the line do a bit of struggling [presumably German was his native tongue]. Perhaps he will give it up and send you a note by the pneumatic tube system."
The sense of anonymity that the phones provided to shy would-be lotharios of either sex made them very popular. Zelli's was a Parisian nightspot that catered almost exclusively to American and British tourists in the years between the World Wars. Writing in 1929 about the club's newly installed telephones (Joe Zelli was said to have gotten the idea from a visit to Berlin's Europahaus), a journalist noted that, "The big dollars-and-cents man from Indiana who never would dare walk over and ask the pretty blonde for a dance can now converse over a telephone with semi-privacy. It's a great institution for facilitating friendships."
Christopher Isherwood gave a master class in phone flirtation in his novel Goodbye to Berlin (1939). Christopher (the semi-autobiographical protagonist) and his friends visit "a big dancing-hall with telephones on the tables." The "usual kinds of conversations" ensue:
Pardon me, Madame, I feel sure from your voice that you're a fascinating little blonde with long black eyelashes — just my type. How did I know? Aha, that's my secret! Yes — quite right: I'm tall, dark, broad-shouldered, military appearance, and the tiniest little moustache… You don't believe me? Then come and see for yourself!
The guidebooks didn't mention paying for phone service at the German clubs, but things were different at Zelli's, where a columnist noted "it's all on the bill." The Monte Carlo Casino, which opened in Manhattan in February 1933, borrowed not only the telephone idea from Zelli's but also charged "a toll of 50 cents per call from table to table." This was not inconsequential money during the Depression, about $10.00 in 2017 dollars. But the Monte Carlo (which appears to be the first American telephone bar) served a different crowd than the ecumenical Resi. According to a syndicated columnist who attended the club's packed opening night: "Our telephone rang. It was the next table, at least three feet away…. Johnny Weissmuller and Lupe Velez were calling; they had just come in."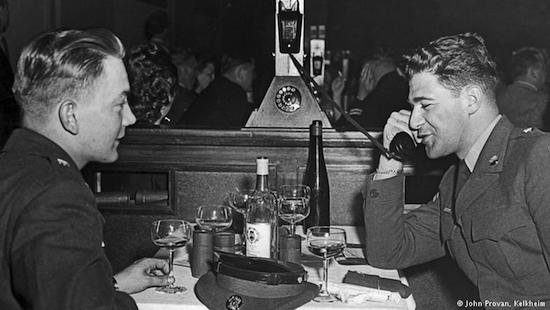 War and tough economic times led to the closure or diminishment of many telephone bars. With American tourism sharply curtailed by the Depression, Joe Zelli closed down his Paris bar in 1931. (With curious logic and impeccably bad timing, he opened a plush club, the Royal Box, in Manhattan later that year, its name a tribute to his habit of steering each and every visitor to his Parisian place to "the royal box." The club was raided by Prohibition agents on New Year's Eve 1931 and never reopened.) The Monte Carlo Casino faded from view, leaving only the newspaper reports of its splashy opening night. Femina survived the war but without its gloss. In a 1947 Life magazine article about Germany's "lost youth," Femina ("formerly a popular Berlin nightclub with table telephones") was the place where a young goodtime girl went to pick up "fine gentlemen" (to be honest, this kind of action probably went on during the glory days of the 1930s, too).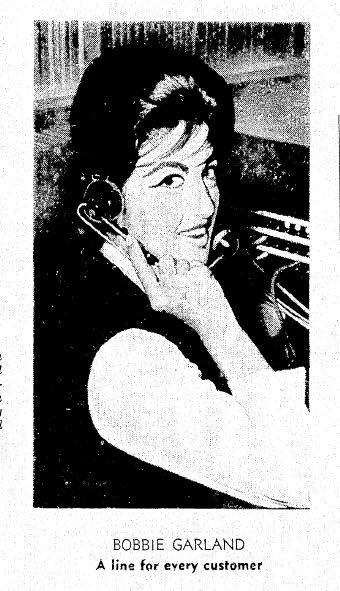 Closed in 1939, the Resi rose from the ashes of postwar Berlin, to reopen in 1951 — phones, pneumatic tubes, and all — to the delight of American and English servicemen as well as tourists and locals, until its final closure in 1978.
The second incarnation of the Resi also begat the next generation of American telephone bars, beginning with a pair of nightspots that opened in San Francisco within months of each other in 1961. The Library was "a book-lined bistro" in a quiet outer neighborhood where customers could call each other up "via Central, on one of the thirty telephones installed around the place." "Central" was a young woman named Bobbie Garland, who, according to a 1963 interview, called each customer upon their arrival and explained how the whole thing worked to first-timers. "If you see anybody you'd like to talk to, just consult the diagram of the phone extensions on your cocktail napkin. Or, if you like, I'll put you onto a nice gentleman." She sometimes placed between 20 and 30 calls in a single minute.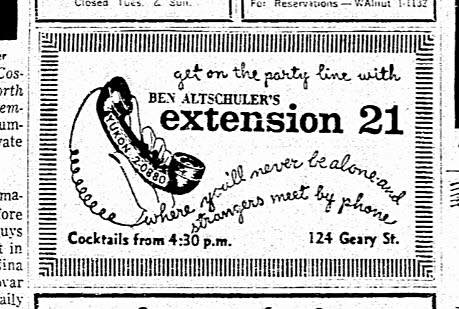 Four months later, another telephone bar opened, this time downtown on Geary Street. The owner of Extension 21 said he got the idea from an uncle who operated the Resi. The Library nevertheless took legal action, a move that likely led to its declaration of bankruptcy in 1964 (Extension 21 was open for at least the rest of the decade).
As in 1930s Berlin, the telephones were a great social equalizer. Women made the majority of calls at both of the San Francisco bars. "They probably find that the telephone gives them an opportunity they don't usually have — and they take advantage of it," reasoned Extension 21's owner.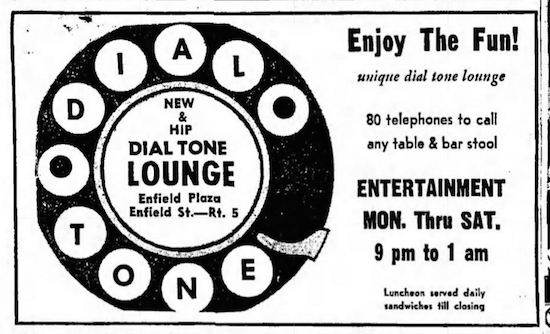 The sexual revolution and telephone bars were made for one another, and not surprisingly, the 1970s appear to have been their American zenith. Both Broadway and film versions of Cabaret (1966 and 1972; both based on Isherwood's stories) may have also played a role in the resurgence of table-to-table phone service. Though "The Telephone Song" didn't make the transition from play to movie, scenes inside the film's Kit Kat Club showed phones in use.
The Dialtone Lounge, with 80 phones, opened outside Hartford, Connecticut, in 1970. Three years later, there were six locations where customers could dial other patrons, or call in a request to the DJ. (In a sign of the times, one of the locations became the "Dial Tone Disco Dome" in 1975.) Ma Bell's, "the telephoniest spot in town," opened in New York City's Shubert Alley in 1972, the brainchild of adman George Lois. Max and Erma's, a "restaurant-disco" with "a cabaret-style, table-to-table telephone system that encourages an atmosphere of fun and friendliness," opened in 1973 in Columbus, Ohio. The Bakery opened in Niagara Falls, New York, in 1969. "At one point there were 125 phones, including one on every table and one at every seat at the bar."
Several of these bars featured "nostalgic" décor, including fake Tiffany lamps hanging from the ceiling and vintage ads and photographs decoupaged on the walls. "Old-timey" stick telephones sat on the tables, a far cry from the sleek modernity symbolized by the phones at the Resi and other '30s clubs.
As if to cap the telephone bar in popular culture, a 1981 episode of television's T&A spectacular Charlie's Angels saw the girls "become regulars at an unusual nightclub to nail a murderous psychopath who chooses his victims on the nightclub's telephones that singles use to find their mates."
These days, with old-school landlines almost wholly a thing of the past, the telephone bar seems poised for revival. A 2014 newspaper article celebrating The Bakery's 45th anniversary noted that "little by little the phones were removed" because they "had served their purpose." Even so, one of the owners noted that "we still have people coming in looking for them."
***
PLANET OF PERIL: THE SHIFTERS | THE CONTROL OF CANDY JONES | VINCE TAYLOR | THE SECRET VICE | LADY HOOCH HUNTER | LINCOLN ASSASSINATION BUFFS | I'M YOUR VENUS | THE DARK MARE | SPALINGRAD | UNESCORTED WOMEN | OFFICE PARTY | I CAN TEACH YOU TO DANCE | WEARING THE PANTS | LIBERATION CAN BE TOUGH ON A WOMAN | MALT TONICS | OPERATION HIDEAWAY | TELEPHONE BARS | BEAUTY A DUTY | THE FIRST THRIFT SHOP | MEN IN APRONS | VERY PERSONALLY YOURS | FEMININE FOREVER | "MY BOSS IS A RATHER FLIRTY MAN" | IN LIKE FLYNN | ARM HAIR SHAME | THE ROYAL ORDER OF THE FLAPPER | THE GHOST WEEPS | OLD MAID | LADIES WHO'LL LUSH | PAMPERED DOGS OF PARIS | MIDOL vs. MARTYRDOM | GOOD MANNERS ARE FOR SISSIES | I MUST DECREASE MY BUST | WIPE OUT | ON THE SIDELINES | THE JAZZ MANIAC | THE GREAT HAIRCUT CRISIS | DOMESTIC HANDS | SPORTS WATCHING 101 | SPACE SECRETARY | THE CAVE MAN LOVER | THE GUIDE ESCORT SERVICE | WHO'S GUILTY? | PEACHES AND DADDY | STAG SHOPPING.
MORE LYNN PERIL at HILOBROW: PLANET OF PERIL series | #SQUADGOALS: The Daly Sisters | KLUTE YOUR ENTHUSIASM: BLOW-UP | MUSEUM OF FEMORIBILIA series | HERMENAUTIC TAROT: The Waiting Man | KIRB YOUR ENTHUSIASM: Young Romance | CROM YOUR ENTHUSIASM: Fritz Leiber's Conjure Wife | HILO HERO ITEMS on: Tura Satana, Paul Simonon, Vivienne Westwood, Lucy Stone, Lydia Lunch, Gloria Steinem, Gene Vincent, among many others.