PLANET OF PERIL (42)
By: Lynn Peril
September 23, 2019
One in a series of posts, about forgotten fads and figures, by historian and HILOBROW friend Lynn Peril.
*
THE GUIDE ESCORT SERVICE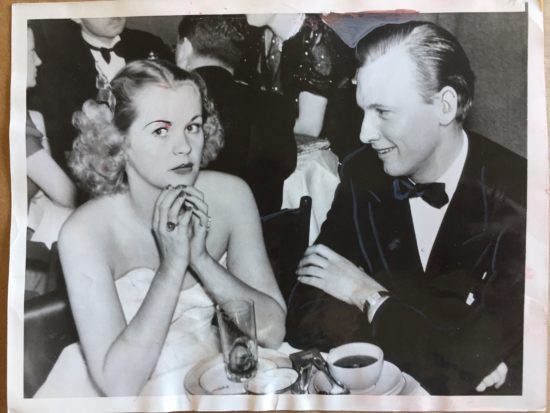 In New York, Fair or No Fair: A Guide for the Woman Vacationist (1939), advice writer Marjorie Hillis told single gal readers planning to visit the World's Fair that they had better be "resigned to the limitations" of traveling without men. Oh, it was easy enough to visit the museums and other sights, and even take a glass of sherry at a late afternoon visit to a swank watering hole like the Persian Room at the Plaza. But what if a woman wanted cocktails, dancing, and dinner later in the evening at the Persian Room, which Hillis admitted was "still gayer" (she used the original meaning of the word) after dark? Contemporary etiquette, and quite often a bar or nightclub's own rules, written or not, dictated that she couldn't go without a male escort. A lone woman in a bar, even "in a quiet corner" looked "either fast or forlorn, and I don't know which is worse," wrote Hillis.
For the woman whose visit would be "a total loss" if she didn't dance at the Rainbow Room "and have a nightcap at the Stork Club," there were two choices. She could "call up any man you know, however slightly, and hint" (again, the era's strict etiquette meant that she couldn't just come right out and ask him to take her anywhere). The easier, though more expensive way, was to call the Guide Escort Service and hire a man for the evening. Hillis couldn't say enough good things about it: "The Escort Service… is an organization of young men prepared to show ladies the town, and I really mean ladies. The young men have college educations, perfect manners, and impeccable evening clothes. They will take you where you want to go, dance with you or not, as you prefer, and be faultless companions."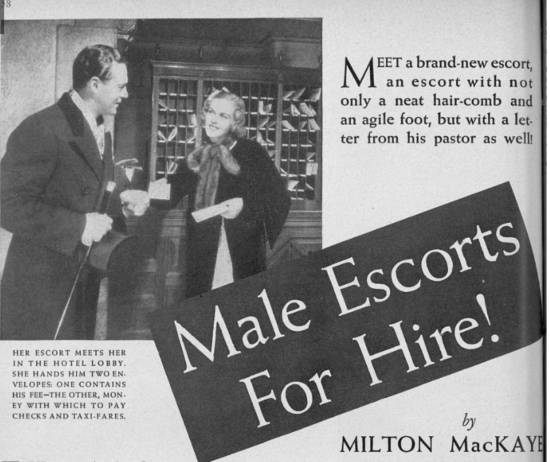 The Guide Escort Service was founded in late 1935 by twentysomething Ted Peckham, a recent arrival from Cleveland, Ohio, who wearily toiled in the classified-ad sales department of the New York Times as he dreamed of bigger and better things. Starved for a bit of glamour, he used money budgeted for that night's dinner and the following day's breakfast to take himself to the Plaza Hotel's Palm Court for afternoon tea. There, he overheard a pair of dowagers commiserate over their inability to "go anywhere or do anything at night without an escort." It was, he recalled in his breezy 1955 memoir Gentlemen for Hire, "exactly what I'd been looking for. A perfect situation crying for a solution — two women with the apparent means and desire to go out, moored to the potted palms for lack of a pilot."
Peckham was in the right place at the right time with his business plan. Etiquette demanded that a woman have a male escort if she wanted to experience big-city nightlife, while the Depression economy meant that many college-educated young men who might otherwise be gainfully employed needed income. A fortuitous meeting with Jerome Zerbe, society photographer and fellow Clevelander, led to dinner and drinks with the powerful syndicated columnists Lucious Beebe and Cholly Knickerbocker. Combined with Peckham's own genius for publicity, the Guide Escort Service became an improbable success, an evergreen human-interest story on the pages of newspapers and magazines for the next three or so years.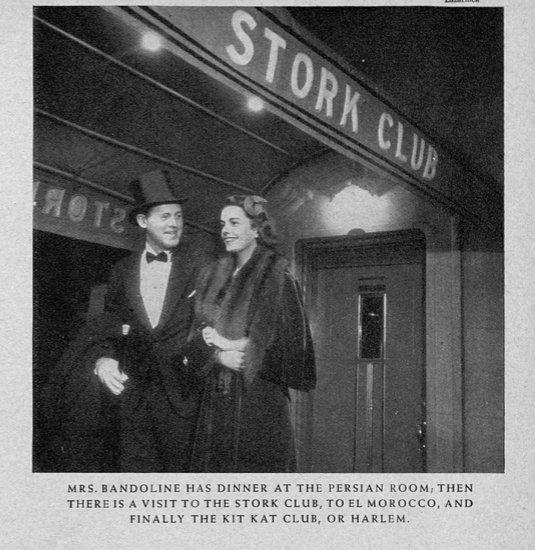 Peckham swore up and down that every escort at his Manhattan bureau held a degree from Harvard, Yale, or Princeton. Fees depended on the type of event, how long the escort was needed, and what he needed to wear. According to Lucius Beebe, whose syndicated column "This is New York" gave the Guide Escort Service its first big break, "a lonely lady from out of town" could hire a Princeton graduate "in a street suit from early evening until midnight for the trifling sum of $3, and, of course, expenses. Or she may prefer a Yale man in tails and white tie to go places at the pace that kills until 6 or 7 in the morning, in which case the charge is $10." There were "intermediate values in dinner suits for theater and supper at reasonable prices." Per social protocol, the man paid for an evening out, and it would not do for a woman to be seen slipping him cash. Peckham devised a system, whereby at the beginning of an outing, the client handed two envelopes to her escort. One contained the money she wanted him to use to pay for dinner, cocktails, and cover charges, while the other contained his fee. He was to return any unused funds to her at the end of the night. Tipping was frowned upon.
Peckham's escorts followed a strict set of rules. Romantic or sexual escapades were firmly discouraged. Escorts were to "be polite but impersonal at all times." They could "hold coats, but never hands." Sobriety was "essential," thus escorts limited themselves to one drink an hour. If a client got sloshed on Singapore Slings, they were to discreetly pour her into a cab and take her home. Regardless of her condition, they said goodnight at the door or elevator. Escorts were forbidden to enter a client's apartment or room unless others ("excluding servants") were present.
Would-be applicants — and there were plenty of them — had to be at least 5 feet 10 inches tall, though social skills were more important than height. According to a 1936 interview with The Brooklyn Eagle, it was most important that the escorts "be real 'smoothies' and yet neither oily or of the gigolo type, … in complete control of every situation, good talkers and dancers," with a full wardrobe of eveningwear. Most importantly, he needed to be "above all — discreet."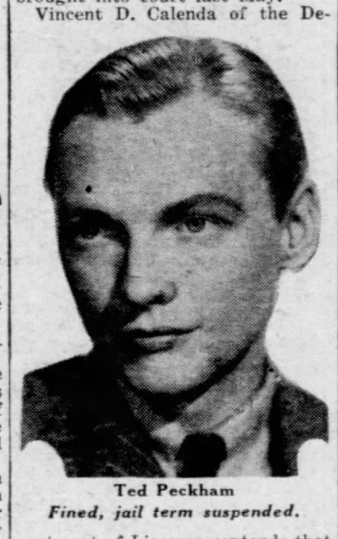 In fact, to use a modern term, what Peckham did via his Guide Escort Service was to disrupt the age-old profession of gigolo. Defined by a newspaper in 1925, a gigolo was "a sleek youth of patent leather shoes and oiled hair, who earns a living by piloting buxom matrons through the mazes of the Charleston and the Tango." In the popular imagination, they were dark and "exotic," of Italian or maybe some unspecified Eastern European extraction. They were viewed as male gold-diggers who romanced elderly, rich, and deluded women. Married, they became "kept men," subsisting on their wife's income. Peckham did his best to distance himself from any association with this kind of fortune hunting. "We don't want our boys to fall in love," he told The Brooklyn Eagle. "We aren't running a gigolo service." He required his escorts to hold some type of day job, the better to keep the lure of filthy lucre out of the equation. "Gigolos? Perish the Thought! They're Male Escorts" was the caption on a 1937 photo of the Philly bureau in action.
If gigolos were louche and only desperate females turned to them, Peckham's escorts were boy scouts, wholesome in looks and behavior. A woman would have "no reason to complain" about a hired man from Guide Escort Service, Marjorie Hillis told readers. "He'll behave perfectly and probably be every bit as good-looking and well turned out as your best beau at home (or even your husband or son). His vocation may seem odd, but he's earning his living. I'll wager he earns every cent of it."
Peckham was everywhere in the mid-1930s. In London, where he opened up a branch of the Guide Escort Service in time for the upcoming coronation of Edward VIII, and unsuccessfully tried to import six genuine British peers for bit parts in a proposed Broadway production of Gentlemen for Hire. Asked by a reporter if "ordinary English gentlemen" wouldn't do, Peckham replied that he didn't want mere men: "We've got plenty of gentlemen in America." On the continent, he established Guide Escort Service offices in Paris, Vienna, Budapest, and Rome. ("Mr. Peckham should realize that Fascism has done away with the old American idea that Italians are… gigolos who exist solely for the pleasure of American ladies," ran an editorial in a local paper around the time of the latter opening.) Officials in Munich remained immune to his charms, telling him in no uncertain terms they'd escort him to the border if he so much as tried to recruit any of the local youth.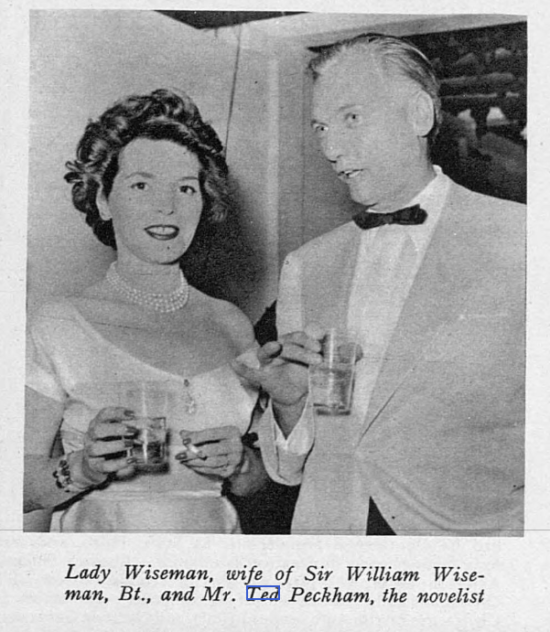 Peckham apparently had no qualms about opening an office in Nazi Germany, but when a young Jewish woman asked the New York branch for a Jewish escort, they were able to fulfill her request, though it may have been a special order. (Her boyfriend was gentile, and she wanted the escort to act as a cover in front of her parents. According to Peckham, she went on to marry the man he provided.) In Gentlemen in Waiting (1940), a book of letters from hopeful applicants, Peckham unashamedly noted that his business embraced "all creeds but not all races." A segregated Harlem branch was planned, but never established.
In Hollywood, Ted signed with Paramount and waited around while writers worked on a screenplay about him and his business. He attended elite parties where he hobnobbed with Marlene Dietrich and other stars. A "gossip-column romance" with Mae West fizzled when she at first ignored a daily rose sent with Ted's compliments. Then, in what must have been a singular occurrence, she declared him too young for her. Back in New York, Ted experienced a rare failure when a nightclub act in which he croaked his way through specially written songs like "Glamour Boy," "Mr. Cinderella," and "Chivalry C.O.D." while dressed in top hat and tails bombed.
Peckham's empire came crashing down in 1939. The year started out well enough. In February, gossip columnists reported that Ted was engaged to Nona Gale Baker Mendenhall of Beverly Hills. Wire photos showed him seated with a sultry young woman at "their favorite table" at El Morocco. A summer wedding was planned. In April, Ted was anointed one of the Advertising Club's "Order of the Rake" for attaining "outstanding achievement" before the age of 30.
Then, on June 6, Ted Peckham was found guilty of operating an employment agency without a license. He was fined $250 and given a suspended three-month jail sentence. Another three-month sentence was suspended "contingent on his giving up the business until he obtains the license," which "License Commissioner Paul Moss, who was in court, indicated would not be granted." It was an administrative Catch-22 that effectively killed the Guide Escort Service."We have been trying to stamp out what we think is a very serious evil in this city," said Moss. "As a result of publicity given to Peckham, six or seven of these agencies have grown up. They are a menace to the city and to visitors"
The headlines were brutal. "Gigolo Business of Ted Peckham Killed by Court," read one. "Gigolo Racket Stopped" was another. There was a small moral victory though. "Moss and his minions" were unable to prove anything "even faintly scandalous, either morally or financially, about Ted's Escort Service," wrote syndicated columnist Anne Hughes. Neither could the prosecution find a female client to put "on the stand to let off a wild squawk" about being shortchanged or the victim of an "off-sides pass in the night." The damage was nevertheless done. All of the kind words about the Guide Escort Service in Marjorie Hillis's new book were for naught. Nona Gale married somebody else in October.
A confirmed bachelor, Ted Peckham died in 1987 after a long illness and many years as an antique and jewelry dealer. "He was a terribly charming man," a friend was quoted, "and everybody adored him."
***
PLANET OF PERIL: THE SHIFTERS | THE CONTROL OF CANDY JONES | VINCE TAYLOR | THE SECRET VICE | LADY HOOCH HUNTER | LINCOLN ASSASSINATION BUFFS | I'M YOUR VENUS | THE DARK MARE | SPALINGRAD | UNESCORTED WOMEN | OFFICE PARTY | I CAN TEACH YOU TO DANCE | WEARING THE PANTS | LIBERATION CAN BE TOUGH ON A WOMAN | MALT TONICS | OPERATION HIDEAWAY | TELEPHONE BARS | BEAUTY A DUTY | THE FIRST THRIFT SHOP | MEN IN APRONS | VERY PERSONALLY YOURS | FEMININE FOREVER | "MY BOSS IS A RATHER FLIRTY MAN" | IN LIKE FLYNN | ARM HAIR SHAME | THE ROYAL ORDER OF THE FLAPPER | THE GHOST WEEPS | OLD MAID | LADIES WHO'LL LUSH | PAMPERED DOGS OF PARIS | MIDOL vs. MARTYRDOM | GOOD MANNERS ARE FOR SISSIES | I MUST DECREASE MY BUST | WIPE OUT | ON THE SIDELINES | THE JAZZ MANIAC | THE GREAT HAIRCUT CRISIS | DOMESTIC HANDS | SPORTS WATCHING 101 | SPACE SECRETARY | THE CAVE MAN LOVER | THE GUIDE ESCORT SERVICE | WHO'S GUILTY? | PEACHES AND DADDY | STAG SHOPPING.
MORE LYNN PERIL at HILOBROW: PLANET OF PERIL series | #SQUADGOALS: The Daly Sisters | KLUTE YOUR ENTHUSIASM: BLOW-UP | MUSEUM OF FEMORIBILIA series | HERMENAUTIC TAROT: The Waiting Man | KIRB YOUR ENTHUSIASM: Young Romance | CROM YOUR ENTHUSIASM: Fritz Leiber's Conjure Wife | HILO HERO ITEMS on: Tura Satana, Paul Simonon, Vivienne Westwood, Lucy Stone, Lydia Lunch, Gloria Steinem, Gene Vincent, among many others.