PLANET OF PERIL (31)
By: Lynn Peril
August 10, 2018
One in a series of posts, about forgotten fads and figures, by historian and HILOBROW friend Lynn Peril.
*
MIDOL vs. MARTYRDOM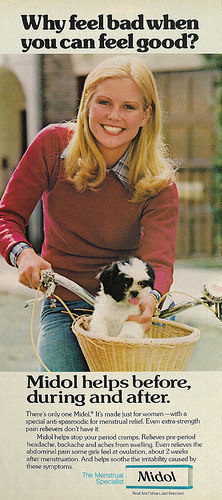 In September 1911, the General Drug Company offered readers of The Brooklyn Daily Eagle a $100.00 prize for a "catchy phrase" to better advertise "An Altogether Different Remedy" that promised "Instantaneous Relief to Sufferers" of HEADACHE — NEURALGIA and TOOTHACHE. What was this "Wonder Remedy of the Day," this "CONQUEROR OF PAIN"? None other than Midol, known today as an over-the-counter cure for menstrual cramps.
The road from all-around analgesic suitable for men, women, and children to period painkiller, was rocky and somewhat mysterious. Not long after Midol solicited the public for a new slogan, the American Medical Association included it in an expose of Nostrums and Quackery (1912). Midol said it had "No bad effect upon the heart or other organs," but according to the AMA, its "chief therapeutic ingredient" was pyramidon, an aspirin-like drug that might "cause collapse" in some users.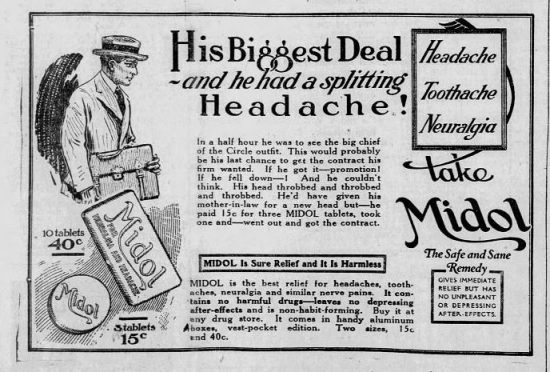 Apparently nothing had changed when, on January 9, 1915, the front page of the New York Tribune carried "An Open Letter to Mr. Hearst" from investigative journalist Samuel Hopkins Adams. Ten years previously, Adams had written an eleven-part series for Collier's magazine on patent medicines, "The Great American Fraud." In his letter, Adams asked rival publisher William Randolph Hearst if, having removed "indecent" personal ads and quack "cures" for venereal disease from his papers, he would now eradicate "those dollar-catching, health-filching advertisements" for patent medicines with which his publications teemed? "One of your bright young men [Adams here referred to Damon Runyon] recently wrote an article in defense of patent medicines…. It might be worth your while, Mr. Hearst, to read that article and then turn to the advertisement of Midol, a headache 'remedy.'" Far from being "positively safe" as its manufacturer claimed, Midol contained "pyramidon, a highly dangerous, heart-depressing poison in sufficient quantity to produce a marked effect," Adams wrote. "An evil dose for any human being to take, they might well prove fatal to a person with a weak heart."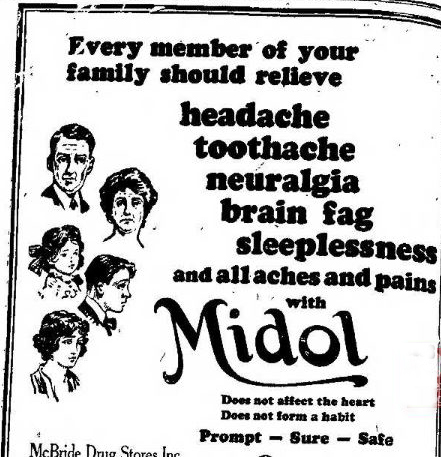 Over the next several years, Midol advertising all but disappeared from American newspapers, presumably as General Drug Company concocted a new formulation. When Midol resurfaced in the early 1920s, it was again shown as a reliable, family friendly remedy for daily aches and pains. Proving that it had its finger on the pulse of the decade's go-go economic prosperity, one ad showed a businessman in search of headache relief before a big meeting, while others included "brain fag" in the list of conditions for which Midol could provide relief. (This was likely an updated, though now unfortunate, name for the mental fog of modern living that previous generations called neurasthenia.)
Then, in 1926, suddenly and seemingly out of left field, Midol rebranded itself as a dedicated painkiller for menstrual cramps. "Specialists have developed a tiny tablet called midol," read the ad copy. Though bolded, the product's name remained uncapitalized. It was "a simple thing, utterly harmless to a girl of fourteen" that had "no effect whatever on heart or nervous system" but acted "directly on those organs affected by menstruation." Midol provided "Complete relief — yes, perfect comfort." The new slogan was miles away from Wonder Remedy of the Day, short, clever, and to the point: "Takes Pain Off the Calendar."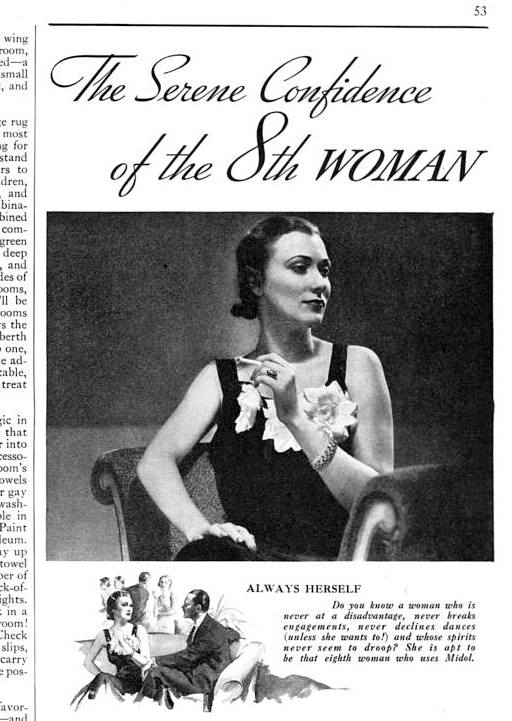 What happened? Why the switch? Perhaps Midol's parent company realized, ahead of the pack, that one could charge more for a product marketed as exclusively "for women." Later in the twentieth century, this would have been accomplished by changing the color of the packaging and perhaps the tablets themselves to pink. Midol tins remained resolutely in shades of teal blue and white, and even today much of its packaging employs colors other than pink. (The question of whether or not Midol was merely overpriced aspirin, not to mention claims that it was somehow better and safer than aspirin, remained of concern to the Federal Trade Commission throughout most of the twentieth century.)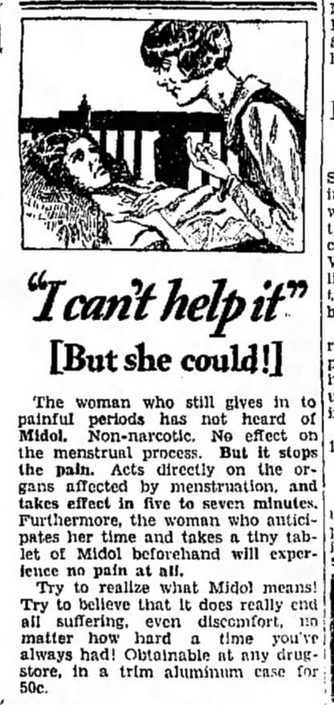 Perhaps the team behind Midol simply identified a relatively empty market niche along with a new generation of consumers. Lydia E. Pinkham's Vegetable Compound, the most heavily advertised remedy for "female troubles" since the nineteenth century, looked old and stodgy next to Midol's up-to-date advertising. In an ad from 1928, a girl with long, Mary-Pickford curls lies in bed while her fashionably bob-haired friend attends to her, under the headline, "'I can't help it.' (But she could)." Did you want to be an old-fashioned girl moaning in bed with only Granny's Lydia Pinkham and a smelly hot-water bottle to help you, or did you want to be an on-the-go flapper, thanks to Midol?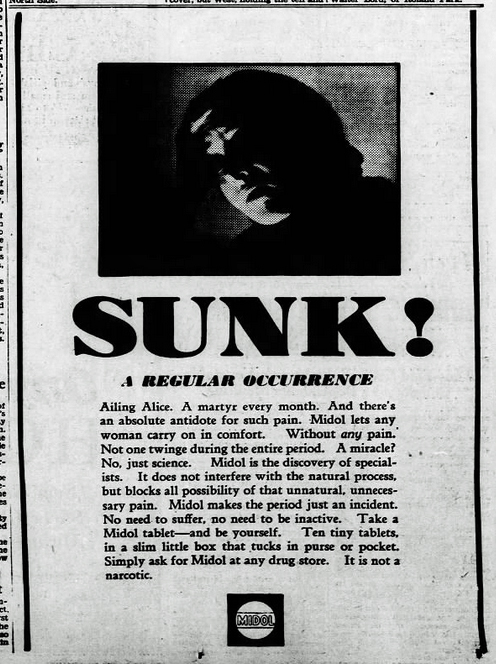 The choice between martyrdom (a term liberally employed in Midol's '20s and '30s advertising) and modernity was the brilliant nub of Midol's makeover. Suffering was allegedly woman's lot in life, thanks to Eve, the snake, and that crazy apple. Midol offered freedom from menstrual pain. Of course, so did aspirin. But thanks to its clever advertising campaign, Midol gave women permission not to suffer. "Even Mary's Conscience is Carefree Now!" was the headline on a 1939 newspaper ad. Thanks to Midol, there were "No broken dates, no last-minute apologies, no more weak embarrassing excuses," because it wasn't socially acceptable to simply say one was in for the evening because she was dying of menstrual cramps. "Are YOU the woman Mary used to be?" the ad boldly asked the reader. "Shut off from life several days each year because of the functional pain of menstruation — giving up a month of active living every year because of suffering you think must be endured?" Women who were "enlightened" knew what had "long been common medical knowledge — much of this pain is needless."
***
PLANET OF PERIL: THE SHIFTERS | THE CONTROL OF CANDY JONES | VINCE TAYLOR | THE SECRET VICE | LADY HOOCH HUNTER | LINCOLN ASSASSINATION BUFFS | I'M YOUR VENUS | THE DARK MARE | SPALINGRAD | UNESCORTED WOMEN | OFFICE PARTY | I CAN TEACH YOU TO DANCE | WEARING THE PANTS | LIBERATION CAN BE TOUGH ON A WOMAN | MALT TONICS | OPERATION HIDEAWAY | TELEPHONE BARS | BEAUTY A DUTY | THE FIRST THRIFT SHOP | MEN IN APRONS | VERY PERSONALLY YOURS | FEMININE FOREVER | "MY BOSS IS A RATHER FLIRTY MAN" | IN LIKE FLYNN | ARM HAIR SHAME | THE ROYAL ORDER OF THE FLAPPER | THE GHOST WEEPS | OLD MAID | LADIES WHO'LL LUSH | PAMPERED DOGS OF PARIS | MIDOL vs. MARTYRDOM | GOOD MANNERS ARE FOR SISSIES | I MUST DECREASE MY BUST | WIPE OUT | ON THE SIDELINES | THE JAZZ MANIAC | THE GREAT HAIRCUT CRISIS | DOMESTIC HANDS | SPORTS WATCHING 101 | SPACE SECRETARY | THE CAVE MAN LOVER | THE GUIDE ESCORT SERVICE | WHO'S GUILTY? | PEACHES AND DADDY | STAG SHOPPING.
MORE LYNN PERIL at HILOBROW: PLANET OF PERIL series | #SQUADGOALS: The Daly Sisters | KLUTE YOUR ENTHUSIASM: BLOW-UP | MUSEUM OF FEMORIBILIA series | HERMENAUTIC TAROT: The Waiting Man | KIRB YOUR ENTHUSIASM: Young Romance | CROM YOUR ENTHUSIASM: Fritz Leiber's Conjure Wife | HILO HERO ITEMS on: Tura Satana, Paul Simonon, Vivienne Westwood, Lucy Stone, Lydia Lunch, Gloria Steinem, Gene Vincent, among many others.