PLANET OF PERIL (28)
By: Lynn Peril
May 21, 2018
One in a series of posts, about forgotten fads and figures, by historian and HILOBROW friend Lynn Peril.
*
OLD MAID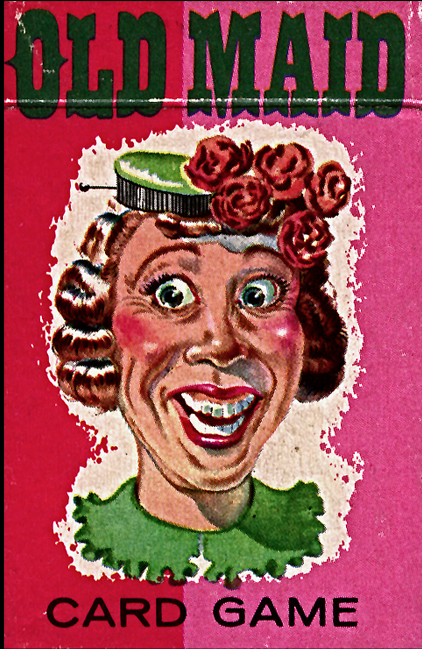 The classic children's card game Old Maid is a simple one based on matching pairs. Whoever gets stuck with the odd card out is the loser; trying to stick other players with the same is where the fun comes in. If, like me, you grew up in the '60s and '70s, you may have played the game with a special deck of cards, perhaps one that featured a particularly ugly rendition of the Old Maid.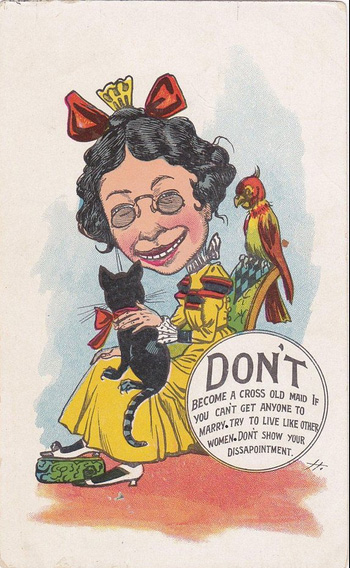 The game first appeared around 1890, but terrifying portrayals of old maids had been around long before then. The term goes back at least as far as the sixteenth century; that it is what the Oxford English Dictionary calls "frequently derogatory" is confirmed by a quick review of the list of usages that follows. The old maid was "the most calamitous Creature in nature" (1673), "a cursed thing" (1683).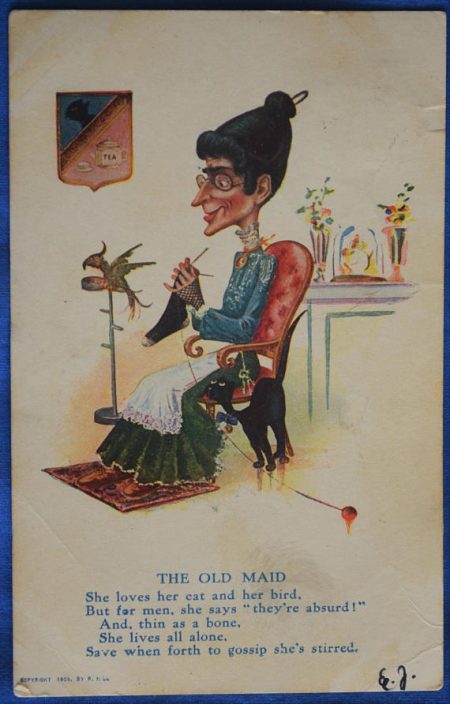 Simply put, an unmarried woman was an aberration in eras when marriage and motherhood were considered woman's "natural" state, and one to which all must aspire. The male author of A Philosophical, Historical, and Moral Essay on Old Maids (1785; in three volumes) termed himself "A Friend of the Sisterhood" but nevertheless reviled those who might remain single of their own accord. "How utterly devoid of tenderness and of every amiable sensation must that female be who never felt at any period of her life the desire to engage in the duties or to share the delights of the state to which all human beings are invited by the voice of Nature and reason!" ("Whether all single ladies endorse that sentiment or not, I cannot tell," he admitted, then doubled down and pronounced "the happiest and most contented Old Maids" as those who took "unaffected delight in contemplating the domestic joy of their married sisters.")
The suspicion was that unmarried meant unwanted. "The time was when an old maid was a blighted being," explained Good Housekeeping magazine in 1887. "There was a man to every woman and if she did not marry, the inference was drawn that no man would 'have' her." A woman "was in haste to marry and not at all particular about the man she accepted… Hence the old maid was reproached with being unattractive, with having a sour temper, with being so repulsive that no man would live with her."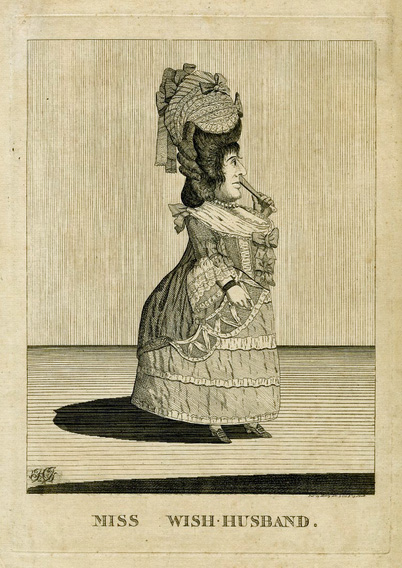 Bachelor Girl (2006) author Betsy Israel points to Tabitha Bramble, a character in the 1771 novel The Expedition of Humphry Clinker, as a kind of literary ur-Old Maid. Author Tobias Smollett described Bramble as "awkward, flat-chested, and stooping… her nose long, sharp… her lips skinny, her mouth extensive," with a neck "shrivelled into a thousand wrinkles." Temperamentally, she was "proud, stiff, vain, imperious, prying, malicious, greedy, and uncharitable." It was a depiction (some might say calumny) that would be repeated for centuries. The reverend author of an 1894 Ladies Home Journal asking "Are Old Maids Unattractive?" argued that they weren't, but seemed to take unwonted satisfaction in describing the "imaginary old maid," who might have been Tabitha Bramble's twin. She was, he wrote, "sallow, lank, raw-boned, sharp-featured, thin-voiced, acidulous in express and in spirit." He was just getting warmed up. "She is peevish, complaining, envious, malignant, covetous, wholly unsympathetic. Nobody would select her for a friend any more than for a wife. She is never trusted, esteemed nor loved."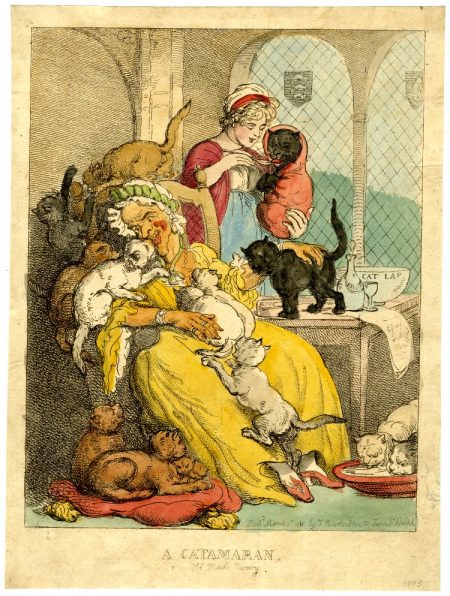 Never loved, perhaps, except by her pet cat and bird, two animals that were frequently portrayed alongside the Old Maid. A British lithograph from 1811 punnily defines the word "catamaran" as an "Old Maid Nursery," and shows a heavily rouged and quite terrifying Old Maid surrounded by a dozen or so cats and kittens. A younger woman (likely an Old Maid in training, given the picture's title) feeds a cat swaddled like a baby from a teaspoon. Cats and birds are indoor pets (at least part-time in the case of the former) that don't require much in the way of strength or mobility in an elderly owner, so there may have been a truthful observation at the bottom of the Old Maid's choice of pets.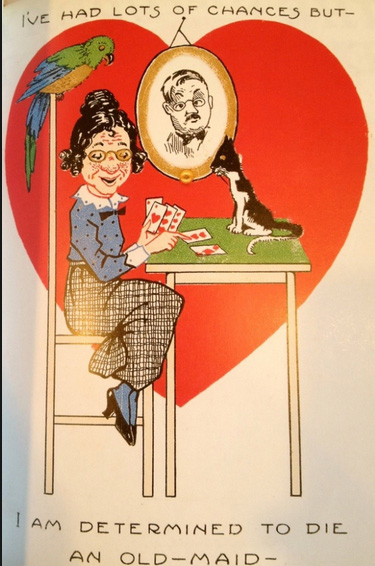 More than mere animal companions, the pet bird and especially the cat were understood to be emblems of Old Maidhood. A 1785 dictionary of "the vulgar tongue" defined "tabby" as an "old maid; either from Tabitha, a formal antiquated name; or else from a tabby cat, old maids being often compared to cats." A satiric "Report of the President of the Boston Matrimonial Association" that appeared in the Southern Literary Messenger in 1858 mocked what would come to be known as the coastal elite, as well as the arrangements known as Boston marriages (in which two unmarried women lived together in what may or may not have been lesbian relationships), and proposed the creation of an Old Maids' asylum, from which "cats are carefully excluded."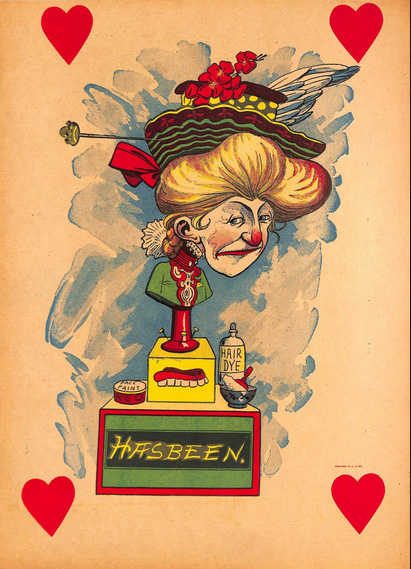 Though the age at which an unmarried woman might be considered an Old Maid varied over time (in 1887, Good Housekeeping cheered the fact that "A girl is not an 'old maid' now until she is past 30"), the archetypal Old Maid was almost always depicted a short step away from crone-hood. A brutal "vinegar valentine" from around the turn of the twentieth century shows a red-nosed "Hasbeen" surrounded by her beauty aids: hair dye, face paint, and false teeth. A similar mutton-dressed-as-lamb theme was depicted on a postcard from the mid-twentieth century in which an Old Maid dressed in a corset with voluminous underpants peeking out, saggy tights, and granny boots enthusiastically declares her willingness to go on a blind date, while her cat looks on askance.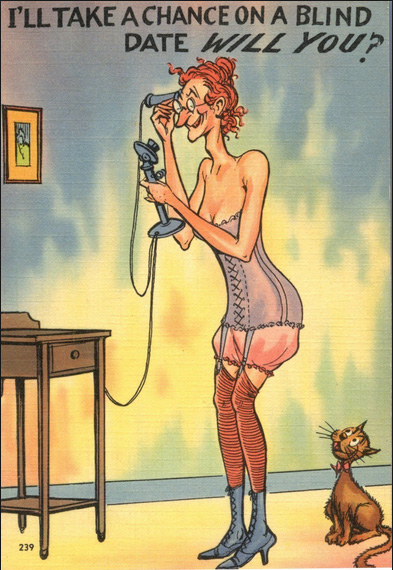 Sexual desperation, as depicted by the corset-clad Old Maid, was a rarity. A button from the 1930s or '40s shows an elderly woman who may or may not be an Old Maid (without cat or bird, who can tell?), but the "humor" in her prayerful "Ah Men!" is based in the temerity of her lustful ogling of a younger man. Old Maids were more frequently depicted as matrimonial man traps, checking under their beds at night, ostensibly for burglars, but really for prospective suitors, or tackling trouser-clad scarecrows. Their pathetic haste to marry had an underlying sexual aspect, but was mostly a cause for ridicule.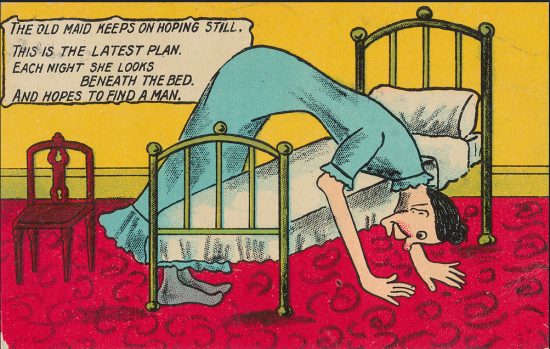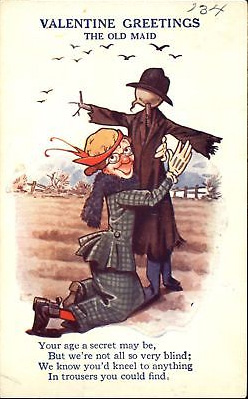 The Old Maid was supplanted by the sexually adventurous and career-oriented Single Girl in the early 1960s, while changing gender roles and the women's movement made cruel caricatures unacceptable. You can nevertheless today buy a deck of Old Maid cards wherein the sweetly smiling title character has Tabitha Bramble's long nose, a pet cat in her lap, and a bird at her side.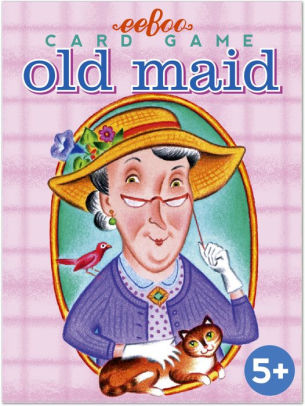 ***
PLANET OF PERIL: THE SHIFTERS | THE CONTROL OF CANDY JONES | VINCE TAYLOR | THE SECRET VICE | LADY HOOCH HUNTER | LINCOLN ASSASSINATION BUFFS | I'M YOUR VENUS | THE DARK MARE | SPALINGRAD | UNESCORTED WOMEN | OFFICE PARTY | I CAN TEACH YOU TO DANCE | WEARING THE PANTS | LIBERATION CAN BE TOUGH ON A WOMAN | MALT TONICS | OPERATION HIDEAWAY | TELEPHONE BARS | BEAUTY A DUTY | THE FIRST THRIFT SHOP | MEN IN APRONS | VERY PERSONALLY YOURS | FEMININE FOREVER | "MY BOSS IS A RATHER FLIRTY MAN" | IN LIKE FLYNN | ARM HAIR SHAME | THE ROYAL ORDER OF THE FLAPPER | THE GHOST WEEPS | OLD MAID | LADIES WHO'LL LUSH | PAMPERED DOGS OF PARIS | MIDOL vs. MARTYRDOM | GOOD MANNERS ARE FOR SISSIES | I MUST DECREASE MY BUST | WIPE OUT | ON THE SIDELINES | THE JAZZ MANIAC | THE GREAT HAIRCUT CRISIS | DOMESTIC HANDS | SPORTS WATCHING 101 | SPACE SECRETARY | THE CAVE MAN LOVER | THE GUIDE ESCORT SERVICE | WHO'S GUILTY? | PEACHES AND DADDY | STAG SHOPPING.
MORE LYNN PERIL at HILOBROW: PLANET OF PERIL series | #SQUADGOALS: The Daly Sisters | KLUTE YOUR ENTHUSIASM: BLOW-UP | MUSEUM OF FEMORIBILIA series | HERMENAUTIC TAROT: The Waiting Man | KIRB YOUR ENTHUSIASM: Young Romance | CROM YOUR ENTHUSIASM: Fritz Leiber's Conjure Wife | HILO HERO ITEMS on: Tura Satana, Paul Simonon, Vivienne Westwood, Lucy Stone, Lydia Lunch, Gloria Steinem, Gene Vincent, among many others.