Planet of Peril (2)
By: Lynn Peril
March 25, 2016
One in a series of posts, about forgotten fads and figures, by historian and HILOBROW friend Lynn Peril.
*
THE CONTROL OF CANDY JONES
To all appearances, Candy Jones was a successful woman in the mid-1970s. The tall blonde beauty, born Jessica Wilcox in Wilkes-Barre, Pennsylvania in 1925, had parlayed her initial success as one of the first cover-girl models in the 1940s into Broadway appearances and a USO tour of the South Pacific. A failed marriage to fashion impresario Harry Conover left her with serious debts after their split, but a decade later her own businesses (the Candy Jones Career Girl School and Candy Jones Personality Representative, Inc.) seemed to be thriving. She was the author of a dozen or so guidebooks to charm, beauty, and fashion, which propagated the feminine mystique in the author's warm, friendly, funny voice. She penned newspaper columns and made appearances on radio and television. She even gave lectures about personal grooming to female inmates at Rikers Island and the New York City Correctional Institute. In 1972, she married for a second time, to all-night radio jock and connoisseur of the paranormal, Long John Nebel.
According to The Control of Candy Jones (1976), the book that would come to define her life, she and Nebel first met in 1941, when he photographed her for a magazine ad. Thereafter, they "bumped into each other around town… but there was little communication" between them. Then, after a whirlwind courtship of 28 days, they married on New Year's Eve. The brevity of the relationship lent credibility to Nebel's shock when another side of Candy's personality popped out on their wedding night — and not in a fun, sexy way. Instead, the bride spoke in a deep voice that her new husband recalled as bitter and biting.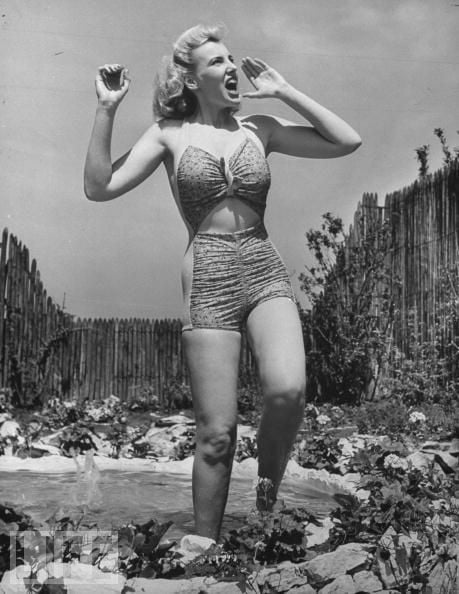 The incident passed quickly, but Candy's ongoing mood swings and insomnia (a side effect of cohosting her husband's show) led Nebel to hypnotize his wife. What emerged, in addition to repressed memories of childhood trauma, was a story of mind control and torture as Candy Jones worked as a courier and then became a guinea pig for the CIA. The deep-voiced entity was Arlene Grant, an alter ego who performed Candy's secret work, without her conscious knowledge. Used and abused by government agencies since 1960, Jones/Grant was programmed to commit suicide in 1972. Instead, she married Long John Nebel, whose hypnotic sessions broke the hold.
"The only problem with Candy Jones' story is this: do you believe it?" asked syndicated columnist Dick Kleiner after the book's publication. His takeaway? "It makes a convincing story." Or did it?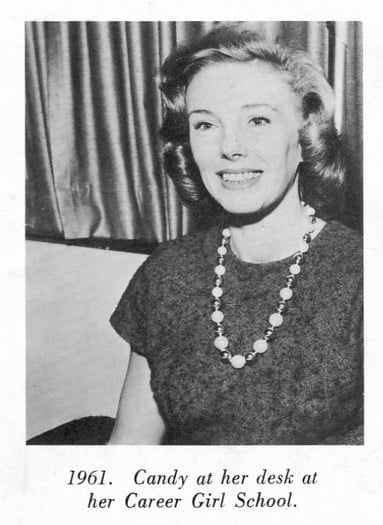 On one hand, if Harpo Marx could travel to the Soviet Union in the 1930s with papers taped to his leg, and Hedy Lamarr and George Antheil could team up to create a frequency-hopping torpedo-guidance system in the 1940s, it doesn't seem entirely far-fetched that a patriotic Candy Jones might agree to carry papers for the FBI in 1960 (her initial foray into clandestine activity). In the wake of revelations about MKULTRA in 1975 and 1977, Jones's story of abuse at the hands of the CIA takes on further authenticity.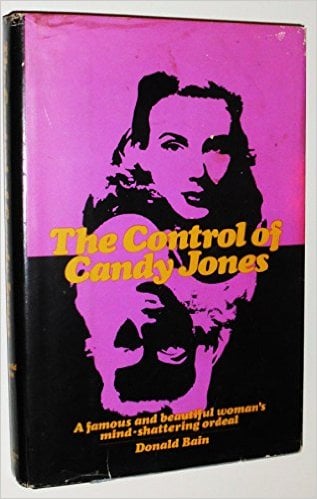 On the other hand, both Long John Nebel and Donald Bain, Nebel's biographer as well as author of The Control of Candy Jones, were experienced provocateurs. Speaking to the New York Times after Nebel's death in 1978, Bain remembered his friend as "one of the great put-ons of all time," who once convinced his listening audience that the wicks for cigarette lighters were grown in Wisconsin, where their production was threatened by an impending drought. Bain also knew a thing or two about put-ons. He wrote the bestselling Coffee, Tea or Me? (1967) under the double nom de plume of Trudy Baker and Rachel Jones, a pair of sexy stewardesses.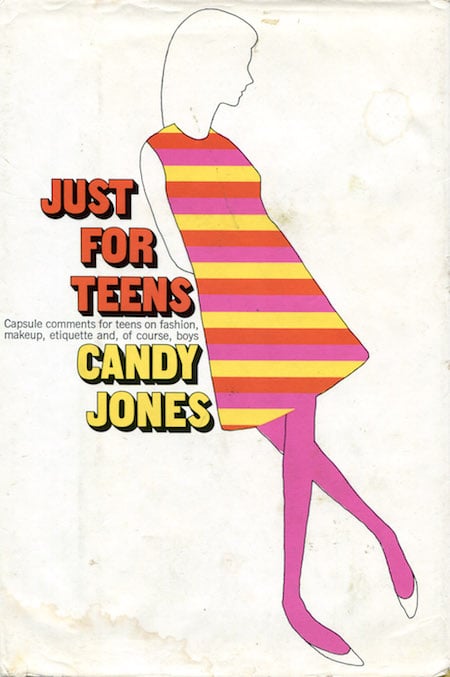 Control suggests that Jones and Nebel had little contact between their initial meeting and blitzkrieg betrothal, but Candy told a different story in Just for Teens (1967). "Perhaps someday, when I squeeze out the time, I will write a book about my life and times with Long John Nebel, the famous host of the NBC all-night radio program," she wrote. Jones made "any number of guest appearances on John's radio show," where she, author Jacqueline Susann, and a woman psychologist comprised "the female team." The midnight to 5:30 a.m. shift wreaked havoc with her schedule, however. "I keep turning Long John down when he asks me to come on the show, because I have to get up in the morning and run my school for girls." Jones even interviewed Nebel's secretary for the book's chapter on career women.
Perhaps influenced by her appearances on Nebel's show, where the subject was one of his pet topics, along with UFOs and occult phenomena, Jones asked another of Just for Teens' career women what led her to earn "a degree in the subject of hypnosis." (The interviewee — an artist — responded that self-hypnosis helped her to concentrate and finish projects.)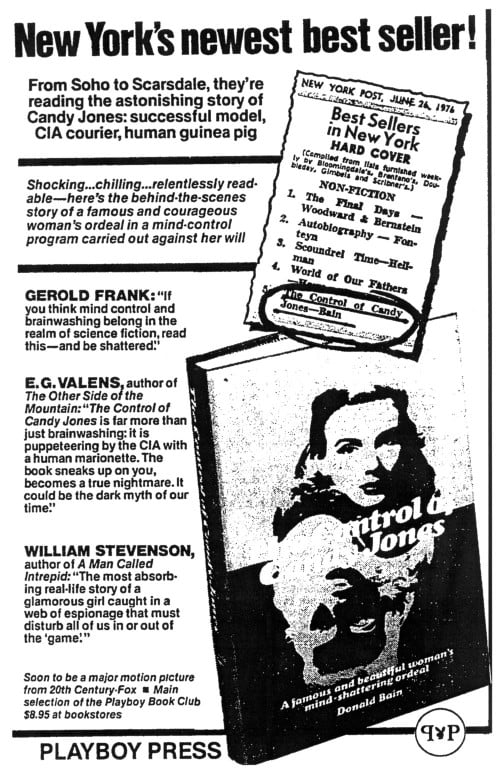 Nebel was also familiar with the subject of mind control. In May 1967, columnist Don Maclean recounted how Nebel had arranged an interview between themselves and Lincoln Lawrence, the pseudonymous author of Were We Controlled? The book's premise, per Maclean, was that the Soviets had implanted "an electronic device" in Lee Harvey Oswald's head "keyed to a hypnotic suggestion that he kill JFK." Ruby was similarly programmed to kill Oswald, then the "memories of both men were electronically erased, by remote control." Lawrence believed that "other 'brain-wired' people" walked among us, "just waiting to be 'activated,'" wrote Maclean. "All I can say is that maybe some of them are book publishers," was the columnist's sardonic conclusion.
But if The Control of Candy Jones was a hoax, what did its subject get out of it? In July 1976, the San Francisco Chronicle noted that Jones was tense during an interview to promote the book, and "given to long digressions from the subject." She termed going public as "pretty much of a catharsis." Jones also said she hoped her story would serve as a warning of the dangers of hypnosis and potential mind control — but perhaps the enemy wasn't the CIA.
According to Brainwash: The Secret History of Mind Control (2008), MKULTRA researcher and author John Marks used 16,000 pages of declassified CIA documents in an attempt to cross-reference Candy Jones's story, even gaining permission from Donald Bain to listen to his tape recordings (these, by the way, were not the tapes recorded by Nebel, but summaries made on the fly by Bain as he listened to the originals). "I couldn't get one cross reference that worked!… Not one!" he recalled. "[Nebel] made up the story, he put it into her and then he took it out of her… The whole thing was bullshit."
Candy Jones died in 1990. She never recanted her story.
***
PLANET OF PERIL: THE SHIFTERS | THE CONTROL OF CANDY JONES | VINCE TAYLOR | THE SECRET VICE | LADY HOOCH HUNTER | LINCOLN ASSASSINATION BUFFS | I'M YOUR VENUS | THE DARK MARE | SPALINGRAD | UNESCORTED WOMEN | OFFICE PARTY | I CAN TEACH YOU TO DANCE | WEARING THE PANTS | LIBERATION CAN BE TOUGH ON A WOMAN | MALT TONICS | OPERATION HIDEAWAY | TELEPHONE BARS | BEAUTY A DUTY | THE FIRST THRIFT SHOP | MEN IN APRONS | VERY PERSONALLY YOURS | FEMININE FOREVER | "MY BOSS IS A RATHER FLIRTY MAN" | IN LIKE FLYNN | ARM HAIR SHAME | THE ROYAL ORDER OF THE FLAPPER | THE GHOST WEEPS | OLD MAID | LADIES WHO'LL LUSH | PAMPERED DOGS OF PARIS | MIDOL vs. MARTYRDOM | GOOD MANNERS ARE FOR SISSIES | I MUST DECREASE MY BUST | WIPE OUT | ON THE SIDELINES | THE JAZZ MANIAC | THE GREAT HAIRCUT CRISIS | DOMESTIC HANDS | SPORTS WATCHING 101 | SPACE SECRETARY | THE CAVE MAN LOVER | THE GUIDE ESCORT SERVICE | WHO'S GUILTY? | PEACHES AND DADDY | STAG SHOPPING.
MORE LYNN PERIL at HILOBROW: PLANET OF PERIL series | #SQUADGOALS: The Daly Sisters | KLUTE YOUR ENTHUSIASM: BLOW-UP | MUSEUM OF FEMORIBILIA series | HERMENAUTIC TAROT: The Waiting Man | KIRB YOUR ENTHUSIASM: Young Romance | CROM YOUR ENTHUSIASM: Fritz Leiber's Conjure Wife | HILO HERO ITEMS on: Tura Satana, Paul Simonon, Vivienne Westwood, Lucy Stone, Lydia Lunch, Gloria Steinem, Gene Vincent, among many others.