PLANET OF PERIL (34)
By: Lynn Peril
November 16, 2018
One in a series of posts, about forgotten fads and figures, by historian and HILOBROW friend Lynn Peril.
*
WIPE OUT
Last Saturday, I fulfilled a goal: I paddled out with the surfers. Perhaps "the surfer" would be a more accurate description, as between a lack of waves and overabundance of wildfire smoke, the beach was mostly deserted except for my husband and me. The water was brisk, but my wetsuit kept me warm as I paddled against the current, got knocked off the board, got back on, learned to sit up after a fashion, and basically began to get myself acclimated to both board and ocean. At 57, I may have been the oldest gremmie out there, but I saw several surfers older than myself, at least two of them women. How ironic that some of them may have been introduced to the sport during the 1960s surfing craze — a time when middle-aged women (and adults in general) were considered too old and respectable for what was labeled a fad for teenagers or pastime for layabouts.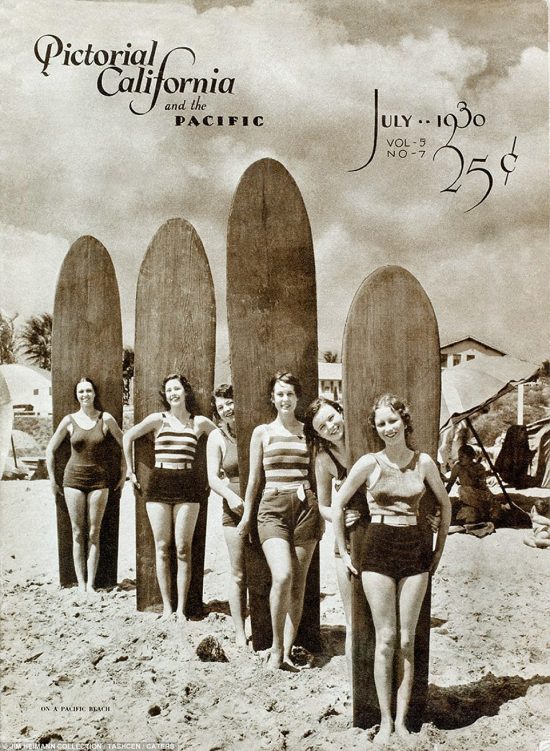 Women have always surfed. Historians believe that Pacific Islander women and girls, as well as their male counterparts, rode waves lying on flat pieces of wood for thousands of years before the Hawaiians refined the activity in the 1700s, lengthening and shaping the boards, upon which they stood upright. Leaping forward a couple of centuries, teenaged Mary Ann Hawkins surfed off the California coast in the 1930s and '40s, using an 80-pound redwood surfboard. After the Second World War, she was one of a group of women who surfed Malibu, some of them (including Hawkins) using lightweight all-balsa "girl boards" specially made for them by surfer Joe Quigg.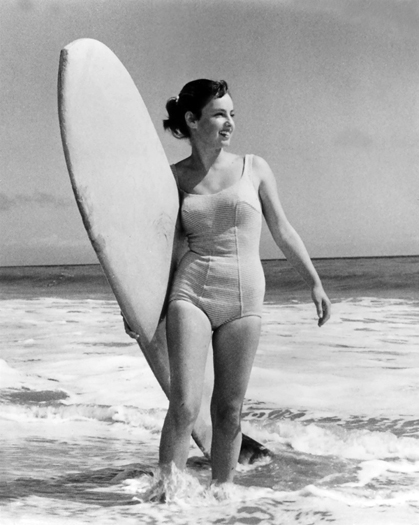 Fifteen-year-old Kathy Kohner had her mother drop her off at Malibu one day in 1956. A petite brunette, Kathy quickly bonded with the male surfers (in part by bringing them sandwiches), and learned to surf by imitating their moves. They showed their acceptance by nicknaming her Gidget, a combination of the words "girl" and "midget" (Kathy was five-foot-one). Kathy told her writer father about the characters she met at the beach; six weeks later Frederick Kohner had completed a novel, Gidget (1957), based on his daughter's adventures. (The novel's namesake protagonist is a smoking, cursing 15-year-old girl who lives to ride the "bitchen surf" at Malibu, quite unlike the lame character played by Sandra Dee in the 1959 film. The movie's moral is expressed when Gidget's mother points to "Grandma's old sampler" on the wall and asks her daughter to read it: "To be a real woman is to bring out the best in a man.")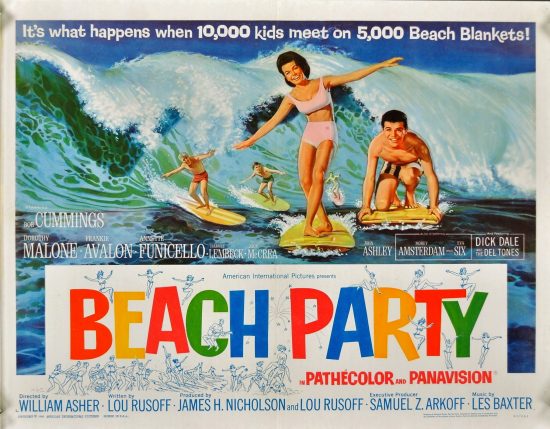 Gidget was part of the leading edge of a wave of surfing pop culture that came crashing down on the United States in the early 1960s. Nationwide hits like "Pipeline" by the Chantays and "Wipe Out" by The Surfaris introduced the concept of surfing to kids who never saw an ocean, as did The Beach Boys' "Surfer Girl" (all made the charts in 1963). Then came Beach Party (1963), the first in a series of movies, starring Frankie Avalon, Annette Funicello, and a crowd of go-go-dancing extras, aimed squarely at teenage audiences.
Women's magazines and family-oriented newspapers explained this new and explicitly teenage culture to concerned adults. Surfing was "more thrilling than water skiing or skin-diving, for youngsters especially," explained Parents Magazine in 1963. It was "a gang sport, rather than a family sport," though less dangerous than it looked. Much of the coverage was disdainful, if not downright negative. "Surf riding is the new enchantment of the American teen world, luring them, hundreds of thousands strong, like lemmings into the ocean waves," reported a syndicated news story in 1965.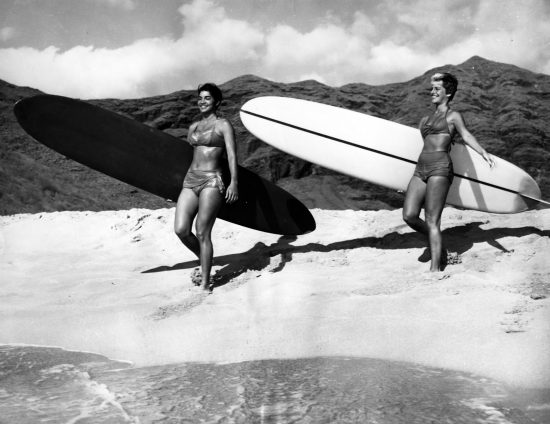 Youth was key. "If you're under twenty-one, go surfing," advised novelist Rona Jaffe in a 1966 article on how single girls could meet men on vacation. "If you don't know about surfing or don't like it, you're too old to go." Surfers were "the healthiest and most beautiful [men] in the world," she continued, but as husband material they came with a caveat: "you shouldn't marry one unless you'd like to live off bottle-deposit refunds."
The latter reference was to what was seen as a clear divide between squeaky clean teen surfers, boys and girls, who would give up the sport to go to college and become respectable adults with jobs, spouses, and children, and "beach bums" who wasted their lives chasing waves. A 1965 Associated Press story noted that some surfers maintained "their dedication into adult life," and that riders "in their 40s and 50s" could be seen "out on the weekends." Their status as weekend warriors suggests these surfers were job-holding citizens with a quirky hobby as opposed to a bunch of unemployed beatniks.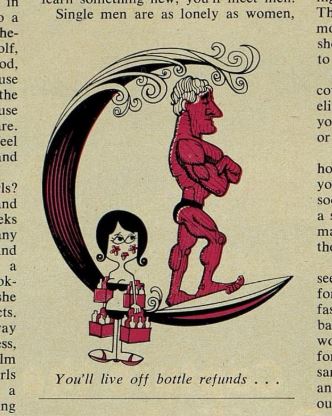 The surfing fad was practically over when, in 1967, Ladies Home Journal provided a scathing look at the life of Skip, a 23-year-year surfer from San Diego. Skip was the "warm, appealing, and energetic" leader of "a loose-knit band of jaded teenagers" who hung out at Ocean Beach. Writer Gael Greene had little else good to say about him. He was "a dropout who managed to keep out of the draft, a kicks seeker, disciple of the new hip culture," an "inarticulate non-activist protester against the American way of life … vain, misinformed, without ambition," and happy to live on the little he made shaping surfboards for a local shop, as long as he could surf every day. (Skip's live-to-surf, surf-to-live lifestyle was more or less the same as many of the early surfers, who mightily resented the Annette-and-Frankie crowd who invaded their most cherished spots. Many of them would have happily agreed with Skip, who told Greene he'd "just run right over" inexperienced surfers who got in his way on a wave. It was "kind of a poor outlook," he admitted. "But you gotta do it. Some of those ho-daddies out there don't know anything.")
Skip's girlfriend, Gail, was "16 going on 35, tiny, dark, with crow-black hair sprayed and ratted into a cotton-candy nest." She "and her strict parents — may tame him," read a photo caption. According to Skip, "You never take a girl surfing … but Gail wants to go everywhere, and I take her … that's how serious I am.'" It was unclear whether Gail surfed too or just sat on the beach watching her man do his thing. Asked whether a 16-year-old is too young for him, Skip explained that "Older girls only want to date college guys, fraternity men." Greene concluded: "Sweet sixteen is impressed. Sweet sixteen is no competition."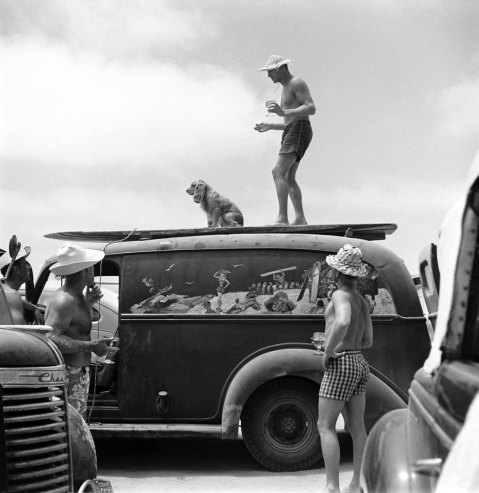 Other writers decided that teenage "beach bunnies" like Gail were indeed competition — to older women. In her partly tongue-in-cheek 1970 article, "Confessions of a Jealous Wife," writer Judith Viorst imagined a scene, then dissected it: "Husband to sun-tanned athlete with sprinkling of freckles across her adorable nose: 'I've been dying to try the surfing at Waikiki.' He has, has he? First of all, he doesn't know which end of a surfboard is up. Second of all, saltwater makes him itch. Third of all, we'd have to give him mouth-to-mouth resuscitation if he ever got close to the Perfect Wave."
Viorst at least imbued her beach bunny with athletic skill. The bikini-clad young woman who hangs out at the surfers beach in Herbert Lieberman's 1975 Redbook story, "Last Two Weeks of 39" is little more than an ambulatory rump. Sad sack Bobbie Strode is about to turn 40. He brings his family to the beach for his birthday, and there becomes obsessed with an au pair whose "firm, pert buttocks … bundled prettily into her white bikini," standing out "in rather stunning relief" when her suit is wet. The day after a miserable celebratory dinner with his wife and daughter, Bobbie ditches them in order to body surf a big wave in hopes that the au pair is watching. She isn't. Thus he recognizes "the knowledge of time and his own mortality" as he rides into the beach, beaten up by the big wave, "like a salmon, to die."
***
PLANET OF PERIL: THE SHIFTERS | THE CONTROL OF CANDY JONES | VINCE TAYLOR | THE SECRET VICE | LADY HOOCH HUNTER | LINCOLN ASSASSINATION BUFFS | I'M YOUR VENUS | THE DARK MARE | SPALINGRAD | UNESCORTED WOMEN | OFFICE PARTY | I CAN TEACH YOU TO DANCE | WEARING THE PANTS | LIBERATION CAN BE TOUGH ON A WOMAN | MALT TONICS | OPERATION HIDEAWAY | TELEPHONE BARS | BEAUTY A DUTY | THE FIRST THRIFT SHOP | MEN IN APRONS | VERY PERSONALLY YOURS | FEMININE FOREVER | "MY BOSS IS A RATHER FLIRTY MAN" | IN LIKE FLYNN | ARM HAIR SHAME | THE ROYAL ORDER OF THE FLAPPER | THE GHOST WEEPS | OLD MAID | LADIES WHO'LL LUSH | PAMPERED DOGS OF PARIS | MIDOL vs. MARTYRDOM | GOOD MANNERS ARE FOR SISSIES | I MUST DECREASE MY BUST | WIPE OUT | ON THE SIDELINES | THE JAZZ MANIAC | THE GREAT HAIRCUT CRISIS | DOMESTIC HANDS | SPORTS WATCHING 101 | SPACE SECRETARY | THE CAVE MAN LOVER | THE GUIDE ESCORT SERVICE | WHO'S GUILTY? | PEACHES AND DADDY | STAG SHOPPING.
MORE LYNN PERIL at HILOBROW: PLANET OF PERIL series | #SQUADGOALS: The Daly Sisters | KLUTE YOUR ENTHUSIASM: BLOW-UP | MUSEUM OF FEMORIBILIA series | HERMENAUTIC TAROT: The Waiting Man | KIRB YOUR ENTHUSIASM: Young Romance | CROM YOUR ENTHUSIASM: Fritz Leiber's Conjure Wife | HILO HERO ITEMS on: Tura Satana, Paul Simonon, Vivienne Westwood, Lucy Stone, Lydia Lunch, Gloria Steinem, Gene Vincent, among many others.