PLANET OF PERIL (12)
By: Lynn Peril
January 17, 2017
One in a series of posts, about forgotten fads and figures, by historian and HILOBROW friend Lynn Peril.
*
I CAN TEACH YOU TO DANCE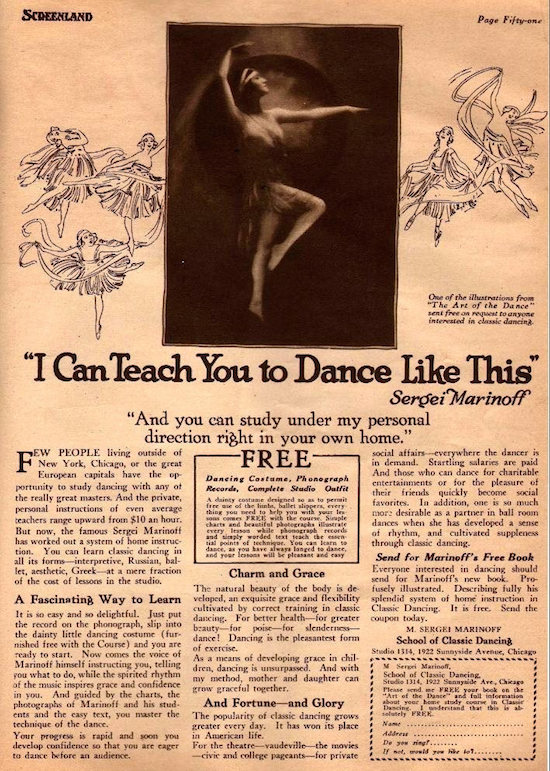 The ad exuded the optimism and ballyhoo for which the early 1920s were famous. A photograph of a woman standing on tiptoe and wearing an enormous headdress resembling the plumage of an exotic bird caught the eye, as did the audacious statement: "I Can Teach You to Dance Like This." The promise was sealed with the typescript signature of Sergei Marinoff.
Thanks to the Marinoff's School of Classic Dance, a student could learn "classic dancing in all its forms — interpretive, Russian, ballet, aesthetic, Greek" in the privacy of his or her own home, "at a mere fraction of the cost of lessons in the studio." But wait, there was more! In addition to written materials, and 78 rpm records, the student would receive "a dainty little dancing costume," a different one for each lesson. "Gorgeous costume with huge wings" was the tantalizing but vague description of that supplied for the Butterfly Dance.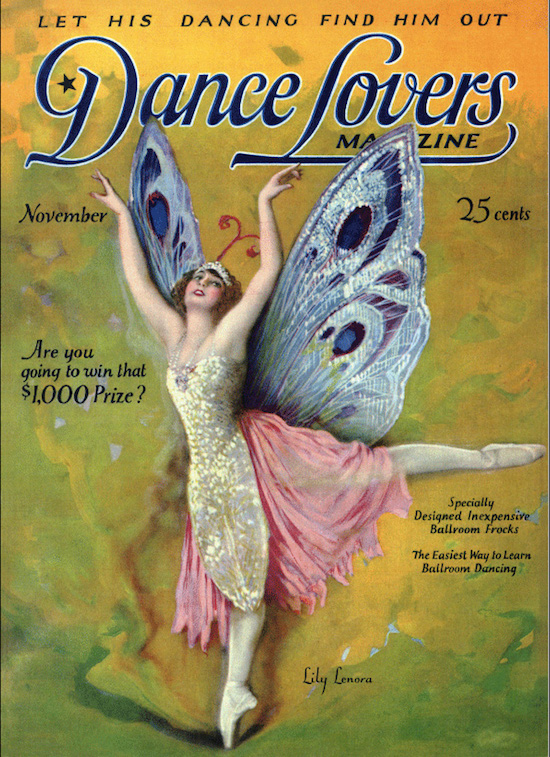 The course was "so easy and so delightful" that students would soon find themselves "eager to dance before an audience," not just in a social setting. "Startling salaries" were paid to dancers, in demand for the theater, vaudeville, movies, not to mention "civic and college pageants."
Though the money was likely startling only in its meagerness, some students clearly used their correspondence training to their advantage. A 1993 obituary for Montreal dance teacher Maurice Lacasse-Morenoff explained that the old trouper and his wife had tap danced and tumbled their way through "North America's vaudeville theatres… during which they adopted the Russian name Morenoff (possibly chosen because of a ballet manual they referred to written by Sergei Marinoff)." And when a dance studio in Hazelton, Pennsylvania celebrated its 70th anniversary in 1995, the local paper noted that its founder had studied with Gene Kelly, Fred Astaire, Bill Robinson, and Sergei Marinoff.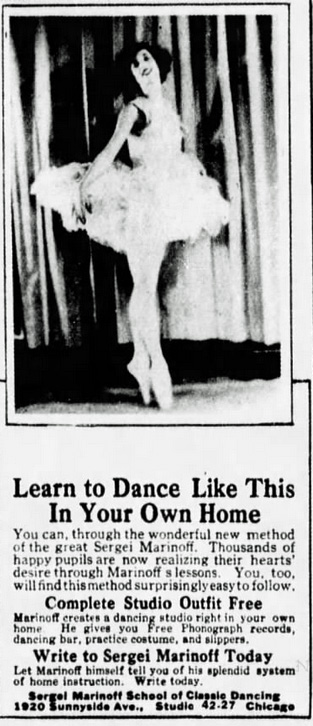 While the scenario of a poor but artistic Russian forced to advertise his services for hire after fleeing the fires of revolution at home was all too plausible in the 1920s, Seregi Marinoff did not exist. Both he and the School of Classic Dance were the inventions of a young copywriter, Vera Caspary, created when a change in technology consigned an agency client's correspondence course in railway signal engineering to the dustbin. Caspary was charged with coming up with a replacement. Alone one night in her apartment, dancing to the Victrola, she wondered how many young women would pay five dollars a month to learn ballet. Arthur Murray had already demonstrated that teaching dance by correspondence was profitable. Both the Ballet Russes and Anna Pavlova's company toured the United States during the First World War, and Russian ballet remained the hottest thing around. Caspary took a first name from a novel, the last name of actress Fania Marinoff, and introduced the world to Sergei Marinoff.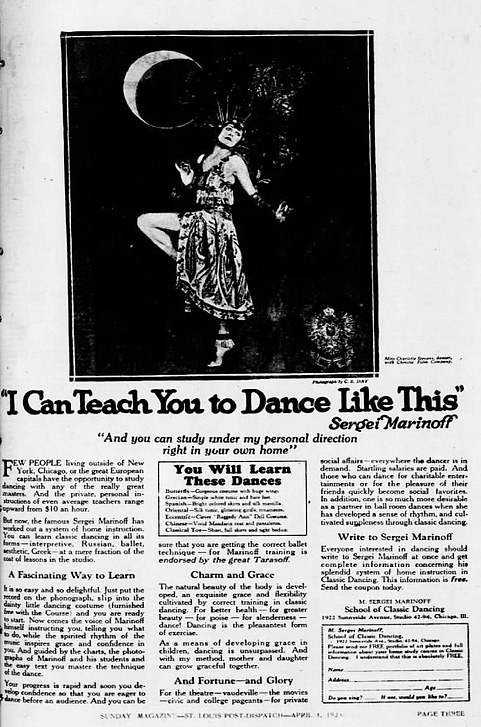 Caspary had long been comfortable with the exaggerated claims of advertising. The copy she wrote for her first account, Reefer's Rat Virus, promised customers that the stricken animals would politely "die outside" (the company folded when it became apparent that it didn't kill the beasts indoors or out). But the devotion of Marinoff's students to their nonexistent master shook her. "Hand-knitted mufflers, homemade cakes and Christmas gifts" arrived at the address listed on the course materials. No student complained when the deep-voiced Russian hired as Marinoff's voice for the first recordings was replaced with a Midwestern tenor after the basso was unable to chant "Right-left-attitude, right-left-attitude, right-left arabesque and hold" in time with the music necessary for more advanced lessons. Others swore up and down that they had taken lessons directly from the great man himself.
Caspary's cynicism was further tested when she visited some of Marinoff's city-dwelling students to ask why they would take a correspondence course when they could presumably visit a studio. What she found were individuals excluded from public classes due to race, disability, age, or, in one case, because the student's pastor forbade dancing. All wanted to know one thing: What was Sergei Marinoff really like? "He was a great artist and perfect gentleman," said the choreographer who accompanied her.
Caspary eventually put her talent for fiction to better use. She wrote eighteen novels (including Laura, the basis of the 1944 classic film), as well as stories, screenplays, and film treatments.
***
PLANET OF PERIL: THE SHIFTERS | THE CONTROL OF CANDY JONES | VINCE TAYLOR | THE SECRET VICE | LADY HOOCH HUNTER | LINCOLN ASSASSINATION BUFFS | I'M YOUR VENUS | THE DARK MARE | SPALINGRAD | UNESCORTED WOMEN | OFFICE PARTY | I CAN TEACH YOU TO DANCE | WEARING THE PANTS | LIBERATION CAN BE TOUGH ON A WOMAN | MALT TONICS | OPERATION HIDEAWAY | TELEPHONE BARS | BEAUTY A DUTY | THE FIRST THRIFT SHOP | MEN IN APRONS | VERY PERSONALLY YOURS | FEMININE FOREVER | "MY BOSS IS A RATHER FLIRTY MAN" | IN LIKE FLYNN | ARM HAIR SHAME | THE ROYAL ORDER OF THE FLAPPER | THE GHOST WEEPS | OLD MAID | LADIES WHO'LL LUSH | PAMPERED DOGS OF PARIS | MIDOL vs. MARTYRDOM | GOOD MANNERS ARE FOR SISSIES | I MUST DECREASE MY BUST | WIPE OUT | ON THE SIDELINES | THE JAZZ MANIAC | THE GREAT HAIRCUT CRISIS | DOMESTIC HANDS | SPORTS WATCHING 101 | SPACE SECRETARY | THE CAVE MAN LOVER | THE GUIDE ESCORT SERVICE | WHO'S GUILTY? | PEACHES AND DADDY | STAG SHOPPING.
MORE LYNN PERIL at HILOBROW: PLANET OF PERIL series | #SQUADGOALS: The Daly Sisters | KLUTE YOUR ENTHUSIASM: BLOW-UP | MUSEUM OF FEMORIBILIA series | HERMENAUTIC TAROT: The Waiting Man | KIRB YOUR ENTHUSIASM: Young Romance | CROM YOUR ENTHUSIASM: Fritz Leiber's Conjure Wife | HILO HERO ITEMS on: Tura Satana, Paul Simonon, Vivienne Westwood, Lucy Stone, Lydia Lunch, Gloria Steinem, Gene Vincent, among many others.