Planet of Peril (3)
By: Lynn Peril
April 22, 2016
One in a series of posts, about forgotten fads and figures, by historian and HILOBROW friend Lynn Peril.
*
VINCE TAYLOR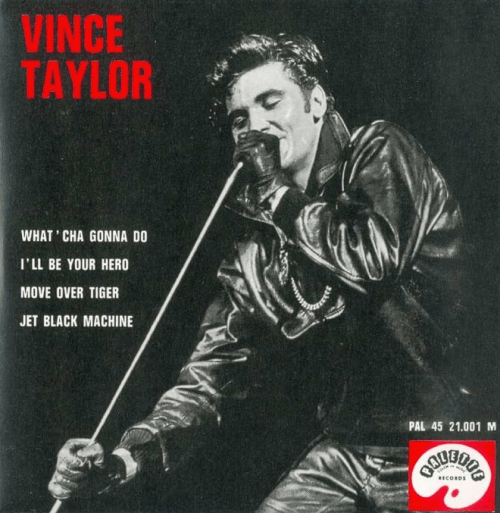 Early '60s rocker Vince Taylor was a showman from the crest of his pompadour to the toes of his pointy shoes. Dressed in black leather pants and shirt, with a large medallion bouncing off his chest, Taylor shimmied and shook across stages in London and Paris, where he gained his greatest fame. A lithe and rubbery dancer, he tossed his microphone stand with controlled abandon. A bicycle chain gripped in one of his black-gloved hands added to an aura of menacing cool. An American accent further marked Taylor as the real deal to kids who viewed the United States as the home of all things gloriously rock and roll: Chuck Berry, Little Richard, Eddie Cochran, and, of course, Elvis.
Active at a moment in time when rock-and-roll was almost universally acknowledged to be in the doldrums (Buddy Holly dead, Jerry Lee Lewis in disgrace, Elvis in the army), the movie-star handsome Taylor incited riots — at least one literally so. Bored with an opening act at November 1961 show in Paris, Taylor's fans, some dressed like their idol in black leather, began throwing bottles, then ripped out row after row of chairs from the auditorium. Adults tut-tutted, and he was banned from performing in Belgium.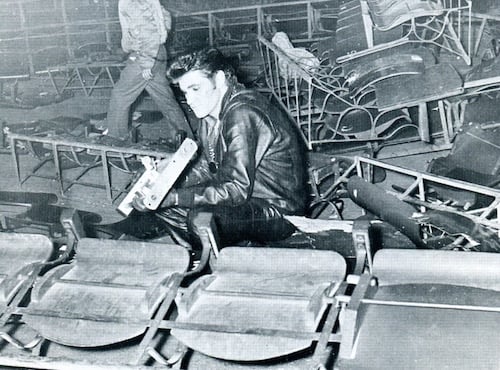 He didn't always sing on key, but Taylor even has a classic song to his credit: "Brand New Cadillac," later covered by The Clash and The Stray Cats. But with a few exceptions, the internet does his career no justice. A "failed musician," one journalist writes, a "C-list rock star." An "Elvis Presley wannabe" says a website. In fact, if you've heard of Vince Taylor at all, it's probably because David Bowie named him as one of the inspirations for Ziggy Stardust. By the time Bowie met him around 1965–66, Taylor's glory days were past. The man who had dated Brigitte Bardot and whose band once opened for The Rolling Stones, now hung out on London's streets, dressed in a white robe and sandals and pointing out UFO landing sites on a crumpled map to anyone who'd stop to listen. He was, Bowie later said, "right out of his tree," either "an alien or the son of god, but it might have been a bit of both."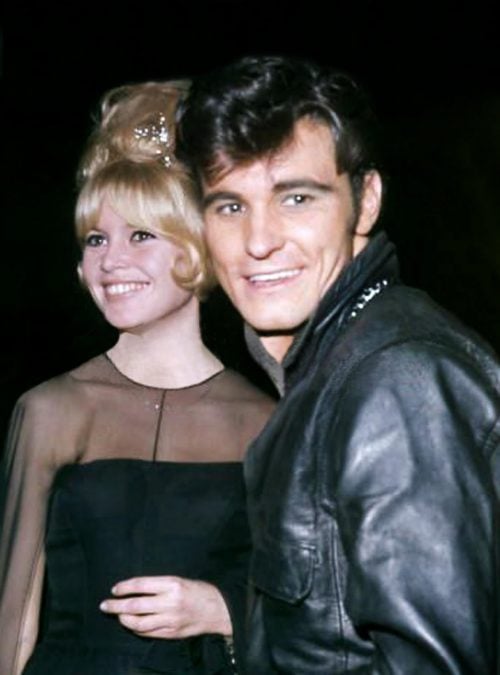 The story of how he got there is contradictory and wildly improbable, even by rock-and-roll standards. Vince made up much of it as he went along. Happy to let the kids assume he was as American as his accent, Taylor was actually British. Born Brian Maurice Holden in London in 1939, his family moved to New Jersey when he was seven years old. By the time he was a teenager, he'd been bitten by the brand-new bug called rock and roll.
According to legend, and endless repetition, this is what happened next. Brian's older sister, Sheila, moved to Los Angeles in 1958. She found work as a cashier and bookkeeper at the famous Hollywood eatery, Musso & Frank's. There, she met Joseph Barbera, one half of the famous animation team Hanna-Barbera. Upon the announcement of their engagement, the rest of the Holdens descended upon Los Angeles. Joe Barbera then took it upon himself to bankroll his new wife's little brother's rock and roll ambitions. Acting as his manager, Joe Barbera took the nascent Vince Taylor back to London, where he introduced him to the scene at the 2i's coffee bar, birthplace of British rock and roll. A debut single appeared in November 1958, and the rest is history.
Multiple stories also abound regarding the genesis of Brian Holden's stage name. "Vince" came either from Elvis's character in Jailhouse Rock, or from the latin motto "in hoc vinces" on a cigarette pack. Given that Taylor's black leather stage wear was an almost exact copy of Gene Vincent's, you'd be forgiven for wondering if that's where his name came from too. ("Taylor," it seems clear, was a tribute to Robert Taylor, a favorite actor.)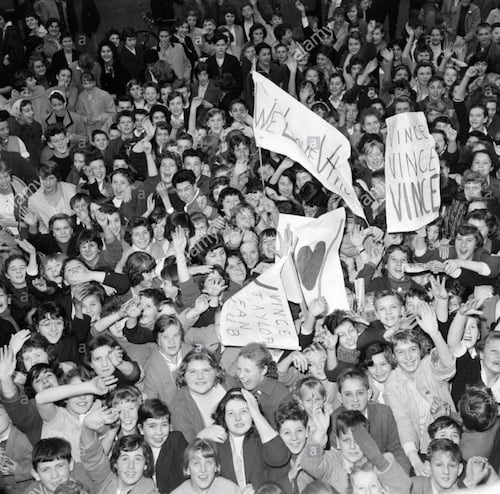 In this telling, the man who gave us Fred Flintstone is thus also indirectly responsible for the birth of Ziggy Stardust. It's a great story, and Vince even told a version of it in his 1976 autobiography Alias Vince Taylor: Le Survivant. But it's highly unlikely to have happened that way. Taylor apparently did have an American manager, Joe Singer, who decamped back to Hollywood at a particularly fragile moment in his client's early career. However, in 1958, Joe Barbera was still married to his first wife, and probably hard at work on The Huckleberry Hound Show, which debuted that October. Barbera and Sheila Holden wed in 1966, by which time her brother was already an acid casualty.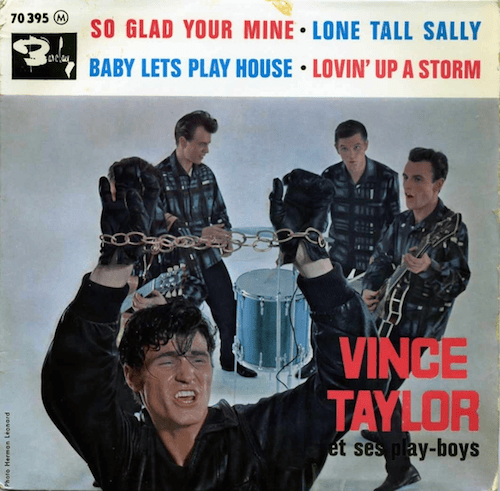 Deeper issues may already have been at work in Taylor's psyche — he was notoriously unreliable and pathologically jealous, skipping gigs to check on the whereabouts of girlfriends — but everybody seems to agree that May 29, 1965 was the day when he morphed into his next persona. Taylor simply states that madness gripped him outside La Locomotive, a Parisian club where they were scheduled to play. His bandmates remembered a more spectacular implosion. Introduced to LSD on a business trip to London, Taylor spent the better part of a week tripping the days away. He returned to Paris hours before they were due to go on, unshaven and longhaired, carrying a bolt of purple fabric and a jug of Mateus wine. "You think I'm Vince Taylor, don't you. But I'm not," he announced to his startled bandmates. "I am Mateus, the son of Jesus Christ." He seemed to recover before the show, shaved, shorn, and wearing his leathers, but once onstage, rather than singing, he baptized audience members from a jug of water. They were, to put it mildly, less than thrilled with this turn of events.
Taylor's legend continues to get around. Adam Ant claims to own one of Vince's gold chains, and to have had it wrapped around his fist when he punched out no less a rock-and-roll shapeshifter than Sid Vicious.
***
PLANET OF PERIL: THE SHIFTERS | THE CONTROL OF CANDY JONES | VINCE TAYLOR | THE SECRET VICE | LADY HOOCH HUNTER | LINCOLN ASSASSINATION BUFFS | I'M YOUR VENUS | THE DARK MARE | SPALINGRAD | UNESCORTED WOMEN | OFFICE PARTY | I CAN TEACH YOU TO DANCE | WEARING THE PANTS | LIBERATION CAN BE TOUGH ON A WOMAN | MALT TONICS | OPERATION HIDEAWAY | TELEPHONE BARS | BEAUTY A DUTY | THE FIRST THRIFT SHOP | MEN IN APRONS | VERY PERSONALLY YOURS | FEMININE FOREVER | "MY BOSS IS A RATHER FLIRTY MAN" | IN LIKE FLYNN | ARM HAIR SHAME | THE ROYAL ORDER OF THE FLAPPER | THE GHOST WEEPS | OLD MAID | LADIES WHO'LL LUSH | PAMPERED DOGS OF PARIS | MIDOL vs. MARTYRDOM | GOOD MANNERS ARE FOR SISSIES | I MUST DECREASE MY BUST | WIPE OUT | ON THE SIDELINES | THE JAZZ MANIAC | THE GREAT HAIRCUT CRISIS | DOMESTIC HANDS | SPORTS WATCHING 101 | SPACE SECRETARY | THE CAVE MAN LOVER | THE GUIDE ESCORT SERVICE | WHO'S GUILTY? | PEACHES AND DADDY | STAG SHOPPING.
MORE LYNN PERIL at HILOBROW: PLANET OF PERIL series | #SQUADGOALS: The Daly Sisters | KLUTE YOUR ENTHUSIASM: BLOW-UP | MUSEUM OF FEMORIBILIA series | HERMENAUTIC TAROT: The Waiting Man | KIRB YOUR ENTHUSIASM: Young Romance | CROM YOUR ENTHUSIASM: Fritz Leiber's Conjure Wife | HILO HERO ITEMS on: Tura Satana, Paul Simonon, Vivienne Westwood, Lucy Stone, Lydia Lunch, Gloria Steinem, Gene Vincent, among many others.