Planet of Peril (7)
By: Lynn Peril
August 25, 2016
One in a series of posts, about forgotten fads and figures, by historian and HILOBROW friend Lynn Peril.
*
I'M YOUR VENUS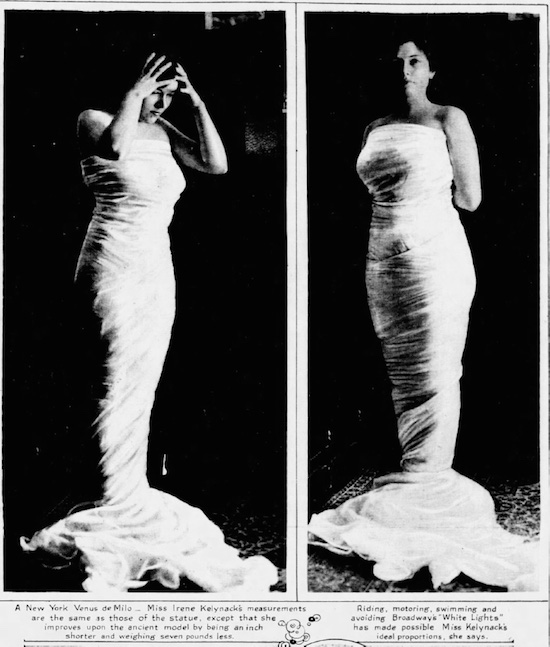 On March 15, 1916, New York's Evening World newspaper declared 21-year-old Dorothea Irene Kelynack "an exact flesh-and-blood replica of the marble Venus of the Louvre." This was newspaper hyperbole, of course; to begin with, the Venus de Milo is six feet eight inches tall. Nevertheless, for a short period of time just before America entered the First World War, newspapers declared one or another young woman "a modern Venus" based on her measurements' adherence to a scaled-down version of the statue. There was a Swarthmore Venus and one from Wellesley (the women's colleges had such data at the ready as incoming freshmen were routinely measured nude in a relentless hunt for scoliosis; men's colleges did the same, but no competition to discover a "modern David" followed). Now, Venus had emerged from New York City.
According to the paper's "Venus Chart," Kelynack was a smidge under five feet four inches tall, weighed 125 pounds, and measured as follows: neck, 12.5 inches; chest, 34.2 (two inches larger when inflated); waist 25.9. Her ankle measured a dainty 8.2 inches. The female reporter cooed about the "springing, supple lines" and "arresting charm" of Dorothea's "perfectly modeled, perfectly managed body."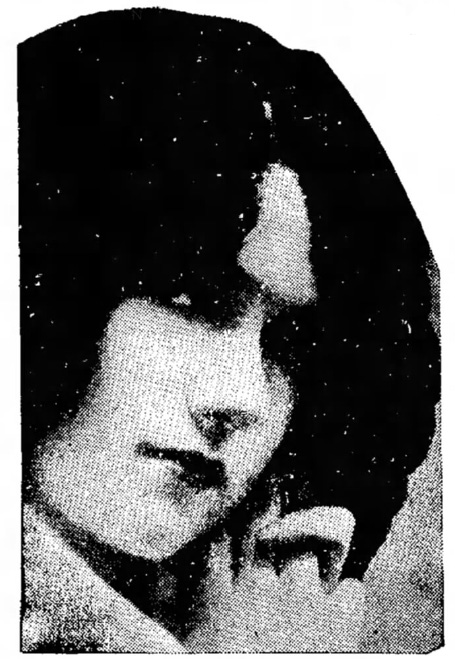 The new Venus conceded she wore a corset, albeit a "very loose" one. Otherwise, she was a bit of a rebel. "I drink a little wine with my dinner when I feel like it, and I eat candy," she said, though she practiced "temperance" when it came to both (this may have been a jibe at prohibition bluenoses to whom temperance meant full abstinence where alcohol was concerned). She believed that a career kept a woman "mentally alert" and helped to "preserve her beauty longer than the mere idler." Dorothea herself had trained at the London Academy of Music, and aspired to appear on the stage or in the movies.
She had been a tomboy, who loved to climb trees and ride horses. "I believe that the tomboy has a better chance of becoming a Venus than the affected, artificial, repressed child whose one duty in life is to be 'be a little lady,'" she concluded, in the type of statement for which the word "foreshadowing" was invented.
One might have expected Dorothea to make a match equal to that of her non-Venusian sister, who married a wealthy linen dealer after a shipboard romance. Instead, Dorothea eloped with Ernest Turley, a Navy man, in early 1918. The papers later called him "a handsome, two-fisted, go-getting sort of fellow" who "put up a whirlwind wooing that made paunchy millionaires, in Dorothea's eyes, seem just funny," but he was without question a bit player in the drama that followed. A daughter, Mattie, was born in December, and a son the following year.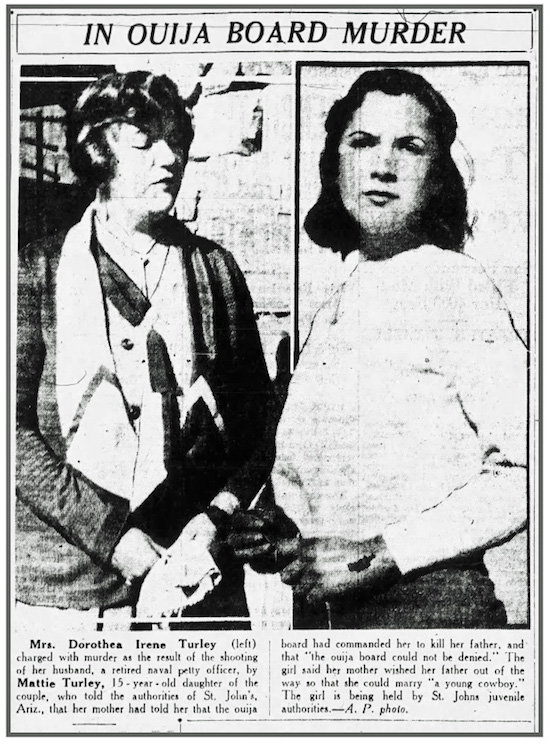 The family moved to California, then, in July 1933, to Arizona, hoping the climate would aid Dorothea's asthmatic lungs. News photos showed a rustic shack in which Ma and Pa Kettle would have felt right at home. It was easy to imagine a skunk taking up residence under the house. Mattie said she was aiming at one on November 18, 1933, when she tripped and unloaded both barrels of her shotgun into her father's back. He was wounded, but alive. Mattie was a month shy of her fifteenth birthday.
But when the sheriff asked why, if the gun discharged as she fell, the shot's path through her father's body angled up and not down, Mattie let loose with a bombshell. She shot Ernest Turley on purpose — because the Ouija board she and her mother consulted said that her father must die in order for Dorothea to marry a handsome cowboy. "Mother told me the Ouija board could not be denied," Mattie later told a jury, "and that I would not even be arrested for doing it." Despite her professed belief in the Ouija's infallibility, Dorothea nevertheless sought a second opinion. She reached for a deck of cards and drew one. "The ace of spades," Mattie testified, "meant death for Daddy." She lost her nerve when she first took aim, then thought about "how much it would mean" to her mother and fired.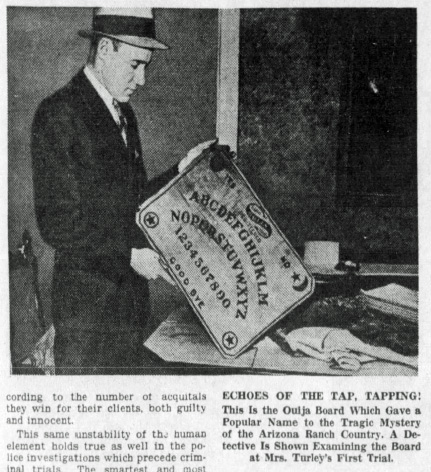 Mattie pleaded guilty to a charge of attempted murder. Law enforcement wisely looked to the other set of hands on the planchette during that fateful session with the Ouija board and jailed Dorothea as an accomplice.
Ernest Turley died six weeks after the shooting. Dorothea was charged with murder, and the newspapers went berserk. Mattie was now the "beautiful 15-year-old shotgun slayer of her father." Still "pretty" at 38, Dorothea had been chosen the American Venus over 3,000 or 50,000 other beauty contest entrants (in 1916 she told a New Jersey paper that her resemblance to the statue had been "discovered by accident" when "a relative noticed in the papers something about a would-be Venus at one of the colleges, and asked her to have herself measured"). Pictures of mother and daughter ran side by side for comparison.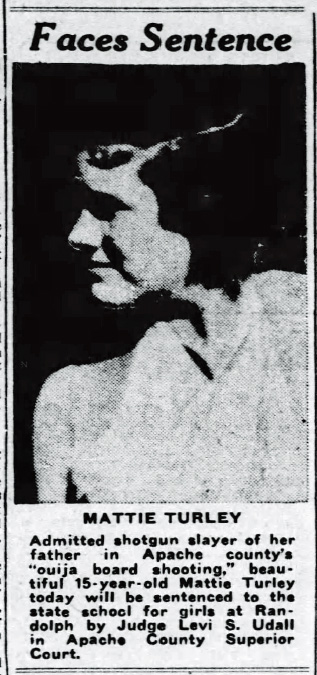 Details were lurid. The handsome cowboy was tracked down, a 22-year-old named Kent Pearce. Like Dorothea before him, he dreamed of a movie career. Mattie testified that her mother and Pearce frequently drove out of town for late-night petting parties, with 14-year-old Mattie and a friend of Pearce's in the backseat. Once the foursome stayed out until morning. "I have a hell of a good time on the Mesa," Dorothea told a neighbor.
Dorothea maintained that the shooting was accidental. Yes, she owned a Ouija board, but she never asked it "Shall we kill father?" as her daughter testified. Mattie was angry with her and her father because they "didn't want her to use rouge or to run about at night with cowpunchers or to cross her legs the way she did or to wear such short dresses." She tried to pin the blame on her mother, Dorothea said, "because some of the cowboys didn't like me."

Through it all, Mattie stuck to the Ouija story. She also expressed deep remorse. "They thought I wouldn't take the rap," she said. "But I killed Daddy and I want to pay for it. That's the only way I can show the world and him how sorry I am." When she was taken away to begin serving her sentence at the grim-sounding State School for Girls, Dorothea told her, in what Mattie called and cold and sarcastic tone: "I thank you for your cooperation. Be a good girl."
Dorothea was sentenced to 15 to 25 years for masterminding her husband's murder, but had served less than three when she was granted a new trial and the charges against her were dropped. She went straight to the convent where Mattie remained in custody following the closure of the reform school. A "happy and contented" Mattie at first refused to meet with her mother, then relented long enough to tell Dorothea she never wanted to see her again. She was paroled shortly thereafter, and disappeared into what one can only hope was a satisfying adult life.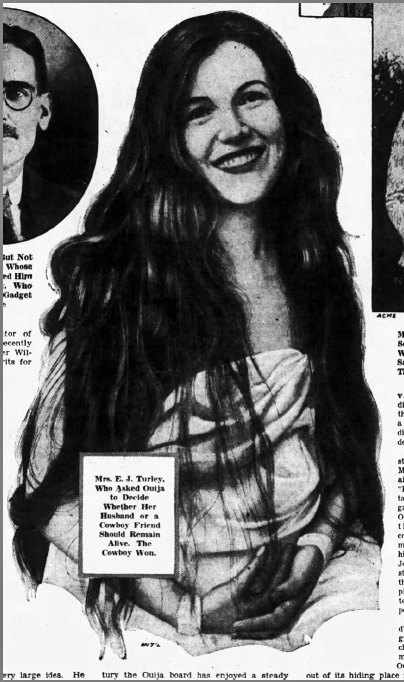 Dorothea told reporters that the day would come when Mattie would "realize the terrible wrong" she had done her to her mother. In the meantime, she unsuccessfully sued the former superintendent of the State School for Girls for "poisoning" her daughter's mind against her.
***
PLANET OF PERIL: THE SHIFTERS | THE CONTROL OF CANDY JONES | VINCE TAYLOR | THE SECRET VICE | LADY HOOCH HUNTER | LINCOLN ASSASSINATION BUFFS | I'M YOUR VENUS | THE DARK MARE | SPALINGRAD | UNESCORTED WOMEN | OFFICE PARTY | I CAN TEACH YOU TO DANCE | WEARING THE PANTS | LIBERATION CAN BE TOUGH ON A WOMAN | MALT TONICS | OPERATION HIDEAWAY | TELEPHONE BARS | BEAUTY A DUTY | THE FIRST THRIFT SHOP | MEN IN APRONS | VERY PERSONALLY YOURS | FEMININE FOREVER | "MY BOSS IS A RATHER FLIRTY MAN" | IN LIKE FLYNN | ARM HAIR SHAME | THE ROYAL ORDER OF THE FLAPPER | THE GHOST WEEPS | OLD MAID | LADIES WHO'LL LUSH | PAMPERED DOGS OF PARIS | MIDOL vs. MARTYRDOM | GOOD MANNERS ARE FOR SISSIES | I MUST DECREASE MY BUST | WIPE OUT | ON THE SIDELINES | THE JAZZ MANIAC | THE GREAT HAIRCUT CRISIS | DOMESTIC HANDS | SPORTS WATCHING 101 | SPACE SECRETARY | THE CAVE MAN LOVER | THE GUIDE ESCORT SERVICE | WHO'S GUILTY? | PEACHES AND DADDY | STAG SHOPPING.
MORE LYNN PERIL at HILOBROW: PLANET OF PERIL series | #SQUADGOALS: The Daly Sisters | KLUTE YOUR ENTHUSIASM: BLOW-UP | MUSEUM OF FEMORIBILIA series | HERMENAUTIC TAROT: The Waiting Man | KIRB YOUR ENTHUSIASM: Young Romance | CROM YOUR ENTHUSIASM: Fritz Leiber's Conjure Wife | HILO HERO ITEMS on: Tura Satana, Paul Simonon, Vivienne Westwood, Lucy Stone, Lydia Lunch, Gloria Steinem, Gene Vincent, among many others.