PLANET OF PERIL (20)
By: Lynn Peril
September 10, 2017
One in a series of posts, about forgotten fads and figures, by historian and HILOBROW friend Lynn Peril.
*
MEN IN APRONS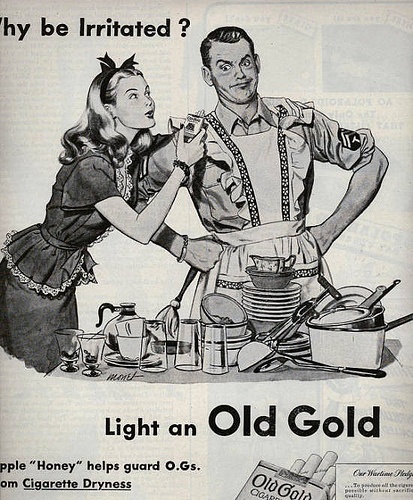 The serviceman in a 1945 ad for Old Gold cigarettes is angry. We can tell by the look on his face as he stares at a sink full of dirty dishes, and because the tag line ("Why be Irritated?") helpfully tells us so. But is he mad at the dishes — or at having to wear the ruffled apron that likely belongs to the pretty young woman next to him, sassily offering a cigarette?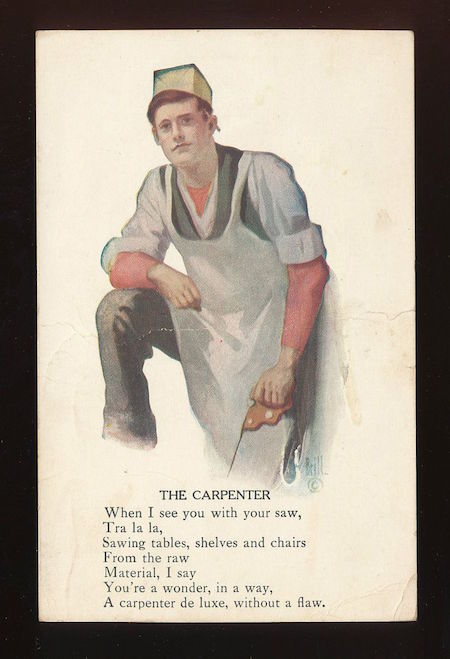 As far as clothing items go, there's nothing inherently masculine or feminine about an apron, a piece of fabric or other material with tie straps that keeps your clothes clean when working on any number of messy projects. Over the centuries, male butchers, blacksmiths, carpenters, grocers, waiters, soda jerks, and short order cooks all wore aprons on the job, as did many other workers.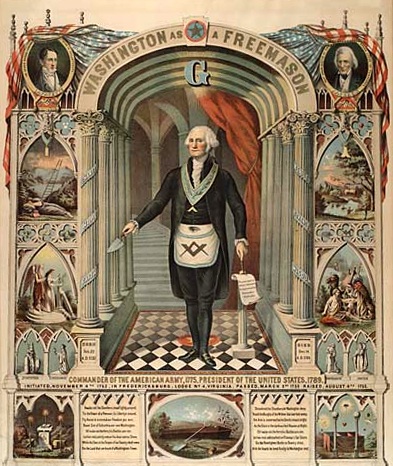 Well before the Old Gold campaign, simple aprons carried bigger meaning. In the 18th century, the protective leather apron worn by tradesmen morphed into a symbol of working-class authenticity for certain sectors of non-workingmen. In 1727, Benjamin Franklin, anxious to hold on to his roots, named his mutual improvement conversation society the Leather Apron Club after those worn by printers and other tradesmen. George Washington and other Freemasons wore colorfully decorated ceremonial aprons that were said to mimic the leather ones worn by medieval stonemasons during private rituals as well as public appearances. Washington wore his when laying the cornerstone of the Capitol in 1793 in a full Masonic ritual.
Jumping the Atlantic for a moment, prostitutes in the Whitechapel section of London in 1888 told police looking for a sadistic killer about a creepy character they called Leather Apron after the item of clothing he always wore. The bootmaker's alibi checked out, otherwise we'd be talking about Leather Apron instead of Jack the Ripper — the much catchier sobriquet the press bestowed on the still unidentified killer.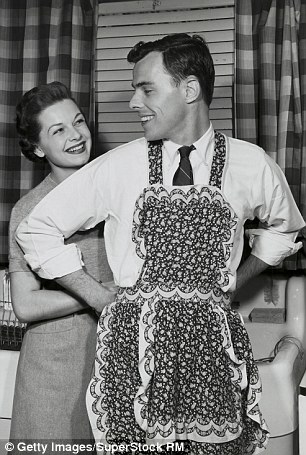 But the apron donned by the serviceman in the cigarette ad is something far different: a frilly symbol of femininity. Mid-twentieth-century America was a place where gender was rigidly divided into masculine and feminine, and woe to those who didn't fit the definitions. The image of a man wearing a woman's apron while doing "woman's work" in the kitchen was a gender-shaming visual joke at a time when "real" men did not help out with housework or childcare — at least not in pop culture portrayals. The ruffled apron was especially attractive to illustrators and art directors, but even a half apron decorated with rickrack got the point across.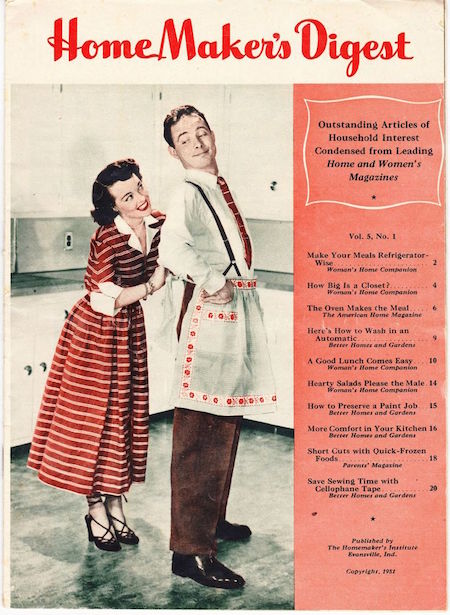 The frequent presence of a woman tying the man's apron strings added to the alleged humor of the situation ("It's okay, honey, I'm here to help you navigate this unfamiliar territory") while allaying any suspicions about the masculinity of men who actually enjoyed housework or cooking. A 1940s Bisquick ad showed a man by himself in the kitchen wearing a frilly, pink apron (a double-whammy of gender nonconformity) but the copy affirmed his heterosexuality: "So simple even a husband can do it!" Of course, no one questioned Superman's masculinity when he grabbed a ruffled apron to do a little solo baking and cleaning in a 1946 Sunday strip, but then again, he was Superman.

Usually, if men were shown to enjoy cooking, the aprons they wore were strictly utilitarian. The drawing on the cover of Men in Aprons (1944) showed a gent in a plain white apron and chef's toque. The coverboy on Trader Vic's KItchen Kibitzer (1952) was also dressed in plain white, but the long fork and spatula he carried also showed he was ready for a BBQ.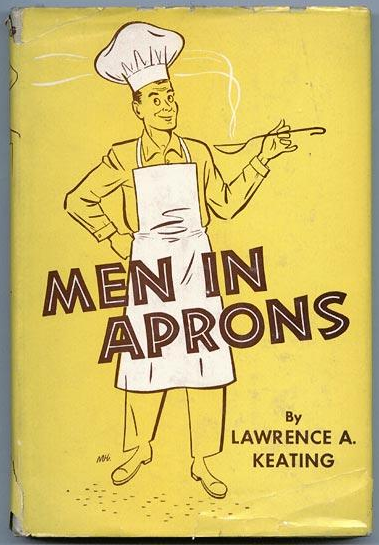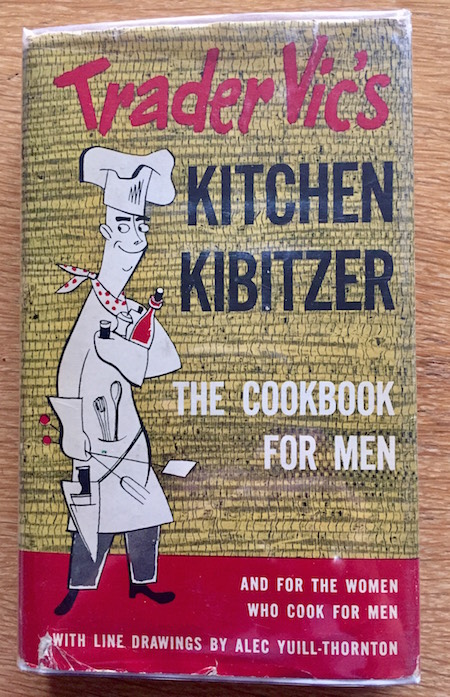 I'm far from the first to point out that by mid-twentieth-century rules, it was acceptable for men to cook outside over fire — like cavemen! — on special occasions while women were relegated to the safe and daily drudgery of the kitchen. Similarly, a man in a white apron and toque was a professional, a chef, an artiste with food. The novelty BBQ apron Dad donned while manning the grill on a Sunday afternoon whispered "this isn't my real job" while the images and words on it might double down on his questionable cooking skills.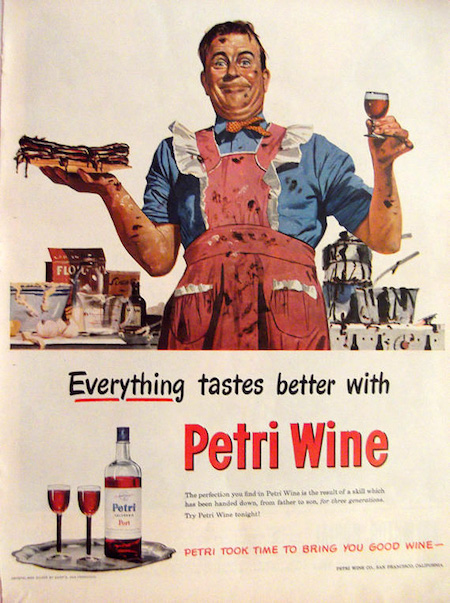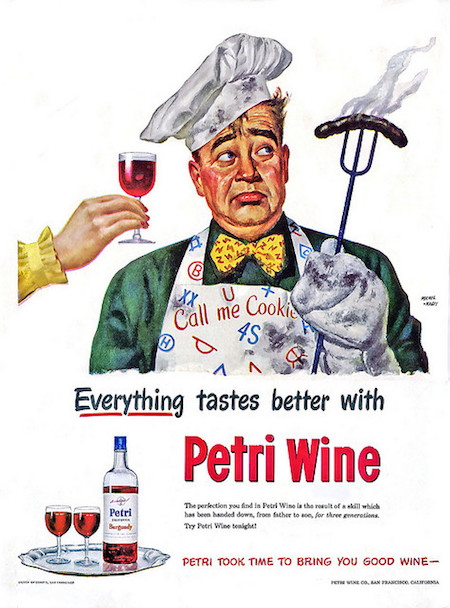 A pair of early 1950s ads for Petri Wine show a regular Joe in both types of apron. He wears a frosting-spattered pink ruffled apron in one ad, beaming with pride as he holds a plate bearing a collapsed cake in one hand and a glass of wine in the other. In the other ad, a man in a sooty toque and a novelty apron reading "Call me Cookie" stares ruefully at the burnt and smoking wienie speared on the end of his BBQ fork. A feminine hand reaches in from the side with a soothing glass of red. Men can't cook, both ads suggested, but they sure are funny when they try to do it (a corollary takeaway was simply thank god for wine).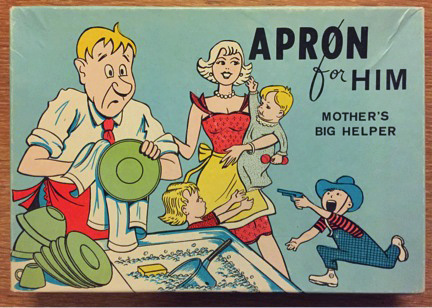 Cooking is, of course, creative at heart. Dishwashing on the other hand, was sheer drudgery, especially in the era when it was all done by hand. (Perhaps the serviceman in the Old Gold ad would have been irritated at getting stuck on KP duty even without the frilly apron.) Men's novelty aprons from the '50s or '60s were particularly grim on the subjects of both dishwashing and marriage. One showed an apron-clad man (no ruffles though a big feminine bow peeks out from the back) looking cowed in front of a suds-filled sink with the words "Ball 'n Chain" above his head, while the same is attached to his ankle. No real man, it suggested, would let his wife push him into doing her chores. A joke gift "Apron for Him" reduced post-marital masculine pleasure to the basics. The box showed a shellshocked husband doing dishes in a ruffled half apron while children run rampant and his sexy apron-clad wife takes it all in stride. Inside was a pink apron with a fly, which, when unzipped exposed a piece of fabric reading "Home sweet home, where you can scratch where it itches!"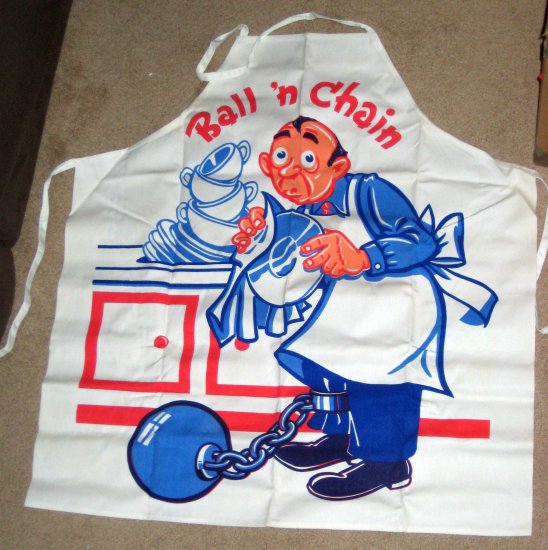 ***
PLANET OF PERIL: THE SHIFTERS | THE CONTROL OF CANDY JONES | VINCE TAYLOR | THE SECRET VICE | LADY HOOCH HUNTER | LINCOLN ASSASSINATION BUFFS | I'M YOUR VENUS | THE DARK MARE | SPALINGRAD | UNESCORTED WOMEN | OFFICE PARTY | I CAN TEACH YOU TO DANCE | WEARING THE PANTS | LIBERATION CAN BE TOUGH ON A WOMAN | MALT TONICS | OPERATION HIDEAWAY | TELEPHONE BARS | BEAUTY A DUTY | THE FIRST THRIFT SHOP | MEN IN APRONS | VERY PERSONALLY YOURS | FEMININE FOREVER | "MY BOSS IS A RATHER FLIRTY MAN" | IN LIKE FLYNN | ARM HAIR SHAME | THE ROYAL ORDER OF THE FLAPPER | THE GHOST WEEPS | OLD MAID | LADIES WHO'LL LUSH | PAMPERED DOGS OF PARIS | MIDOL vs. MARTYRDOM | GOOD MANNERS ARE FOR SISSIES | I MUST DECREASE MY BUST | WIPE OUT | ON THE SIDELINES | THE JAZZ MANIAC | THE GREAT HAIRCUT CRISIS | DOMESTIC HANDS | SPORTS WATCHING 101 | SPACE SECRETARY | THE CAVE MAN LOVER | THE GUIDE ESCORT SERVICE | WHO'S GUILTY? | PEACHES AND DADDY | STAG SHOPPING.
MORE LYNN PERIL at HILOBROW: PLANET OF PERIL series | #SQUADGOALS: The Daly Sisters | KLUTE YOUR ENTHUSIASM: BLOW-UP | MUSEUM OF FEMORIBILIA series | HERMENAUTIC TAROT: The Waiting Man | KIRB YOUR ENTHUSIASM: Young Romance | CROM YOUR ENTHUSIASM: Fritz Leiber's Conjure Wife | HILO HERO ITEMS on: Tura Satana, Paul Simonon, Vivienne Westwood, Lucy Stone, Lydia Lunch, Gloria Steinem, Gene Vincent, among many others.