PLANET OF PERIL (32)
By: Lynn Peril
September 8, 2018
One in a series of posts, about forgotten fads and figures, by historian and HILOBROW friend Lynn Peril.
*
GOOD MANNERS ARE FOR SISSIES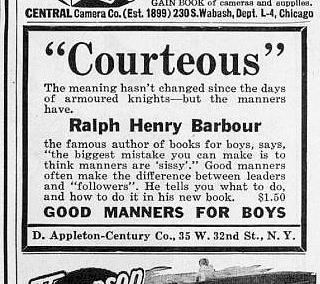 "No young human being, any more than a young dog, has the least claim to attractiveness unless it is trained to manners and obedience," wrote Emily Post in her famous guide to Etiquette (1922). She conceded that girls were "usually daintier and more easily taught than boys," but nowhere did she mention the word "sissy" in regards to the latter. Post may have been too polite to print the word, but by the time the first edition of Etiquette was published, the chance that a boy with good manners would be labeled a sissy, or worse, was high indeed.
The slur dated back to the late nineteenth century, when an affectionate nickname for one's sister morphed into what the Oxford English Dictionary labels a "depreciative" term for an effeminate boy or man, one regarded as "excessively averse to dirt" among other qualities. Good grooming, table manners, and knowing when to lift one's hat and to whom all fit under the rubric of etiquette, a field of study so feminized that for a man to be at all interested in it made others suspect him of effeminacy.
"Finical" was another word that frequently came up in discussions of men and manners. Largely spurned today in favor of its relative "finicky," finical described individuals whose manners were "over-nice" or "affectedly fastidious, excessively punctilious or precise." Knowing the finicky bits of etiquette (how to eat an artichoke or which fork was for the fish course) was best left to girls and women. Keeping one's mouth closed while chewing and wearing clean underpants every day were manners and grooming enough for boys and men, especially if these skills were presented in context of making dates or going on job interviews.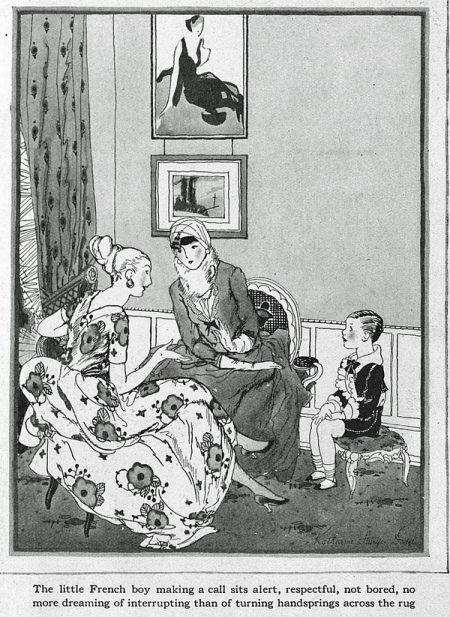 Being finical was anathema for he-men. "There are always some persons with whom we have to come in contact, who, in their effort to display good manners, are really too nice," wrote Mary Marshall Durfee in a 1923 edition of her syndicated column, "The Right Thing at the Right Time." The unfortunate result was that "instead of appearing extraordinarily well bred" such people appeared "ridiculous. We accuse the man who has acquired such tricks as being a 'Miss Nancy.'"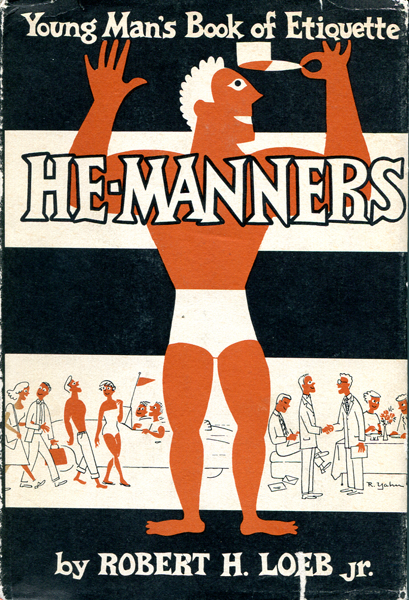 Most advice writers faced this problem head on, then careened into the weeds as they overcorrected. The same year that Etiquette was published, Dorothy Canfield Fisher compared French and American children's manners in Good Housekeeping. Eight-year-old French boys routinely went on social calls with their mothers, an act that did not "make them sissies," she claimed. "Just remember how these call-paying boys fought in front of Verdun," she continued, invoking the World War I battle in which over 375,000 Frenchmen were killed or injured. That the article was illustrated with a picture of a lad in a Little Lord Fauntleroy suit and cheeks so ruddy they appeared to be rouged did not help her argument. (The cover of He-Manners (1954) was much less ambiguous in its messaging. If the title wasn't clear enough by itself, a drawing of a muscleman doffing his cap reinforced the point: this was a book for he-men!)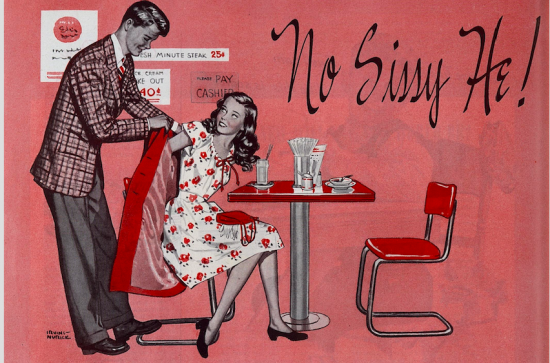 Ladies Home Journal leaned hard on mechanics and motoring in the June 1945 installment of "The Sub-Deb," its regular column for teenage girls. "No Sissy He!" told the story of Johnny, who liked loud shirts, wrinkled corduroys, and the opposite sex. "Crouched with a crony in the corner of the garage, in manly pursuit of a cure for his bike's ailments, manners don't matter to Johnny…. But when he's with women, Johnny changes. 'Cause he likes women," and women liked men with manners. The article described how the perfectly polite Johnny asked Joanie for a date, conversed with her parents, and twirled her around the dance floor. When it came to dating, Johnny wanted "to be in the driver's seat," and etiquette helped him to "know where he's going," thus leaving him with more time to devote to Joanie. "That's not being sissy. Johnny's a gent!" (Who exactly was this article aimed at? Were Johnny's cronies secretly reading Ladies Home Journal or was Johnny an exemplar of the rugged but polite dates LHJ thought girls should choose?)
The line between gentleman and sissy was a fine one to walk, even for the most experienced guidebook authors. "We have been trying to say, not too pointedly, that we think men should be MEN," wrote Nell Giles, author of Susan Tells Stephen (1942) and at least two other guides for girls, as well as an advice column ("Susan, be Smooth!"). "Big, tough, wonderful, and all that. But let us tell you here and now that it isn't enough." She then took a daring leap for her time: "A man must also be womanly." By Giles's definition, "womanliness" was "the quality that gives you tact, poise, and kindness," all of which added up to good manners. "We are only trying to say that even an All-American tackle can be one helluva tough guy and at the same time be a gentleman," she concluded. Then she added a parenthetical note admitting possible defeat: "Honestly, I've never worked so hard to get a point down on paper, and I don't know whether you see what I mean or not."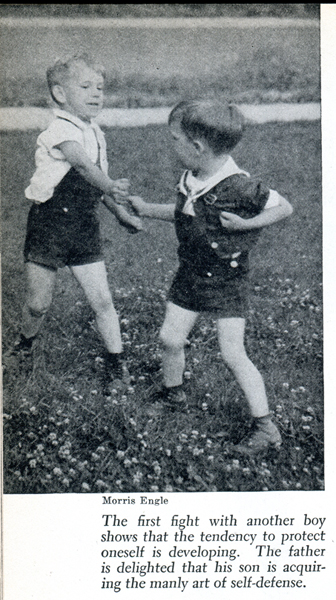 One might have imagined that Boys Will Be Men (1957), one of very few midcentury family living textbooks aimed at high school males, would have included the photo of two small boys fighting as a "don't" in its section on etiquette. In a twist, that chapter avoided suggesting that good manners were ever considered anything other than gentlemanly and saved its message about manly manhood for a chapter on self-awareness. That's where the photo appeared, captioned: "The first fight with another boy shows that the tendency to protect oneself is developing. The father is delighted that his son is acquiring the manly art of self-defense." (The text itself noted that such virile energy "must be directed into other outlets. The physician fights disease, and the businessman wages economic battles for personal gain and social benefit.")
While behavior in etiquette books frequently bears about as much resemblance to everyday life as does a Hollywood musical, there's plenty of evidence that real boys and men were suspicious of good manners. A 16-year-old boy who answered a 1938 survey of New York City school children about manners noted that he considered it "sissy for a New York he-man to say such things" as "ma'am" and "sir" when talking to adults. A college freshman told advice columnist Elinor Ames in 1952 that he knew a gentleman should stand when a lady entered the room. He didn't because, "I'm afraid my date will think I'm spineless sissy if I spring up just when she comes in."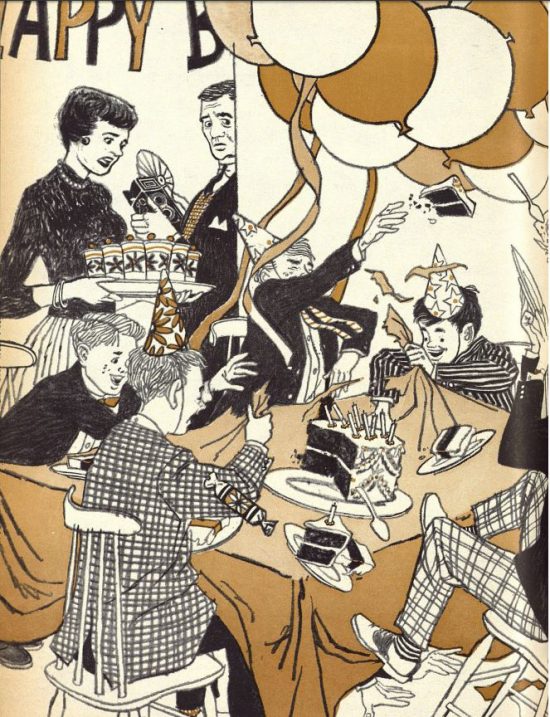 A frustrated mother wrote to syndicated advice columnist Ruth Millet in February 1950. "What are you trying to do, make a sissy out of him?" was her husband's response when she tried to teach manners to their 13-year-old son. "Is there anything sissy about good manners?" she asked.
Millet fairly exploded in response. "The belief that good manners make a boy a sissy is held by too many parents today."
You can spot their young "tough guys" easily. They are the boys who act like hoodlums on buses, who never offer an older person a seat, who completely ignore their parents' friends, who tell off their parents whenever they feel like it, who are insolent to their teachers.
Millet suggested the mother invite some of her son's worse mannered friends over for an afternoon when her husband was to be at home "and let them take over the place" for a little demonstration of bad behavior — and possibly a bit of spousal revenge.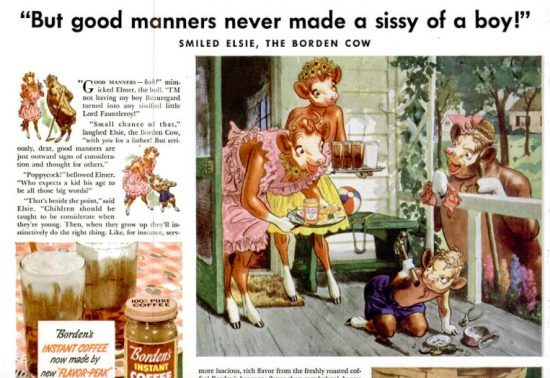 ***
PLANET OF PERIL: THE SHIFTERS | THE CONTROL OF CANDY JONES | VINCE TAYLOR | THE SECRET VICE | LADY HOOCH HUNTER | LINCOLN ASSASSINATION BUFFS | I'M YOUR VENUS | THE DARK MARE | SPALINGRAD | UNESCORTED WOMEN | OFFICE PARTY | I CAN TEACH YOU TO DANCE | WEARING THE PANTS | LIBERATION CAN BE TOUGH ON A WOMAN | MALT TONICS | OPERATION HIDEAWAY | TELEPHONE BARS | BEAUTY A DUTY | THE FIRST THRIFT SHOP | MEN IN APRONS | VERY PERSONALLY YOURS | FEMININE FOREVER | "MY BOSS IS A RATHER FLIRTY MAN" | IN LIKE FLYNN | ARM HAIR SHAME | THE ROYAL ORDER OF THE FLAPPER | THE GHOST WEEPS | OLD MAID | LADIES WHO'LL LUSH | PAMPERED DOGS OF PARIS | MIDOL vs. MARTYRDOM | GOOD MANNERS ARE FOR SISSIES | I MUST DECREASE MY BUST | WIPE OUT | ON THE SIDELINES | THE JAZZ MANIAC | THE GREAT HAIRCUT CRISIS | DOMESTIC HANDS | SPORTS WATCHING 101 | SPACE SECRETARY | THE CAVE MAN LOVER | THE GUIDE ESCORT SERVICE | WHO'S GUILTY? | PEACHES AND DADDY | STAG SHOPPING.
MORE LYNN PERIL at HILOBROW: PLANET OF PERIL series | #SQUADGOALS: The Daly Sisters | KLUTE YOUR ENTHUSIASM: BLOW-UP | MUSEUM OF FEMORIBILIA series | HERMENAUTIC TAROT: The Waiting Man | KIRB YOUR ENTHUSIASM: Young Romance | CROM YOUR ENTHUSIASM: Fritz Leiber's Conjure Wife | HILO HERO ITEMS on: Tura Satana, Paul Simonon, Vivienne Westwood, Lucy Stone, Lydia Lunch, Gloria Steinem, Gene Vincent, among many others.