Planet of Peril (6)
By: Lynn Peril
July 25, 2016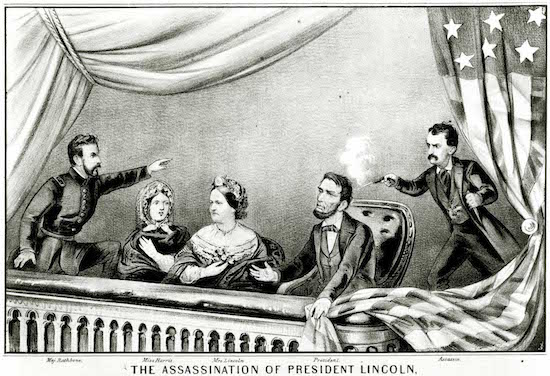 One in a series of posts, about forgotten fads and figures, by historian and HILOBROW friend Lynn Peril.
*
LINCOLN ASSASSINATION BUFFS
I've been a Lincoln assassination buff pretty much ever since, at the age of 10 or so, I discovered Twenty Days, Dorothy Meserve Kunhardt and Philip B. Kunhardt Jr.'s oversized, illustrated history of Lincoln's murder and its aftermath. The book is packed with everything that makes the assassination so deeply and morbidly fascinating to me: death, sex, conspiracy, and Victorian creepiness galore.
There was a photo montage representing the moment of the assassination, with a profile of Lincoln tilted to show the angle of impact on one page, and a photo of Booth's derringer the opposite one, showing the close range at which the gun was fired. There were pages devoted to the presidential autopsy and a photo of the deadly bullet, squashed flat from its travels through bone and brain. There were post-mortem photos (the first I'd ever seen) of robustly bearded individuals who looked like, but weren't, Abraham Lincoln, along with the only authentic image of the president in his coffin.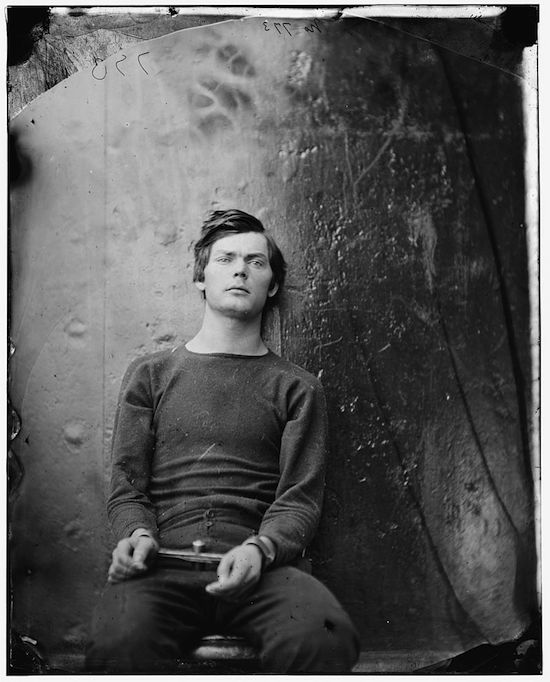 Other photos were pleasurable for reasons I didn't fully understand at the time. Booth was a matinee idol and sex symbol of his day, but he wasn't the only eye candy. Conspirator Lewis Powell failed (barely) in his attempt to assassinate Secretary of State William Seward, but I couldn't take my eyes off his mug shot. Darkly handsome with a touch of defiance, his clean-shaven face and knit shirt gave him a distinctly modern appearance — and gave me the vapors.
A visit to Ford's Theater and its basement museum with Booth's gun and other artifacts on display sealed the deal. I was hooked. Over the years I've read almost every new book to come out with the assassination as its topic (sorry, Bill O'Reilly) and have discovered the online assassination buff community (perhaps best represented at Dave Taylor's Boothie Barn). Then, last September I did something I've wanted to do for years: I went on the John Wilkes Booth Escape Route Tour offered by the Surratt House Museum (an ongoing point of lively discussion is whether or not Mrs. Surratt, a D.C. boardinghouse keeper executed for her participation in the plot, was guilty of anything more than proximity). This is a twelve-hour bus tour that retraces the route Booth took from Ford's Theater in Washington, D.C., where he assassinated Lincoln on April 14, 1865, to the former site of Richard Garrett's farm near Bowling Green, Virginia, where he was shot and killed by Sergeant Boston Corbett twelve days later.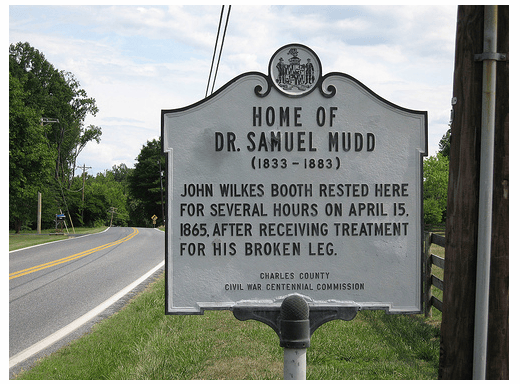 Being a Lincoln assassination buff does not mean condoning Booth's actions. I certainly don't, nor do I overlook the fact that Mr. Hot Conspirator of 1865 was, like the rest of his crew, a white supremacist. In fact, there's nothing like the escape route tour to drive home Faulkner's words about the past not being dead or even past. A surprising amount of topography remains the same 151 years later. So do some grievances. As the tour bus pulls up in front of the Samuel Mudd House, the guide explains that in order for the stop to remain on the route, an agreement has been made that he will not discuss Dr. Mudd's guilt until we are off the property. All these years later, the family maintains (in the face of overwhelming evidence to the contrary) that Mudd didn't recognize Booth when he showed up on doctor's doorstep late on the night of April 14/15 with a broken ankle. Mudd set the bone, their version goes, unaware that in so doing he was aiding and abetting the president's assassin. Of the many stops on the tour (my good-natured husband — not an assassination buff — only fell asleep twice), the Mudd house is where past and present converge most keenly. The family is clearly proud of their ancestor; the settee where Booth reclined while Dr. Mudd set his leg holds a place of pride in the living room. In a bedroom upstairs, a docent dressed in a hoopskirt explains that this is where Mrs. Mudd and her children cowered while Union troops searched the house (a tent marks the spot where the feds camped outside). On the day we visited, an elderly woman, possibly a Mudd descendant, presided over the gift shop, where homemade bread-and-butter pickles were for sale next to tchotchkes bearing the Confederate battle flag (indeed, the tour bus guide noted that the flag had only recently come down outside the house).
Perhaps the first curiosity seeker to retrace Booth's footsteps was a Union army veteran with the picaresque name of Osborn H. Oldroyd. Born in 1842, Oldroyd was otaku before his time, an obsessive collector of Lincolniana since the age of 18, with a P.T. Barnum-esque flair for showmanship. In 1884, he rented the Lincoln family home in Springfield, Illinois, putting his 2000-piece collection on display for a small admission fee, while he and his family lived upstairs. He then talked Lincoln's son Robert into giving the house to the state, and hiring him as its custodian at a yearly salary of $1000. (During the two years of negotiations, Oldroyd stopped paying rent, leading Robert Lincoln to call him a "deadbeat.") When a new governor handed the custodianship to a crony in 1893, Oldroyd moved his museum, now enriched by several irreplaceable items from his former residence, to the Petersen House across the street from Ford's Theater, the place where Abraham Lincoln died.
Spurred by what he called "a great desire to walk over the route which Booth took when fleeing … and to talk with the people who were still living and who aided the assassin in that flight," the 59-year-old Oldroyd started "from the back door of Ford's theater at four o'clock on the morning of May 12, 1901," armed with a walking stick, umbrella, and a Kodak brownie camera.
He walked 80 miles over the next week. While a good deal of planning must have gone into the trip, he doesn't mention contacting any of the individuals with whom he planned to meet, perhaps figuring an element of surprise would work in his favor. What went though Dr. Mudd's widow's mind when she opened the door to find Osborn Oldroyd, camera in hand? Even today, telling people you've been on the John Wilkes Booth Escape Route Tour will get you some strange looks. Though she remained "very bitter" about the events of 1865, she recovered enough to spend "a pleasant hour in conversation" with Oldroyd, who also took "several snapshots" of the house.
Oldroyd recorded his full "Narrative of a Walk of the Author" in his self-published The Assassination of Abraham Lincoln: Flight, Pursuit, Capture, and Punishment of the Conspirators (1901). It was for sale, of course, at the gift shop in his museum.
***
PLANET OF PERIL: THE SHIFTERS | THE CONTROL OF CANDY JONES | VINCE TAYLOR | THE SECRET VICE | LADY HOOCH HUNTER | LINCOLN ASSASSINATION BUFFS | I'M YOUR VENUS | THE DARK MARE | SPALINGRAD | UNESCORTED WOMEN | OFFICE PARTY | I CAN TEACH YOU TO DANCE | WEARING THE PANTS | LIBERATION CAN BE TOUGH ON A WOMAN | MALT TONICS | OPERATION HIDEAWAY | TELEPHONE BARS | BEAUTY A DUTY | THE FIRST THRIFT SHOP | MEN IN APRONS | VERY PERSONALLY YOURS | FEMININE FOREVER | "MY BOSS IS A RATHER FLIRTY MAN" | IN LIKE FLYNN | ARM HAIR SHAME | THE ROYAL ORDER OF THE FLAPPER | THE GHOST WEEPS | OLD MAID | LADIES WHO'LL LUSH | PAMPERED DOGS OF PARIS | MIDOL vs. MARTYRDOM | GOOD MANNERS ARE FOR SISSIES | I MUST DECREASE MY BUST | WIPE OUT | ON THE SIDELINES | THE JAZZ MANIAC | THE GREAT HAIRCUT CRISIS | DOMESTIC HANDS | SPORTS WATCHING 101 | SPACE SECRETARY | THE CAVE MAN LOVER | THE GUIDE ESCORT SERVICE | WHO'S GUILTY? | PEACHES AND DADDY | STAG SHOPPING.
MORE LYNN PERIL at HILOBROW: PLANET OF PERIL series | #SQUADGOALS: The Daly Sisters | KLUTE YOUR ENTHUSIASM: BLOW-UP | MUSEUM OF FEMORIBILIA series | HERMENAUTIC TAROT: The Waiting Man | KIRB YOUR ENTHUSIASM: Young Romance | CROM YOUR ENTHUSIASM: Fritz Leiber's Conjure Wife | HILO HERO ITEMS on: Tura Satana, Paul Simonon, Vivienne Westwood, Lucy Stone, Lydia Lunch, Gloria Steinem, Gene Vincent, among many others.