PLANET OF PERIL (27)
By: Lynn Peril
April 6, 2018
One in a series of posts, about forgotten fads and figures, by historian and HILOBROW friend Lynn Peril.
*
THE GHOST WEEPS
Lady Zoe Caillard became a wealthy widow for the second time when her husband, the British industrialist Sir Vincent Henry Penalver Caillard, died at the age of 73 in 1930. They had been married a bit over three years, and it seems to have been a happy relationship. He called her Bird (she loved the creatures), and she called him Big Fish (who knows why).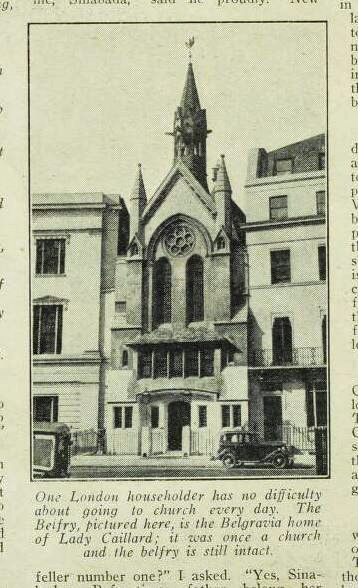 Zoe's first marriage, to banker and mountaineer John Oakley Maund, ended with his death in 1902. She was 34 years old, with two children, but money does not seem to have been an issue, then or ever. In 1924, she bought a former Presbyterian church in London's tony Belgravia neighborhood, then spent 4,000 pounds (over $300,000 in 2018 dollars) having it converted to a private residence, which she called The Belfry. One room held Zoe's collection of a china birds, numbering a thousand or more. Another held an assortment of clocks and timepieces, including one in which a lifelike wax tortoise marked the time as it floated around a pool of water. Her boudoir was paneled in black lacquer and mother-of-pearl, and featured a ceiling covered in aluminum leaf. Because she had been robbed of thousands of pounds' worth of jewelry in the past, each room was "fitted with a patent electric burglar alarm," which in case of break-in would ring the bells in the tower. After her marriage to the music-loving Sir Vincent, he enjoyed playing the pipe organ that remained from The Belfry's sanctified past.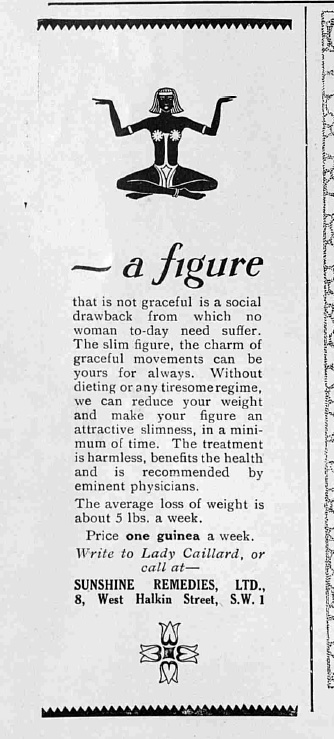 But Lady Caillard was not content to merely stay at home and wind her clocks. Interviewed by a society columnist in 1928, Zoe told of her plan to sell "Sunshine Remedies," elixirs she said had the same effect internally as sunlight did on the external body. (The reporter said she was "sorely tempted to swallow two or three" of one kind of pill, which was "coated with gold leaf and looked most enticing.") Lady Caillard made the tablets and tonics herself, first in a spare room at The Belfry, then in gleaming white laboratory down the street (she also opened up a beauty parlor). At the outrageous price of one guinea for a seven-day supply (close to $100 today), Lady Caillard's Slimming Tablets promised the rich and gullible a highly unlikely weight loss of four to seven pounds per week.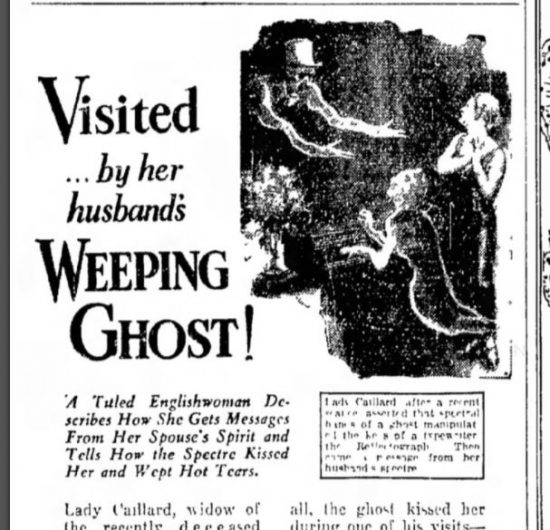 Then Sir Vincent died. Somewhere in the aftermath of her husband's death, Lady Caillard was introduced to spiritualism. The core belief of spiritualism, an enticing one to the deeply bereaved, is that not only is there life after death but that the dead can communicate with the living. A séance was held, Sir Vincent made contact, and soon Lady Caillard had dedicated The Belfry's so-called Upper Room to regular meetings with Sir Vincent and a group of ante-mortem regulars dubbed The Society of Progressive Souls. At one of these sessions, Sir Vincent allegedly materialized physically, took Lady Caillard in his arms, kissed her, then "wept hot tears" of joy. (A version of this story appeared in Sunday magazine supplements across the United States in 1933, as did a radio dramatization that was broadcast in some markets on the west coast.)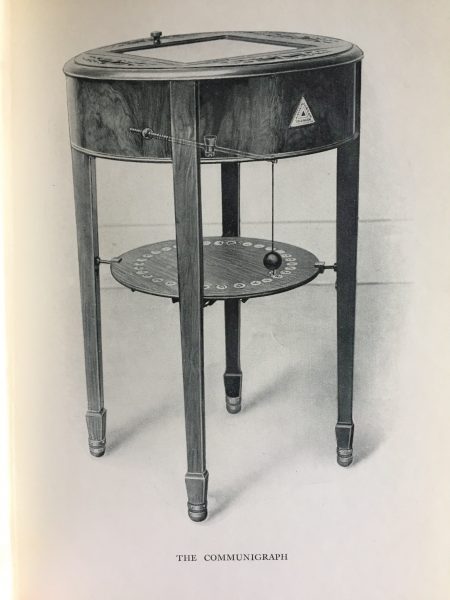 The occasional materialization aside, Sir Vincent's preferred method of contact was the communigraph, which he had his wife install in the Upper Room. Designed by the departed spirit of an engineer (of course), the communigraph was a modern take on the Ouija board, a drum-shaped table with pendulums that swung beneath it and caused circuits to close and letters of the alphabet to light up on its surface. After a word was a completed, a bell rang (if at this moment you are thinking "Drink… more… Ovaltine," you are not alone). Slowly, laboriously, Sir Vincent dictated his impressions of the afterlife to Zoe, who, in 1932 published a collection of them in pamphlet titled Sir Vincent Caillard Speaks From the Spirit World. (Arms dealer Basil Zaharoff did not recognize his old friend — once the financial director of the arms manufacturer Vickers — in Lady Caillard's pamphlet, drily noting that there was "no mention of armaments" therein.)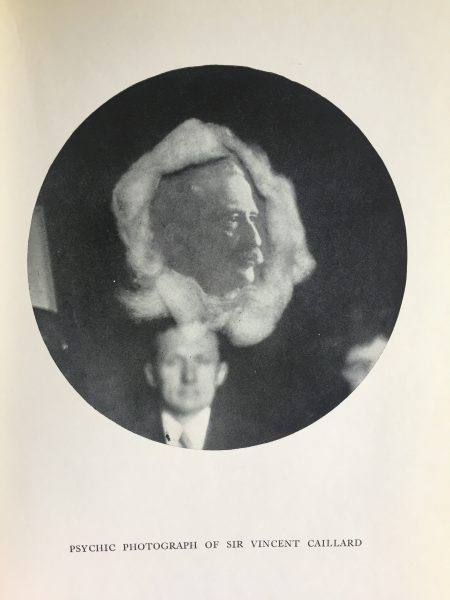 Then came "Sir Vincent's" magnum opus, A New Conception of Love (1934). The book mixed Christian platitudes with racist stereotypes and a colonialist mindset (all peoples on earth aspire to whiteness and only the most evolved are allowed to wear white in the afterlife), and presented a Zoe-pleasing rewrite of his personal history (about his first wife: "Later I married, but not my heart's ideal"). "Birdie's" first husband isn't jealous of his relationship with her, and Vinny's first wife is just fine with it as well. (Interestingly, while Zoe describes in an afterword how her big-game-hunting first husband is plagued by the souls of all the animals he killed, Vinny's soul apparently suffered not a drop of guilt over the human deaths his arms sales must have caused.) "How far the reader can go in accepting" the book at its "face value is, of course, for each to decide," was the conclusion of one reviewer.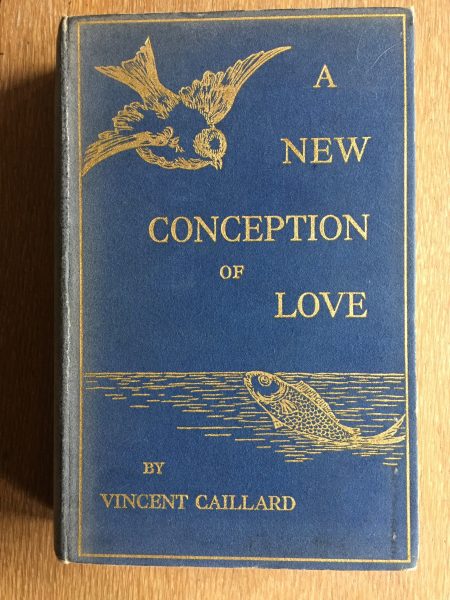 After the book was published in August 1934, Lady Caillard sat back and waited to die. Her earthly work done, her husband promised that her "suffering would be at an end." (Indeed, perhaps the saddest part of A New Conception of Love is Zoe's description of a painful cancerous growth "healed" by psychic surgery.) First, though, she sent for American spiritualist Arthur Ford, with the request that he speak at her funeral.
Ford was suspicious from the start. Lady Caillard told him that, in accordance with the spirits' wishes, she was giving The Belfry to the Progressive Souls. She had also banned her adult children and other family members from visiting her (in her son's case, because Zoe considered him a "disbeliever"). When Ford attended séances in the Upper Room, he felt that both the spirit voices and messages from the communigraph had earthly origins. He suggested Lady Caillard "form a council to safeguard her property, but when the suggestion was put to the spirit world, the communigraph rejected it and at the following sitting, Sir Vincent's alleged spirit furiously bawled me out." (This may have been a situation where it takes one con artist to recognize another in action — Ford himself was later found to have "cheated — deliberately as well as unconsciously," in the words of a biographer.)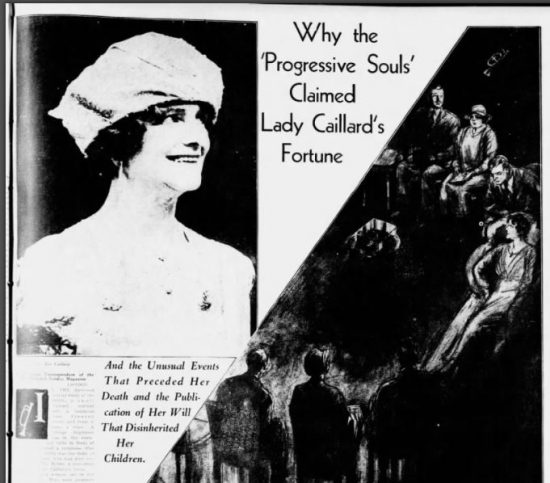 Lady Zoe Caillard died on January 16, 1935. Her estate was valued at 17,000 pounds (almost $2 million today). The Belfry would go to the Society of Progressive Souls. Her son was barred from her funeral (her daughter attended), where a "Red Indian" named Os-Ke-Non-Ton sang "There is No Death" (a member of the Mohawk Nation, he later worked as healer at the Spiritualist community at Lily Dale, New York).
Her son announced that he and his sister would try to break the will. His mother had been hoodwinked. A friend of his attended one of the séances, where he "secretly smeared the communigraph with lipstick." Afterwards, "the fingers of a person sitting near the instrument were found to be smeared with red." Yet less than a month later, he withdrew his opposition to his mother's estate entering probate after he saw a copy of the will. Had his mother made bequests to them after all? (The Belfry had an exciting afterlife of its own, occupied by author and occultist Dion Fortune in the late 1930s, then becoming an officers' club during the Second World War. It is now home to an exclusive restaurant.)
Four years after her death, Lady Caillard was said to be using the communigraph to write her own book, tentatively titled The Bird Goes Home.
***
PLANET OF PERIL: THE SHIFTERS | THE CONTROL OF CANDY JONES | VINCE TAYLOR | THE SECRET VICE | LADY HOOCH HUNTER | LINCOLN ASSASSINATION BUFFS | I'M YOUR VENUS | THE DARK MARE | SPALINGRAD | UNESCORTED WOMEN | OFFICE PARTY | I CAN TEACH YOU TO DANCE | WEARING THE PANTS | LIBERATION CAN BE TOUGH ON A WOMAN | MALT TONICS | OPERATION HIDEAWAY | TELEPHONE BARS | BEAUTY A DUTY | THE FIRST THRIFT SHOP | MEN IN APRONS | VERY PERSONALLY YOURS | FEMININE FOREVER | "MY BOSS IS A RATHER FLIRTY MAN" | IN LIKE FLYNN | ARM HAIR SHAME | THE ROYAL ORDER OF THE FLAPPER | THE GHOST WEEPS | OLD MAID | LADIES WHO'LL LUSH | PAMPERED DOGS OF PARIS | MIDOL vs. MARTYRDOM | GOOD MANNERS ARE FOR SISSIES | I MUST DECREASE MY BUST | WIPE OUT | ON THE SIDELINES | THE JAZZ MANIAC | THE GREAT HAIRCUT CRISIS | DOMESTIC HANDS | SPORTS WATCHING 101 | SPACE SECRETARY | THE CAVE MAN LOVER | THE GUIDE ESCORT SERVICE | WHO'S GUILTY? | PEACHES AND DADDY | STAG SHOPPING.
MORE LYNN PERIL at HILOBROW: PLANET OF PERIL series | #SQUADGOALS: The Daly Sisters | KLUTE YOUR ENTHUSIASM: BLOW-UP | MUSEUM OF FEMORIBILIA series | HERMENAUTIC TAROT: The Waiting Man | KIRB YOUR ENTHUSIASM: Young Romance | CROM YOUR ENTHUSIASM: Fritz Leiber's Conjure Wife | HILO HERO ITEMS on: Tura Satana, Paul Simonon, Vivienne Westwood, Lucy Stone, Lydia Lunch, Gloria Steinem, Gene Vincent, among many others.