PLANET OF PERIL (30)
By: Lynn Peril
July 17, 2018
One in a series of posts, about forgotten fads and figures, by historian and HILOBROW friend Lynn Peril.
*
PAMPERED DOGS OF PARIS
News accounts of Maison Ledouble, a shop that supplied tailored canine apparel in fin-de-siècle Paris, had everything middle-class Americans loved to hate: the rich, the French, and frivolous women who substituted dogs for babies. Other doggy couturiers followed in Madame Ledouble's footsteps, in France and elsewhere, but stories about the dog tailor in Paris made regular appearances in American newspapers from the 1880s to after the turn of the twentieth century. Sometimes these were reduced to the single line "A dog tailor flourishes in Paris," a telegraphic slap at Old World degeneracy. After all, hearty American farm dogs needed no clothing, tailored or otherwise.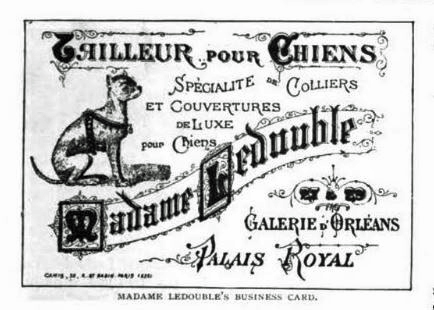 History doesn't record the first little girl who dressed her pet pup in doll clothes (only a few years before she became queen, young Victoria was said to enjoy dressing her spaniel, Dash, in a red coat and blue trousers), but this was different. Madame Ledouble made luxury wear for the pampered toy dogs of wealthy Parisiennes, "with approved taste and artistic feelings." In Ledouble's waiting room, "Prince Bow-wow" had "rugs, water bowls, and biscuit jars, to refresh him during the trying-on process." His mistress (human patrons were assumed to be female) paged through the "daintiest water-color pattern books" to choose designs and the luxe materials in which they would be produced. "A green broadcloth, lined and edged with seal, is a blanket that especially becomes milady's greyhound; but scarlet, edged with silver cordings and lined with quilted satin, is a gay coat for the toy terrier. A tailor-made doggie, with a gold clasp under his chin and a monogram well toward his tail, is a sign of the times in France," explained the Detroit Free Press in 1893.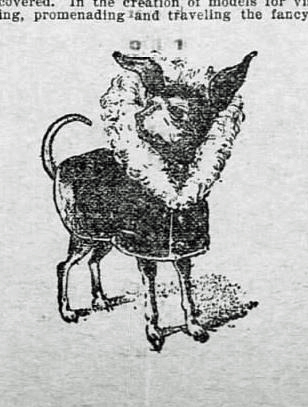 Amidst all the sumptuous broadcloths, silk and satin linings, and exotic fur trimmings, the relatively innocuous pocket was the object of special derision, especially the items carried therein. "It is the fashion now to put several pockets in these articles of canine apparel, one for the dog's railway ticket when he travels, another for his brush, another for the tiny handkerchief with which to wipe his cold, damp nose during the season of snow and influenza, and so on," reported the Omaha Daily Bee in 1896. "The handkerchief is an absolutely necessary part of each day's wardrobe, it seems," read a largely positive account of Madame Ledouble's wares from the following year, "and must be embroidered and perfumed." Over a century later it sounds practical, barring the perfume and embroidery, of course. Stowing Fido's cleaning rag where it was easily reached by his caretaker is reminiscent of the way waste bags are today carried on the leash by some more conscientious dogs. Perhaps hanky and train ticket outraged some observers by their very ordinariness. One could shake one's head in superiority at needless luxury, but a hanky and train ticket? Those were necessary items, not to be mocked by a rich woman and her plaything.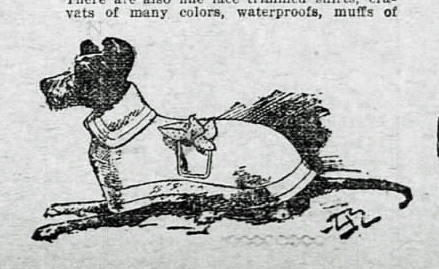 Worse by far was the suspicion that that some women preferred their tiny dogs to tiny tots. "Pampered Dogs of Paris," was the first of a series of headlines topping an 1899 article in the Sioux City Journal. "The Silliness of French Women Carried to Amusing Lengths / CAN THEY REALLY BE SANE? / Dogs of Society Women Are Cared for as Babies Should Be, with Clothing and Shoes and Every Toilette Accessory." Such a headline barely needed an article, but the "Special Correspondent" from Paris pressed on with eugenicist zeal: "Philanthropists and moral philosophers complain that toy dogs are taking up attentions which should be bestowed upon children, and those who have the future of the country at heart sigh at the spectacle and tremble when they think of the decreasing population." An article about the "Dog's Paradise" of Paris noted it was "no exaggeration to say" that "the upper classes and wealthy women… worship their dogs, often enough to the detriment of their babies."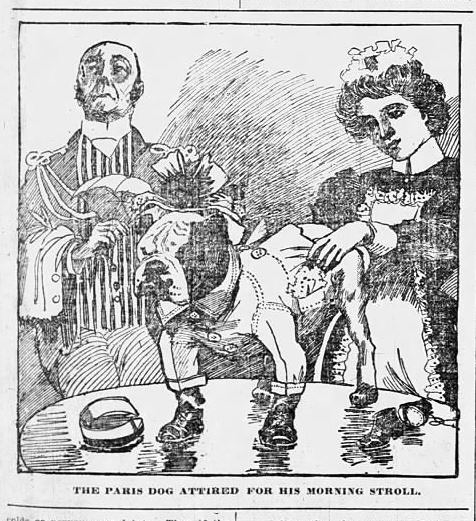 After a long and gossipy look at "Paris Pet Dogs" in 1886, an anonymous writer for The Brooklyn Daily Eagle concluded that the American woman was "far too sensible to imitate" her French counterpart "in her inordinate love of dogs." There were ominous rumblings nonetheless. "I have heard strange stories," the writer continued, "of American women's passion for pets, that turtles, lizards, chameleons were taken to the opera by their admiring mistresses." Such tales were nothing less than "a vile, calumniating falsehood." American women had "the most good sense" and occupied their "time in useful work, instead of… caressing things that are too beastly to return their affection."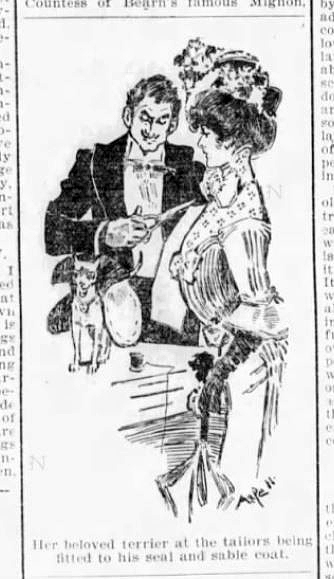 Of course, it was only a matter of time until dressed-up doggy aesthetes with hankies in their pockets found their way to this side of the Atlantic. In 1907, a Kansas newspaper ran a wire service item about "the latest from Newport," that Eastern playground of America's social elite, then blasted the same with a scathing editorial comment:
"Mrs. Burke Roche Batonyi's companion is a small Italian greyhound. She carries it in her arms. It is wrapped in a dark green broadcloth jacket. Yesterday while in the street car, she took a delicate lace handkerchief from the pocket of her dog's jacket, and gently wiped the dogs nose and eyes." Ye gods and little fishes — lace handkerchief and a dog's nose. If that apology for a woman had rustled out and gotten some little waif, wiped its dirty face and petted it like she did that hound, she would have shown some symptoms of being a human being, but hugging a dog and wiping its nose, is the limit for woman.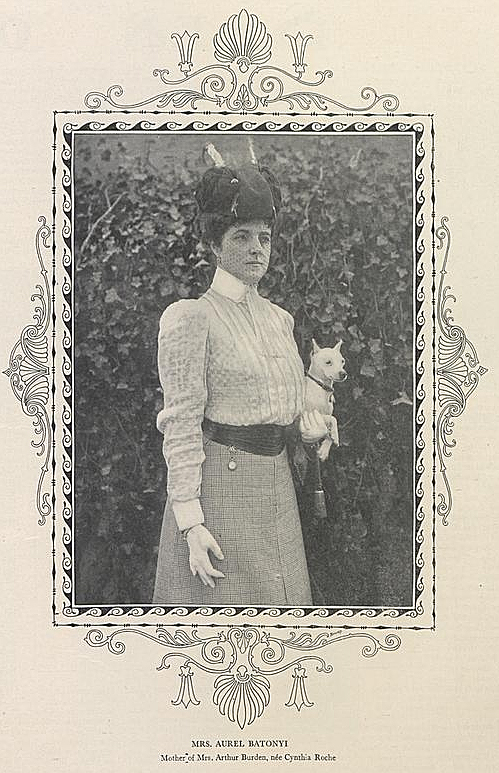 Mrs. Burke Roche Batonyi was undoubtedly fond of dogs and bad with money, but she had done her womanly duty by producing two daughters and a set of twin sons. A full-page portrait in the March 14, 1907 issue of Vogue shows her with a small white dog in the crook of her elbow (the pup, alas, appears not to be dressed for the occasion). Born Frances Ellen Ware, she was the daughter of a man whose fabulous wealth was exceeded only by his need to control the way Frances spent it. She was just then embroiled in a messy divorce from Aurel Batonyi, the "society whip" (i.e., a carriage driving instructor for ladies) she scandalously married in 1905. Frank Ware despised Frances's second husband as much if not more than her first, a member of the Irish peerage named James Boothby Burke Roche (one of their great-great grandsons recently married dog-lover Meghan Markle in a splashy public ceremony). Not for the first time, Frank threatened to cut off Frances without a cent. Forced to choose between her husband and her inheritance, Frances chose the latter.
Newspapers had a field day after Frank Ware's death in 1911, when his will showed a series of codicils disinheriting and reinstating his wayward daughter. Frances consoled herself by purchasing a $5,000 (roughly $125,000 in 2018) Chippendale dog house, which she promptly had remodeled, adding "a pagoda with silver bells and ivory facings." The papers said she intended to use it for her Pekinese dogs, but didn't mention what they would be wearing.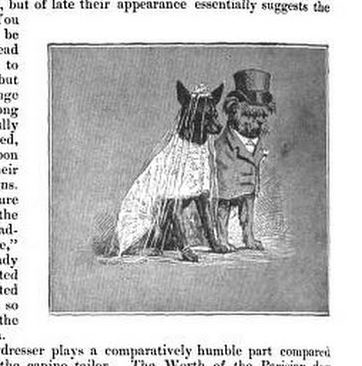 ***
PLANET OF PERIL: THE SHIFTERS | THE CONTROL OF CANDY JONES | VINCE TAYLOR | THE SECRET VICE | LADY HOOCH HUNTER | LINCOLN ASSASSINATION BUFFS | I'M YOUR VENUS | THE DARK MARE | SPALINGRAD | UNESCORTED WOMEN | OFFICE PARTY | I CAN TEACH YOU TO DANCE | WEARING THE PANTS | LIBERATION CAN BE TOUGH ON A WOMAN | MALT TONICS | OPERATION HIDEAWAY | TELEPHONE BARS | BEAUTY A DUTY | THE FIRST THRIFT SHOP | MEN IN APRONS | VERY PERSONALLY YOURS | FEMININE FOREVER | "MY BOSS IS A RATHER FLIRTY MAN" | IN LIKE FLYNN | ARM HAIR SHAME | THE ROYAL ORDER OF THE FLAPPER | THE GHOST WEEPS | OLD MAID | LADIES WHO'LL LUSH | PAMPERED DOGS OF PARIS | MIDOL vs. MARTYRDOM | GOOD MANNERS ARE FOR SISSIES | I MUST DECREASE MY BUST | WIPE OUT | ON THE SIDELINES | THE JAZZ MANIAC | THE GREAT HAIRCUT CRISIS | DOMESTIC HANDS | SPORTS WATCHING 101 | SPACE SECRETARY | THE CAVE MAN LOVER | THE GUIDE ESCORT SERVICE | WHO'S GUILTY? | PEACHES AND DADDY | STAG SHOPPING.
MORE LYNN PERIL at HILOBROW: PLANET OF PERIL series | #SQUADGOALS: The Daly Sisters | KLUTE YOUR ENTHUSIASM: BLOW-UP | MUSEUM OF FEMORIBILIA series | HERMENAUTIC TAROT: The Waiting Man | KIRB YOUR ENTHUSIASM: Young Romance | CROM YOUR ENTHUSIASM: Fritz Leiber's Conjure Wife | HILO HERO ITEMS on: Tura Satana, Paul Simonon, Vivienne Westwood, Lucy Stone, Lydia Lunch, Gloria Steinem, Gene Vincent, among many others.