ILLICIT OBJECTS (12)
By: Paul Lukas
August 4, 2017
One in a 25-part series of nonfiction stories about objects of illicit significance. This is the third volume in the PROJECT:OBJECT series. Please subscribe to the P:O newsletter; and purchase P:O apparel and accessories — all profits will be donated to the ACLU!
*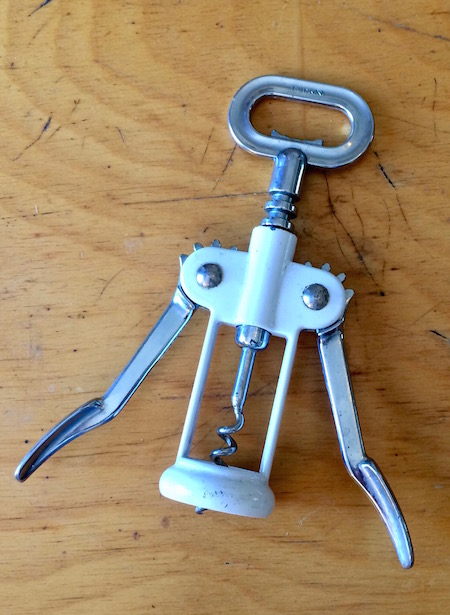 Things weren't going well. My girlfriend and I had broken up, some career-related stuff wasn't working out the way I'd hoped, and I'd recently been forced to move to a new apartment, where I was paying more money for less space on a lousier block — a lose-lose-lose.
So when two friends announced that they'd gotten engaged and would soon be moving out of town to pursue fancy new jobs and live in a fancy new house in another city, it was hard not to feel like they were moving ahead with their lives in precisely the way I wasn't with mine. I should have been happy for them; instead, I felt envy and resentment.
Still, I accepted an invitation to their going-away party, which was held on the rooftop of their apartment building. I tried to have a good time but was too consumed by self-loathing. Every happy, smiling couple at the party seemed like another yardstick against which to measure myself, and I came up short every time. After staying for what seemed like the minimum socially acceptable time period, I excused myself and went downstairs to the hosts' apartment to use the bathroom before heading home.
As I was leaving, I saw a wine bottle opener on the kitchen counter. Feeling a weird mix of grievance, entitlement, and shame, I picked up the opener and put it in my bag. Then I left. It was like that scene in Death of a Salesman where Biff steals the fountain pen. Or more likely it was nothing like that and I'm just trying to dress it up in a more literary veneer. Seriously, what the hell was I thinking?
And here's the kicker: I don't even drink wine. Don't care for the taste. But I've never been able to part with the opener, which is occasionally pressed into service when friends bring wine over for dinner gatherings and also serves as a silent reminder of life's ups and downs. More than 20 years have gone by, and things are a lot better now, but I still cringe a bit inside every time I see it. Seems like a fitting punishment.
*
ILLICIT OBJECTS series: INTRODUCTION | Kio Stark on PEEPSHOW TOKEN | Sari Wilson on TOMBSTONE PARTS | Annalee Newitz on CAR-BOMB REMNANT | Tito Bottitta on MOONINITE DEVICE | Eric Bennett on DIRTY MAGAZINE | Natalie Kestecher on EROTIC RECORDING (audio) | Wayne Chambliss on RADIOACTIVE TRINITITE | Julian Hoeber on PIG HAMMER | Catherine Newman on HOARDED VICODIN | Josh Glenn on JAY-PEE SLUGGER | Nicole Pasulka on SHROOMS (audio) | Paul Lukas on STOLEN CORKSCREW | Shelby El Otmani on OCCULT CANDLE (audio) | Sam Dingman on HACK DOCUMENTS (audio) | Andrew Leland on GUIDE CANE (audio) | Douglas Rushkoff on LEARY'S STASH BOX | Kalila Holt on BURNT UNDERWEAR (audio) | William Gibson on RACIST BOOK | Alison Fensterstock on FUNERAL FLOWER | Julia Barton on PREGNANCY TEST (audio) | Miranda Mellis on GOLD TEETH | Katie Notopoulos on COPULATING PIGS | Ramona Martinez on STOLEN REMNANT (audio) | Wesley Stace on TOM WAITS NOTE | Mike Montiero on BO DEREK CARDS.
TALISMANIC OBJECTS series: INTRODUCTION | Veda Hille on CROCHET SHEEP | Gary Panter on DINOSAUR BONES | Jami Attenberg on SELENITE CRYSTAL | Annie Nocenti on MINIATURE DICE | Wayne Curtis on CLOCK WINDING KEY | & 20 MORE.
POLITICAL OBJECTS series: INTRODUCTION | Luc Sante on CAMPAIGN PAMPHLETS | Lydia Millet on PVC POLAR BEAR | Ben Greenman on MATCHBOX CAR | Rob Baedeker on PRESIDENTS PLACEMAT | L.A. Kauffman on WHEATPASTE POSTER | & 20 MORE.
SIGNIFICANT OBJECTS at HILOBROW: PROJECT:OBJECT homepage | PROJECT:OBJECT newsletter | PROJECT:OBJECT objects (Threadless shop — all profits donated to the ACLU) | POLITICAL OBJECTS series (1Q2017) | TALISMANIC OBJECTS series (2Q2017) | ILLICIT OBJECTS series (3Q2017) | LOST OBJECTS vol. 1 series (4Q2017) | FLAIR series (2Q2018) | FOSSIL series (4Q2018). 12 DAYS OF SIGNIFICANCE | 12 MORE DAYS OF SIGNIFICANCE | 12 DAYS OF SIGNIFICANCE (AGAIN) | ANOTHER 12 DAYS OF SIGNIFICANCE . ALSO SEE: SIGNIFICANT OBJECTS website | SIGNIFICANT OBJECTS collection, ed. Rob Walker and Josh Glenn (Fantagraphics, 2012) | TAKING THINGS SERIOUSLY, ed. Josh Glenn (Princeton Architectural Press, 2007) | TAKING THINGS SERIOUSLY excerpts.