HYPOCRITE IDLER 3Q2020
By: Joshua Glenn
September 30, 2020
To idle is to work on meaningful and varied projects — and to take it easy. The series title refers to this self-proclaimed idler's inability to take it easy.
HILOBROW is a noncommercial blog! The info below should not be construed as a vulgar advertisement for SEMIOVOX, UNBORED, THE ADVENTURER'S GLOSSARY, MIT PRESS's RADIUM AGE SERIES, SEMIOFEST SESSIONS, LOST OBJECTS, GO WEST, or any of my various more-or-less profitable projects. It is merely an update on my doings and undoings — in this case, during 3Q2020.
MORE HYPOCRISY: 2010 | 2011 | 2012 | 2013 | 2014 | 2015 | 2016 | 2017 | 2018 | 2019 | 2020 | 2021 | 2022 | 1Q2023.
***
---
SEMIOVOX
---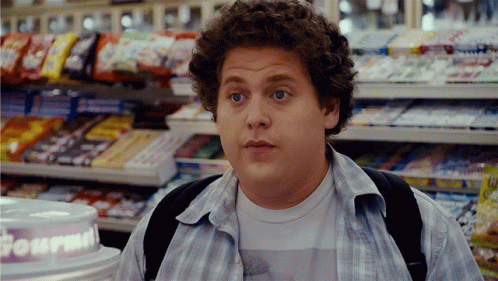 Above: Josh conducting research in the field.
I've fossicked as a consulting semiotician since 1999. In 2014, Ron Rentel (head of Consumer Eyes) and I cofounded the semiotics-fueled branding consultancy SEMIOVOX, with the goal of fusing qualitative consumer research and semiotic analysis into a single powerful methodology.
During 3Q2020, Semiovox's team consulted on several Health & Wellness and Cleaning branding projects (within the context of the ongoing pandemic), regarding everything from competitive positioning to marketing optimization to pack cues. We've continued to update our proprietary Coronavirus Codes study. Meanwhile, we've also consulted on the usual sorts of projects — including, for example, the codes of Super-Premiumness (for an iconic gin brand), Multicultural Life (for a new HIV-1 regimen), and Hot Sauce packaging codes.
*
I enjoyed my Zoom visit — in late September — with Massachusetts College of Art and Design's "Market Insight Lab," a course within their Master of Design (MDes) Design Innovation program. I'm grateful to Laura Woolpert and Maryann Finiw for inviting me to speak.
*
Earlier this year, we launched the eponymous SEMIOVOX blog. Here's a sampling of our 3Q2020 lineup: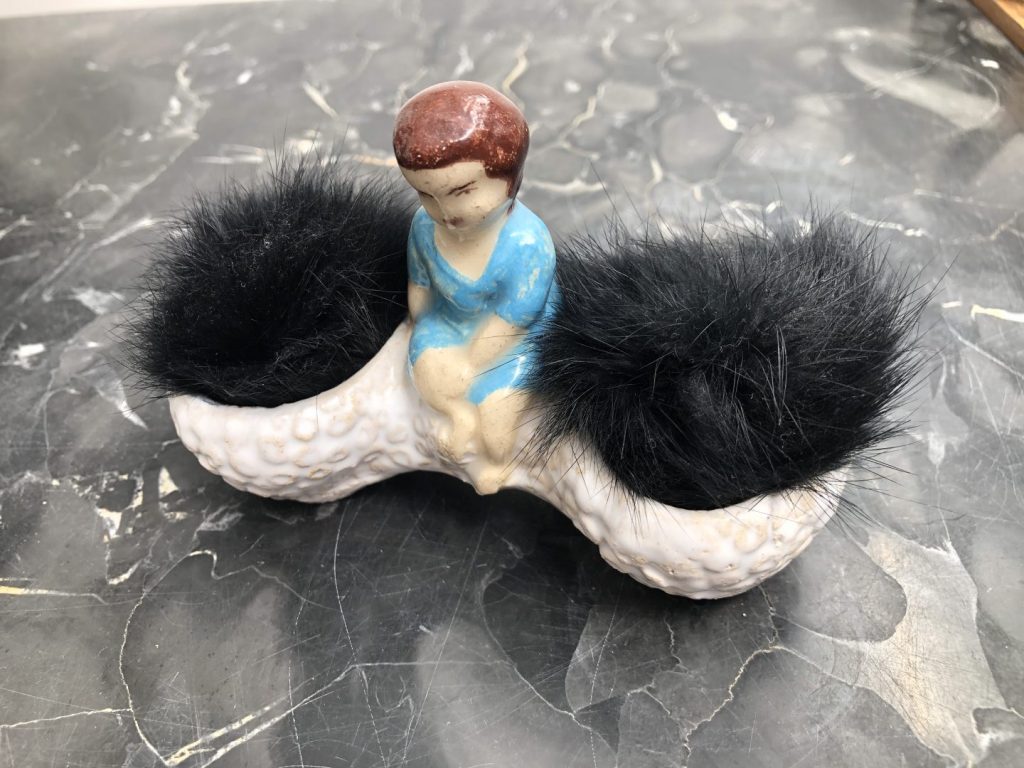 OBJECT ORIENTED. I've invited my global network of applied-semiotics colleagues to contribute personal narratives about their significant objects. During 3Q2020, for example, we published Chris Arning (UK) on INKSTONE BROOM, Lucia Neva (UK) on SPONGEBOB BUS, Samuel Grange (France) on SALT & PEPPER HOLDER [above], Hamsini Shivakumar (India) on SOUL MOTHER SAREES, and Ximena Tobi (Argentina) on VASALISA. More to come…
SEMIONAUT. In 2010, Malcolm Evans and I cofounded the website SEMIONAUT, which gave voice to the global community of applied semioticians until 2018. During 3Q2020, Malcolm curated a selection of SEMIONAUT posts, which I cross-posted to SEMIOVOX: Mark Irving on DYNASTY RELOADED, Habiba Allarakia on HEAR ME ROAR, Malcolm Evans on BALLAD OF A THIN MAN, Edina Husanovic on HOLY JOLIE, Ramona Lyons on MEANINGFUL LUXURY, Sraboni Bhaduri on AGING DISGRACEFULLY, Louise Jolly on SKIN BEYOND THE SIGN, Colette Sensier on CREOLISED FASHION, Hannah Hoel on IS THIS HEAVEN; yours truly on MEET THE SEMIONAUTS.
CODE-X. We've cross-posted, from HILOBROW, examples of the vast codex of source codes (aka "signs") that we've extracted from past audits. We've added new examples, too.
I'm extremely grateful to SEMIOVOX's contributors.
---
HILOBROW
---
I'm the editor and publisher, here at HILOBROW. To see what our friends and contributors have written since July 1, please check out the HILOBROW 3Q2020 post. To learn what we're planning, check out the HILOBROW 4Q2020 SNEAK PEEK post. Below, I'll just mention two 3Q2020 series that I edited.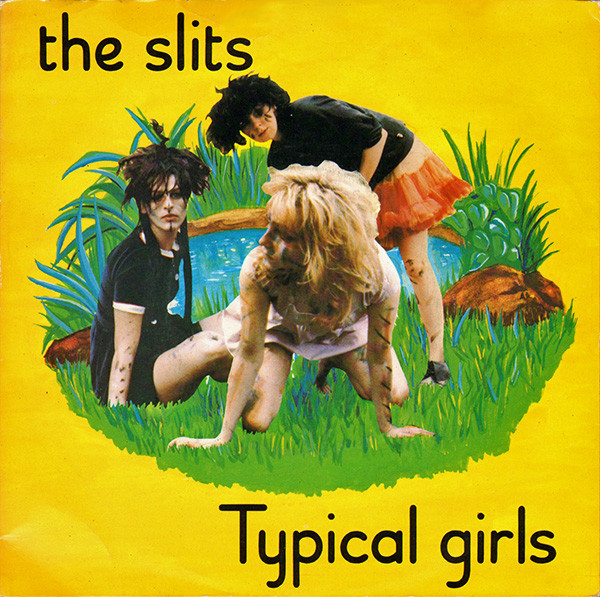 This summer's ENTHUSIASM series, here at HILOBROW, was dedicated to punk songs of the Seventies (1974–1983, according to our eccentric periodization schema). I invited 25 HILOBROW friends and regulars to decide for themselves what "punk" means. Here's the CARBONA YOUR ENTHUSIASM lineup:
Mimi Lipson on Flipper's "Sex Bomb" | James Parker on The Jam's "Going Underground" | Dan Fox on The Cramps' "Human Fly" | Adrienne Crew on Bad Brains' "I and I Survive" | Devin McKinney on Romeo Void's "Never Say Never" | Deb Chachra on The Buzzcocks' "Ever Fallen in Love" | Mark Kingwell on The Demics' "New York City" | Jessamyn West on Dead Kennedys' "Kill the Poor" | Douglas Wolk on The Homosexuals' "Soft South Africans" | Josh Glenn on The Freeze's "This is Boston, Not L.A." | Stephanie Burt on Sorry's "Imaginary Friend" | Luc Sante on Public Image Ltd.'s "Public Image" | Miranda Mellis on X-Ray Spex's "Oh Bondage! Up Yours!" | Adam McGovern on The Clash's "Washington Bullets" | Mandy Keifetz on Germs' "Forming" | Gordon Dahlquist on The Sex Pistols' "Problems" | Anthony Miller on The Soft Boys' "I Wanna Destroy You" | Deborah Wassertzug on The Mekons' "Where Were You?" | Tor Aarestad on Gang of Four's "Return the Gift" | Marc Weidenbaum on The Pop Rivets' "Dream of '63" | David Smay on The Rezillos' "(My Baby Does) Good Sculptures" | Vanessa Berry on The Cure's "So What" | Chelsey Johnson on The Slits' "Typical Girls" | Lynn Peril on Crass's "Smother Love" | Mike Watt on The Dils' "You're Not Blank".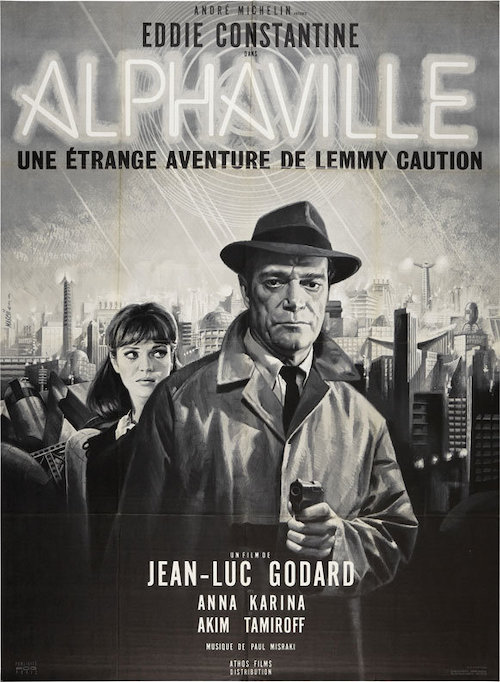 The weekly series, here at HILOBROW in 2020, is KLAATU YOU. I've invited 52 friends and regular contributors to wax enthusiastic about their favorite pre-Star Wars sci-fi movies. Here's the 3Q2020 lineup:
David Levine on THE STEPFORD WIVES | Karinne Keithley Syers on ALPHAVILLE | Carolyn Kellogg on IT CAME FROM OUTER SPACE | Sara Ryan on ESCAPE TO WITCH MOUNTAIN | Lisa Jane Persky on PLAN 9 FROM OUTER SPACE | Adam Harrison Levy on BENEATH THE PLANET OF THE APES | Gerald Peary on CREATURE FROM THE BLACK LAGOON | Susannah Breslin on A CLOCKWORK ORANGE | Seth on WAR OF THE WORLDS | James Hannaham on GOJIRA/GODZILLA | Lydia Millet on VILLAGE OF THE DAMNED | Matthew Daniel on FANTASTIC VOYAGE | Shawn Wolfe on ROLLERBALL | Erin M. Routson on WESTWORLD.
I'm very grateful to HILOBROW's contributors, many of whom donated their fees to the ACLU.
---
THE ADVENTURER'S GLOSSARY
---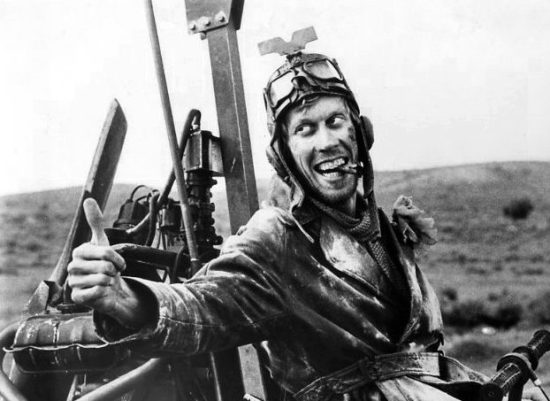 I'm pleased to report that McGill-Queen's University Press, one of Canada's leading academic publishers, has acquired the publishing rights (subject to peer review, that is) to THE ADVENTURER'S GLOSSARY — which will feature an abecedarian enchiridion by yours truly, a companion essay by Mark Kingwell, and illustrations by the cartoonist Seth. As Mark's essay will explain, the book is a prequel to our collaborative efforts The Idler's Glossary (2008) and The Wage Slave's Glossary (2011).
While conducting initial research, as HILOBROW readers know, I published a few notes here.
---
RADIUM AGE SCIENCE FICTION
---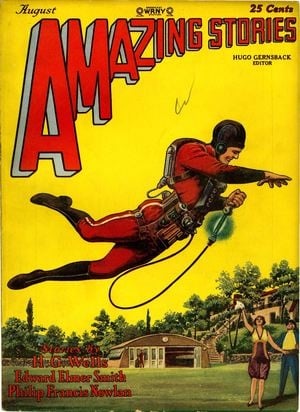 As mentioned in the 2Q2020 HYPOCRITE IDLER post, I've been persuaded by the MIT Press to sign on as founding editor of a series of reissued Radium Age (proto-) science-fiction novels and stories. This represents an apotheosis of the pioneering research that I've conducted in this area, over the past 15 years, and also of HILOBROW's 2012–2013 series of reissued Radium Age novels.
In order to help surface overlooked Radium Age texts — particularly works by women, people of color, and writers from outside the USA and Western Europe — my MITP colleague Noah Springer and I have assembled a top-notch advisory panel. As of this writing, the panel includes:
The series' first four titles will appear in Spring 2022. Stay tuned!
---
READING & WRITiNG
---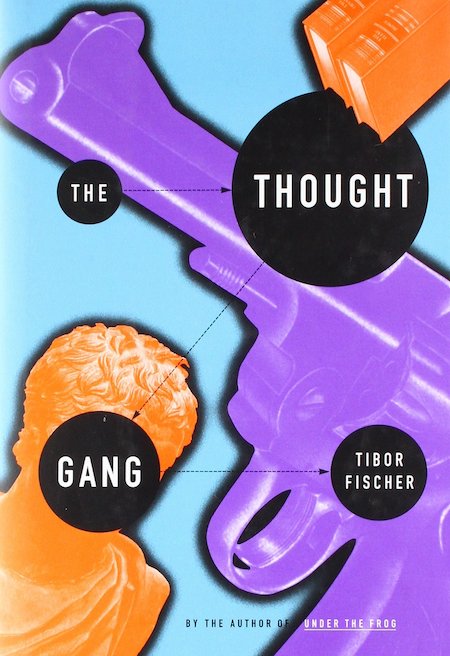 During 3Q2020, HILOBROW published five new installments in my BEST ADVENTURES PROJECT, which chronicles my attempt to identify the 10 best adventures I've read from each year of the 20th century. Here's the lineup:
Each BEST ADVENTURES installment was first published as 10 individual posts. Also, during 3Q2020 I created a page for the 100 BEST ADVENTURES OF THE NINETIES (work in progress).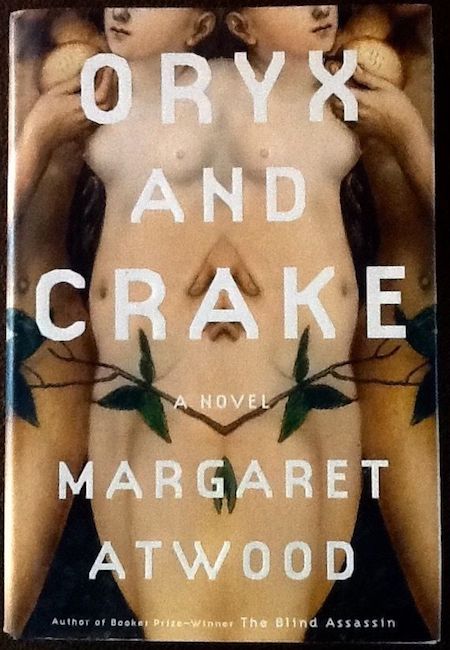 During 3Q2020, I wrapped up DIAMOND AGE SCI-FI 75, a weekly lit-list series aiming to identify my favorite science-fiction adventures published during the Eighties (1984–1993) and Nineties (1994–2003). Here are the final installments:
Elizabeth Moon's THE SPEED OF DARK | Ken MacLeod's ENGINE CITY | Maureen F. McHugh's MISSION CHILD | Charles Stross's SINGULARITY SKY | Margaret Atwood's ORYX AND CRAKE | Katherine Dunn's GEEK LOVE | William Gibson's PATTERN RECOGNITION.
The complete DIAMOND AGE 75 list is here.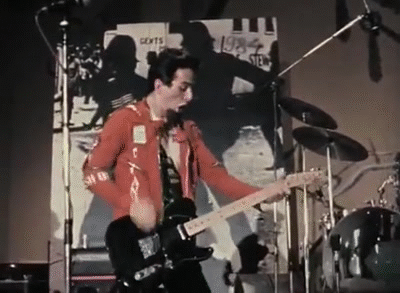 I wrote an introduction to the CARBONA YOUR ENTHUSIASM series here at HILOBROW. Excerpt: "Punk is gospel music for those too wised-up or cynical to have faith in liberation, much less in transcendence. It's music by and for the alienated, those who resent being controlled, exploited, manipulated." I also contributed an installment to the series, on The Freeze's "This is Boston, Not L.A."
---
GO WEST
---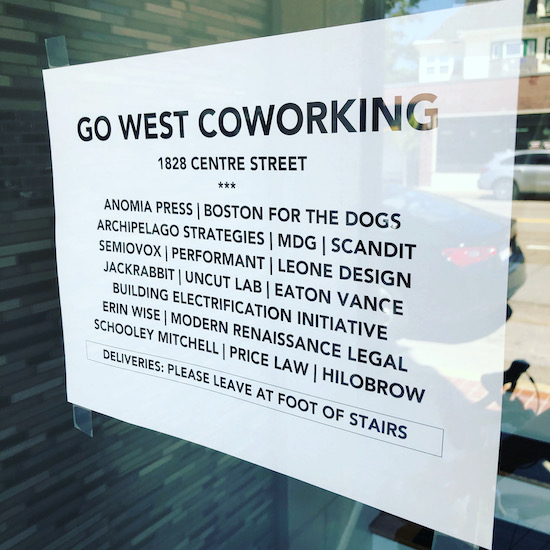 GO WEST, the co-working I space that I cofounded in Boston's West Roxbury neighborhood, and which serves as SEMIOVOX and HILOBROW headquarters, remains open — we're co-working in shifts.
Although I enjoyed working at home for a few months, it's good to be back in the office (safely) along with fellow entrepreneurs including Anomia Press, Tony Leone Design, Performant Software, Boston for the Dogs, Jackrabbit Learning Experience, and Modern Renaissance Legal — as well as remote workers for, among other fine companies and NGOs, Archipelago Strategies Group, Scandit, Calabash Labs, Eaton Vance, and The Building Electrification Initiative.
---
TAKING IT EASY
---
Susan and I mostly laid low, during 3Q2020. We're trying to flatten the curve. But we did make it out of Boston for a few fun jaunts.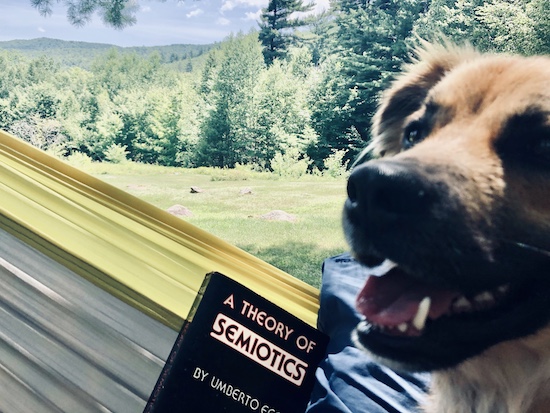 In July, we got away to a farm in New Hampshire for an entire week — a blissful respite. Tito and I spent lots of time reading in a hammock.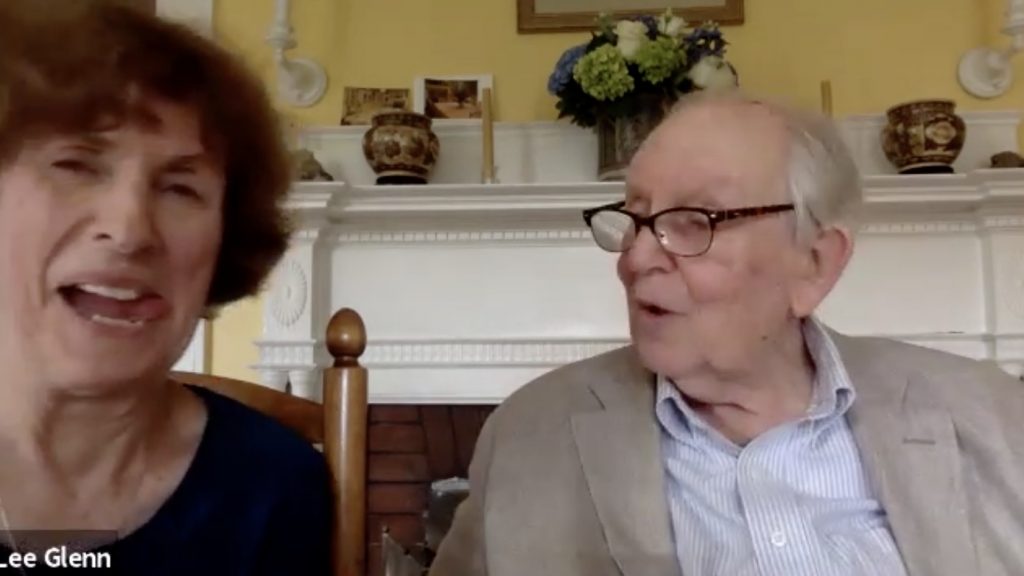 In August, I drove our son Max back to NYU for the beginning of his sophomore year. (Our son Sam, meanwhile, relocated with his girlfriend Kayla to Missoula, Montana.) On the 31st, we celebrated my mother's 80th, via Zoom [as seen above], with friends and family.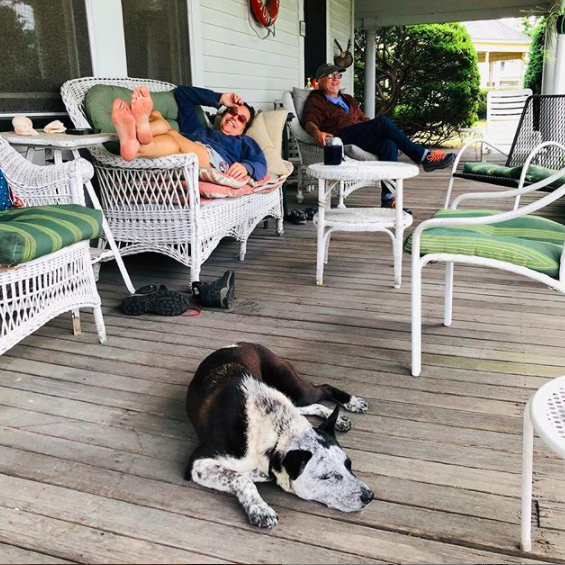 In August and September, Susan and I spent some quality time at the beach — in Hull, Mass. — with our old-school friends Katie and Brook (pictured).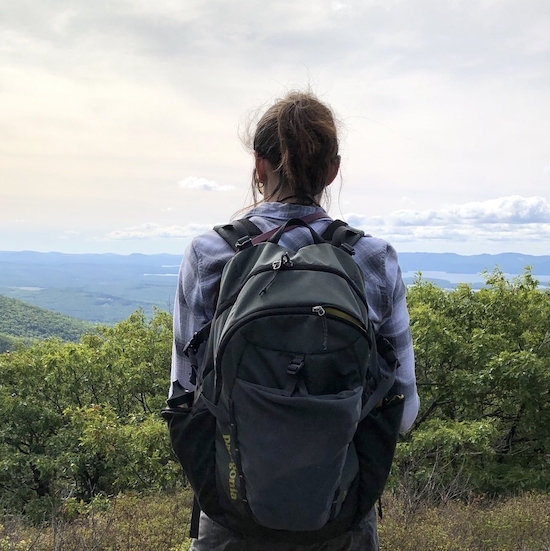 In mid-September, Susan (and Tito) and I returned to NH for a week of traipsing around the Ossipees, and lounging in hammocks without wearing masks.
***
On to 4Q2020…
MORE HYPOCRISY: 2010 | 2011 | 2012 | 2013 | 2014 | 2015 | 2016 | 2017 | 2018 | 2019 | 2020 | 2021 | 2022 | 1Q2023.