Hypocrite Idler 2015
By: Joshua Glenn
January 3, 2016
To idle is to work on meaningful and varied projects — and also to take it easy. (Like Nas, "I used to hustle/Now all I do is relax and strive.") If you're interested in my 2015 projects, please keep reading; otherwise, don't! The title of this series of posts refers to this self-proclaimed idler's inability to take it easy.
HILOBROW is a noncommercial blog. None of the below should be construed as an advertisement for SEMIOVOX, UNBORED, or one of my other semi-profitable projects. This series is merely intended to keep HILOBROW's readers updated on the editor's doings and undoings.
I am deeply grateful to the many talented and generous folks with whom I've collaborated during this past year.
MORE HYPOCRISY: 2010 | 2011 | 2012 | 2013 | 2014 | 2015 | 2016 | 2017 | 2018 | 2019 | 2020 | 2021 | 2022 | 1Q2023 | 2Q2023 | 3Q2023 | 4Q2023.
*
SEMIOTICS
UNBORED
WRITING
HILOBROW
HERMENAUTIC CIRCLE
TAKING IT EASY
*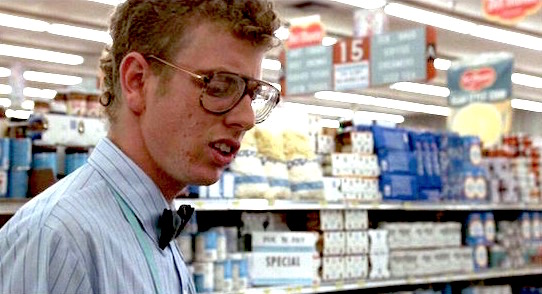 SEMIOTICS
I'm a cultural and brand semiotician, and co-founder of the Boston- and New York-based branding and strategy consultancy Semiovox. 2015 was Semiovox's first full year in business — and if it was, at times, a frenzied year, it was also a productive and rewarding one. In fact, this fall we relocated Semiovox's Boston office into a larger space… because we need room to grow!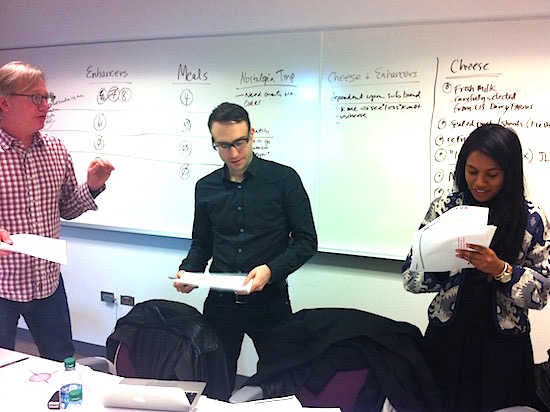 Semiovox's methodology is a powerful combination of US-style semiotic analysis and (via our sister company, Consumer Eyes, headed up by Semiovox's co-founder, Ron Rentel) pioneering innovation methods and a full creative department capable of producing consumer-facing stimulus, concepts, and protocepts. During 2015, Semiovox consulted to world-class companies from Unilever, Procter & Gamble, and SC Johnson to PepsiCo, Beam Suntory, Kraft, Wrigley, and MillerCoors, on every sort of business objective — such as innovating new products, repositioning and refurbishing existing brands, tightening up brand communications, developing breakthrough pack designs, and extending iconic brands into previously uncharted territories.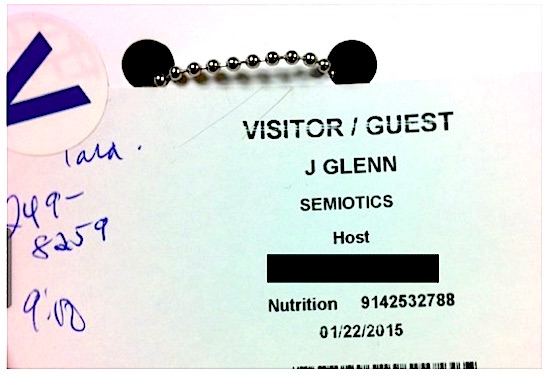 This year, Semiovox conducted semiotic audits of a wide variety of product categories (e.g., beer, toilet paper, insect repellent, shampoo and other hair care products, aquavit, hot and iced tea, probiotics, skin care, tequila, chewing gum) and cultural territories (e.g., Family Meals, Personal Care, French Beauty, Textured Hair, Nordic-ness, Tea Premium-ness, Exploration). Many of our projects were international in focus, which gave us the opportunity to collaborate with semioticians and qualitative research colleagues in London, Copenhagen, Warsaw, Jakarta, and elsewhere. We collaborated closely with US and European advertising, research, and design agencies; and we traveled around the country — and, in Ron's case — around the world, too.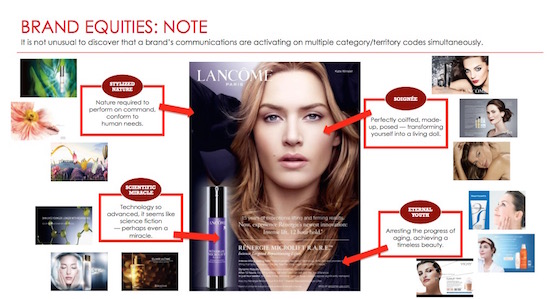 PS: In 2015, we continued to expand the SEMIODEX — our networked database of 75,000+ brand communications and pop culture phenomena, each meta-tagged according to, e.g., product category, cultural territory, macro trends, emotion, and needs/occasions. We're grateful to Grant Hamilton and meta-data librarian Kelly Webster, for their assiduous efforts.
***

UNBORED
The UNBORED team — Elizabeth Foy Larsen, Tony Leone, Mister Reusch, Heather Kasunick, Chris Piascik, and yours truly — had a banner year, in 2015.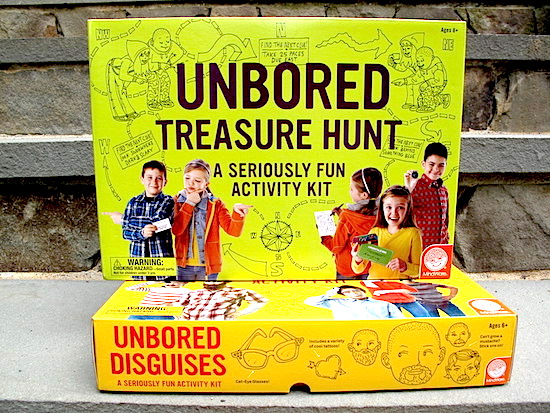 In June, the brainy kids' toy and game company MindWare produced two UNBORED activity kits — UNBORED Disguises and UNBORED Treasure Hunt. This holiday season, our kits were available in toy stores everywhere, as well as in Target. In MindWare's fall catalogs, they were featured on the same spreads as classic toys and games like Etch-a-Sketch and Rubik's Cube — which made us very proud.
In February, the magazine Family Fun named the UNBORED kits one of the best offerings at the 2015 American International Toy Fair — because of their "creativity, trend-setting potential, value, and fun factor." And then in the fall, Family Fun named UNBORED DISGUISES one of the Top Ten Toys of 2015, while UNBORED TREASURE HUNT won a Parents' Choice Award — it was named one of the Best Games of 2015!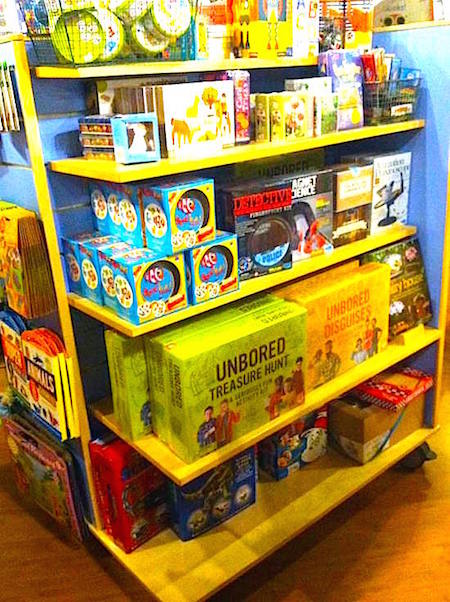 These are the first UNBORED kits we've developed; we hope to develop others in 2016 and beyond. (We have plenty of ideas.) Our thanks to Mister Reusch, for his terrific illustrations on the packages and instructions.
*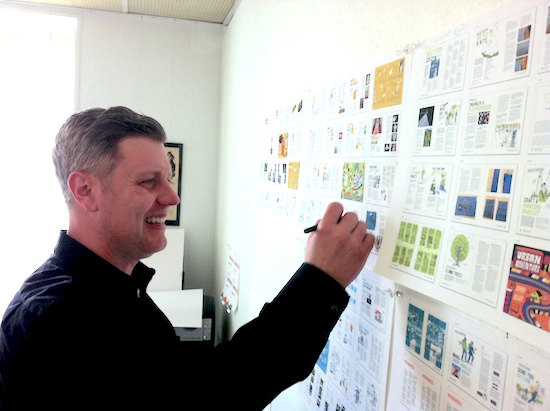 Also! In October, Bloomsbury published our latest family activities guide, UNBORED Adventure: 70 Seriously Fun Activities For Kids And Their Families.
In the book's 176 full-color pages, you'll find: adventure apps, adventure gear, adventure skills (from building a fire to open-mindedness), adventure-building projects (e.g., bean shooter, box kite, ghillie poncho, paracord bracelet, upcycled raft), indoor adventures (e.g., sewing your own ditty bag, survival origami), instant adventures, and outdoor adventures (from the pervasive game Assassin to fire-pit recipes to shootin' craps). The book is richly illustrated, as were the previous UNBORED books, by Mister Reusch and Heather Kasunick.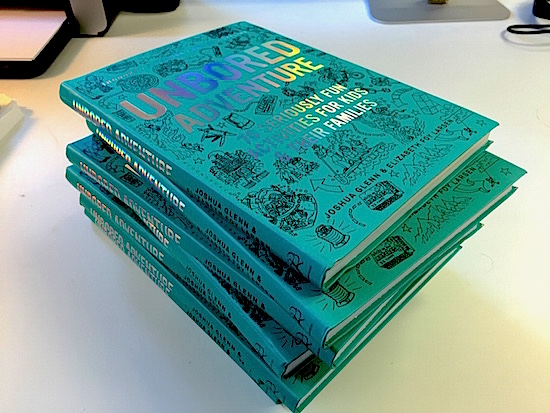 PLUS: Expert essays by adventurer Chris Spurgeon, Bike Snob author BikeSnobNYC, BEN AND BIRDY blogger Catherine Newman, and Kitchen Science Lab for Kids author Liz Lee Heinecke; Best Ever lists (e.g., Dystopian Sci-Fi, Outdoor Adventure Movies); Secret History Comics by Mister Reusch and Heather Kasunick (e.g., Treehouses, Female Explorers, Bicycles); Q&As with Joshua Foer and Dylan Thuras of Atlas Obscura, Playborhood author Mike Lanza, urban biking activist Elly Blue, and Cloudspotting author Gavin Pretor-Pinney; Train Your Grownup features (e.g., Send you Outside, Climb Trees, Let You Roam, Prep for Adventure); and classic lit excerpts (e.g., The Wouldbegoods, Gulliver's Travels, The Swiss Family Robinson). It's jam-packed!
The UNBORED team agrees that this is our finest effort. Thanks, Bloomsbury, for the opportunity.
***
WRITING
Although in a past life I was a newspaper, magazine, and website writer and columnist, these days — because I'm busy with Semiovox, UNBORED, and other projects — I primarily write for HiLobrow. In 2015, I contributed the following posts.
Here are a couple of non-HiLobrow items that I wrote in 2015:
My PRIMER story, "Fairy Tale of New York," cracks a literary mystery — concerning the midcentury bad-boy author J.P. Donleavy, and a cult British series of kids' books — the existence of which literary mystery no one but me knew about. Until now, that is.
Also, I wrote an essay titled "The Perfect Flâneur" for The New Escapologist, a British and Canadian journal published by frequent HiLobrow contributor Rob Wringham. It will appear in 2016.
MORE OF JOSH'S FURSHLUGGINER THEORIES: We Are Iron Man! | And We Lived Beneath the Waves | Is It A Chamber Pot? | I'd Like to Force the World to Sing | The Argonaut Folly | The Perfect Flâneur | The Twentieth Day of January | The Dark Side of Scrabble | The YHWH Virus | Boston (Stalker) Rock | The Sweetest Hangover | The Vibe of Dr. Strange | SEVENTIES ACTION MOVIES | Tyger! Tyger! | Star Wars Semiotics | The Original Stooge | Fake Authenticity | Camp, Kitsch & Cheese | Stallone vs. Eros | The UNCLE Hypothesis | Icon Game | Meet the Semionauts | The Abductive Method | Semionauts at Work | Origin of the Pogo | The Black Iron Prison | Blue Krishma! | Big Mal Lives! | Schmoozitsu | You Down with VCP? | Calvin Peeing Meme | Daniel Clowes: Against Groovy | The Zine Revolution (series) | Best Adventure Novels (series) | Debating in a Vacuum (notes on the Kirk-Spock-McCoy triad) | Pluperfect PDA (series) | Double Exposure (series) | Fitting Shoes (series) | Cthulhuwatch (series) | Shocking Blocking (series) | Quatschwatch (series)
***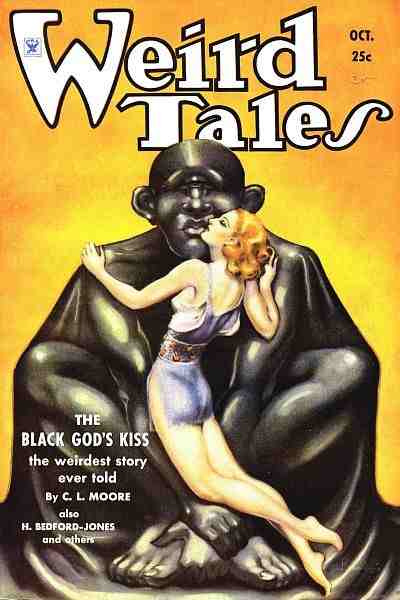 HILOBROW
I'm the editor and publisher, here at HILOBROW. To see what we've been up to this year (e.g., Tom Nealon's STUFFED series!, Adam McGovern's BOWIEOLOGY!, Douglas Wolk's LIMERICKANIA!, Lynn Peril's MUSEUM OF FEMORIBILIA!, etc.), please check out our Best of HiLobrow 2015 post. Here, I'll just mention the two most ambitious series that I've edited in 2015.
We published 110+ installments in the HILO HEROES series, in 2015, bringing the series' grand total — since we kicked it off in 2009 — to some 1,420 items. This year's HiLo Heroes include: Lynda Barry, David Johansen, Simone de Beauvoir, Murray Bookchin, Robert Anton Wilson, Rolando Hinojosa, Viktor Shklovsky, S.J. Perelman, Gahan Wilson, Ernst Haeckel, Tetsumi Kudo, Molly Picon, William Gibson, Ub Iwerks, Carmen McRae, György Lukács, Anita Loos, Moebius, Bill "Bojangles" Robinson, Gerald Gardner, Ted Joans, Carmen Mondragón, Ian Curtis, Berenice Abbott, Madame Blavatsky, Wynona Carr, James Tiptree Jr., Terminator X, Paulo Freire, Richard Hell, Henri Bergson, Dory Previn, Kon Ichikawa, Julee Cruise, and Muriel Rukeyser. As of this winter, we're wrapping up the HILO HERO series. It's been an amazing collaborative experience; we should really do a book.

In August, we published a series of 25 posts, by 25 contributors, on the topic of our favorite fantasy novels from the Thirties (1934–1943). CROM YOUR ENTHUSIASM — which takes its moniker from Robert E. Howard's Conan mythos — was our fifth annual ENTHUSIASM series. Here's the series lineup: Erik Davis on Jack Williamson's DARKER THAN YOU THINK | Sara Ryan on T.H. White's THE SWORD IN THE STONE | Mark Kingwell on C.S. Lewis's OUT OF THE SILENT PLANET | David Smay on Fritz Leiber's THIEVES' HOUSE | Natalie Zutter on Robert E. Howard's QUEEN OF THE BLACK COAST | James Parker on J.R.R. Tolkien's THE HOBBIT | Adrienne Crew on Dion Fortune's THE SEA PRIESTESS | Gabriel Boyer on Clark Ashton Smith's ZOTHIQUE stories | John Hilgart on H.P. Lovecraft's THE CASE OF CHARLES DEXTER WARD | Barbara Bogaev on William Sloane's TO WALK THE NIGHT | Rob Wringham on Flann O'Brien's THE THIRD POLICEMAN | Dan Fox on Hergé's THE SEVEN CRYSTAL BALLS | Flourish Klink on C.S. Lewis's PERELANDRA | Tor Aarestad on L. Sprague de Camp and Fletcher Pratt's THE ROARING TRUMPET | Anthony Miller on H.P. Lovecraft's THE SHADOW OVER INNSMOUTH | Suzanne Fischer on E.R. Eddison's MISTRESS OF MISTRESSES | Molly Sauter on Herbert Read's THE GREEN CHILD | Diana Leto on Edgar Rice Burroughs's TARZAN AND THE LION MAN | Joshua Glenn on Robert E. Howard's THE HOUR OF THE DRAGON | Andrew Hultkrans on H.P. Lovecraft's AT THE MOUNTAINS OF MADNESS | Lynn Peril on Fritz Leiber's CONJURE WIFE | Gordon Dahlquist on H.P. Lovecraft's THE SHADOW OUT OF TIME | Adam McGovern on C.L. Moore's JIREL OF JOIRY stories | Tom Nealon on Fritz Leiber's TWO SOUGHT ADVENTURE | John Holbo on Robert E. Howard's CONAN MYTHOS.
***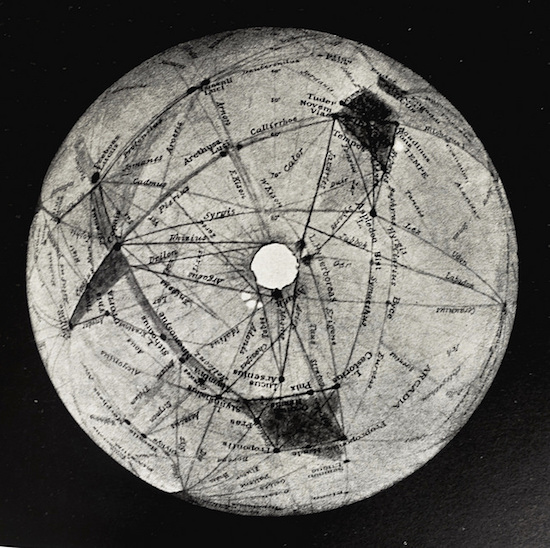 HERMENAUTIC CIRCLE
The Hermenautic Circle is a secretive society managed by yours truly. I'm not at liberty to discuss the HC, but you can read what may or may not be a parodic version of our history here.
***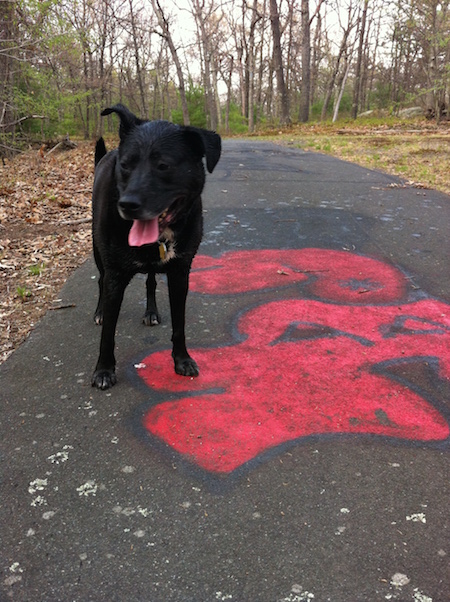 TAKING IT EASY
In the taking it easy department…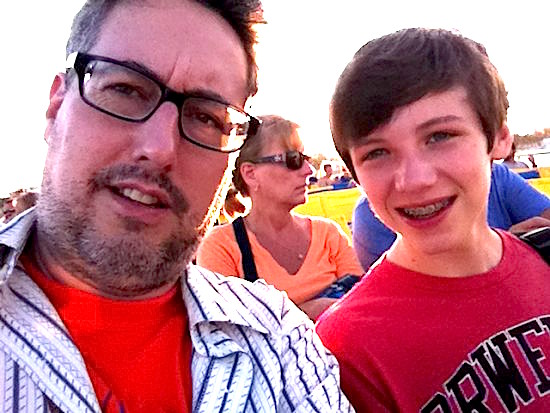 In March, after the worst winter in Boston's history, Max and I went to Mexico. What a treat! Sam and Susan, meanwhile, were skiing. (Weirdos.)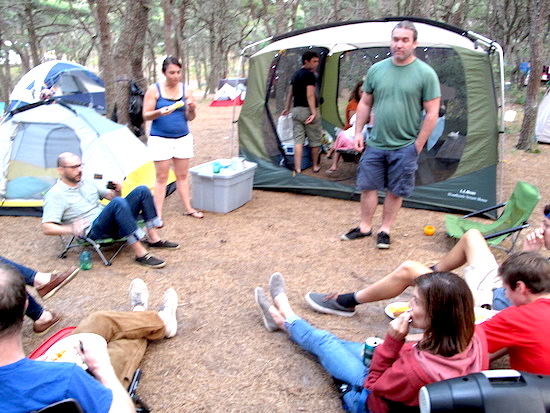 This summer, my family and I went car-camping — at the beach, in Truro, Mass. — with the families of some good friends, including (standing) HiLobrow contributor Tom Nealon and (seated, far left) my office-mate Rick — of Rick Pinchera Illustration.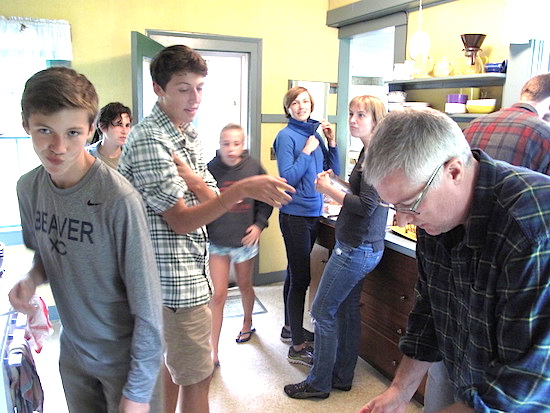 In September, my family spent a long weekend on a New Hampshire farm with five of my six brothers and sisters, their (four) significant others and (five) children, plus my father and stepmother. It was a hectic, joyous event.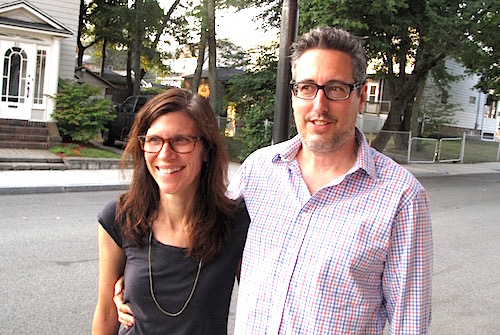 Over Labor Day weekend, Susan and I celebrated our 20th wedding anniversary — and 27th year together. In all that time, as the Boston Irish like to say, never an unkind word.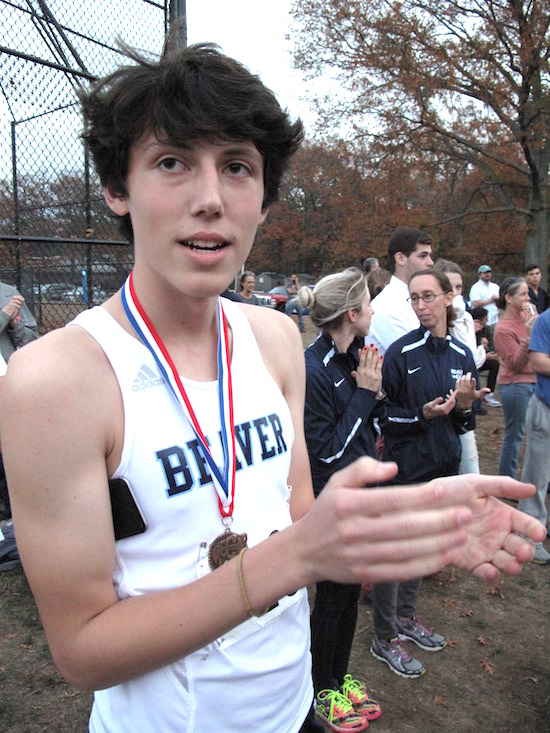 This fall, Susan and I attended lots of high-school cross-country meets. Sam (senior, Bates class of 2020!), was a NEPSAC All Star and the team's fastest runner; Max was the third-fastest member of the team, and one of the fastest freshman in the division. Who knew?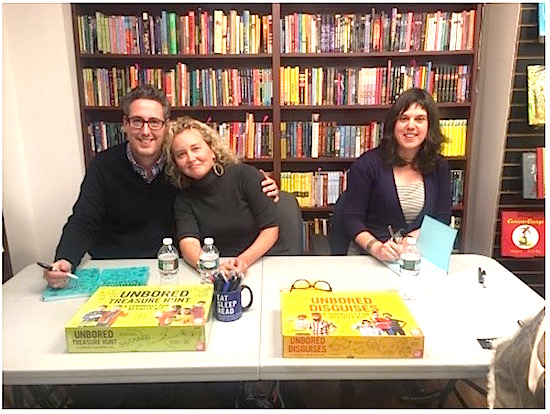 UNBORED bookstore events, this fall, were a fun excuse to get the whole team together. Shown here, at Brookline Booksmith: Josh, Elizabeth, and Heather. Also presenting, at that event: Tony and Mister Reusch.
***
According to YearinMusic.Spotify.com, here are the tracks I listened to most frequently in 2015: Courtney Barnett's "Depreston," Edward Sharpe & The Magnetic Zeros' "40 Day Dream," The Growlers' "One Million Lovers," The O'Mys' "Feeling Like a King," Connan Mockasin's "I'm The Man, That Will Find You," Broncho's "It's On," Modest Mouse's "Sleepwalkin'," Courtney Barnett's "Elevator Operator," Wild Belle's "Shine," The Miracles' "Shop Around."
On to 2016!
MORE HYPOCRISY: 2010 | 2011 | 2012 | 2013 | 2014 | 2015 | 2016 | 2017 | 2018 | 2019 | 2020 | 2021 | 2022 | 1Q2023 | 2Q2023 | 3Q2023 | 4Q2023.