Hypocrite Idler (2012)
By: Joshua Glenn
December 24, 2012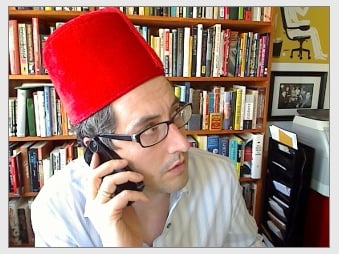 To idle is to work on meaningful and varied projects — and also to take it easy. (Like Nas, "I used to hustle/Now all I do is relax and strive.") If you're interested in my 2012 projects, please keep reading; otherwise, don't! The title of this series of posts refers to this self-proclaimed idler's inability to take it easy.
HILOBROW is a noncommercial blog. None of the below should be construed as an advertisement for UNBORED or one of my other semi-profitable projects. This series is merely intended to keep HILOBROW's readers updated on the editor's doings and undoings.
I am deeply grateful to the many talented and generous folks with whom I've collaborated during this past year.
MORE HYPOCRISY: 2010 | 2011 | 2012 | 2013 | 2014 | 2015 | 2016 | 2017 | 2018 | 2019 | 2020 | 2021 | 2022 | 1Q2023.
***
UNBORED | SIGNIFICANT OBJECTS
THE RADIUM AGE SCIENCE FICTION SERIES | HILOBROW | IDLING
PODCASTS | FREELANCE WRITING & SEMIOTIC BRAND ANALYSIS
COMRADES & COLLEAGUES & CO-CONSPIRATORS
UNBORED: THE ESSENTIAL FIELD GUIDE TO SERIOUS FUN
Co-authored/edited by Joshua Glenn and Elizabeth Foy Larsen
Designed and art directed by Tony Leone
Illustrated by Heather Kasunick, Mister Reusch, and Chris Piascik
(Bloomsbury, October 2012)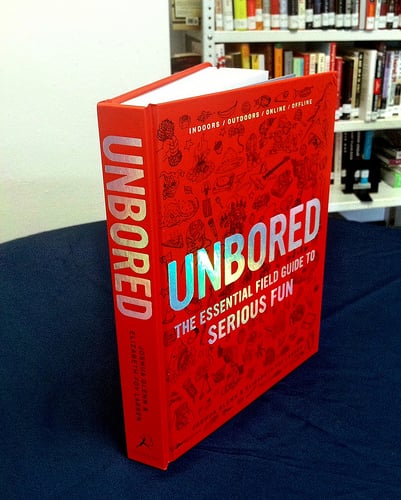 I turned 45 this October! During the festivities, I opened a box containing hot-off-the-presses copies of UNBORED and distributed them to my sons Sam and Max, and also to their friends Harry Parker, Alouette Batteau, DeVonté and Tyler Austin, Finnuala and Caimin Cradock, Ena Nealon, and Jonny Pinchera. Many of these colleagues of mine are pictured below; without their expert assistance, Elizabeth and Tony and I never could have done it.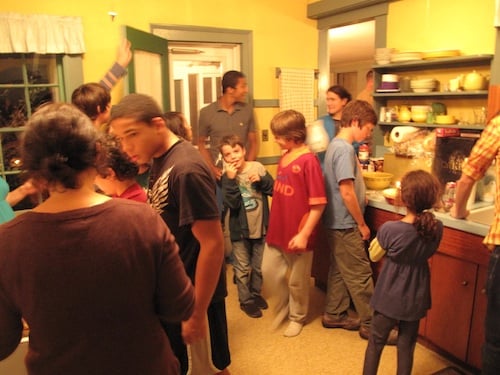 We pitched UNBORED to Bloomsbury in April 2010. Our conceit was that it would be a real-life version of the Young Lady's Illustrated Primer: a Propædeutic Enchiridion from Neal Stephenson's The Diamond Age; that is, a book that would challenge young readers to try new experiences, exercise their imagination, and think for themselves.
Over two years later, we published just such a book — thanks to assistance from dozens of kids we know, and to key contributions from: Joe Alterio (illustrator and artist), Colin Beavan (environmental activist), Ginia Bellafante (New York Times writer), Deb Chachra (bioengineering scientist), Helen Cordes (parenting writer), Chris Dahlen (videogames critic), Matthew De Abaitua (author, The Art of Camping), Mark Frauenfelder (DIYer, MAKE Magazine editor in chief), Max Glenn (6th grader), Sam Glenn (high-school freshman), Chelsey Johnson (Rock'n'Roll Camp for Girls volunteer), Flourish Klink (fan fiction author and expert), Geoff Manaugh (architectural utopianist and blogger), Sophie Meyer (environmental activist, undergrad), Norah Mortensen (high-school freshman), Tom Nealon (food and cookbook scholar), John Edgar Park (MAKE TV host and DIYer), Bre Pettis (DIYer, tinkerer, MakerBot founder), Jeff Potter (author, Cooking for Geeks), Jean Railla (DIYer, GetCrafty.com founder), Douglas Rushkoff (media theorist), Henrik Schleisman (5th grader), Peter Schleisman (8th grader), Walter Schleisman (musician and music teacher), Zoe Cordes Selbin (homeschooled media consultant, undergrad), Anindita Basu Sempere (YA writer, crafter, animal rescuer), Chris Spurgeon (DIYer, tinkerer, mapping expert), Courtney Stanton (videogame producer), Kio Stark (DIYer, interactivity expert), Jay Walljasper (liveable cities and bicycling activist), and Jessamyn West (librarian, MetaFilter director).
Elizabeth and Tony and I are exceedingly proud of UNBORED — please check our our website, and the glowing reviews we've received not only from magazines and mom bloggers, but parents.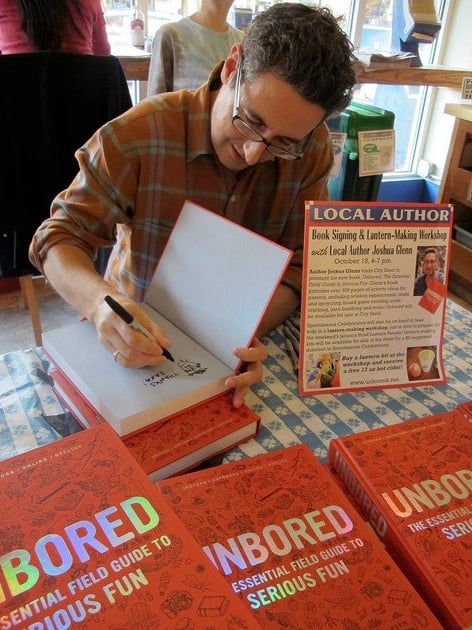 Oh, and as if publishing the US edition of UNBORED in 2012 weren't enough, earlier this month our team finished up the UK edition, too. We made hundreds and hundreds of changes — phew!
Below: Look! We made it onto New York magazine's Approval Matrix for the week of Dec. 31…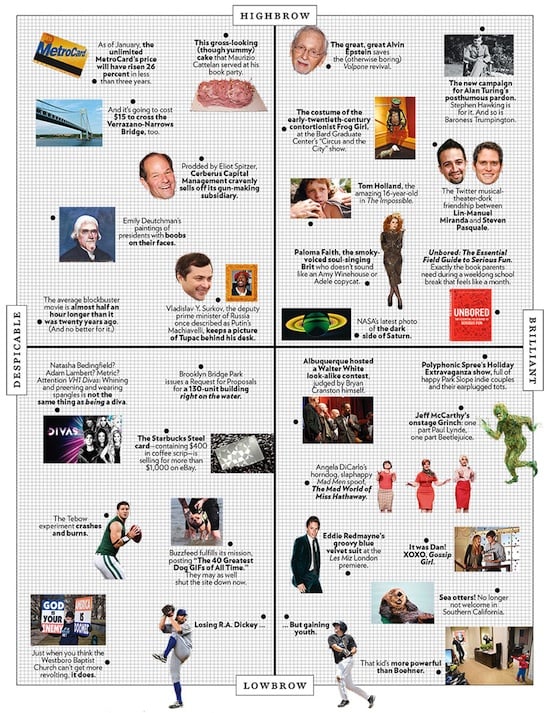 ***
UNBORED | SIGNIFICANT OBJECTS
THE RADIUM AGE SCIENCE FICTION SERIES | HILOBROW | IDLING
PODCASTS | FREELANCE WRITING & SEMIOTIC BRAND ANALYSIS
COMRADES & COLLEAGUES & CO-CONSPIRATORS
SIGNIFICANT OBJECTS: 100 EXTRAORDINARY STORIES ABOUT ORDINARY THINGS
Co-authored/edited by Joshua Glenn and Rob Walker
Designed by Jacob Covey
(Fantagraphics, September 2012)
I also co-authored this book, in 2012!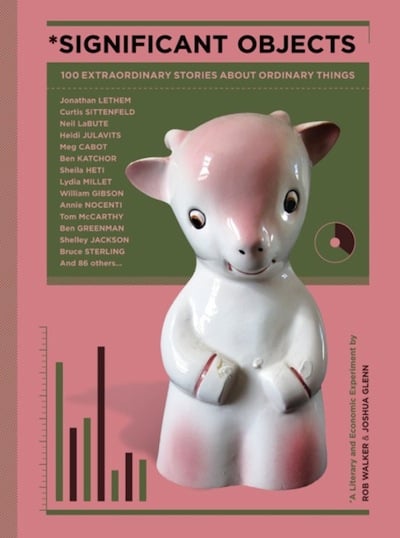 In late 2010, after we wrapped up the third and final "volume" of stories at our Significant Objects literary-anthropological-economic experiment, Rob Walker and I started working with Fantagraphics designer Jacob Covey, and with Fantagraphics editor Eric Reynolds, on a gorgeous volume collecting 100 of the project's object-oriented stories. Two years later, the result is in bookstores.
Significant Objects is a gorgeous book, collecting stories by: Chris Adrian, Rob Agredo, Kurt Andersen, Rachel Axler, Rob Baedeker, Rosecrans Baldwin, Nicholson Baker, Matthew Battles, Charles Baxter, Kate Bernheimer, Susanna Breslin, Kevin Brockmeier, Matt Brown, Blake Butler, Meg Cabot, Tim Carvell, Patrick Cates, Dan Chaon, Susanna Daniel, Adam Davies, Kathryn Davis, Matthew De Abaitua, Helen DeWitt, Stacey D'Erasmo, Doug Dorst, Mark Doty, Ben Ehrenreich, Mark Frauenfelder, Amy Fusselman, William Gibson, Myla Goldberg, Ben Greenman, Jason Grote, Jim Hanas, Jennifer Michael Hecht, Sheila Heti, Christine Hill, Dara Horn, Shelley Jackson, Heidi Julavits, Ben Katchor, Matt Klam, Wayne Koestenbaum, Josh Kramer, Kathryn Kuitenbrouwer, Neil LaBute, Victor Lavalle, J. Robert Lennon, Jonathan Lethem, Todd Levin, Laura Lippman, Mimi Lipson, Robert Lopez, Joe Lyons, Sarah Manguso, Merrill Markoe, Tom McCarthy, Miranda Mellis, Lydia Millet, Maud Newton, Annie Nocenti, Stephen O'Connor, Stewart O'Nan, Jenny Offill, Gary Panter, Ed Park, James Parker, Benjamin Percy, Mark Jude Poirier, Padgett Powell, Bob Powers, Todd Pruzan, Dan Reines, Nathaniel Rich, Peter Rock, Lucinda Rosenfeld, Greg Rowland, Luc Sante, R.K. Scher, Toni Schlesinger, Matthew Sharpe, Jim Shepard, David Shields, Marisa Silver, Curtis Sittenfeld, Bruce Sterling, Scarlett Thomas, Jeff Turrentine, Deb Olin Unferth, Tom Vanderbilt, Matthew J. Wells, Joe Wenderoth, Margaret Wertheim, Colleen Werthmann, Colson Whitehead, Carl Wilson, Cintra Wilson, Sari Wilson, Douglas Wolk, and John Wray.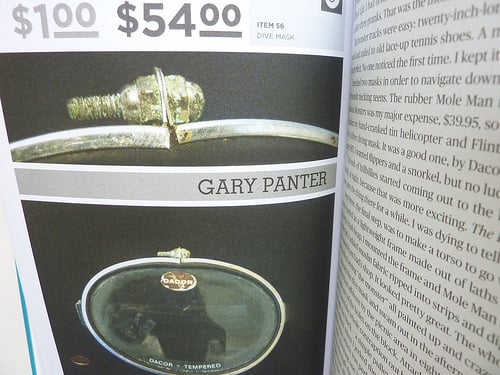 The project has received terrific reviews: "Like a Salvation Army staffed by brilliant writers." — GalleyCat. "A literary garage sale." — The New York Times. "One of the most life-affirmingly cheeky studies I have seen for ages." — The Guardian. "The project mixes consummate storytelling with found objects." — Cool Hunting. "It's a fantastic idea on so many levels — as a creative experiment, sociological commentary, examination of mythmaking." — Bookninja.
Thanks, Matt Battles, for inviting me to speak about Significant Objects at metaLAB this spring! If you want to see the book's insides, I talked it up in this post.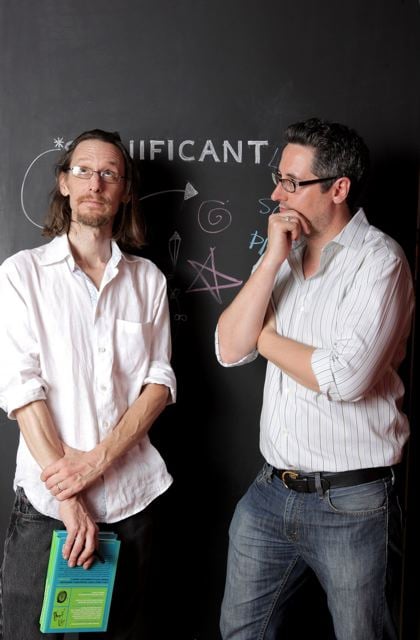 On July 10 and 11, we had a swell reading at The Strand bookstore in New York, and a swanky cocktail party at the MFA program Products of Design at New York's School of Visual Arts! The party was sponsored by eBay, which has taken an interest in Significant Objects. So stay tuned…
***
UNBORED | SIGNIFICANT OBJECTS
THE RADIUM AGE SCIENCE FICTION SERIES | HILOBROW | IDLING
PODCASTS | FREELANCE WRITING & SEMIOTIC BRAND ANALYSIS
COMRADES & COLLEAGUES & CO-CONSPIRATORS
THE RADIUM AGE SCIENCE FICTION SERIES
Series editor: Joshua Glenn
Covers by: Tony Leone and Michael Lewy
(HiLobrow, 2012)
In addition to the book projects mentioned above, in 2012 I edited and published the first five titles in HiLoBooks' Radium Age Science Fiction series.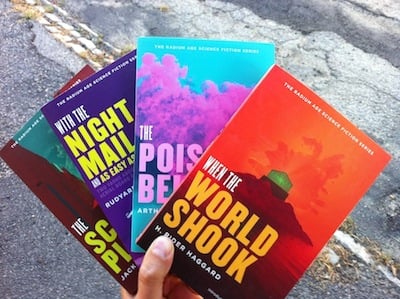 In 2012, HiLobrow launched HiLoBooks — a publishing imprint dedicated to reissuing lost novels from the era of science fiction that I have named the genre's Radium Age (1904–33). We serialized and then published — in gorgeous paperback editions — the following five titles: Jack London's The Scarlet Plague (Introduction by Matthew Battles; PURCHASE NOW) | Rudyard Kipling's With the Night Mail and "As Easy as A.B.C." (Introduction by Matthew De Abaitua and Afterword by Bruce Sterling; PURCHASE NOW) | Arthur Conan Doyle's The Poison Belt (Introduction by Joshua Glenn and Afterword by Gordon Dahlquist; PURCHASE NOW) | H. Rider Haggard's When the World Shook (Introduction by James Parker; PURCHASE NOW) | Edward Shanks' The People of the Ruins (Introduction by Tom Hodgkinson; PURCHASE NOW).
In case you missed it: I contributed an Introduction to one of the books.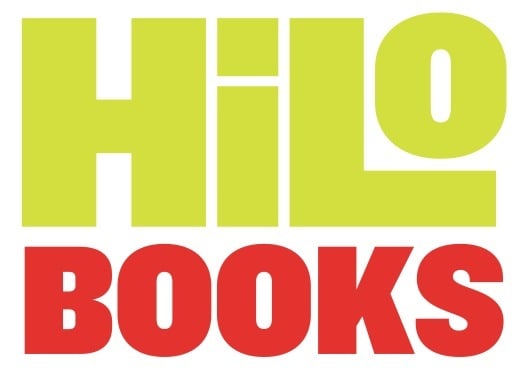 Here are a few nice reviews: "We're extremely excited that the incredible pop culture website HILOBROW is launching its own publishing line, HiLoBooks, to bring us fascinating new serialized fiction and reintroduce the world to the scifi novels of the Radium Age." — io9. "Less academic in orientation [than Wesleyan's "Early Classics of Science Fiction" series] but no less welcome in its efforts at critical salvage, HiLoBooks's "Radium Age Science Fiction" series, which debuted this year, covers a relatively neglected period in the genre's history — the three decades between the classic scientific romances of Wells in the late 1890s and the mature pulp era of the 1930s." — The Los Angeles Review of Books. "Look. RADIUM AGE stories coming back into print. I didn't know there was a Radium Age, but I've long loved the stories." — Neil Gaiman tweet.
PS: Without Matt Battles and Richard Nash, launching HiLoBooks would not have been possible. Thanks also to Colleen Venable for the redesign.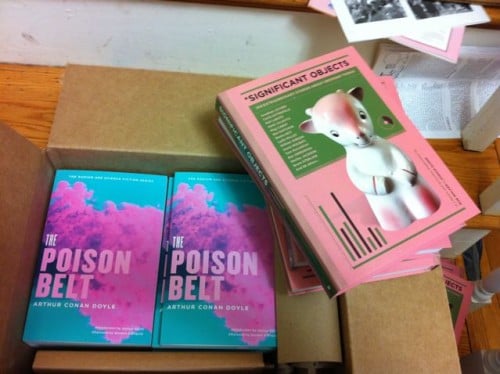 In 2013, we'll publish another five titles — including William Hope Hodgson's The Night Land (Introduction by Erik Davis; PURCHASE NOW) and J.D. Beresford's Goslings (Introduction by Astra Taylor).
***
UNBORED | SIGNIFICANT OBJECTS
THE RADIUM AGE SCIENCE FICTION SERIES | HILOBROW | IDLING
PODCASTS | FREELANCE WRITING & SEMIOTIC BRAND ANALYSIS
COMRADES & COLLEAGUES & CO-CONSPIRATORS
HILOBROW
Though I haven't able to devote as much attention to this website as I did from 2009–11, and although co-founder Matt Battles left in late 2011 for for Harvard's metaLAB, I have continued to publish and edit HiLobrow. Despite my inattention, HiLobrow had a great year!
I'm very grateful to Arts Editor Peggy Nelson, and her Artists in Residence. Also to these regular contributors: Tor Aarestad, Joe Alterio, Brian Berger, Barbara Bogaev, Franklin Bruno, Tim Carmody, Tucker Cummings, Erik Davis, Jerrold Freitag, Amanda French, John Hilgart, Mark Kingwell, Alix Lambert, Adam McGovern, Devin McKinney, Jacob Mikanowski, Tom Nealon, Annie Nocenti, Gary Panter, Lynn Peril, Greg Rowland, Luc Sante, David Smay, and Rob Wringham.
You can read about HILOBROW's 2012 highlights in a separate post. Here, I'll just mention a few personal highlights: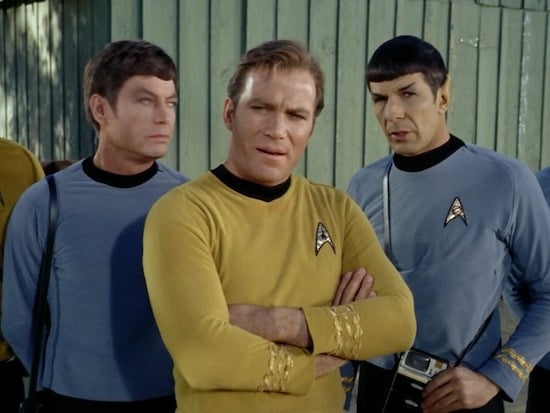 This summer, I edited a series of 25 posts — KIRK YOUR ENTHUSIASM — by 25 terrific writers, each one analyzing a single Captain Kirk scene from the Star Trek canon. Thanks to Greg Rowland and Adam McGovern for all their assistance with the series! And many thanks to the writers: Dafna Pleban, Mark Kingwell, Nick Abadzis, Stephen Burt, Greg Rowland, Zack Handlen, Peggy Nelson, Kevin Church, Enrique Ramirez, Adam McGovern, Flourish Klink, David Smay, Amanda LaPergola, Steve Schneider, Kelly Jean Fitzsimmons, Trav S.D., Matthew Battles, Annie Nocenti, Ian W. Hill, Gabby Nicasio, Peter Bebergal, Matt Glaser, Joe Alterio, and Annalee Newitz.
My contribution to the KIRK YOUR ENTHUSIASM series is titled "Debating in a vacuum." In this post, I argue that Kirk, McCoy, and Spock do not (as is all too often bruited about) represent a Freudian Trio; instead, they ought to be read as a Peircean Trio — i.e., as in the pioneering logician and semiotician C.S. Peirce.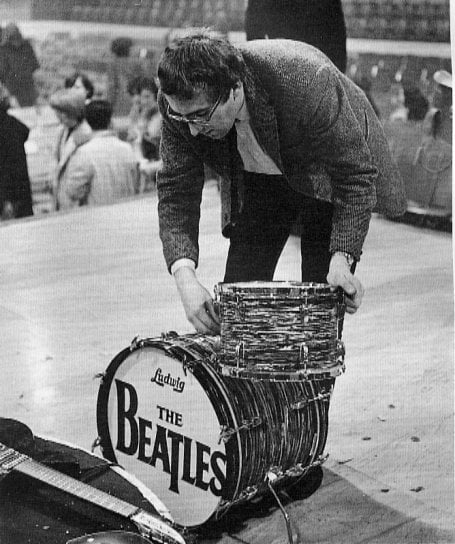 In the post "Big Mal Lives!", I investigated the possibility that Beatles road manager and dogsbody Malcolm "Big Mal" Evans did not, in fact, die in a blaze of police gunfire in 1976. He is alive! (PS: Thanks, Devin McKinney of the terrific Beatles blog Hey Dullblog, for reprinting my Beatles theories in 2012.)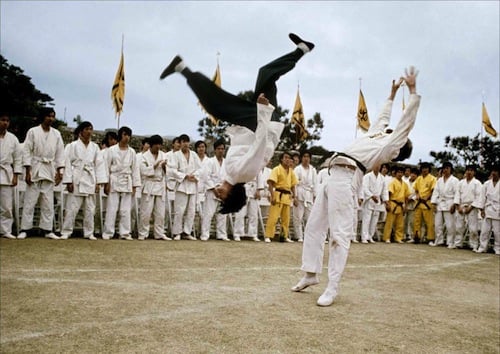 In the post "SCHMOOZITSU," having been invited to participate in a SXSW panel on "The Secrets and Surprises of DIY Promotion," I divulged the five secret "attitudes" undergirding my self-promotional technique/worldview.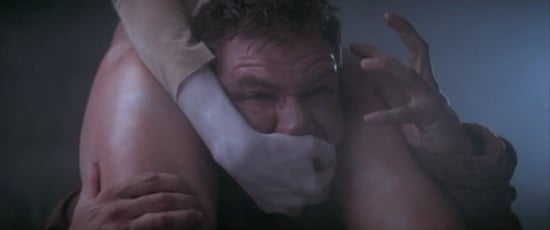 I also continued to post, sporadically, to the ongoing series SHOCKING BLOCKING — in which I analyze some of my favorite moments in the positioning or movement of actors in a movie. In 2012, I analyzed the blocking in Blade Runner, Apocalypse Now, The Long Goodbye, The Fifth Element, The Bad News Bears, Raising Arizona, Young and Innocent, His Girl Friday, Buckaroo Banzai, Barbarella, Monty Python's The Meaning of Life, and Bonnie and Clyde, among other movies.
***
UNBORED | SIGNIFICANT OBJECTS
THE RADIUM AGE SCIENCE FICTION SERIES | HILOBROW | IDLING
PODCASTS | FREELANCE WRITING & SEMIOTIC BRAND ANALYSIS
COMRADES & COLLEAGUES & CO-CONSPIRATORS
IDLING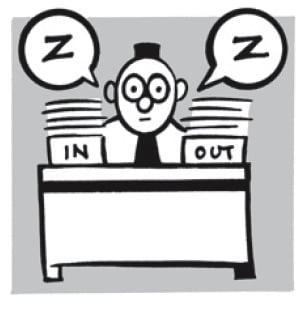 At HiLobrow this year, I offered HiLobrow readers an A-to-Z peek at my books The Idler's Glossary (2008) and The Wage Slave's Glossary (2011).
These books and their topics remain important to me, so I was flattered when the Scottish-Canadian journal New Escapologist interviewed me, this year, about the two glossaries. I was also flattered to be invited to New York, this fall, to speak after the Mint Theater production of Mary Broome, on the topic of idling.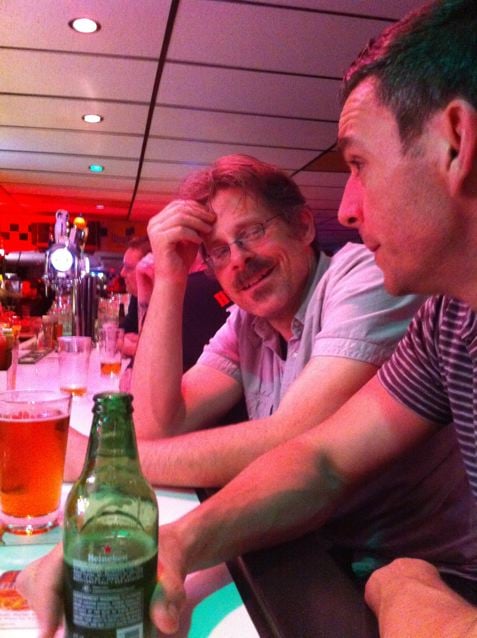 Here's a shout-out to those who are not only 2012 collaborators but friends with whom I idle IRL: Elizabeth Foy Larsen, Rob Walker, James Parker and Matt Battles (shown above), Tony Leone and Rick Pinchera (shown below), Matthew De Abaitua, Mark Kingwell, Malcolm Evans, Ben Walker, Mark Frauenfelder, Peggy Nelson, Annie Nocenti, Joe Alterio, Gary Panter, Deb Chachra, Flourish Klink, Tom Nealon, Tom Hodgkinson, Rob Agredo, Mimi Lipson, Ed Park, and Luc Sante — I have been both elusive and demanding for a couple of years now; thanks for cutting me some slack.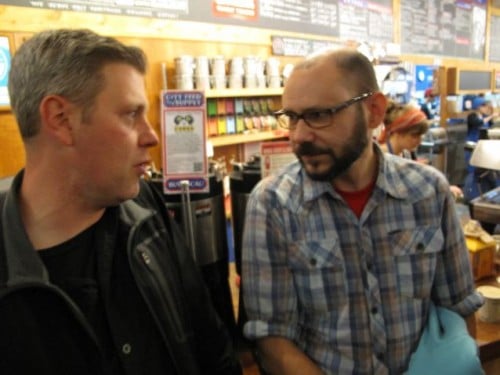 Same apology/thanks goes out to all my IRL friends, whether or not we collaborate. And also to my wife Susan, and our sons Sam and Max; you guys are a lot of fun to idle with!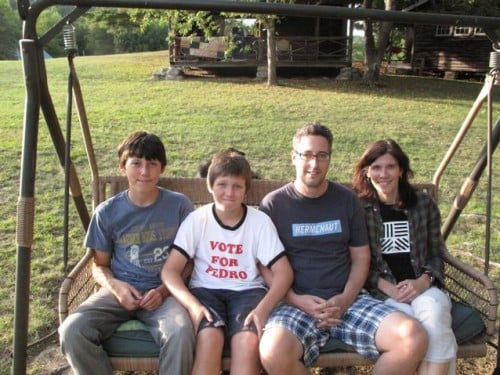 PS: My son Max's thanks go out to Mister Reusch for illustrating a t-shirt, this year. After seeing the movie THEM, Max had a funny two-sided t-shirt idea; Mister Reusch made it happen!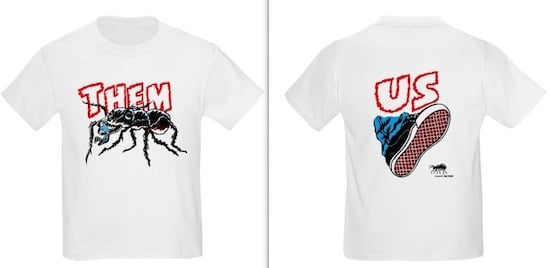 ***
UNBORED | SIGNIFICANT OBJECTS
THE RADIUM AGE SCIENCE FICTION SERIES | HILOBROW | IDLING
PODCASTS | FREELANCE WRITING & SEMIOTIC BRAND ANALYSIS
COMRADES & COLLEAGUES & CO-CONSPIRATORS
PODCASTS
This fall, I started appearing semi-regularly on two excellent podcasts, Boing Boing's GWEEK (hosted by Mark Frauenfelder) and WFMU's TOO MUCH INFORMATION (hosted by Benjamen Walker).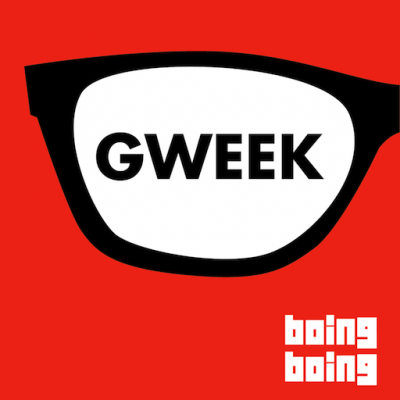 On GWEEK, I'm a co-host — talking with Mark about comic books, science fiction and fantasy, video games, board games, tools, gadgets, and apps.
On TOO MUCH INFORMATION, I play the character "Joshua Glenn," who — like me — is a semiotic brand and culture analyst. For the October 15 episode, for example, "Joshua Glenn" talked about the semiotics of skin whitening — er, make that skin consistency, clarity, and radiance. LISTEN TO THE EPISODE HERE.
***
UNBORED | SIGNIFICANT OBJECTS
THE RADIUM AGE SCIENCE FICTION SERIES | HILOBROW | IDLING
PODCASTS | FREELANCE WRITING & SEMIOTIC BRAND ANALYSIS
COMRADES & COLLEAGUES & CO-CONSPIRATORS
FREELANCE WRITING & SEMIOTIC BRAND ANALYSIS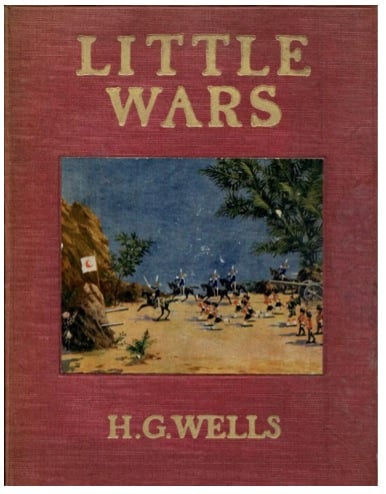 I answered the question "What is Radium Age Science Fiction?" for BoingBoing; and also — from a different angle — for the British science journal Nature.
In "War & Peace Games," for the journal Cabinet, I looked at the theme of tabletop wargames — and gaming generally — in the writings of H.G. Wells.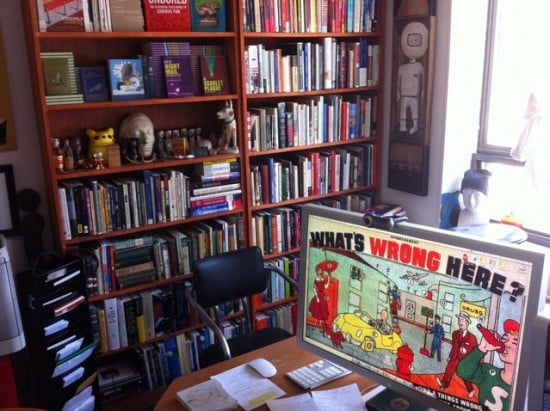 I wrote a review of Gary Panter's Dal Tokyo collection, for The Comics Journal.
For USA Today's POP CANDY blog, I wrote about the Matthew Looney series of kids' science fiction books from the '60s and '70s.
Finally, Elizabeth Foy Larsen and I wrote several installments in an ongoing series of posts on parenting for Slate.com.
A drop in the bucket, compared with the amount of freelance writing I used to do. How do I make a living?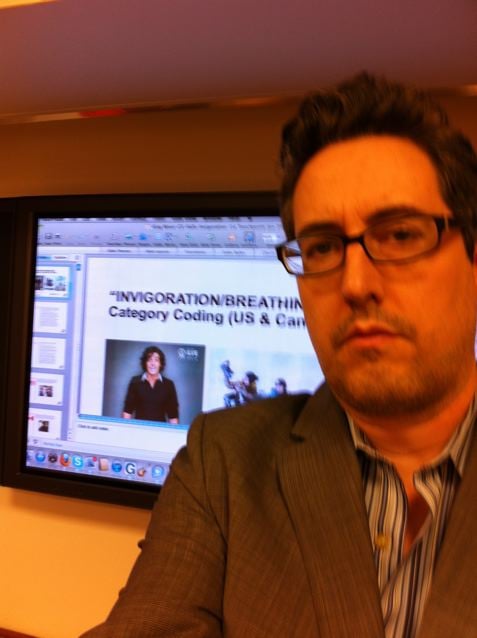 The vast majority of my income in 2012 came — as it has every year since I left the Boston Globe — neither from book advances (slim) or royalties (none), nor freelance writing, but from freelance semiotic brand analysis. Since 1999, as HiLobrow readers may already know, I've consulted to brands and marketing agencies on the question, not of what brands mean, but how they mean. This year, I was hired to do so on behalf of (among others) skincare, male grooming, allergy medication, vodka, network provider, chocolate bar, laptop computer, bodywash, cologne, iced tea, Japanese superhero, Canadian beer, bread, Irritable Bowel Disorder medication, soda pop, throat lozenge, chocolate milk, and medicated balm brands.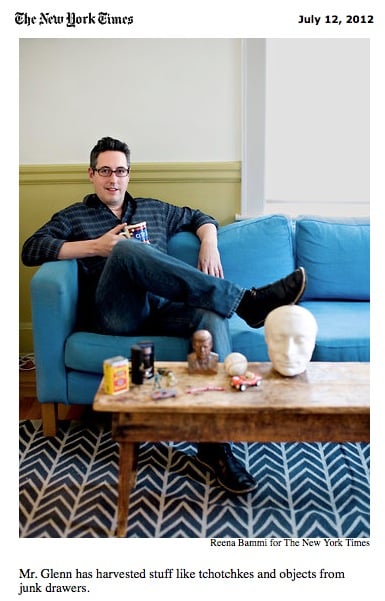 I'm grateful to Penelope Green of the New York Times for publishing a profile of me, as a semiotician and lay anthropologist — "He Takes Stuff Seriously" — this past summer. Excerpt: "That's when a friend hired him to help with a new marketing business, doing semiotic brand analysis. As Mr. Glenn explained it, he and his peers put on their Roland Barthes hats to analyze texts and images from the pop culture universe (everything from packaging and advertising to women's magazines and contemporary films) and prepare reports for marketing companies on how a product or idea means. Not what, but how. It's a job uniquely suited to someone like Mr. Glenn, who has an appetite for intellectual shenanigans and is unbound by an academic career. Also, it pays well (enough so that he can work half the month for his marketing clients and devote the rest to his publishing ventures)."
Many thanks, also, to Mark Badger (and my fellow panelists, Katie McIntyre and Thomas Wendt) for inviting me to speak about semiotic brand analysis at FutureM — the MIT conference about the future of marketing — this fall. It was fun! Thanks also to Flourish Klink, for inviting me to speak to her MIT class about semiotic brand analysis.
***
UNBORED | SIGNIFICANT OBJECTS
THE RADIUM AGE SCIENCE FICTION SERIES | HILOBROW | IDLING
PODCASTS | FREELANCE WRITING & SEMIOTIC BRAND ANALYSIS
COMRADES & COLLEAGUES & CO-CONSPIRATORS
COMRADES & COLLEAGUES & CO-CONSPIRATORS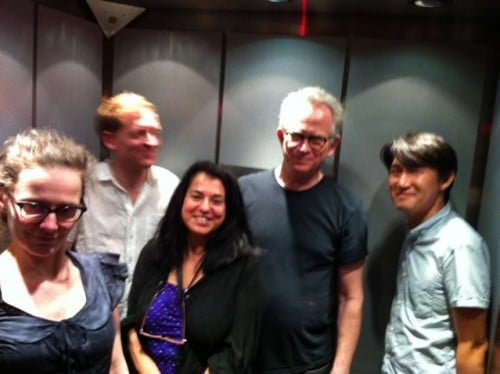 I'm sure the lists of names in this post are tedious — sorry about this. But everything I do involves collaborators and comrades, colleagues and co-conspirators. Ever since dropping out of graduate school, 20 years ago this fall, I've attempted to construct a DIY graduate school of sorts around myself — a free-floating research seminar, if you will.
I'm thankful that I bumped into a few comrades and co-conspirators this year at: SXSW, FutureM, ROFLCon, and NY ComicCon — and in Paris!
Speaking of co-conspirators, something else that I've been doing for the past few years is managing the Hermenautic Circle, an exclusive and secretive online community. He that hath ears to hear, let him hear.
***
MORE HYPOCRISY: 2010 | 2011 | 2012 | 2013 | 2014 | 2015 | 2016 | 2017 | 2018 | 2019 | 2020 | 2021 | 2022 | 1Q2023.