No Man's Land (3)
By: John Buchan
June 19, 2015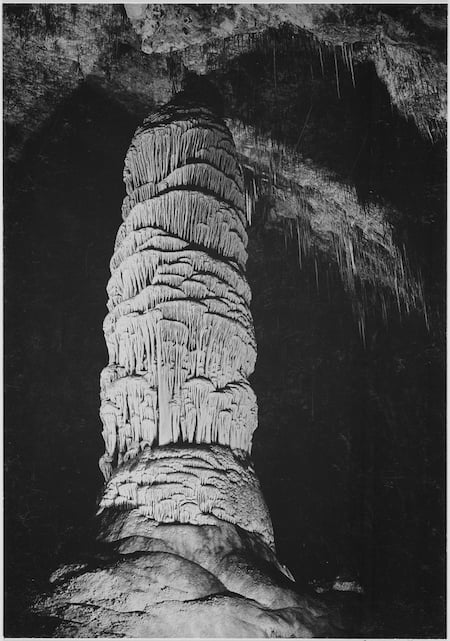 HiLoBooks is pleased to serialize John Buchan's 1899 science fiction novella No Man's Land. First published in Blackwood's Magazine, the story is sometimes cited as an influence on Robert E. Howard and other pulp writers of Howard's era. We are great admirers of Buchan's, at HILOBROW: Seven of his books appear on our list of the 200 Greatest Adventure Novels, and we've previously serialized his 1922 adventure novel Huntingtower. Enjoy!
ALL INSTALLMENTS SO FAR
***
CHAPTER 2: Tells of an Evening's Talk
The shepherd was a masterful man; tall, save for the stoop which belongs to all moorland folk, and active as a wild goat. He was not a new importation, nor did he belong to the place; for his people had lived in the remote Borders, and he had come as a boy to this shieling of Farawa. He was unmarried, but an elderly sister lived with him and cooked his meals. He was reputed to be extraordinarily skilful in his trade; I know for a fact that he was in his way a keen sportsman; and his few neighbours gave him credit for a sincere piety. Doubtless this last report was due in part to his silence, for after his first greeting he was wont to relapse into an extreme taciturnity. As we strode across the heather he gave me a short outline of his year's lambing. "Five pair o' twins yestreen, twae this morn; that makes thirty-five yowes that hae lambed since the Sabbath. I'll dae weel if God's willin'." Then, as I looked towards the hilltops whence the thin mist of morn was trailing, he followed my gaze. "See," he said with uplifted crook — "see that sicht. Is that no what is written of in the Bible when it says, 'The mountains do smoke'?" And with this piece of exegesis he finished his talk, and in a little we were at the cottage.
It was a small enough dwelling in truth, and yet large for a moorland house, for it had a garret below the thatch, which was given up to my sole enjoyment. Below was the wide kitchen with box-beds, and next to it the inevitable second room, also with its cupboard sleeping-places. The interior was very clean, and yet I remember to have been struck with the faint musty smell which is inseparable from moorland dwellings. The kitchen pleased me best, for there the great rafters were black with peat reek, and the uncovered stone floor, on which the fire gleamed dully, gave an air of primeval simplicity. But the walls spoiled all, for tawdry things of to-day had penetrated even there. Some grocers' almanacs — years old — hung in places of honour, and an extraordinary lithograph of the Royal Family in its youth. And this between crooks and fishing-rods and old guns, and horns of sheep and deer.
The life for the first day or two was regular and placid. I was up early, breakfasted on porridge (a dish which I detest), and then off to the lochs and streams. At first my sport prospered mightily. With a drake-wing I killed a salmon of seventeen pounds, and the next day had a fine basket of trout from a hill burn. Then for no earthly reason the weather changed. A bitter wind came out of the north-east, bringing showers of snow and stinging hail, and lashing the waters into storm. It was now farewell to fly-fishing. For a day or two I tried trolling with the minnow on the lochs, but it was poor sport, for I had no boat, and the edges were soft and mossy. Then in disgust I gave up the attempt, went back to the cottage, lit my biggest pipe, and sat down with a book to await the turn of the weather.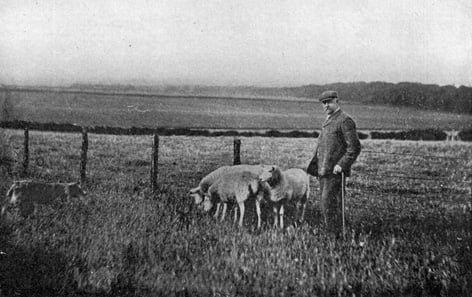 The shepherd was out from morning till night at his work, and when he came in at last, dog-tired, his face would be set and hard, and his eyes heavy with sleep. The strangeness of the man grew upon me. He had a shrewd brain beneath his thatch of hair, for I had tried him once or twice, and found him abundantly intelligent. He had some smattering of an education, like all Scottish peasants, and, as I have said, he was deeply religious. I set him down as a fine type of his class, sober, serious, keenly critical, free from the bondage of superstition. But I rarely saw him, and our talk was chiefly in monosyllables — short interjected accounts of the number of lambs dead or alive on the hill. Then he would produce a pencil and note-book, and be immersed in some calculation; and finally he would be revealed sleeping heavily in his chair, till his sister wakened him, and he stumbled off to bed.
So much for the ordinary course of life; but one day — the second, I think, of the bad weather — the extraordinary happened. The storm had passed in the afternoon into a resolute and blinding snow, and the shepherd, finding it hopeless on the hill, came home about three o'clock. I could make out from his way of entering that he was in a great temper. He kicked his feet savagely against the door-post. Then he swore at his dogs, a thing I had never heard him do before. "Hell!" he cried, "can ye no keep out o' my road, ye bruits?" Then he came sullenly into the kitchen, thawed his numbed hands at the fire, and sat down to his meal.
I made some aimless remark about the weather.
"Death to man and beast," he grunted. "I hae got the sheep doun frae the hill, but the lambs will never thole this. We maun pray that it will no last."
His sister came in with some dish. "Margit," he cried, "three lambs away this morning, and three deid wi' the hole in the throat."
The woman's face visibly paled. "Guid help us, Adam; that hasna happened this three year."
"It has happened noo," he said surlily. "But, by God! if it happens again I'll gang mysel' to the Scarts o' the Muneraw."
"O Adam!" the woman cried shrilly, "haud your tongue. Ye kenna wha hears ye." And with a frightened glance at me she left the room.
I asked no questions, but waited till the shepherd's anger should cool. But the cloud did not pass so lightly. When he had finished his dinner he pulled his chair to the fire and sat staring moodily. He made some sort of apology to me for his conduct. "I'm sore troubled, sir; but I'm vexed ye should see me like this. Maybe things will be better the morn." And then, lighting his short black pipe, he resigned himself to his meditations.
But he could not keep quiet. Some nervous unrest seemed to have possessed the man. He got up with a start and went to the window, where the snow was drifting unsteadily past. As he stared out into the storm I heard him mutter to himself, "Three away, God help me, and three wi' the hole in the throat."
Then he turned round to me abruptly. I was jotting down notes for an article I contemplated in the Revue Celtique, so my thoughts were far away from the present. The man recalled me by demanding fiercely, "Do ye believe in God?"
I gave him some sort of answer in the affirmative.
"Then do ye believe in the Devil?" he asked.
The reply must have been less satisfactory, for he came forward and flung himself violently into the chair before me.
"What do ye ken about it?" he cried. "You that bides in a southern toun, what can ye ken o' the God that works in thae hills and the Devil — ay, the manifold devils — that He suffers to bide here? I tell ye, man, that if ye had seen what I have seen ye wad be on your knees at this moment praying to God to pardon your unbelief. There are devils at the back o' every stane and hidin' in every cleuch, and it's by the grace o' God alone that a man is alive upon the earth." His voice had risen high and shrill, and then suddenly he cast a frightened glance towards the window and was silent.
I began to think that the man's wits were unhinged, and the thought did not give me satisfaction. I had no relish for the prospect of being left alone in this moorland dwelling with the cheerful company of a maniac. But his next movements reassured me. He was clearly only dead-tired, for he fell sound asleep in his chair, and by the time his sister brought tea and wakened him, he seemed to have got the better of his excitement.
NEXT INSTALLMENT | ALL INSTALLMENTS SO FAR
***
RADIUM AGE SCIENCE FICTION: "Radium Age" is HILOBROW's name for the 1904–33 era, which saw the discovery of radioactivity, the revelation that matter itself is constantly in movement — a fitting metaphor for the first decades of the 20th century, during which old scientific, religious, political, and social certainties were shattered. This era also saw the publication of genre-shattering writing by Edgar Rice Burroughs, Sax Rohmer, E.E. "Doc" Smith, Jack London, Arthur Conan Doyle, Aldous Huxley, Olaf Stapledon, Karel Čapek, H.P. Lovecraft, Charlotte Perkins Gilman, Yevgeny Zamyatin, Philip Gordon Wylie, and other pioneers of post-Verne/Wells, pre-Golden Age "science fiction." More info here.
READ GORGEOUS PAPERBACKS: HiLoBooks has reissued the following 10 obscure but amazing Radium Age science fiction novels in beautiful print editions: Jack London's The Scarlet Plague, Rudyard Kipling's With the Night Mail (and "As Easy as A.B.C."), Arthur Conan Doyle's The Poison Belt, H. Rider Haggard's When the World Shook, Edward Shanks' The People of the Ruins, William Hope Hodgson's The Night Land, J.D. Beresford's Goslings, E.V. Odle's The Clockwork Man, Cicely Hamilton's Theodore Savage, and Muriel Jaeger's The Man with Six Senses. For more information, visit the HiLoBooks homepage.
SERIALIZED BY HILOBOOKS: Jack London's The Scarlet Plague | Rudyard Kipling's With the Night Mail (and "As Easy as A.B.C.") | Arthur Conan Doyle's The Poison Belt | H. Rider Haggard's When the World Shook | Edward Shanks' The People of the Ruins | William Hope Hodgson's The Night Land | J.D. Beresford's Goslings | E.V. Odle's The Clockwork Man | Cicely Hamilton's Theodore Savage | Muriel Jaeger's The Man With Six Senses | Jack London's "The Red One" | Philip Francis Nowlan's Armageddon 2419 A.D. | Homer Eon Flint's The Devolutionist | W.E.B. DuBois's "The Comet" | Edgar Rice Burroughs's The Moon Men | Charlotte Perkins Gilman's Herland | Sax Rohmer's "The Zayat Kiss" | Eimar O'Duffy's King Goshawk and the Birds | Frances Hodgson Burnett's The Lost Prince | Morley Roberts's The Fugitives | Helen MacInnes's The Unconquerable | Geoffrey Household's Watcher in the Shadows | William Haggard's The High Wire | Hammond Innes's Air Bridge | James Branch Cabell's Jurgen | John Buchan's "No Man's Land" | John Russell's "The Fourth Man" | E.M. Forster's "The Machine Stops" | John Buchan's Huntingtower | Arthur Conan Doyle's When the World Screamed | Victor Bridges' A Rogue By Compulsion | Jack London's The Iron Heel | H. De Vere Stacpoole's The Man Who Lost Himself | P.G. Wodehouse's Leave It to Psmith | Richard Connell's "The Most Dangerous Game" | Houdini and Lovecraft's "Imprisoned with the Pharaohs" | Arthur Conan Doyle's "The Sussex Vampire".
ORIGINAL FICTION: HILOBROW has serialized three novels: James Parker's The Ballad of Cocky The Fox ("a proof-of-concept that serialization can work on the Internet" — The Atlantic); Karinne Keithley Syers's Linda Linda Linda (which includes original music); and Robert Waldron's roman à clef The School on the Fens. We also publish original stories and comics. These include: Matthew Battles's stories "Gita Nova", "Makes the Man," "Imago," "Camera Lucida," "A Simple Message", "Children of the Volcano", "The Gnomon", "Billable Memories", "For Provisional Description of Superficial Features", "The Dogs in the Trees", "The Sovereignties of Invention", and "Survivor: The Island of Dr. Moreau"; several of these later appeared in the collection The Sovereignties of Invention | Peggy Nelson's "Mood Indigo", "Top Kill Fail", and "Mercerism" | Annalee Newitz's "The Great Oxygen Race" | Flourish Klink's Star Trek fanfic "Conference Comms" | Charlie Mitchell's "A Fantasy Land" | Charlie Mitchell's "Sentinels" | Joshua Glenn's "The Lawless One", and the mashup story "Zarathustra vs. Swamp Thing" | Adam McGovern and Paolo Leandri's Idoru Jones comics | John Holbo's "Sugarplum Squeampunk" | "Another Corporate Death" (1) and "Another Corporate Death" (2) by Mike Fleisch | Kathryn Kuitenbrouwer and Frank Fiorentino's graphic novel "The Song of Otto" (excerpt) | John Holbo's graphic novel On Beyond Zarathustra (excerpt) | "Manoj" and "Josh" by Vijay Balakrishnan | "Verge" by Chris Rossi, and his audio novel Low Priority Hero | EPIC WINS: THE ILIAD (1.408-415) by Flourish Klink | EPIC WINS: THE KALEVALA (3.1-278) by James Parker | EPIC WINS: THE ARGONAUTICA (2.815-834) by Joshua Glenn | EPIC WINS: THE MYTH OF THE ELK by Matthew Battles | TROUBLED SUPERHUMAN CONTEST: Charles Pappas, "The Law" | CATASTROPHE CONTEST: Timothy Raymond, "Hem and the Flood" | TELEPATHY CONTEST: Rachel Ellis Adams, "Fatima, Can You Hear Me?" | OIL SPILL CONTEST: A.E. Smith, "Sound Thinking | LITTLE NEMO CAPTION CONTEST: Joe Lyons, "Necronomicon" | SPOOKY-KOOKY CONTEST: Tucker Cummings, "Well Marbled" | INVENT-A-HERO CONTEST: TG Gibbon, "The Firefly" | FANFICTION CONTEST: Lyette Mercier's "Sex and the Single Superhero"