No Man's Land (9)
By: John Buchan
July 25, 2015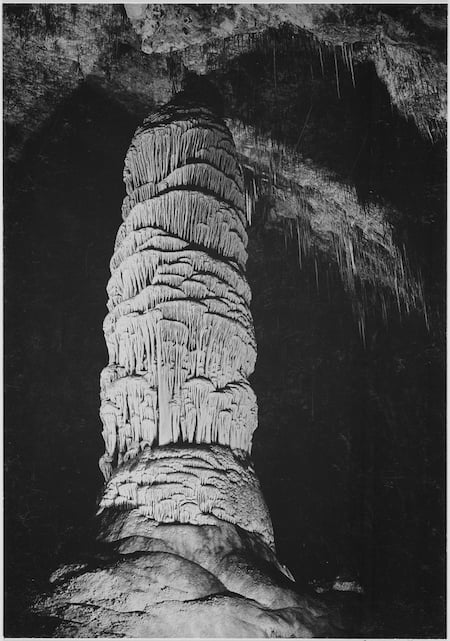 HiLoBooks is pleased to serialize John Buchan's 1899 science fiction novella No Man's Land. First published in Blackwood's Magazine, the story is sometimes cited as an influence on Robert E. Howard and other pulp writers of Howard's era. We are great admirers of Buchan's, at HILOBROW: Seven of his books appear on our list of the 200 Greatest Adventure Novels, and we've previously serialized his 1922 adventure novel Huntingtower. Enjoy!
ALL INSTALLMENTS SO FAR
***
CHAPTER 5: The Troubles of a Conscience
My body and senses slept, for I was utterly tired, but my brain all the night was on fire with horrid fancies. Again I was in that accursed cave; I was torturing my hands in the fire; I was slipping barefoot among jagged boulders; and then with bursting heart I was toiling the last mile with the cottage light — now grown to a great fire in the heavens — blazing before me.
It was broad daylight when I awoke, and I thanked God for the comfortable rays of the sun. I had been laid in a box-bed off the inner room, and my first sight was the shepherd sitting with folded arms in a chair regarding me solemnly. I rose and began to dress, feeling my legs and arms still tremble with weariness. The shepherd's sister bound up my scarred wrists and put an ointment on my burns; and, limping like an old man, I went into the kitchen.
I could eat little breakfast, for my throat seemed dry and narrow; but they gave me some whisky-and-milk, which put strength into my body. All the time the brother and sister sat in silence, regarding me with covert glances.
"Ye have been delivered from the jaws o' the Pit," said the man at length. "See that," and he held out to me a thin shaft of flint. "I fand that in the door this morning."
I took it, let it drop, and stared vacantly at the window. My nerves had been too much tried to be roused by any new terror. Out of doors it was fair weather, flying gleams of April sunlight and the soft colours of spring. I felt dazed, isolated, cut off from my easy past and pleasing future, a companion of horrors and the sport of nameless things. Then suddenly my eye fell on my books heaped on the table, and the old distant civilization seemed for the moment inexpressibly dear.
"I must go — at once. And you must come too. You cannot stay here. I tell you it is death. If you knew what I know you would be crying out with fear. How far is it to Allermuir? Eight, fifteen miles; and then ten down Glen Aller to Allerfoot, and then the railway. We must go together while it is daylight, and perhaps we may be untouched. But quick, there is not a moment to lose." And I was on my shaky feet, and bustling among my possessions.
"I'll gang wi' ye to the station," said the shepherd, "for ye're clearly no fit to look after yourself. My sister will bide and keep the house. If naething has touched us this ten year, naething will touch us the day."
"But you cannot stay. You are mad," I began; but he cut me short with the words, "I trust in God."
"In any case let your sister come with us. I dare not think of a woman alone in this place."
"I'll bide," said she. "I'm no feared as lang as I'm indoors and there's steeks on the windies."
So I packed my few belongings as best I could, flung my books into a haversack, and, gripping the shepherd's arm nervously, crossed the threshold. The glen was full of sunlight. There lay the long shining links of the Farawa burn, the rough hills tumbled beyond, and far over all the scarred and distant forehead of the Muneraw. I had always looked on moorland country as the freshest on earth — clean, wholesome, and homely. But now the uplands seemed like a horrible pit. When I looked to the hills my breath choked in my throat, and the feel of soft heather below my feet set my heart trembling.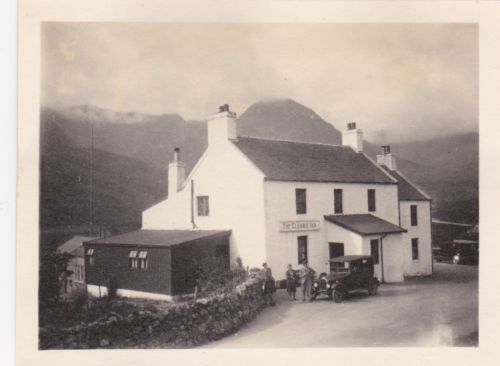 It was a slow journey to the inn at Allermuir. For one thing, no power on earth would draw me within sight of the shieling of Carrickfey, so we had to cross a shoulder of hill and make our way down a difficult glen, and then over a treacherous moss. The lochs were now gleaming like fretted silver; but to me, in my dreadful knowledge, they seemed more eerie than on that grey day when I came. At last my eyes were cheered by the sight of a meadow and a fence; then we were on a little byroad; and soon the fir-woods and corn-lands of Allercleuch were plain before us.
The shepherd came no farther, but with brief good-bye turned his solemn face hillwards. I hired a trap and a man to drive, and down the ten miles of Glen Aller I struggled to keep my thoughts from the past. I thought of the kindly South Country, of Oxford, of anything comfortable and civilized. My driver pointed out the objects of interest as in duty bound, but his words fell on unheeding ears. At last he said something which roused me indeed to interest — the interest of the man who hears the word he fears most in the world. On the left side of the river there suddenly sprang into view a long gloomy cleft in the hills, with a vista of dark mountains behind, down which a stream of considerable size poured its waters.
"That is the Water o' Dule," said the man in a reverent voice. "A graund water to fish, but dangerous to life, for it's a' linns. Awa at the heid they say there's a terrible wild place called the Scarts o' Muneraw, — that's a shouther o' the muckle hill itsel' that ye see, — but I've never been there, and I never kent ony man that had either."
At the station, which is a mile from the village of Allerfoot, I found I had some hours to wait on my train for the south. I dared not trust myself for one moment alone, so I hung about the goods shed, talked vacantly to the porters, and when one went to the village for tea I accompanied him, and to his wonder entertained him at the inn. When I returned I found on the platform a stray bagman who was that evening going to London.
If there is one class of men in the world for which I have small inclination it is this; but such was my state that I hailed him as a brother, and besought his company. I paid the difference for a first-class fare, and had him in the carriage with me. He must have thought me an amiable maniac, for I talked in fits and starts, and when he fell asleep I would wake him up and beseech him to speak to me. At wayside stations I would pull down the blinds in case of recognition, for to my unquiet mind the world seemed full of spies sent by that terrible Folk of the Hills. When the train crossed a stretch of moor I would lie down on the seat in case of shafts fired from the heather. And then at last with utter weariness I fell asleep, and woke screaming about midnight to find myself well down in the cheerful English midlands, and red blast furnaces blinking by the railway-side.
NEXT INSTALLMENT | ALL INSTALLMENTS SO FAR
***
RADIUM AGE SCIENCE FICTION: "Radium Age" is HILOBROW's name for the 1904–33 era, which saw the discovery of radioactivity, the revelation that matter itself is constantly in movement — a fitting metaphor for the first decades of the 20th century, during which old scientific, religious, political, and social certainties were shattered. This era also saw the publication of genre-shattering writing by Edgar Rice Burroughs, Sax Rohmer, E.E. "Doc" Smith, Jack London, Arthur Conan Doyle, Aldous Huxley, Olaf Stapledon, Karel Čapek, H.P. Lovecraft, Charlotte Perkins Gilman, Yevgeny Zamyatin, Philip Gordon Wylie, and other pioneers of post-Verne/Wells, pre-Golden Age "science fiction." More info here.
READ GORGEOUS PAPERBACKS: HiLoBooks has reissued the following 10 obscure but amazing Radium Age science fiction novels in beautiful print editions: Jack London's The Scarlet Plague, Rudyard Kipling's With the Night Mail (and "As Easy as A.B.C."), Arthur Conan Doyle's The Poison Belt, H. Rider Haggard's When the World Shook, Edward Shanks' The People of the Ruins, William Hope Hodgson's The Night Land, J.D. Beresford's Goslings, E.V. Odle's The Clockwork Man, Cicely Hamilton's Theodore Savage, and Muriel Jaeger's The Man with Six Senses. For more information, visit the HiLoBooks homepage.
SERIALIZED BY HILOBOOKS: Jack London's The Scarlet Plague | Rudyard Kipling's With the Night Mail (and "As Easy as A.B.C.") | Arthur Conan Doyle's The Poison Belt | H. Rider Haggard's When the World Shook | Edward Shanks' The People of the Ruins | William Hope Hodgson's The Night Land | J.D. Beresford's Goslings | E.V. Odle's The Clockwork Man | Cicely Hamilton's Theodore Savage | Muriel Jaeger's The Man With Six Senses | Jack London's "The Red One" | Philip Francis Nowlan's Armageddon 2419 A.D. | Homer Eon Flint's The Devolutionist | W.E.B. DuBois's "The Comet" | Edgar Rice Burroughs's The Moon Men | Charlotte Perkins Gilman's Herland | Sax Rohmer's "The Zayat Kiss" | Eimar O'Duffy's King Goshawk and the Birds | Frances Hodgson Burnett's The Lost Prince | Morley Roberts's The Fugitives | Helen MacInnes's The Unconquerable | Geoffrey Household's Watcher in the Shadows | William Haggard's The High Wire | Hammond Innes's Air Bridge | James Branch Cabell's Jurgen | John Buchan's "No Man's Land" | John Russell's "The Fourth Man" | E.M. Forster's "The Machine Stops" | John Buchan's Huntingtower | Arthur Conan Doyle's When the World Screamed | Victor Bridges' A Rogue By Compulsion | Jack London's The Iron Heel | H. De Vere Stacpoole's The Man Who Lost Himself | P.G. Wodehouse's Leave It to Psmith | Richard Connell's "The Most Dangerous Game" | Houdini and Lovecraft's "Imprisoned with the Pharaohs" | Arthur Conan Doyle's "The Sussex Vampire".
ORIGINAL FICTION: HILOBROW has serialized three novels: James Parker's The Ballad of Cocky The Fox ("a proof-of-concept that serialization can work on the Internet" — The Atlantic); Karinne Keithley Syers's Linda Linda Linda (which includes original music); and Robert Waldron's roman à clef The School on the Fens. We also publish original stories and comics. These include: Matthew Battles's stories "Gita Nova", "Makes the Man," "Imago," "Camera Lucida," "A Simple Message", "Children of the Volcano", "The Gnomon", "Billable Memories", "For Provisional Description of Superficial Features", "The Dogs in the Trees", "The Sovereignties of Invention", and "Survivor: The Island of Dr. Moreau"; several of these later appeared in the collection The Sovereignties of Invention | Peggy Nelson's "Mood Indigo", "Top Kill Fail", and "Mercerism" | Annalee Newitz's "The Great Oxygen Race" | Flourish Klink's Star Trek fanfic "Conference Comms" | Charlie Mitchell's "A Fantasy Land" | Charlie Mitchell's "Sentinels" | Joshua Glenn's "The Lawless One", and the mashup story "Zarathustra vs. Swamp Thing" | Adam McGovern and Paolo Leandri's Idoru Jones comics | John Holbo's "Sugarplum Squeampunk" | "Another Corporate Death" (1) and "Another Corporate Death" (2) by Mike Fleisch | Kathryn Kuitenbrouwer and Frank Fiorentino's graphic novel "The Song of Otto" (excerpt) | John Holbo's graphic novel On Beyond Zarathustra (excerpt) | "Manoj" and "Josh" by Vijay Balakrishnan | "Verge" by Chris Rossi, and his audio novel Low Priority Hero | EPIC WINS: THE ILIAD (1.408-415) by Flourish Klink | EPIC WINS: THE KALEVALA (3.1-278) by James Parker | EPIC WINS: THE ARGONAUTICA (2.815-834) by Joshua Glenn | EPIC WINS: THE MYTH OF THE ELK by Matthew Battles | TROUBLED SUPERHUMAN CONTEST: Charles Pappas, "The Law" | CATASTROPHE CONTEST: Timothy Raymond, "Hem and the Flood" | TELEPATHY CONTEST: Rachel Ellis Adams, "Fatima, Can You Hear Me?" | OIL SPILL CONTEST: A.E. Smith, "Sound Thinking | LITTLE NEMO CAPTION CONTEST: Joe Lyons, "Necronomicon" | SPOOKY-KOOKY CONTEST: Tucker Cummings, "Well Marbled" | INVENT-A-HERO CONTEST: TG Gibbon, "The Firefly" | FANFICTION CONTEST: Lyette Mercier's "Sex and the Single Superhero"