LOST OBJECTS (14)
By: Stephen O'Connor
November 16, 2017
One in a 25-part series of nonfiction stories about lost objects. We asked 25 writers to tell us about a significant object they'd lost (or thrown away, or destroyed), then assigned these stories to 25 illustrators. We're thrilled with the results. This is the fourth volume in the PROJECT:OBJECT series.
UPDATE: The Lost Objects book was published in September 2022 by Hat & Beard Press. Check it out!
*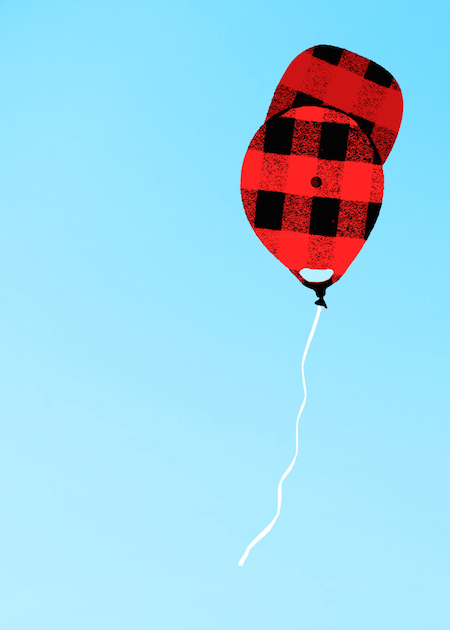 When I was seven years old, I was given a red hunting hat. It was made out of rough flannel and shaped like a baseball cap, although with a small band over the brim where the team logo would have been. I don't know what the band was for, but I remember imagining a pack of cigarettes slipped behind it. I have a vague sense that the hat originally belonged to my mother, even though I can't imagine her wearing such a thing except as a joke. I do know, however, that it fit my head as well as it did hers, and so was evidence that I had reached a milestone on my journey to adulthood.
I loved that hat, partly because it was red — my favorite color at the time; partly because it looked like the hat worn by the boy on the cover of my Peter and the Wolf record album, and partly because that rough, red flannel seemed consummately utilitarian and so decidedly unchildlike. I didn't exactly feel capable of shooting a wolf when I wore it, but it did make me feel competent and powerful as I walked though the snowy woods around our house.
Only a few days after I got the hat, my family drove from our home in northern New Jersey to see friends in Westchester. There was no snow that day, and the weather was so warm we drove with the windows open. As we passed along the circular approach road to the Tappan Zee Bridge, my brother, who was two years my junior, asked if he could try on my hat. I didn't want to give it to him, but my father told me I was being selfish, so I reluctantly passed it over.
I will never know what possessed my brother, but as soon as he had put on the hat, he stuck his head out the window and, in an instant, the hat was caught by the wind and flipped off. I flung myself against the rear windshield, where I watched the hat flutter through the air, roll over on the grass several times and finally settle in a ditch. I shouted to my father to stop the car, but he said it was too dangerous, and so I watched the hat grow smaller and smaller and finally disappear as we rounded the long arc of the approach road. I was riven with sorrow as I watched that hat recede, not just for my own sake, but for the hat's. I imagined it growing lonely and cold all by itself beside the noisy highway. I imagined rain falling on it, and snow. I was so overcome that, even before the hat was out of sight, I had begun to cry.
Absurd as it might be, I feel that sorrow intensely to this very day. I am not sure why, but I think that the disappearance of my red hat gave me my first intimation that, in this adult world into which I was growing, things I loved dearly would be taken away from me and I would never get them back — a lesson I have learned over and over since that time, of course, and it has never gotten any easier.
*
ABOUT THE AUTHOR: See sidebar.
ABOUT THE ARTIST: Oliver Munday is a graphic designer in New York City. His monograph Don't Sleep will be published by Rizzoli next Spring.
LOST OBJECTS series: INTRODUCTION | Kate Bernheimer on MULLET WIG (ill. Amy Evans) | Dan Piepenbring on COLOGNE (ill. Josh Neufeld) | Doug Dorst on STRATOCASTER (ill. John Holbo) | Paul Lukas on VANILLA BEAN (ill. Allison Bamcat) | Mimi Lipson on DODGE DART (ill. Mister Reusch) | Luc Sante on CLUB CHAIR (ill. Kate Bingaman-Burt) | Nina Katchadourian on FOUNTAIN PENS (ill. Lisa Congdon) | Matthew Sharpe on BAUBLE (ill. Glenn Jones) | Claire Lehmann on PEANUT-BUTTER CRACKERS (ill. Karen Kurycki) | Jessamyn West on ENGINEER RING (ill. Amanda Clarke) | Mandy Keifetz on ORGONE ACCUMULATOR (ill. Emory Allen) | Molly Sauter on DESKTOP DOG (ill. Shayna Piascik) | Amy Thielen on DOG-FUR SCARF (ill. Heather Kasunick) | Stephen O'Connor on HUNTING HAT (ill. Oliver Munday) | Alice Boone on COLLEGE NEWSPAPERS (ill. Rick Pinchera) | Dante Ramos on ROAD ATLAS (ill. Joe Alterio) | Alex Balk on SHOOTING GALLERY (ill. John Lowe) | Chelsey Johnson on NOTEBOOK (ill. Rubi McGrory) | Susannah Breslin on SILICONE VAGINA (ill. Jennifer Heuer) | Seth Mnookin on .22 REVOLVER (ill. Alex Eben Meyer) | Dan Fox on CONKER (ill. Linzie Hunter) | Lisa Takeuchi Cullen on GLASS CLOCK (ill. Rose Wong) | Michael Tisserand on WALKING SHOES (ill. Jackie Roche) | Jeff Turrentine on BASEBALL MITT (ill. Andrew DeGraff) | Randy Kennedy on SNAKE RATTLES (ill. Max Temescu).
ILLICIT OBJECTS series: INTRODUCTION | Kio Stark on PEEPSHOW TOKEN | Sari Wilson on TOMBSTONE PARTS | Annalee Newitz on CAR-BOMB REMNANT | Tito Bottitta on MOONINITE DEVICE | Eric Bennett on DIRTY MAGAZINE | & 20 MORE.
TALISMANIC OBJECTS series: INTRODUCTION | Veda Hille on CROCHET SHEEP | Gary Panter on DINOSAUR BONES | Jami Attenberg on SELENITE CRYSTAL | Annie Nocenti on MINIATURE DICE | Wayne Curtis on CLOCK WINDING KEY | & 20 MORE.
POLITICAL OBJECTS series: INTRODUCTION | Luc Sante on CAMPAIGN PAMPHLETS | Lydia Millet on PVC POLAR BEAR | Ben Greenman on MATCHBOX CAR | Rob Baedeker on PRESIDENTS PLACEMAT | L.A. Kauffman on WHEATPASTE POSTER | & 20 MORE.
SIGNIFICANT OBJECTS at HILOBROW: PROJECT:OBJECT homepage | PROJECT:OBJECT newsletter | PROJECT:OBJECT objects (Threadless shop — all profits donated to the ACLU) | POLITICAL OBJECTS series (1Q2017) | TALISMANIC OBJECTS series (2Q2017) | ILLICIT OBJECTS series (3Q2017) | LOST OBJECTS vol. 1 series (4Q2017) | FLAIR series (2Q2018) | FOSSIL series (4Q2018). 12 DAYS OF SIGNIFICANCE | 12 MORE DAYS OF SIGNIFICANCE | 12 DAYS OF SIGNIFICANCE (AGAIN) | ANOTHER 12 DAYS OF SIGNIFICANCE . ALSO SEE: SIGNIFICANT OBJECTS website | SIGNIFICANT OBJECTS collection, ed. Rob Walker and Josh Glenn (Fantagraphics, 2012) | TAKING THINGS SERIOUSLY, ed. Josh Glenn (Princeton Architectural Press, 2007) | TAKING THINGS SERIOUSLY excerpts.