The Fugitives (10)
By: Morley Roberts
July 10, 2014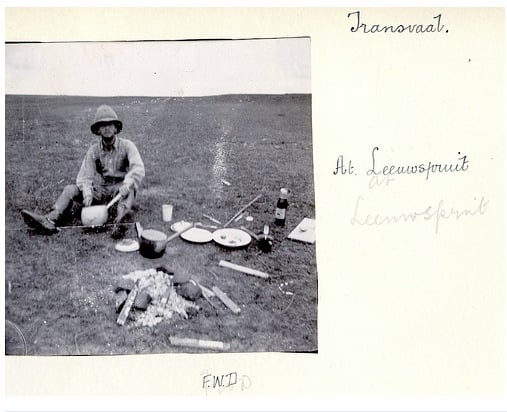 HiLoBooks is pleased to serialize Morley Roberts's 1900 novel The Fugitives, an adventure set against the backdrop of the Second Boer War (1899–1902). The author was once known for his novel The Private Life of Henry Maitland (1912), but he quickly passed into obscurity. How obscure? In a 1966 story about plagiarism ("The Longest Science-Fiction Story Ever Told"), Arthur C. Clarke attributed an 1898 sci-fi story of Roberts's ("The Anticipator") about the same topic to H.G. Wells; in a 1967 guest editorial in If ("Herbert George Morley Roberts Wells, Esq."), a contrite Clarke noted that not a single Morley fan had emerged to point out this error. HiLoBooks — in conjunction with the Save the Adventure book club, which under the editorship of HILOBROW's Joshua Glenn is issuing The Fugitives as an e-book — is rectifying this situation. Enjoy!
ALL INSTALLMENTS
***
Chapter X: THE DEMON
There is no such formidable social phenomenon as the woman who has determined to do her duty and has sufficient health and strength for the task. Mrs. Middleton was determined to do hers, and had the health and strength of ten able-bodied seamen. She meant to do her duty by both of her stepdaughters.
"Fortunately," said Mrs. Middleton, "Gwendoline does not appear to be altogether mad about soldiers. It is really the only sign of strong common sense which I have observed in her. There seems no reason why she should not fall in love with a rising young politician or lawyer, or possibly with one who is both."
She cast about in her mind, and by certain delicate hints suggested to her stepson, Tom, that any young man of good prospects, who could afford the time to do some hunting during February, would not be unwelcome at Cowley. And Tom was thoroughly under her thumb.
"I have come to the conclusion, Tom," she said at last, in the most confidential way, "that it would be much the happiest thing if your sister Gwen were to get married. You see she doesn't like me much and she isn't happy."
"Well, I think you are a brick," said Tom. "I get on with you in the rippingest way, don't I? I don't know why it is, but I do."
"Of course you do," said his stepmother; "it's because you have sense. But men are always more easy to get on with than women, especially when the women are girls."
"Oh, you were always good fun," said Tom. "I don't seem to care much for the girls myself."
"Oh, Tom, I'm afraid we shall have to see that you are married soon," said his stepmother slyly. "It's dangerous to hear young men say that."
And Tom tried to look as if he were not pleased. It was no wonder that he got on with her "in the rippingest way."
"You know I did think that Gordon Hardy was the kind of man she would have taken to," said he presently, as he stood in front of the fire trying to look as much like a gay man of the world as he could.
"But he has no money."
"Oh, he has a few hundreds a year," said Tom; "not much, of course, but I think he has influence with some Johnny at the Foreign Office and was going to be a consul."
Mrs. Middleton shook her head.
"You never seem to remember that your family is one of the oldest in the county," she said. "A man who, after all, is only a better kind of adventurer ——"
"Ah, yes, poor chap!" said Tom, remembering that he himself was some day certain of five thousand a year. "To be sure. But he was ripping good fun. I wonder where he is now? When he left he was going to Brussels."
"Wherever he is, he had better stay there," said Mrs. Middleton. "If you think Gwen was inclined to like him, you had better not bring him here again. But do you know anyone, in a settled position, who would do? I'm relying a great deal on your common sense, Tom, in discussing such a subject with you. Remember that."
"Of course, of course," said Tom. "What a pity it is that everyone is in South Africa."
"I'm very glad some are there, Tom."
"Oh, Blake, to be sure! He hasn't a penny to bless himself with. But really all the men I know in London are lawyers, or chaps in some business, or are on the Stock Exchange. Some of them are rich, but a lot of them are bounders."
"Well, if you can think of any who are nice ——"
"I will," said Tom. "But it's a pity the war has eaten up the whole country. Now there was Carbutt, who was killed ——"
"My dear boy, it's no good counting any who are dead," said his stepmother. "Otherwise you might include Julius Caesar."
"So I might," laughed Tom. "But I'll think of it."
"At any rate," said his stepmother, "we'll go up to town early this year. I've resolved on that, much as I detest London. It will do Clare good, and if anything else happens, so much the better."
And all the time Gwen was quite innocent of what was being plotted for her advantage. Had she known, she would have burst into a fury which would have devastated all the neighboring country. Her anxiety about Gordon Hardy increased day by day, and, as he had rightly foreseen, her liking for him grew every hour that he was in her mind. Now he had become a hero and a passion. She dreamed of him by day and night. His letters from the Mediterranean and from Port Said and Suez she knew by heart. She knew that it could not now be long till she heard from Delagoa Bay.
"And after that I shall not hear for long — for long," she thought. "Oh, what is he doing?"
She wanted to tell Clare all about it, and a thousand times she repressed words that were on the very tip of her tongue. Sometimes she did not repress them. It was Clare who repelled them without Gwen knowing why. But then she was always doing that.
"I don't understand her," said Gwen.
And indeed that was Clare's opinion.
"No one understands me," she confided to her mirror. And yet she feared in a way that her stepmother did understand.
"I believe you are afraid of the Demon," said Gwen, one day.
"Oh, no — yes — no, I'm not," cried Clare, "but so are you!"
"Indeed I'm not," said Gwen indignantly. "But I wish I understood how you really think about anything, Clarry."
It was late at night, and they were both in Clare's room, seated by the fire.
"I wish you did," said Clare wearily. "But I don't — does anyone?"
"Look here," cried Gwen, "do you really, really love Ned Blake?"
"Of course," said Clare fretfully, "of course I do."
"And supposing he sent for you to the other side of the world, would you go?"
Clare clasped her hands.
"How can you ask such questions? When true love called to me I would walk through fire, through flame, over red-hot ploughshares."
Gwen tossed her head.
"Oh, yes, I daresay. But would you pack your bag and take a first-class ticket to Cape Town on a steamer which sails from a smelly dock?"
"I — oh, how horrid of you, Gwen! I tell you I would suffer anything — anything — for nothing would be worse than what I suffer now."
"Oh, yes, seasickness would be worse," said Gwen sharply. "But I'm glad to hear you say so. And you are sure you wouldn't go and tell the Demon, in order that she might stop you?"
Clare stared into the fire.
"Nothing could stop me!"
"And you wouldn't want to say good-by to Jim Carruthers?"
Clare flinched.
"Oh, how cruel you are. Why should I want to?"
"Well, I believe you would want to," cried Gwen, with sudden intuition. "I can't understand how it is you and he find so much to say to each other when you are in love with Ned Blake."
"No," said Clare, with dignity; "of course you cannot understand, nor does he understand. I try to make him see how vain it is."
"Oh — well — good-night!" said Gwen. And when she got outside she stopped.
"All the same," she declared, "I just don't believe she would pack her bag and take a first-class ticket to Cape Town."
And Mrs. Middleton would have agreed with her. It seemed tolerably certain that Jim Carruthers was nearly of the same opinion. Gwen, though she was not more than normally curious, would have given anything in reason if she could have honorably overheard any of those conversations in which Clare tried to make him understand how vain it was. As their talks would have made her sick with anger, it was happy for her that she could not listen. They were all variants of this model:
"Oh, no, Jim, I am very unhappy! Nobody understands me!"
Then Jim scratched his chin for inspiration.
"Just you tell me what you want, dear, and I'll fetch it for you."
He talked as if "it" were a bull-pup. But in truth he was quite ready to get her Ned Blake if she insisted on it in a healthy spirit.
"I don't want anything. I want to be left alone."
Jim rose.
"Oh, why are you going away? I believe you are the only person I see who is really, really kind to me," said Clare.
"Gwen is always thinking about you," said Jim.
"I almost detest her, Jim," cried Clare. "She drags me about — in a kind of mental fashion I mean — and she wants me to be just what she thinks I am. And I'm not in the least what she thinks."
"Well, I think you ought to ride more," said Jim disconsolately. "It would do you good."
"Just as if I could," sighed Clare. "Oh, I used to want to ride. But, Jim, you won't let Gwen make me do things?"
"What things?" asked the woebegone Jim.
"Well," she said ——
And there was a pause.
"Yes?"
"Oh, I can't tell you!"
"Yes, do," said Jim.
"She said," cried Clare, "that she would take me in a nasty old steamer and make me seasick, and that it would do me good."
"Humph!" said Jim. "But —" and here he brightened — "perhaps it would, you know."
"Oh, go away," cried Clare, "I am tired of you. I tell you you won't understand. And I have such a headache."
That Jim Carruthers, when he beat a retreat, did not finally swear he had done with her, says much for his constancy of affection. That he had not the very faintest notion of what was in her mind may be held to say just as little for his swiftness of comprehension. When he met Gwen on his departure his aspect was gloomy in the extreme.
"You look, Jim, as if you couldn't help it," said Gwen cruelly. "I never understood what that saying meant, but it seems to express you."
"What did you mean by saying you would take Clare on a sea-voyage?" asked the lover.
"I didn't," said Gwen, in astonishment.
"She says you did."
"Oh — ah ——" said Gwen.
"And she is afraid of being seasick," said Jim. "I'm afraid she is very ill."
"She is nothing of the sort," said Gwen. "You just encourage her to think she is. And, as I said before, you really oughtn't to come."
Jim was now in a humbler mood than when she had first rebuked him, and he took his slating quietly.
"You say one thing, and Mrs. Middleton says
 another, and Clare ——"
"Oh, she — why, she would say anything. I know her," said Gwen, with a fine contempt. "I really think you are all a lot of nincompoops."
And when she left him she felt inclined to wash her hands of her sister's business.
"And I would if it were not for Ned," she declared. "Dear old chap, he adores her, and when he went away he said, 'Look after her for me; I'm afraid she's not very strong.' It would break his heart, I know, if she were false. Though what any man can see in a sofa-cushion like Clare beats me — even if she is pretty."
But Gwen had her own troubles too. For when should she hear from South Africa? Even now Gordon Hardy must be in Pretoria. He might be in prison himself. She began to wonder what the dreadful Boers would do to a man who endeavored to get a prisoner out of their custody. They might even shoot him.
"And then I shouldn't die," said Gwen. "I am very strong, and I should go on living for ever and ever and ever. And I should hate Clare so that I could kill her. If I could only hear!"
That morning she did hear, but it was in a most unpleasant and unexpected way.
"I should like to see you in the library after breakfast, Gwendoline," said her stepmother, as she read her letters.
"Humph!" said Gwen gloomily. "I wonder what she will complain of now!"
But Sybil Middleton's brow was calm. She was perfectly polite and cool when the two antagonists met.
"I suppose you understand, Gwendoline, that in a kind of technical way I represent your mother in this house."
This exordium was far more serious than anything Gwen had ever heard before. Her heart sank a little.
"In a kind of technical way — yes," she said, with dry lips.
"Then," said Mrs. Middleton, "I should be glad if you would sit down and explain one or two things to me which I have a right to have explained."
"Thank you, I would rather stand," said Gwen.
"I have a letter here ——"
"Yes," said Gwen.
"A letter from Mrs. Doughty."
"Oh!" said Gwen, with flushed cheeks which again paled suddenly.
"I will read it," said her stepmother. And she read:
"My Dear Mrs. Middleton:

"I much regret to say that my daughter Millicent, who is, as I am sure you know, the most innocent and confiding child in the world, has been induced to act in a way which you will be the first to reprobate, by your stepdaughter Gwendoline. I must tell you that when Millicent was out a telegram came for her, and of course I opened it. I regret to state that it proved quite unintelligible to me, and when Millicent returned I asked her what it meant. After a great deal of difficulty I made her confess that she had been receiving letters for your stepdaughter during the last month, letters which had come from abroad, — I believe from Egypt and such places. These letters, by your stepdaughter's deceitful directions, she had enclosed to Cowley. And the enclosed telegram is, of course, for the same young lady. Millicent is only eighteen, and I have directed her to take her meals in her bedroom for as many days as she received letters and telegrams. I trust that you and Mr. Middleton will agree with me in thinking that the severest punishment is due to one who could implicate my innocent and confiding child in what I very much fear must be a most scandalous liaison.

"I am, my dear Mrs. Middleton,

"Yours very sincerely and regretfully,

"Mary Doughty."
"The old cat!" said Gwen furiously.
In her heart Mrs. Middleton agreed with her stepdaughter.
"But what does this mean?" she asked severely.
"The telegram?" asked Gwen. "Let me see, and I will tell you."
Mrs. Middleton held out the Eastern Cable Company's big square form. It was sent from Delagoa Bay, or, rather, from Lourenço Marques, and consisted of one word only —
"Escaped."
"Ah!" said Gwen joyfully; "well, that's all right!"
For the moment she cared nothing for the very apparent scrape that she was in, nor had she any particular pity for Millicent Doughty, then eating the bread and water of affliction in a second-floor bedroom. Gordon Hardy had done something, and had done it for her. It was no inconsiderable addition to her pleasure to be aware that the meaning of "Escaped" would not delight her stepmother.
"I am glad it is all right," said Mrs. Middleton, "sincerely glad. But I still await an explanation of what is all right, and how it comes that Mrs. Doughty can inflict on me such a disagreeable letter. Who is it that sends this telegram to you?"
"It is from a friend of mine," said Gwen.
"Her name?" asked Mrs. Middleton dryly.
"It's not a her" said Gwen, with rather red cheeks.
"Then who is it?"
Gwen stood on one foot and then on the other.
"I don't see why I should tell you," she declared, after a pause. All the same, she was bursting with the desire to tell her. She was full to the lips of a sense of tremendous importance.
"But I see, Gwendoline, as I am more or less responsible to your father for your conduct. Who, I ask again, is your correspondent in South Africa?"
Gwen opened her mouth and shut it again. She fidgeted with the window curtain.
"Oh, well, I don't care," she began. "But it's about Ned Blake."
"What about him?"
"There, can't you see? He has escaped," said Gwen. "That's what it means, of course. Why, what else could it mean? He's out of prison."
"Humph!" said Mrs. Middleton. "But surely, even if this is so, I do not understand you to say that he sent you this telegram."
"I never said he did."
"Then who did?"
"Mr. Hardy."
"Good heavens," said Sybil Middleton, "and how comes it that Mr. Hardy sends this to you?"
"Because I asked him."
"Asked him to write to you?"
"No, of course not," cried Gwen, with sudden exasperation. "I asked him to see if he couldn't get Ned Blake out of prison, and he said he could. Because he knows them all in Pretoria. And so he's done it."
She ended in a triumphant cadenza. And Mrs. Middleton for a whole long minute could find nothing to say. Though she was not Gwen's senior by more than ten years, she belonged to the older generation by training, and she was well aware that had she, at Gwen's age, been discovered in such proceedings, she would have been overwhelmed with shame. But apparently Gwen was no more than annoyed at the untoward turn things had taken.
"And are you not ashamed of yourself?" she demanded with a gasp.
Gwen put her arms akimbo and stared at her stepmother with wide-open eyes.
"How dare you ask me whether I am ashamed of myself?" she cried. "Of course I'm not ashamed — I haven't done anything to be ashamed of. I have a perfect right to have what letters I choose, and to send letters to whom I choose."
"This is new doctrine indeed," said Mrs. Middleton. But she hit the weak spot in the girl's armor.
"Perhaps on reflection you may think you ought to be ashamed of getting Millicent Doughty to deceive her mother, to say nothing of the fact that you are receiving letters in a clandestine manner."
Gwen shook her head, but not to deny what her stepmother said.
"Yes, I am ashamed of that. But I didn't feel sure I should get my letters if they came here!"
Mrs. Middleton flushed a very hard and uncomfortable red.
"Why?" she asked.
"I'd rather not say," said Gwen.
"And I would much rather you did."
"Oh, very well, then," said Gwen, "I thought you might take them."
Mrs. Middleton rose.
"I am most distinctly obliged to you for your opinion of me," she said; "though really, on the moment and without time for reflection, I cannot remember what I have ever done in this house to deserve it."
"Oh, well, I beg your pardon," said Gwen ungraciously; "but you know you didn't want Ned Blake out of prison."
"I don't care in the least where the man is," cried Mrs. Middleton, who found self-control increasingly difficult; "but I do care very much whether my stepdaughters behave themselves or not. You know well that the last thing I desire is to ask your father to interfere in matters of this sort; but, unless I have your promise that this correspondence shall cease, I shall have to appeal to him."
Gwen shook her head.
"It would be wrong of me to promise," she said; "I don't think I should keep it."
"Oh, indeed," said her stepmother, "then perhaps you will enlighten me as to how far your acquaintance with Mr. Hardy has progressed."
"No, I won't," said Gwen. "I'm quite grown up, and, according to the way I look on things, I have a right to do as I please."
But this was, of course, quite equivalent to saying that the acquaintance had reached a point that Gwen found difficult to define.
"Then, however reluctantly I do it, I shall have to speak to your father," said Sybil Middleton.
Though Gwen was exceedingly anxious to point out that her father would in all human probability refuse to interfere, the conversation was too unpleasant for her to wish to prolong it.
"Very well," she said. And when she found herself alone she executed a wild pas seul in the middle of the room.
"Hurrah! Ned's out!" she cried; "and Gordon did it. If I do pay for it, it's worth it. I'll go and tell Clare. She'll have a fit!"
NEXT INSTALLMENT | ALL INSTALLMENTS
***
RADIUM AGE SCIENCE FICTION: "Radium Age" is HILOBROW's name for the 1904–33 era, which saw the discovery of radioactivity, the revelation that matter itself is constantly in movement — a fitting metaphor for the first decades of the 20th century, during which old scientific, religious, political, and social certainties were shattered. This era also saw the publication of genre-shattering writing by Edgar Rice Burroughs, Sax Rohmer, E.E. "Doc" Smith, Jack London, Arthur Conan Doyle, Aldous Huxley, Olaf Stapledon, Karel Čapek, H.P. Lovecraft, Charlotte Perkins Gilman, Yevgeny Zamyatin, Philip Gordon Wylie, and other pioneers of post-Verne/Wells, pre-Golden Age "science fiction." More info here.
READ GORGEOUS PAPERBACKS: HiLoBooks has reissued the following 10 obscure but amazing Radium Age science fiction novels in beautiful print editions: Jack London's The Scarlet Plague, Rudyard Kipling's With the Night Mail (and "As Easy as A.B.C."), Arthur Conan Doyle's The Poison Belt, H. Rider Haggard's When the World Shook, Edward Shanks' The People of the Ruins, William Hope Hodgson's The Night Land, J.D. Beresford's Goslings, E.V. Odle's The Clockwork Man, Cicely Hamilton's Theodore Savage, and Muriel Jaeger's The Man with Six Senses. For more information, visit the HiLoBooks homepage.
SERIALIZED BY HILOBOOKS: Jack London's The Scarlet Plague | Rudyard Kipling's With the Night Mail (and "As Easy as A.B.C.") | Arthur Conan Doyle's The Poison Belt | H. Rider Haggard's When the World Shook | Edward Shanks' The People of the Ruins | William Hope Hodgson's The Night Land | J.D. Beresford's Goslings | E.V. Odle's The Clockwork Man | Cicely Hamilton's Theodore Savage | Muriel Jaeger's The Man With Six Senses | Jack London's "The Red One" | Philip Francis Nowlan's Armageddon 2419 A.D. | Homer Eon Flint's The Devolutionist | W.E.B. DuBois's "The Comet" | Edgar Rice Burroughs's The Moon Men | Charlotte Perkins Gilman's Herland | Sax Rohmer's "The Zayat Kiss" | Eimar O'Duffy's King Goshawk and the Birds | Frances Hodgson Burnett's The Lost Prince | Morley Roberts's The Fugitives | Helen MacInnes's The Unconquerable | Geoffrey Household's Watcher in the Shadows | William Haggard's The High Wire | Hammond Innes's Air Bridge | James Branch Cabell's Jurgen | John Buchan's "No Man's Land" | John Russell's "The Fourth Man" | E.M. Forster's "The Machine Stops" | John Buchan's Huntingtower | Arthur Conan Doyle's When the World Screamed | Victor Bridges' A Rogue By Compulsion | Jack London's The Iron Heel | H. De Vere Stacpoole's The Man Who Lost Himself | P.G. Wodehouse's Leave It to Psmith | Richard Connell's "The Most Dangerous Game" | Houdini and Lovecraft's "Imprisoned with the Pharaohs" | Arthur Conan Doyle's "The Sussex Vampire".
ORIGINAL FICTION: HILOBROW has serialized three novels: James Parker's The Ballad of Cocky The Fox ("a proof-of-concept that serialization can work on the Internet" — The Atlantic); Karinne Keithley Syers's Linda Linda Linda (which includes original music); and Robert Waldron's roman à clef The School on the Fens. We also publish original stories and comics. These include: Matthew Battles's stories "Gita Nova", "Makes the Man," "Imago," "Camera Lucida," "A Simple Message", "Children of the Volcano", "The Gnomon", "Billable Memories", "For Provisional Description of Superficial Features", "The Dogs in the Trees", "The Sovereignties of Invention", and "Survivor: The Island of Dr. Moreau"; several of these later appeared in the collection The Sovereignties of Invention | Peggy Nelson's "Mood Indigo", "Top Kill Fail", and "Mercerism" | Annalee Newitz's "The Great Oxygen Race" | Flourish Klink's Star Trek fanfic "Conference Comms" | Charlie Mitchell's "A Fantasy Land" | Charlie Mitchell's "Sentinels" | Joshua Glenn's "The Lawless One", and the mashup story "Zarathustra vs. Swamp Thing" | Adam McGovern and Paolo Leandri's Idoru Jones comics | John Holbo's "Sugarplum Squeampunk" | "Another Corporate Death" (1) and "Another Corporate Death" (2) by Mike Fleisch | Kathryn Kuitenbrouwer and Frank Fiorentino's graphic novel "The Song of Otto" (excerpt) | John Holbo's graphic novel On Beyond Zarathustra (excerpt) | "Manoj" and "Josh" by Vijay Balakrishnan | "Verge" by Chris Rossi, and his audio novel Low Priority Hero | EPIC WINS: THE ILIAD (1.408-415) by Flourish Klink | EPIC WINS: THE KALEVALA (3.1-278) by James Parker | EPIC WINS: THE ARGONAUTICA (2.815-834) by Joshua Glenn | EPIC WINS: THE MYTH OF THE ELK by Matthew Battles | TROUBLED SUPERHUMAN CONTEST: Charles Pappas, "The Law" | CATASTROPHE CONTEST: Timothy Raymond, "Hem and the Flood" | TELEPATHY CONTEST: Rachel Ellis Adams, "Fatima, Can You Hear Me?" | OIL SPILL CONTEST: A.E. Smith, "Sound Thinking | LITTLE NEMO CAPTION CONTEST: Joe Lyons, "Necronomicon" | SPOOKY-KOOKY CONTEST: Tucker Cummings, "Well Marbled" | INVENT-A-HERO CONTEST: TG Gibbon, "The Firefly" | FANFICTION CONTEST: Lyette Mercier's "Sex and the Single Superhero"