HILOBROW 4Q2020
By: HILOBROW
December 28, 2020
Here's what we published in October, November, and December 2020.
BEST OF HILOBROW: 2010 | 2011 | 2012 | 2013 | 2014 | 2015 | 2016 | 2017 | 2018 | 2019 | 2020 | 2021 | 1Q2022 | 2Q2022 | 3Q2022 | 4Q2022 SNEAK PEEK.
---
ONE-OFFS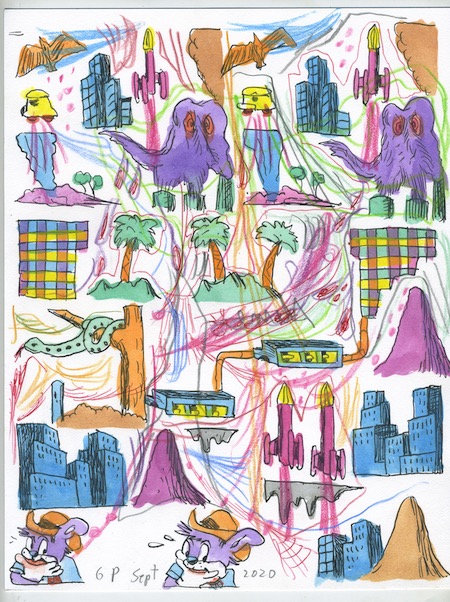 Click on image for closer view.
During 4Q2020, we posted a selection of HILOBROW friend Gary Panter's recent series of drawings — cartoon characters, dinosaurs, cowboys and Indians, superheroes and monsters, cavemen and gorillas, log cabins and skyscrapers, plus extraneous scribbles — which he's been sharing via Instagram since the beginning of the pandemic. We've titled the HILOBROW series BUNNY CITY, after one of the drawings. Here's the lineup:
Introduction by Gary Panter | PHONE CALL | HEDORAH | WOODY'S NIECE | TELEVISION | HIDDEN VALLEY | RED DOME | FISH HOUSE | WITCH MOUSE | BIRD GIRL | DUCK BUNNY | BUZZARD BOMB | BUNNY SAUCER | 3 COWBOYS 3 INDIANS | COWBOY PLACE | BUNNY CITY.
---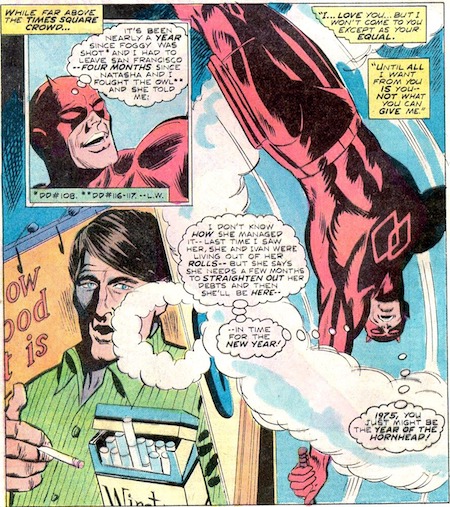 Click on image for closer view.
HILOBROW friend Douglas Wolk's latest series, CENTER OF THE UNIVERSE, explores how Marvel Comics has documented Times Square, its architecture and advertisements as they've changed over time.
*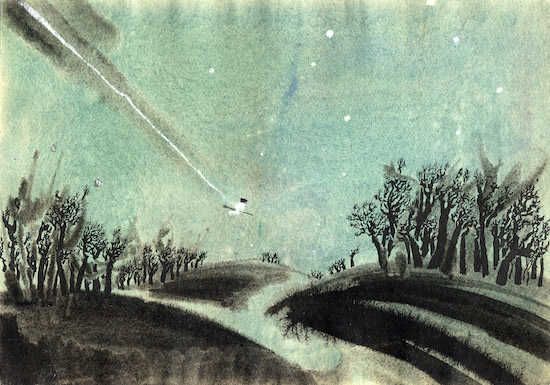 Click on image for closer view.
During 4Q2020 we presented the series A SILENT HALLUCINATION, a series of watercolor and ink-on-paper illustrations, by HILOBROW friend Alex Gerasev, inspired by Mikhail Bulgakov's The Master and Margarita (w. 1928–1940, p. 1967).
*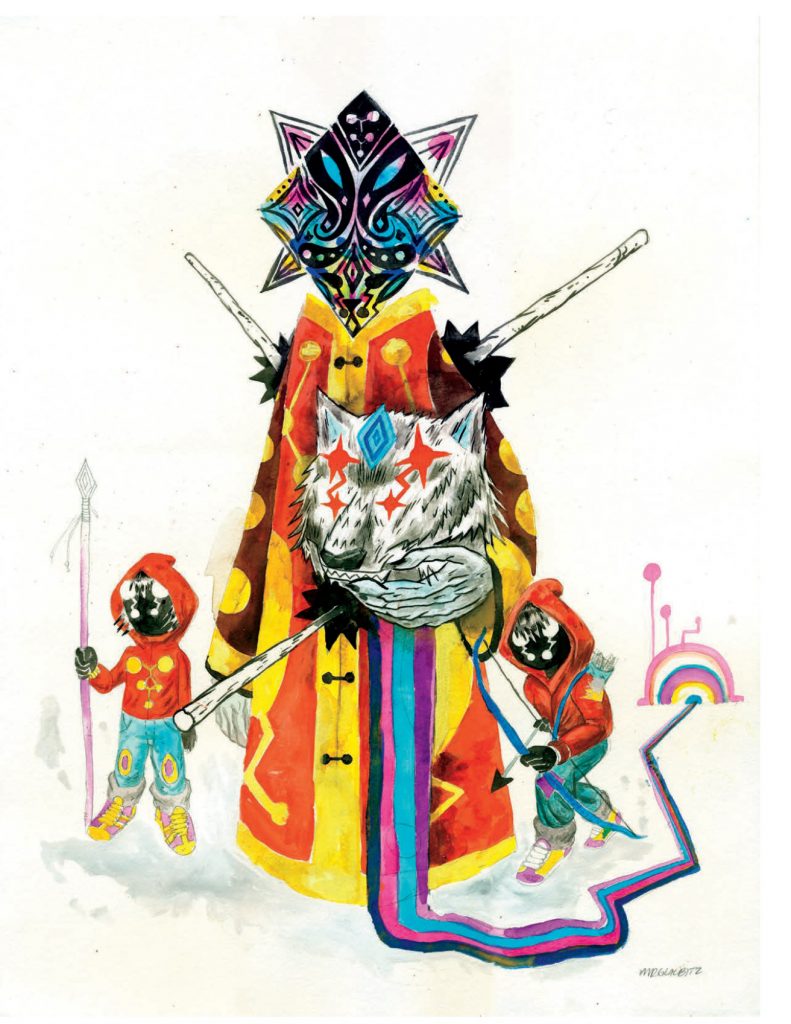 Click on image for closer view.
We were also delighted to present NOOSFERA, a curated selection of Mexican artist Charles Glaubitz's depictions (watercolor on paper, and acrylic on canvas) of the Beautiful Dreamers — who inhabit the "noosphere."
*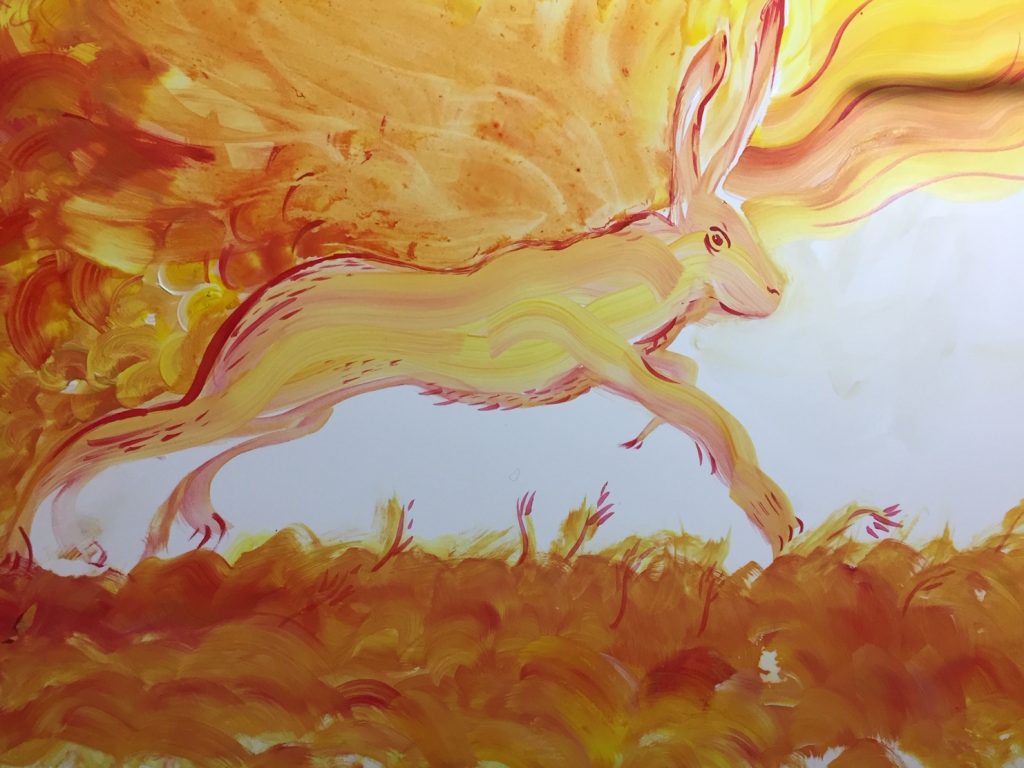 Artwork by Kristin Parker.
James Parker, whose Cocky the Fox stories and poems we serialized from 2010–2011, and whose Kalevala bastardizations we published from 2016–2018, returned in November with a poem: SONG FOR THE HARES.
*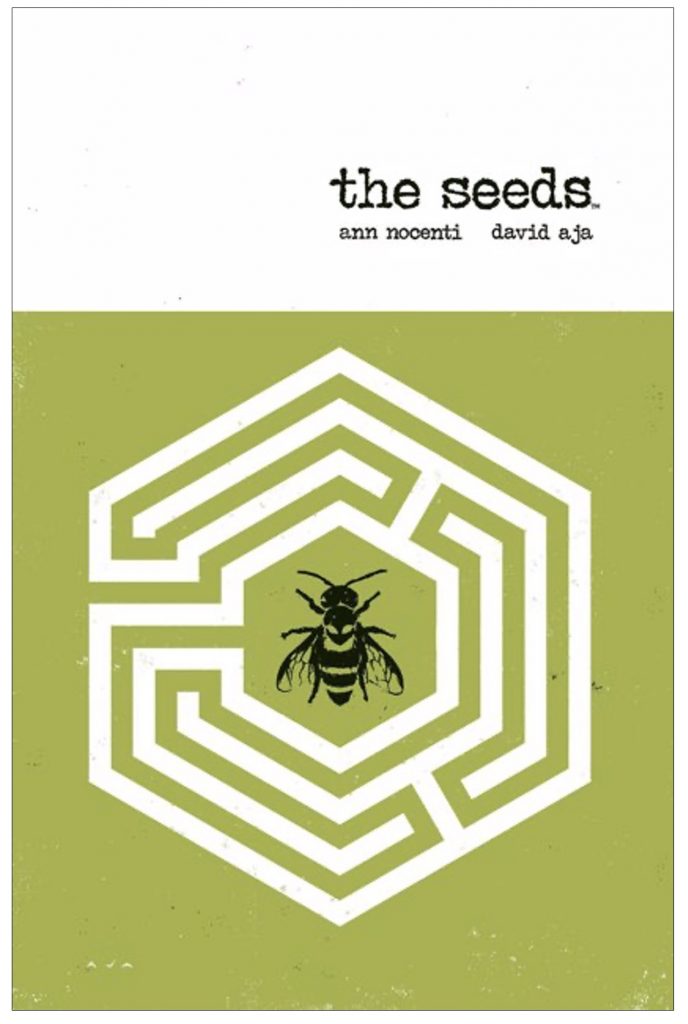 In December, Adam McGovern reviewed The Seeds, a new Dark Horse/Karen Berger graphic novel by HILOBROW friend Annie Nocenti and David Aja. Excerpt:
Aja's subject isn't what's not there, but what goes unnoticed; in syncopation with Nocenti's text, a score of bleak vistas and microscopic views, of repeated patterns hinting at a higher design beyond what any language can speak, tells the layer of the story that stays silent behind what its characters say. Zooming in on subliminal hexagon/honeycomb motifs, crisscrossed with old-school mechanical dot-matrix tones for shading, the world of The Seeds looks like it is disintegrating before our eyes, but perpetually reconstituting.
Long awaited, and much delayed, The Seeds is a must-read!
*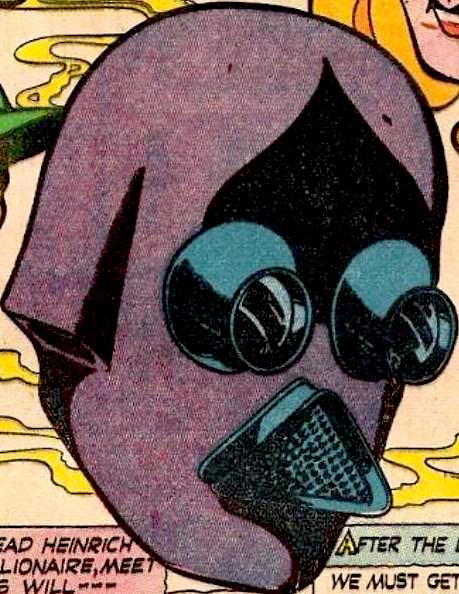 HILOBROW's series VIRUS VIGILANTE reminds us of the Antiviral Alliance, a now-forgotten squad of comic-book vigilantes who during the years leading up to (and through) WWII worked tirelessly to prevent another Spanish Flu-like pandemic. Here's the lineup:
PRE-COMICS: THE MOON MAN (1933). ORIGINAL TRIO (joined forces in 1939): THE CLOCK | SANDMAN | FANTOM OF THE FAIR. AND THEN THERE WERE SEVEN (joined 1940): THE SHADOW | LADY LUCK | THE LAUGHING MASK | KINKS MASON. SECOND-WAVE SIX (joined 1941): BLAZING SKULL | THE CHALLENGER | THE THUNDERER | DOCTOR NEMESIS | HUMAN BOMB | THE VIGILANTE. LATE TO THE PARTY (joined post-1941): MICRO-FACE | THE DESERT EAGLE.
---
WEEKLY SERIES
---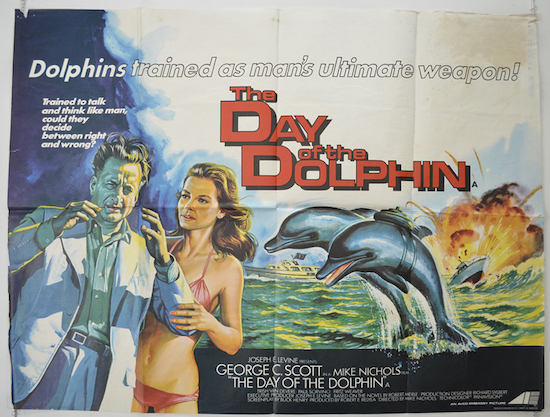 The weekly series, here at HILOBROW in 2020, was KLAATU YOU. We invited ~50 friends and regular contributors to wax enthusiastic about their favorite pre-Star Wars sci-fi movies! Here's the 4Q2020 lineup:
Marc Weidenbaum on COLOSSUS: THE FORBIN PROJECT | Neil LaBute on 20,000 LEAGUES UNDER THE SEA | Vicente Lozano on DAY OF THE DOLPHIN | Tom Roston on SLAUGHTERHOUSE-FIVE | Katya Apekina on A BOY AND HIS DOG | Chelsey Johnson on THE BLOB | Heather Kapplow on SPACE IS THE PLACE | Brian Berger on THE BEAST FROM 20,000 FATHOMS | Anthony Miller on THE DAY THE EARTH STOOD STILL.
Josh Glenn edited KLAATU YOU. He is very grateful to the series' contributors, many of whom donated their fees to the ACLU.
---
LONG-TERM SERIES
---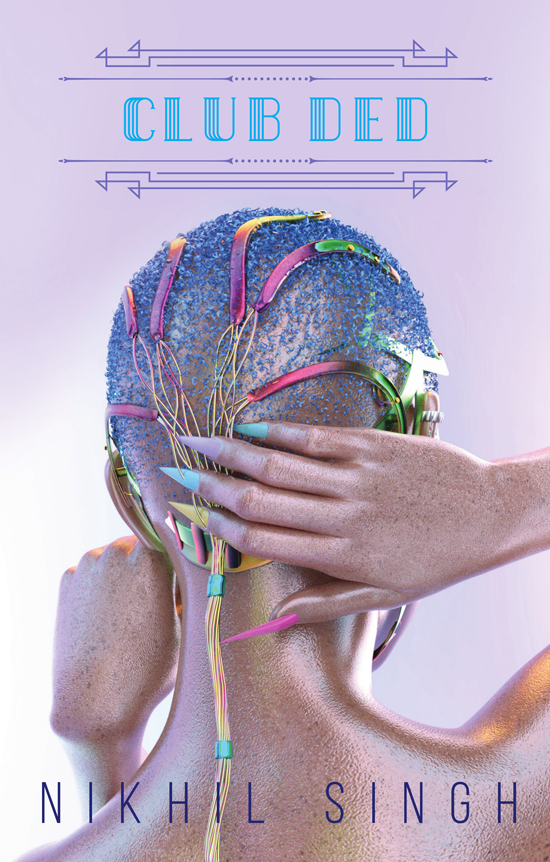 Adam McGovern's series OFF-TOPIC continued to deliver over-the-transom, on-tangent essays, dialogues and subjective scholarship. Here's the 4Q2020 lineup:
DREAMING MEDIA: Swapping idle prophecy with CLUB DED's Nikhil Singh | CATCH A FIRE: Waiting out the shutdown with pop virologist HEATHER QUINLAN | EVERYWHERE IS FROM SOMEBODY ELSE: Dumpster-divining on the scrapheap of history with LUC SANTE.
*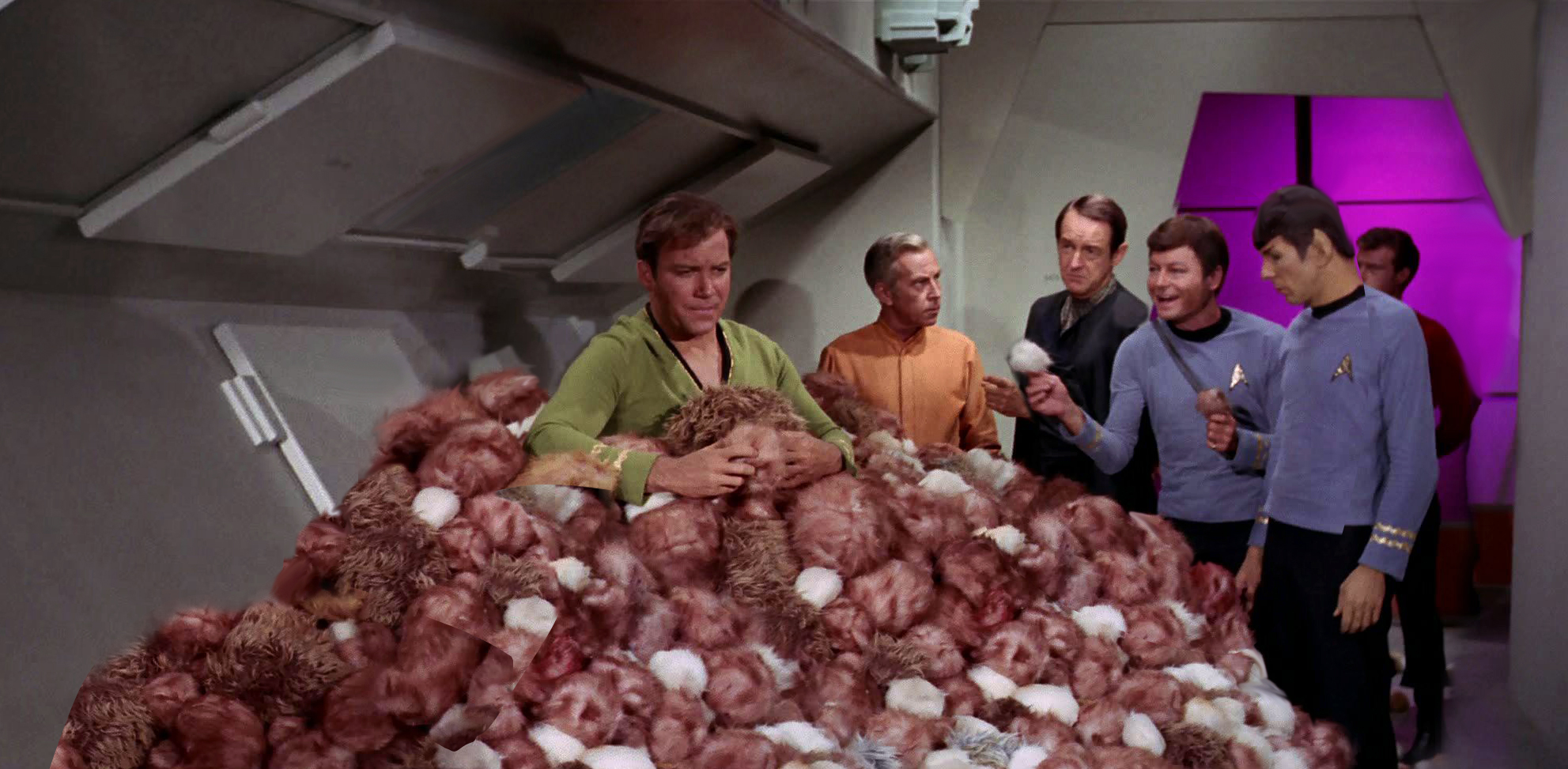 Peggy Nelson continued to investigate art and the virtual life through her regular series EYE CANDY and SIMULACRA. Here's the 4Q2020 lineup:
THIS IS ONLY A TEST: In Event of Moon Disaster: deepfakes and alternate histories | ART AT THE BUS STOP: reclamation of the commons for culture | CHAIRMAN OF THE MOTHERBOARD | HAPPY BIRTHDAY, HELL: Dante's Inferno reimagined in sound | STAR TREK IN CINERAMA | ESPACIOS OCCULTOS.
*
Tom Nealon bade a fond farewell to his long-running STUFFED column, in November, with a retrospective post: STUFF AND NONSENSE. We'll miss you, Tom!
---
BEST ADVENTURES
---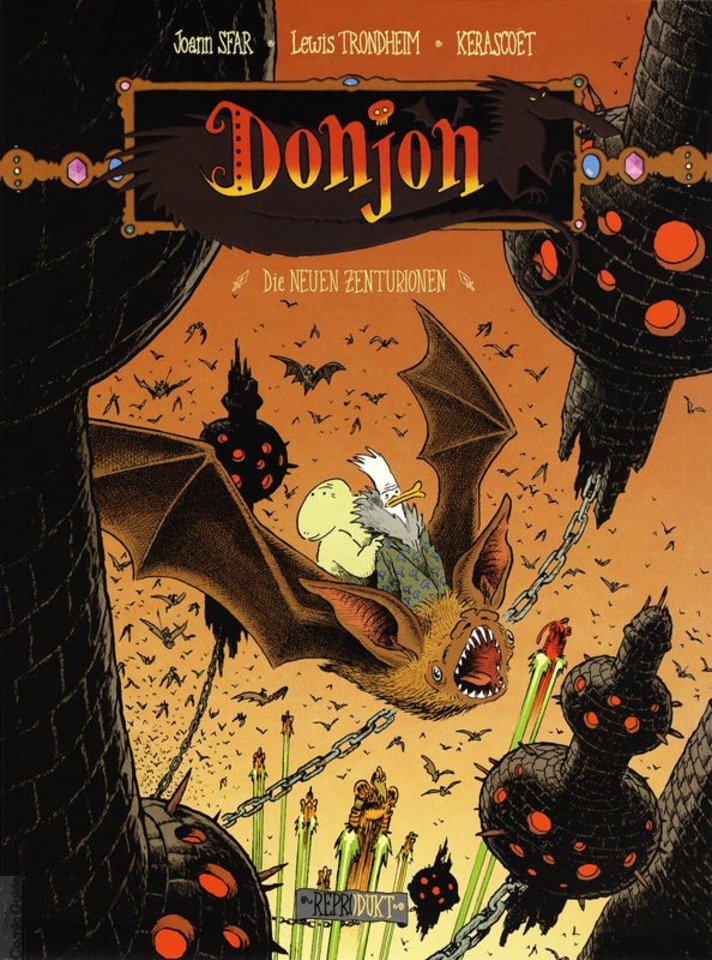 We published four new installments in Josh Glenn's BEST ADVENTURES PROJECT, which chronicles his attempt to identify the 10 best adventures he's read from each year of the 20th century. Here's the 4Q2020 lineup:
Each BEST ADVENTURES installment was first published as 10 individual posts. Also, during 4Q2020 Josh continued to update his list of the 250 Best Adventures of the 20th Century.
---
CURATED SERIES
---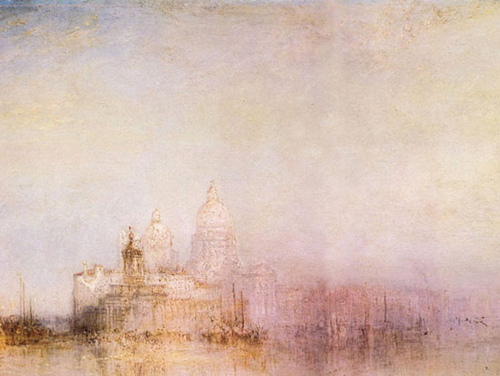 Peggy Nelson's series CROSS-POST continued to introduce HILOBROW readers to thoughtful, HILOBROW-esque bloggers. During 4Q2020, Peggy continued to cross-post from Marc Weidenbaum's Disquiet blog, and also introduced us to Toby Ferris's blog Anatomy of Norbiton: The Ideal City of the Failed Life.
*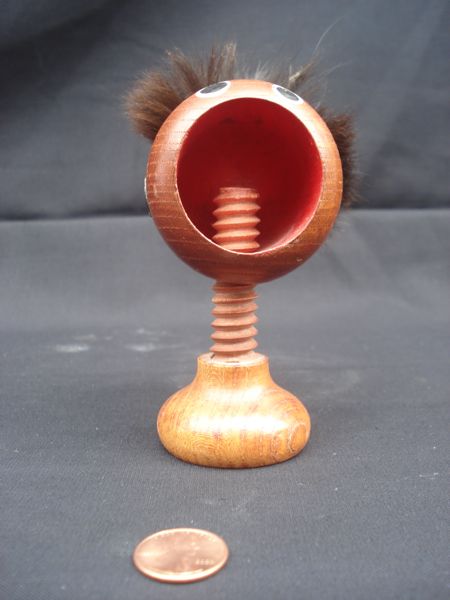 At Christmastime, for the 6th year, HILOBROW published 12 DAYS OF SIGNIFICANCE — a dozen object-oriented stories originally contributed to Josh Glenn and Rob Walker's anthropological-literary experiment SIGNIFICANT OBJECTS. Here's the 2020–2021 lineup:
Adam Davies on TROLL NUTCRACKER | Myla Goldberg on HAND-HELD BUBBLE BLOWER | Dan Chaon on COOKING FORK | Jenny Hayes on DOLPHIN BOX | Kevin Brockmeier on ROPE/WOOD MONKEY | Miranda Mellis on BRASS APPLE | Todd Pruzan on GOLF BALL BANK
*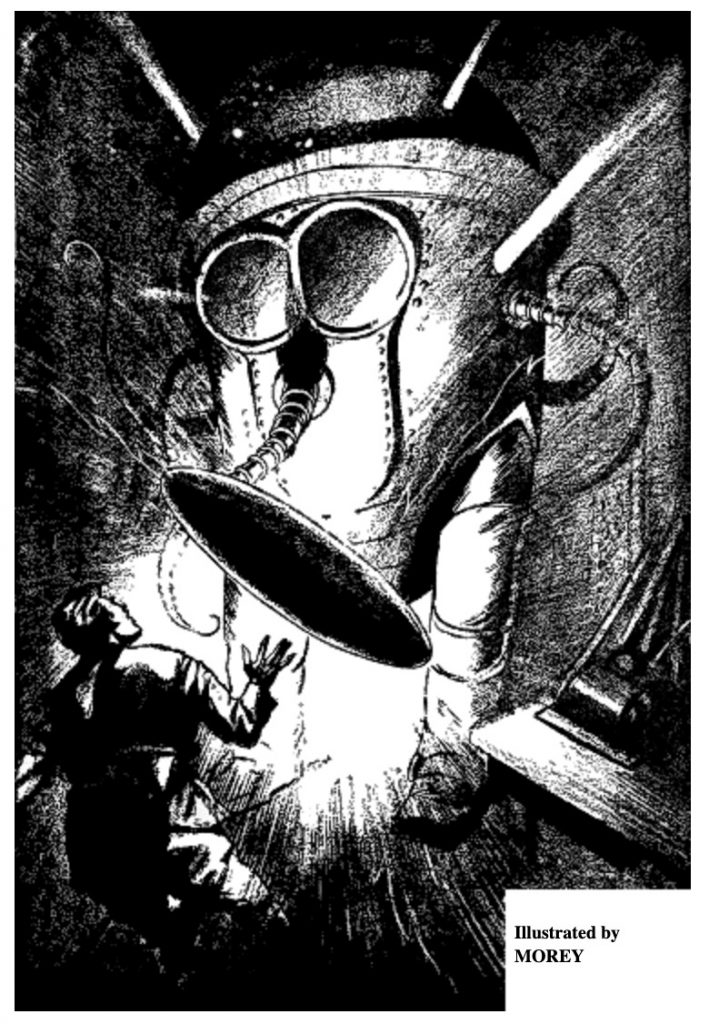 THE LAST EVOLUTION. During 4Q2020, we published a Radium Age sci-fi story by John W. Campbell — who would go on to help jump-start the genre's so-called Golden Age when he assumed editorship of Astounding Science Fiction in 1937.
***
On to 1Q2021…