Goslings (21)
By: J.D. Beresford
April 26, 2013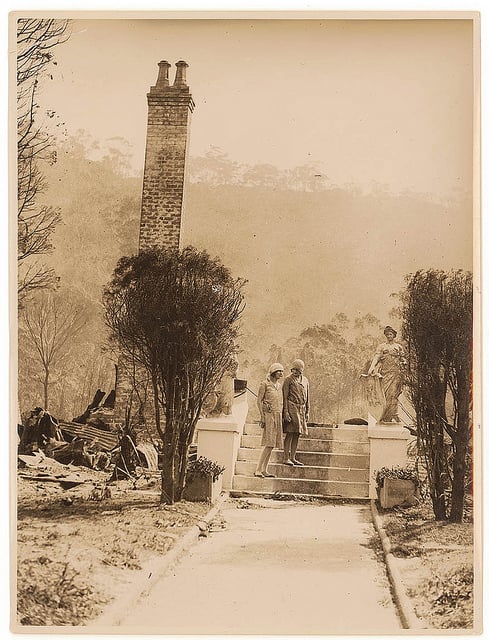 HILOBROW is pleased to present the twenty-first installment of our serialization of J.D. Beresford's Goslings (also known as A World of Women). New installments will appear each Friday for 23 weeks.
When a plague kills off most of England's male population, the proper bourgeois Mr. Gosling abandons his family for a life of lechery. His daughters — who have never been permitted to learn self-reliance — in turn escape London for the countryside, where they find meaningful roles in a female-dominated agricultural commune. That is, until the Goslings' idyll is threatened by their elders' prejudices about free love!
J.D. Beresford's friend the poet and novelist Walter de la Mare consulted on Goslings, which was first published in 1913. In May 2013, HiLoBooks will publish a beautiful new edition of the book. "A fantastic commentary upon life," wrote W.L. George in The Bookman (1914). "Mr. Beresford possesses the rare gift of divination," wrote The Living Age (1916). "It is piece of the most vivid imaginative realism, as well as a challenge to our vaunted civilization." "At once a postapocalyptic adventure, a comedy of manners, and a tract on sexual and social equality, Goslings is by turns funny, horrifying, and politically stirring," says Benjamin Kunkel in a blurb for HiLoBooks. "Most remarkable of all may be that it has not yet been recognized as a classic."
SUBSCRIBE to HILOBROW's serialized fiction via RSS.
ALL EXCERPTS: 1 | 2 | 3 | 4 | 5 | 6 | 7 | 8 | 9 | 10 | 11 | 12 | 13 | 14 | 15 | 16 | 17 | 18 | 19 | 20 | 21 | 22 | 23
***
It was decided, noisily, but with considerable emphasis, that for the good of the community the Jenkynites must go. The seventeen were specifically indicated, but it was understood that certain of their more advanced adherents would go with them.
The Jenkynites accepted the decision in the spirit of their belief. They were martyrs in a great cause. They would leave this accursed city (their terminology was always Biblical) and cast off its dust from their feet — although the roads were deep in mud at the time. They would go forth to regenerate the world, upheld by their love of truth and their zeal for the Word.
Only Mrs Isaacson dissented, but she was compelled to go with them.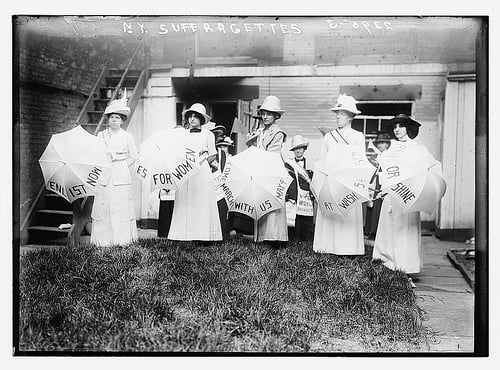 They went forth in the rain, thirty-nine of them in all, exalted with conscious righteousness and faint with enthusiasm. The women of Marlow were kind to them. They turned out and jeered the little procession as it marched out of the town by the Henley Road.
"'Oo stole the tea?" was the most popular taunt, and no doubt the exiles would have preferred that the taunts should have been cast at their faith rather than at the social misdemeanour of an obscure convert. But any form of martyrdom was better than none, and they held their heads high and sang "Glory! glory!" with magnificent fervour.
"I'm sure we've done right," commented Elsie Durham. "But we should never have had all the women with us if there had been no offence against property. That touched them — communal property. I'm not sure that it isn't become almost dearer than personal property."
XIX
ON THE FLOOD
1
From the middle of November onwards, the river had been running nearly bank-high, and so much power was available that Thrale had been considering the possibility of lighting some of the nearer houses by electricity. He had made three journeys to London, and with half a dozen assistants he had rifled two dynamos from the power station just outside Paddington, and had brought back twenty truck-loads of coal.
The dynamos, however, were still in the truck, covered by tarpaulin. Thrale had decided that the luxury of artificial lighting could not be provided until all the grain had been thrashed and milled. The end of that work was now in sight, and the accumulated wealth of flour in Marlow was calculated to be sufficient to last the community for at least twelve months. But before the lighting scheme could be put in hand, a new trouble had threatened.
During the first week of December there was almost continuous rain, and the river began to top its banks, spreading itself over the meadowland below the lock and creeping up the end of St Peter's Street. No serious matter as yet, and a short spell of frost and clear skies followed; but before Christmas heavy rains came again, and Thrale began to grow anxious.
"The weirs down-stream ought to be opened," he explained to Eileen. "They are probably all up; we need never be afraid of shortage here; if we close our own weir we can always hold up all the water we want."
"Is it serious?" she asked.
"Not yet, but it may be," he said, looking up at the sky. "All Marlow might be flooded."
And still the rain fell, and soon the girls had to wade through a foot of water to reach the mill.
"I must go down-stream and open all the weirs," Thrale announced on Christmas Eve. "I've been looking at a steam launch over at the boat-house; it's in quite good condition. I shall bring it up to the town landing-stage tomorrow and get enough coal and food aboard to last a week."
"You're not going alone?" said Eileen.
"No! I must take some one to work the engine and the locks," returned Thrale.
"I'll come!" announced Eileen, with glee.
Thrale shook his head. "You'll have to run this place," he said.
Since that night in September no reference had been made by either of them to his strange revelation of fear. They had worked together as two men might have worked. Neither of them had exhibited the least consciousness of sex. Thrale believed that he had put the fear away from him, and Eileen was content to wait. She was barely twenty.
"Blanche could run the mill," she suggested. "There isn't much to do now."
Thrale turned away from her with a touch of impatience. "Blanche had better come with me," he said.
"I want to come," pleaded Eileen.
"Why?" he asked.
"It'll be sport."
"I don't care to trust Blanche with the mill," he persisted.
"She's every bit as good as I am," was her reply.
He shook his head.
"Oh, look here," said Eileen, "you might let me come, or are you — are you afraid of — of what the women will say?" She was standing by one of the flour-encrusted mill windows and she began to scratch a clean place on it with her nail.
Thrale did not answer for a moment and then he came and stood near her. "What is it?" he asked. "Are you sick of your work here?"
"I shouldn't mind a change," she said, intent on enlarging her peep-hole.
"One forgets that you are women," said Thrale. "I suppose women are never content with work for work's sake."
"If you like," returned Eileen inconsequently. "I can see out now. Why don't we have these windows cleaned sometimes?"
"You can have them done while I'm away," he suggested.
"I'm coming with you," said Eileen.
"Oh! you can come if you like," he said. He thought he was perfectly safe, despite this unusual display of femininity.
"You'll have to run the engine," he concluded.
"Oh! I'll run the engine," she agreed and looked down at her capable, frankly dirty little hands.
2
The weirs at Marlow and Hedsor had been roaring open-mouthed for ten days before Thrale and Eileen began their journey; but the water had been piling up from below and the floods were working back up river. The fact that none of the weirs above Henley was closed had served to protect Marlow in some degree. There were great floods above Sonning, and from Goring to Culham the country was a vast sheet of water. This water, however, only came down comparatively slowly owing to the dammed condition of the main channel, and a greater proportion of it was absorbed. If the upper weirs had been open, Marlow would have been under water by the middle of December.
Not until the launch had been manoeuvred with some difficulty through Boulter's Lock did Thrale begin to realize the full significance of the situation.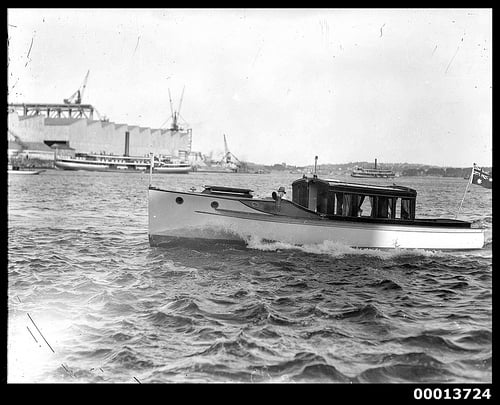 He had had very great difficulty first in reaching and second in raising the paddles of the Taplow weir. In one place the force of the flood had broken away the structure, but even with the relief this passage had afforded the pressure of water on the paddles was so great that he had been working for more than two hours before the last valve was opened.
Eileen had been waiting for him with the launch warped up just below the lock where the force of the stream was not so great.
"I don't know whether we shall be able to carry out this job," remarked Thrale when he rejoined her.
"Oh, but we must," she expostulated.
"Do you see what has happened?" he explained. "All the water is piled up below us. We shall probably find the next locks flood-high, which means that we sha'n't be able to open them."
"We must navigate," said Eileen. "Steam round them; shoot the weirs."
"Oh, well," said Thrale, "I'm wondering how far our responsibility goes. If we don't open the river right down to Richmond, we shall only be increasing the flood in the lower reaches, and there may be women living there. After all, Marlow isn't the only place on the river. And there is another thing; we may never get back. It's a risky thing we are proposing to do. No one could swim against this current. If we were upset and carried into a weir, we should be smashed to pieces in no time. Do you think the community can spare us?"
"Bother the community!" replied Eileen.
The community and its activities were already in the background of her mind. Marlow had receded into a little distant place with which she was no longer connected. The world of adventure and romance lay open before her. She wanted only to explore this turbulent river, widened now into a miniature Amazon, from which arose the islands of half-submerged houses and trees that composed the strange archipelago of Maidenhead.
"Oh, well," said Thrale again. "We'll try. It's no use waiting for the stream to go down. We'd better go on now."
"Shall I cast off?" asked Eileen.
"Steady, steady," Thrale warned her. "The next quarter of a mile is simply a rapid. You must be ready to get the engines going full ahead the moment we start, or I sha'n't be able to steer her. And, now, we must both cast off together or we shall be across the stream in two ticks. Just loosen the rope round the cleats and let go, and then start the engine. Let the loose end of the rope drag till we've time to pick it up. Are you ready? All right — cast off!"
The little launch swept out into the current with a bound the instant she was released from her moorings, and almost before the engines began to revolve she was caught in the rapids that surged down from the newly-opened weir. She was only a light draught pleasure-boat, designed to navigate the placid surface of the summer Thames, and when she entered the curling broken water below the island she threw up her nose and plunged like a nervous mare.
"Full steam ahead," shouted Thrale at the toy wheel. Eileen nodded, crouching over her little engine; the roar of the stream had drowned Thrale's voice, but she guessed his order.
Her eyes were bright with excitement. She had no sense of fear. She was exhilarated by the sense of rapid movement. The launch, indeed, was travelling at a remarkable pace. In the narrow channel between the islands and the town, the river must have been running at nearly ten miles an hour, and the engines were probably adding another eight. In the wide spaces of the ocean eighteen miles an hour may appear a safe and controllable speed, but this little launch was running down hill, she could not be stopped at command, and the restricted course was beset with many and dangerous obstacles.
Thrale, handling the little brass wheel forward, was conscious of uneasiness. The launch steered after a fashion, but he had little control of her. The trees on the banks appeared to be flying upstream at the pace of an express train, and ahead of him was the town bridge.
He decided instantly that they could not pass under it, and put the wheel over, intending to shoot out of the stream into the calm of the flood water over the new open bank. But as the launch turned and came across, the current took her stern and turned her half round. For a moment her lee rail was under water, and she trembled and rocked on the verge of capsize. Then her engines drove her out of the stream and she righted herself again and began to cut through the almost still, shallow flood water.
"Stop her!" roared Thrale.
"I say, what's up?" replied Eileen, coolly, as she obeyed the order.
"No room to pass under the bridge," said Thrale. "I suppose we'll have to navigate, as you call it. Go dead slow, and be prepared to stop her at a moment's notice."
They spent over an hour in finding a passage round the approach to the bridge. They had laboriously to pole the launch through the tops of hedges, and in one place they were aground for ten minutes. But after they had returned to the stream once more they had a rapid and easy passage down to Bray. They shot the great arch of the Maidenhead railway bridge triumphantly. Eileen said it was "glorious."
The weir at Bray proved even more difficult to negotiate than the one above, and by the time it was fully opened the dull December afternoon was closing in.
They spent that night moored to two of the elms that ring the isolated little church in the meadows by Boveney.
"At this rate," remarked Thrale as they settled themselves for the night, "it'll take us a week to get to Richmond. We've done two weirs out of thirteen, so far."
3
Thrale's estimate proved excessive. They reached Richmond on the fourth day out from Marlow, having opened another nine weirs — the one at Old Windsor had been swept away, and the one below Richmond Bridge Thrale opened that afternoon.
During those four days they had seen few signs of life. They had moved, keeping to the main stream for the most part, in the midst of a wide expanse of water; exploring a desolate and wasted country. Once they had been hailed by three women, who looked out at them from a house in Windsor, and shouted something they did not catch; and a woman had been standing on Staines Bridge as they careered intrepidly through the centre arch — they had no time even to distinguish her dress. But with these exceptions they might have come through the land of an extinct civilization, devoid of life; a land in which deserted houses and church towers stood up from the silver sheet of a vast lake, that was threaded by this one impetuous torrent of swelling river.
Richmond, also, was deserted. The emigrants had passed on over the river or southwards to Petersham and so into Surrey.
"Well!" said Eileen, wiping her oil-blackened hands on a bunch of cotton waste, "that job's done. We've fairly drawn the plug of the cistern now. And how are we going to get back?"
"We'll find a couple of bicycles somewhere here," said Thrale.
It had been a clear day, and there was a suggestion of frost in the air. The sun was setting very red and full behind the bare trees across the river. Save for the gurgle and hiss of the eddying flood, everything was very still. The little launch which had served them so well, and bore the marks of its great adventure in broken rails and bruised sides, was run aground by the side of the bridge. Thrale was standing in the road, but Eileen still sat by her engine.
"I hate to leave the launch," she said, after a long pause.
"We can come back and fetch her up when the flood goes down," returned Thrale.
"We've done pretty well, the three of us."
"Yes, the three of us," he echoed.
"It has been great fun," sighed Eileen.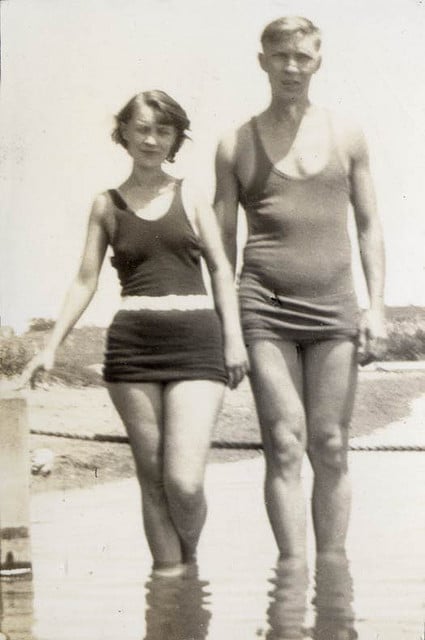 Thrale did not reply. He was thinking himself back into the past. He saw a street in Melbourne on a burning December evening, and the figure of a gaily-clad little brunette who spoke purest cockney and asked him why he looked so glum. "We ain't goin' to a funeral," she had said. Yet afterwards he had believed that something had been buried that night. He had faced his own passion and the sight of it had disgusted him. He had seen the shadow of a demon who might master him, and he had grappled with it; he believed that he had slain and buried lust in Melbourne ten years ago. It had not risen up to confront him when the plague had put a world of women at his command. He had not been forced to fight, he was not tempted — surely the thing was dead and buried. Only once, on that warm September night, had he felt a sudden furious desire to take this girl into his arms and fly with her into the woods. The desire had come and gone, he was master of it, and in any case it bore no resemblance to the brutal thing he had faced in Melbourne.
Nor, as he stood now by Richmond Bridge watching the vault of the sky deepen to an intenser blue, did the feeling that possessed him in any way resemble that old cruel passion which had flared up and died — surely it had died. He could not analyse his feeling for this brave, clear-eyed companion, who had faced with him all the dangers of the past four days without a sign of fear. She had made no advances to him, they were friends, she might have been some delightfully clean, wholesome boy. And then his thought was pierced and broken by a horrible suggestion.
A picture of the hill to Handy Cross flashed before him, and he saw a little lonely figure creeping furtively away from Marlow. He drove his nails into his palms and suddenly cried out.
"What's up?" said Eileen, turning round and looking up at him. "Have you forgotten anything?"
He stepped into the boat and sat down beside her. "I want to know —I must know," he said.
She looked at him and smiled. "All right, old man," she said. "Fire away."
"I told you once that I was frightened of you," said Thrale. "I want to know if you have ever been frightened of yourself — or — of me?"
"I could never be frightened of you," she replied, and looked away towards the rising darkness of the shadows across the hurrying river, "and I haven't been afraid of myself — yet. I don't think —"
"Wouldn't you be frightened of me if I picked you up and ran shouting into the woods?" he asked, fiercely.
Her eyes met his without reserve. "Dear old man," she said. "I should love it. I'm so glad you understand. That was the one thing that prevented our being real friends. I've wanted so much to be frank and open with you. It's all these silly reserves that make love abominable. Now we can be two jolly, clean human beings who understand each other, can't we? And we shall be such ripping good friends always; quite open and honest with each other."
He drew a deep, sighing breath and put his arms round her, drew her close to him and laid his face against hers. "I've been such an awful ass," he said. "I've always thought that love was unclean. I've been like that Jenkyn woman. I've been prurient and suspicious and evil-minded. I've been like the people who cover up statues. But there was an excuse for me — and for them, too. I didn't know, because there was no woman like you to teach me. All the women I've known have been secretive and sly. They've fouled love for me by making it seem a hidden, disreputable thing. Oh! we shall be ripping good friends, little Eileen — magnificent friends."
"This is a jolly old boat, isn't it?" replied Eileen, inconsequently. "Don't smother me, old man. And, I say, do you think we'll be able to raid some soap from somewhere? Do look at my hands! You couldn't be friends with a chap who had hands like that!"…
"There's one thing I'd like to remark," said Eileen the next morning. There had been a frost in the night, and there was every promise of an easy ride back to Marlow.
"Yes?" said Thrale, examining the deflated tyres of two bicycles they had chosen from a shop in the High Street.
"We'd never have understood each other so well if we hadn't worked together on the same job," said Eileen.
"Well, of course not," returned Thrale. His tone seemed to imply that she had stated a truth that must always have been obvious to sensible people.
"That and there being no footle about marriage," concluded Eileen.
***
RADIUM AGE SCIENCE FICTION: "Radium Age" is HILOBROW's name for the 1904–33 era, which saw the discovery of radioactivity, the revelation that matter itself is constantly in movement — a fitting metaphor for the first decades of the 20th century, during which old scientific, religious, political, and social certainties were shattered. This era also saw the publication of genre-shattering writing by Edgar Rice Burroughs, Sax Rohmer, E.E. "Doc" Smith, Jack London, Arthur Conan Doyle, Aldous Huxley, Olaf Stapledon, Karel Čapek, H.P. Lovecraft, Charlotte Perkins Gilman, Yevgeny Zamyatin, Philip Gordon Wylie, and other pioneers of post-Verne/Wells, pre-Golden Age "science fiction." More info here.
HILOBOOKS: The mission of HiLoBooks is to serialize novels on HiLobrow; and also, as of 2012, operating as an imprint of Richard Nash's Cursor, to reissue Radium Age science fiction in beautiful new print editions. So far, we have published Jack London's The Scarlet Plague, Rudyard Kipling's With the Night Mail (and "As Easy as A.B.C."), Arthur Conan Doyle's The Poison Belt, H. Rider Haggard's When the World Shook, Edward Shanks's The People of the Ruins, William Hope Hodgson's The Night Land, and J.D. Beresford's Goslings. Forthcoming: E.V. Odle's The Clockwork Man, Cicely Hamilton's Theodore Savage, and Muriel Jaeger's The Man with Six Senses. For more information, visit the HiLoBooks homepage.
SERIALIZED BY HILOBOOKS: Jack London's The Scarlet Plague | Rudyard Kipling's With the Night Mail (and "As Easy as A.B.C.") | Arthur Conan Doyle's The Poison Belt | H. Rider Haggard's When the World Shook | Edward Shanks' The People of the Ruins | William Hope Hodgson's The Night Land | J.D. Beresford's Goslings | E.V. Odle's The Clockwork Man | Cicely Hamilton's Theodore Savage | Muriel Jaeger's The Man With Six Senses | Jack London's "The Red One" | Philip Francis Nowlan's Armageddon 2419 A.D. | Homer Eon Flint's The Devolutionist | W.E.B. DuBois's "The Comet" | Edgar Rice Burroughs's The Moon Men | Charlotte Perkins Gilman's Herland | Sax Rohmer's "The Zayat Kiss" | Eimar O'Duffy's King Goshawk and the Birds | Frances Hodgson Burnett's The Lost Prince | Morley Roberts's The Fugitives | Helen MacInnes's The Unconquerable | Geoffrey Household's Watcher in the Shadows | William Haggard's The High Wire | Hammond Innes's Air Bridge | James Branch Cabell's Jurgen | John Buchan's "No Man's Land" | John Russell's "The Fourth Man" | E.M. Forster's "The Machine Stops" | John Buchan's Huntingtower | Arthur Conan Doyle's When the World Screamed | Victor Bridges' A Rogue By Compulsion | Jack London's The Iron Heel | H. De Vere Stacpoole's The Man Who Lost Himself | P.G. Wodehouse's Leave It to Psmith | Richard Connell's "The Most Dangerous Game" | Houdini and Lovecraft's "Imprisoned with the Pharaohs" | Arthur Conan Doyle's "The Sussex Vampire."
ORIGINAL FICTION: HILOBROW has serialized three novels: James Parker's The Ballad of Cocky The Fox ("a proof-of-concept that serialization can work on the Internet" — The Atlantic); Karinne Keithley Syers's Linda Linda Linda (which includes original music); and Robert Waldron's roman à clef The School on the Fens. We also publish original stories and comics. These include: Matthew Battles's stories "Gita Nova", "Makes the Man," "Imago," "Camera Lucida," "A Simple Message", "Children of the Volcano", "The Gnomon", "Billable Memories", "For Provisional Description of Superficial Features", "The Dogs in the Trees", "The Sovereignties of Invention", and "Survivor: The Island of Dr. Moreau"; several of these later appeared in the collection The Sovereignties of Invention | Peggy Nelson's "Mood Indigo", "Top Kill Fail", and "Mercerism" | Annalee Newitz's "The Great Oxygen Race" | Flourish Klink's Star Trek fanfic "Conference Comms" | Charlie Mitchell's "A Fantasy Land" | Charlie Mitchell's "Sentinels" | Joshua Glenn's "The Lawless One", and the mashup story "Zarathustra vs. Swamp Thing" | Adam McGovern and Paolo Leandri's Idoru Jones comics | John Holbo's "Sugarplum Squeampunk" | "Another Corporate Death" (1) and "Another Corporate Death" (2) by Mike Fleisch | Kathryn Kuitenbrouwer and Frank Fiorentino's graphic novel "The Song of Otto" (excerpt) | John Holbo's graphic novel On Beyond Zarathustra (excerpt) | "Manoj" and "Josh" by Vijay Balakrishnan | "Verge" by Chris Rossi, and his audio novel Low Priority Hero | EPIC WINS: THE ILIAD (1.408-415) by Flourish Klink | EPIC WINS: THE KALEVALA (3.1-278) by James Parker | EPIC WINS: THE ARGONAUTICA (2.815-834) by Joshua Glenn | EPIC WINS: THE MYTH OF THE ELK by Matthew Battles | TROUBLED SUPERHUMAN CONTEST: Charles Pappas, "The Law" | CATASTROPHE CONTEST: Timothy Raymond, "Hem and the Flood" | TELEPATHY CONTEST: Rachel Ellis Adams, "Fatima, Can You Hear Me?" | OIL SPILL CONTEST: A.E. Smith, "Sound Thinking | LITTLE NEMO CAPTION CONTEST: Joe Lyons, "Necronomicon" | SPOOKY-KOOKY CONTEST: Tucker Cummings, "Well Marbled" | INVENT-A-HERO CONTEST: TG Gibbon, "The Firefly" | FANFICTION CONTEST: Lyette Mercier's "Sex and the Single Superhero"