The High Wire (2)
By: William Haggard
November 8, 2014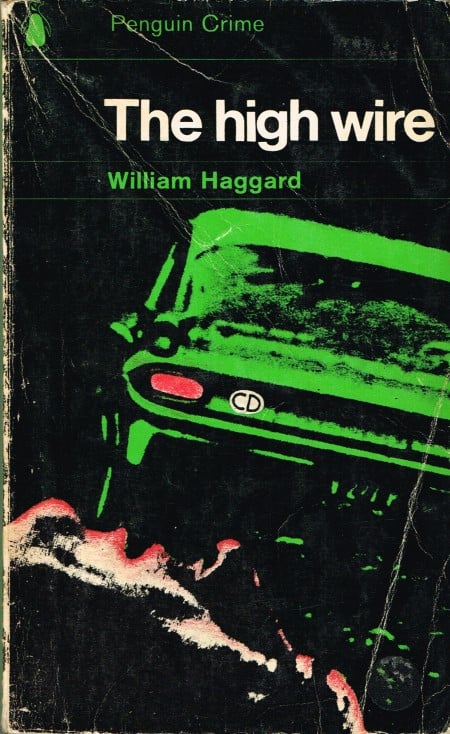 HiLoBooks is pleased to serialize William Haggard's 1963 novel The High Wire, the fifth title in his acclaimed Col. Charles Russell espionage adventure series — which, at the time, was considered by critics (if not the general public) superior to Ian Fleming's Bond series. "Haggard lacked Fleming's snooty dilettantism, and was better at creating subtle layers of political intrigue," Christopher Fowler has written. "Haggard treats his women with more respect, too. They are investigators and heroines with lives of their own. As for exoticism, try Haggard's character Miss Borrodaile, the elegant, black-clad, former French Resistance fighter with a steel foot." Under the editorship of HILOBROW's Joshua Glenn, the Save the Adventure book club will reissue The High Wire as an e-book for the first time ever. Enjoy!
ALL INSTALLMENTS
***
Chapter 2
Major Robert Mortimer of the Security Executive was to lunch with Miss Francom in a quarter of an hour, and it was an appointment he was looking forward to. She was a woman he admired, and not only because she was one of his six best agents.
He was a man of something over forty, tall and very neat; he looked what he was, the ex-Regular officer. He owed his job to a combination of unblushing nepotism and a judgement of himself which had been quite detached; and, as often infuriatingly happened when it would have been easy to predict failure, maliciously to hope for it, he did his work excellently. His master was Colonel Charles Russell, the head of the Executive — bland, indestructible and cool. Russell had served with his father. Mortimer himself had been in a regiment which after the war had been amalgamated with another. The shotgun marriage had been resented, and the wife had the reputation that she successfully advanced herself. Robert Mortimer, a Regular, had known what that meant: he was a major and would stay so. He sent in his papers and went to Charles Russell.
Russell had asked him to stay the weekend. He had golfed with him; talked trivialities; watched how he drank and when. He had motored him back to London on the Monday, still saying nothing.
Four days later Mortimer had been invited to join the Security Executive. Now he was an Assistant Director, one of three. He knew he was in line when Russell went. Not that the thought excited him. He wasn't insanely ambitious and he adored Charles Russell.
He rose, glancing in the mirror, since he wasn't a man to lunch with a lady dirty…. A sober suit and spotless shirt, a City-ish sort of tie. He never wore his regiment's, an affairof appalling stripes. His shoes, he saw, would have passed his batman.
His turn-out would do.
He was taking Mary Francom to a Grill and Cheese, and for various reasons variously calculated. To begin with he liked meat, and he knew where the meat was good. To continue he wasn't rich, and a great many people knew him. His work was known but Mary's wasn't: it would have been foolish to risk notice somewhere flash, but lunch with an attractive woman at a Grill and Cheese would hardly suggest a principal and agent. He knew she wouldn't wear her treasured fur. It was far too grand for an honest nurse.
In his taxi he smiled. It was marvellous cover, that nursing home.
He walked into the grill room, seeing that she was already seated. She wasn't in furs but she didn't need them. And she was looking very well. As he sat down he saw that she had started.
'I was hungry,' she said simply. 'I began without you. Once you've been really hungry you never catch up on it. Never.'
He was looking at a plate of scampi. 'Don't spoil your steak.'
'I won't. I eat like a horse.'
'But you keep your figure.'
She looked at him, pleased. 'That's the first time you've ever noticed me. Me or my figure.'
'I'm noticing it now.'
'Keep looking,' she said.
He turned to the waitress, ordering quickly. 'Two large fillet steaks with mushrooms. Salad with French dressing. A carafe of red wine. The steak for the lady medium. I like my own well done.'
Miss Francom raised a well-kept eyebrow. When the waitress had gone she asked: 'What's this about well done?'
'I like my meat well done.'
'And I like honest men.'
'What's so honest?'
Miss Francom sighed. 'I eat with a lot of men, you know. Most of the time you're making me, and just occasionally I'm working for myself. So I eat with a lot of men and most of them order rare. They wouldn't at home.' She looked round the room. 'I estimate that half the steak in London is eaten on expense accounts. Which means that it's eaten for expense accounts. Which means that it's eaten to impress. Eat steak with a business contact and you order rare. It's the he-man thing to do.'
'I know what you mean. And the rest of your London steak?'
'Is eaten with women. Whom you want to impress again, though maybe for different reasons. So again you order rare. That makes you a he-man — you hope.'
'I'll order mine rare next time.'
She said coolly: 'You wouldn't need that.'
There was a comfortable little silence.
'You're pretty observant,' he said.
'I have to be. I've just been doing some observing. On your behalf and at your expense. You'll be getting a bill for the extras. We were at Sestriere.'
'That's what we're here to talk about.'
'My gallant Major Mortimer!' She dropped her voice but not extravagantly. 'I've been running with de Fleury for a month, ever since you told me what he was and asked me to cover him. It wasn't difficult to arrange, because he'd been to the nursing home. It was nothing severe, an impacted wisdom tooth, but I made it my business to nurse him personally.' She drank some wine reflectively. 'He's a spy and I don't much like him, but he's very generous. What he gives me and what you do….' She looked up suddenly. 'One job,' she said, 'two salaries for doing it. I save. One day I'll be shot of all of you.'
'I'm not a moralist.'
'I know you're not. If you were I wouldn't be explaining things.'
'I know what you've been through.'
There was another little silence, then: 'Where were we, Bob?'
'At Sestriere.'
'Yes, with de Fleury. We came back four days ago.' She drank some more wine, declining fruit. 'Have you heard of a man called Hadley?'
'Indeed I have.'
'Have you heard of a Project A?'
'But you shouldn't even know the word.'
'I guessed it. This Hadley mentioned Project A. To Francis de Fleury.'
Robert Mortimer swore.
'But I doubt if it's that serious. Hadley wasn't technically secure but he wasn't stupid either. He mentioned Project A but he said nothing about it.'
'How did it happen?'
'Much as you might expect. De Fleury scraped acquaintance with Rex Hadley, then brought him to our table. He ordered a lot of champagne and Hadley drank it. I don't think he's a drinking man. I liked him. He mentioned this Project A.'
'You're sure there was nothing else?'
'How can I be? I wasn't ski-ing. They may have gone up in a cable-car and Hadley may have talked again. But I'd cheerfully bet against it.'
'Why?' Robert Mortimer had barked it.
'Don't snap my head off, Bob. I'm going on Hadley's manner — I'm a woman. Rex Hadley drank a bit and he talked pretty large, but next morning he was cagey. I don't know whether he remembered dropping an actual clanger but I'm certain he knew he'd talked too much.'
'He avoided de Fleury?'
'I told you he wasn't stupid. Besides, I was with de Fleury.'
'It went like that?'
'Why not? I like Rex Hadley a lot, and I wasn't being paid to watch him.'
She was dining with him that evening. That had nothing to do with the Security Executive.
'Then tell me the rest.'
'There wasn't much of it. De Fleury tried again but he got nowhere. I know nothing about this Project A except that it's clearly important. So, I should say, was Rex. Who'd been talking too much but realized it. It warned him, I think: he put himself on notice. He was polite but he wouldn't be drawn.'
'And that's the lot?'
'Except for a man called Julian Cohn.'
Mortimer said deliberately: 'Who is coming to see me this afternoon.'
'Then you know him too?'
'He says I do. He said we'd met at a house I've certainly been to, though I don't remember him. More important, we've a file on him.'
'It wouldn't surprise me. He told us he was a journalist and he told us the papers he writes for. He can't possibly live on that. He's written a book as well, something with a tide like Baldwin the Fascist Prototype. Very left, very militant. Arrogant too. I don't think it sold much.'
'And what did he do at Sestriere?'
'Nothing — that's the point. But he stuck to us like glue. He doesn't talk but he listens — goodness, he listens. De Fleury tried to shake him off but Cohn outfaced him.'
'Was he with you when Hadley mentioned Project A?'
'He was. My guess is that he noticed it. And why should he do that?'
'He's a journalist.'
'With very long ears, even for his trade. And there's another thing. There was a chambermaid, somebody in Victor's organization, I suppose. One day I came in suddenly and de Fleury was talking to her about Cohn. I didn't hear in detail but he was asking her to find out something about him.'
'Interesting,' Robert said.
'To you, perhaps.' Mary looked at her watch. 'Well, I've another job.'
He paid the bill and rose. On an impulse he asked her quickly: 'You wouldn't care to dine tonight? Pure pleasure for a change. Pleasure for me.'
'Ask me again, but I've a date tonight.'
They walked out into a bitter cold. It had been snowing, then freezing, and the traffic was in chaos. He found her a taxi and put her in, an elegant, ample, exciting woman.
He decided to walk, buying an evening paper, glancing at the headlines, turning to the Stop Press at the back. There was nothing that interested him and he started to fold the paper. Then he stopped suddenly, reading intently. It was a very small paragraph but he read it three times. There had been an accident in Wheatiey Street and it looked like a hit-and-run. A man had been found unconscious and his injuries were serious.
The man had been taken to a near-by nursing home. He was a resident of Wheatiey Street and his identity had been established.
Mr Julian Cohn wouldn't be keeping his appointment.
NEXT INSTALLMENT | ALL INSTALLMENTS SO FAR
***
RADIUM AGE SCIENCE FICTION: "Radium Age" is HILOBROW's name for the 1904–33 era, which saw the discovery of radioactivity, the revelation that matter itself is constantly in movement — a fitting metaphor for the first decades of the 20th century, during which old scientific, religious, political, and social certainties were shattered. This era also saw the publication of genre-shattering writing by Edgar Rice Burroughs, Sax Rohmer, E.E. "Doc" Smith, Jack London, Arthur Conan Doyle, Aldous Huxley, Olaf Stapledon, Karel Čapek, H.P. Lovecraft, Charlotte Perkins Gilman, Yevgeny Zamyatin, Philip Gordon Wylie, and other pioneers of post-Verne/Wells, pre-Golden Age "science fiction." More info here.
READ GORGEOUS PAPERBACKS: HiLoBooks has reissued the following 10 obscure but amazing Radium Age science fiction novels in beautiful print editions: Jack London's The Scarlet Plague, Rudyard Kipling's With the Night Mail (and "As Easy as A.B.C."), Arthur Conan Doyle's The Poison Belt, H. Rider Haggard's When the World Shook, Edward Shanks' The People of the Ruins, William Hope Hodgson's The Night Land, J.D. Beresford's Goslings, E.V. Odle's The Clockwork Man, Cicely Hamilton's Theodore Savage, and Muriel Jaeger's The Man with Six Senses. For more information, visit the HiLoBooks homepage.
SERIALIZED BY HILOBOOKS: Jack London's The Scarlet Plague | Rudyard Kipling's With the Night Mail (and "As Easy as A.B.C.") | Arthur Conan Doyle's The Poison Belt | H. Rider Haggard's When the World Shook | Edward Shanks' The People of the Ruins | William Hope Hodgson's The Night Land | J.D. Beresford's Goslings | E.V. Odle's The Clockwork Man | Cicely Hamilton's Theodore Savage | Muriel Jaeger's The Man With Six Senses | Jack London's "The Red One" | Philip Francis Nowlan's Armageddon 2419 A.D. | Homer Eon Flint's The Devolutionist | W.E.B. DuBois's "The Comet" | Edgar Rice Burroughs's The Moon Men | Charlotte Perkins Gilman's Herland | Sax Rohmer's "The Zayat Kiss" | Eimar O'Duffy's King Goshawk and the Birds | Frances Hodgson Burnett's The Lost Prince | Morley Roberts's The Fugitives | Helen MacInnes's The Unconquerable | Geoffrey Household's Watcher in the Shadows | William Haggard's The High Wire | Hammond Innes's Air Bridge | James Branch Cabell's Jurgen | John Buchan's "No Man's Land" | John Russell's "The Fourth Man" | E.M. Forster's "The Machine Stops" | John Buchan's Huntingtower | Arthur Conan Doyle's When the World Screamed | Victor Bridges' A Rogue By Compulsion | Jack London's The Iron Heel | H. De Vere Stacpoole's The Man Who Lost Himself | P.G. Wodehouse's Leave It to Psmith | Richard Connell's "The Most Dangerous Game" | Houdini and Lovecraft's "Imprisoned with the Pharaohs" | Arthur Conan Doyle's "The Sussex Vampire".
ORIGINAL FICTION: HILOBROW has serialized three novels: James Parker's The Ballad of Cocky The Fox ("a proof-of-concept that serialization can work on the Internet" — The Atlantic); Karinne Keithley Syers's Linda Linda Linda (which includes original music); and Robert Waldron's roman à clef The School on the Fens. We also publish original stories and comics. These include: Matthew Battles's stories "Gita Nova", "Makes the Man," "Imago," "Camera Lucida," "A Simple Message", "Children of the Volcano", "The Gnomon", "Billable Memories", "For Provisional Description of Superficial Features", "The Dogs in the Trees", "The Sovereignties of Invention", and "Survivor: The Island of Dr. Moreau"; several of these later appeared in the collection The Sovereignties of Invention | Peggy Nelson's "Mood Indigo", "Top Kill Fail", and "Mercerism" | Annalee Newitz's "The Great Oxygen Race" | Flourish Klink's Star Trek fanfic "Conference Comms" | Charlie Mitchell's "A Fantasy Land" | Charlie Mitchell's "Sentinels" | Joshua Glenn's "The Lawless One", and the mashup story "Zarathustra vs. Swamp Thing" | Adam McGovern and Paolo Leandri's Idoru Jones comics | John Holbo's "Sugarplum Squeampunk" | "Another Corporate Death" (1) and "Another Corporate Death" (2) by Mike Fleisch | Kathryn Kuitenbrouwer and Frank Fiorentino's graphic novel "The Song of Otto" (excerpt) | John Holbo's graphic novel On Beyond Zarathustra (excerpt) | "Manoj" and "Josh" by Vijay Balakrishnan | "Verge" by Chris Rossi, and his audio novel Low Priority Hero | EPIC WINS: THE ILIAD (1.408-415) by Flourish Klink | EPIC WINS: THE KALEVALA (3.1-278) by James Parker | EPIC WINS: THE ARGONAUTICA (2.815-834) by Joshua Glenn | EPIC WINS: THE MYTH OF THE ELK by Matthew Battles | TROUBLED SUPERHUMAN CONTEST: Charles Pappas, "The Law" | CATASTROPHE CONTEST: Timothy Raymond, "Hem and the Flood" | TELEPATHY CONTEST: Rachel Ellis Adams, "Fatima, Can You Hear Me?" | OIL SPILL CONTEST: A.E. Smith, "Sound Thinking | LITTLE NEMO CAPTION CONTEST: Joe Lyons, "Necronomicon" | SPOOKY-KOOKY CONTEST: Tucker Cummings, "Well Marbled" | INVENT-A-HERO CONTEST: TG Gibbon, "The Firefly" | FANFICTION CONTEST: Lyette Mercier's "Sex and the Single Superhero"