The High Wire (17)
By: William Haggard
February 24, 2015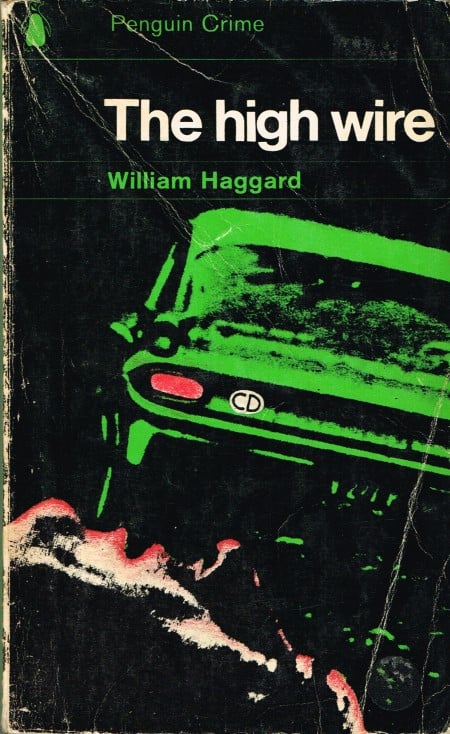 HiLoBooks is pleased to serialize William Haggard's 1963 novel The High Wire, the fifth title in his acclaimed Col. Charles Russell espionage adventure series — which, at the time, was considered by critics (if not the general public) superior to Ian Fleming's Bond series. "Haggard lacked Fleming's snooty dilettantism, and was better at creating subtle layers of political intrigue," Christopher Fowler has written. "Haggard treats his women with more respect, too. They are investigators and heroines with lives of their own. As for exoticism, try Haggard's character Miss Borrodaile, the elegant, black-clad, former French Resistance fighter with a steel foot." Under the editorship of HILOBROW's Joshua Glenn, the Save the Adventure book club will reissue The High Wire as an e-book for the first time ever. Enjoy!
ALL INSTALLMENTS
***
Chapter 17
In Colonel Russell's room in the Security Executive Sir William Banner was talking, and Russell, who was good at it, was listening. Banner was saying: 'J. Wallis Danziger — you'll have heard of him, of course.'
'Of course. And I know that he's over here. What's more I know he came to see you.'
'Your interest doesn't surprise me, but I doubt if you bugged my house. So I've come to tell you what we settled.'
'Kind of you,' Russell said.
'Not kind. I avoid unnecessary trouble when I can — trouble for you and embarrassment for myself.' Sir Bill slid away at an apparent tangent. 'Americans,' he said. 'I like them.'
'Yes?'
'Or rather I respect them. The orthodox attitude about America seems to be a sort of jealous sneer. I can understand the jealousy — there are psychological reasons though I won't bore you by deep-down-delving — but the sneer annoys me. I think it's ungrateful. If it weren't for America Europe would be one big Satellite, and that includes this country. I know they drink nasty beverages and their breakfasts don't agree with me; they're even unenlightened enough to believe that competition works, and there are circles where that's worse than original sin. The certainty remains that their power protects us. It isn't a position I relish but it's a political fact.'
'So you've taken them in on Project A? You felt you owed them a share of it?'
Sir William clucked impatiently. 'I didn't say that at all. That savours of moral judgement, which is something I much mistrust. You know what we've been trying for at Maldington — the most powerful conventional explosive known. And I see it as an ugly race. Sooner or later somebody is going to succeed, and I'd rather go in with friends than risk an enemy getting there ahead of us.'
'Why shouldn't we get there alone?'
'Because we can't. We're as near to the thing in theory as we'll ever be, but there's a gap between a scientist's theories and established production. In this case that's a gap of sheer resources. We simply don't have them and Danziger does.'
Russell stroked his chin. 'I don't say I disagree with you — I don't know enough to dare to. But what will the politicians say?'
'What can they say? Our masters have just two choices which make sense: they could shut down Maldington, cutting their losses, or they could commit say a hundred million more to a programme where there's still no absolute certainty of final success. They won't do the latter — we can't afford it — and they won't cut their losses because it isn't in their nature to. There would be too many questions and no easy answer — that's what they go for, the easy answer. Any government disintegrating does. So they'd just keep us on at half-cock. I'm a European before I'm any sort of a party man, and I don't think that's good enough.'
'So the whole thing goes over to America? Danziger takes the lot?'
'Good heavens, no. Rudi Walther is what he really wants. I've sounded him and he feels as I do. So Walther will go but Maldington stays. There'll be plenty of work which can perfectly well be done there. In some ways better — Danziger admits it.'
'And what about the other scientists?'
'Well, what about them? I don't employ them directly, and I suppose the Ministry could withdraw them if it wanted to. But I don't think it will. What's the use of an empty establishment? In any case, second-flight scientists are nine for sixpence — I could always go out and hire others. But none of that will happen, I assure you. I've been careful about Maldington — tactful.' Sir William smiled ironically. 'Besides, I've a social conscience. Call Maldington my bow at full employment.'
Russell made a surprising sound.
'You don't have to believe me. What I can prove is my tenancy at Maldington. That has six months to run still.'
With a rare hint of malice Charles Russell said: 'You seem to have fixed it beautifully.'
'I'm glad you approve.'
But Russell had recovered his good humour. Sir William Banner was an arbitrary man, but he had virtues which in a tycoon were most unusual. Moreover it would be a very bold layman who said he had chosen wrongly. Russell wasn't one of them and only time would tell. He asked now quietly, as bland as milk: 'You'll leave Hadley in charge at Maldington?'
'Who better? How is he, by the way?'
'I rang this morning and the news is good. He'll be out in a day or two and they assure me there's nothing permanent. Nothing which need disturb a married man.'
"That's very good.'
'It's a very good hospital.'
'De Fleury's in it too, I think. He'll live?'
'He will.'
'That's a very brave scoundrel. We owe him plenty.'
'I think so too. And when he comes out of hospital he can hardly go back to his own country, or not for a bit at any rate. He'll need money and we've thought of that. Just between the two of us we've done rather more than think. There'll be something waiting for him when he's finally discharged.'
'If I may ask — how much?'
Charles Russell told him.
'I'd like to double that.'
'You're really very generous.'
'Perhaps.' Sir William shrugged. 'And that reminds me — I owe you lunch. Come on.'
*
In his overheated room the tall man was reading a report and frowning…. Those intolerable Anglo-Saxons. So the Americans had bought themselves in and he knew what that meant. It meant that his hopes of Project A had gone. America was a long way away, and American security would be grimly on notice. Opinions varied whether it was better than British: some said it was and some that it wasn't. The fact remained that it was much less hamstrung by the rule of law. Like Sir William Banner the Marshal had a great respect for the Americans.
But no love at all.
He turned to another paper for he had a problem more pressing. He had lost Project A but the Fourteenth Bureau had other tasks, and a successor to Victor was essential. The obvious heir apparent was this Reynard. He'd seen long service as Victor's assistant and the Army was pressing his claims. But the tall man shook his head. This Reynard had family, perhaps a little money still, and those meant an independence, even a mind of one's own. Which wouldn't suit the Marshal. Whereas there was this other man, born in the provinces of modest stock, fighting his own way upwards. Another Victor. Appoint him and you appointed a dependant.
For an instant the Marshal thought of Victor. But not for a long one. Victor was dead; Victor had been expendable.
He picked up the paper and wrote a name. Then he poured half a glass of wine, for he was frugal. He decided he'd been intelligent.
It was a decision he took more frequently as senility stalked him.
*
In a fine modern hospital in Turin Mary was being wheeled into Rex's room. She was in plaster still but cheerful. They chatted of nothing till the nurse went out, then Rex said happily: 'There've been changes — Sir William telephoned. But they're leaving me at Maldington.'
'I'm glad of that. I've been pushed around plenty, country to country. I didn't want to change again.'
'You'll like it in England? Always?'
'Buy me a grave there.'
'Talking of graves,' he said, 'they're burying Victor tomorrow. Here.'
'Aren't they sending back the body?'
'No. He hadn't kith or kin, you see, and they wouldn't dare ask for him officially.' There was a reflective English silence, then: 'I think I'll send some flowers,' he said.
She stared at him, unbelieving. 'I'll never understand you, Rex.'
'Then we're going to be very happy.'
ALL INSTALLMENTS
***
RADIUM AGE SCIENCE FICTION: "Radium Age" is HILOBROW's name for the 1904–33 era, which saw the discovery of radioactivity, the revelation that matter itself is constantly in movement — a fitting metaphor for the first decades of the 20th century, during which old scientific, religious, political, and social certainties were shattered. This era also saw the publication of genre-shattering writing by Edgar Rice Burroughs, Sax Rohmer, E.E. "Doc" Smith, Jack London, Arthur Conan Doyle, Aldous Huxley, Olaf Stapledon, Karel Čapek, H.P. Lovecraft, Charlotte Perkins Gilman, Yevgeny Zamyatin, Philip Gordon Wylie, and other pioneers of post-Verne/Wells, pre-Golden Age "science fiction." More info here.
READ GORGEOUS PAPERBACKS: HiLoBooks has reissued the following 10 obscure but amazing Radium Age science fiction novels in beautiful print editions: Jack London's The Scarlet Plague, Rudyard Kipling's With the Night Mail (and "As Easy as A.B.C."), Arthur Conan Doyle's The Poison Belt, H. Rider Haggard's When the World Shook, Edward Shanks' The People of the Ruins, William Hope Hodgson's The Night Land, J.D. Beresford's Goslings, E.V. Odle's The Clockwork Man, Cicely Hamilton's Theodore Savage, and Muriel Jaeger's The Man with Six Senses. For more information, visit the HiLoBooks homepage.
SERIALIZED BY HILOBOOKS: Jack London's The Scarlet Plague | Rudyard Kipling's With the Night Mail (and "As Easy as A.B.C.") | Arthur Conan Doyle's The Poison Belt | H. Rider Haggard's When the World Shook | Edward Shanks' The People of the Ruins | William Hope Hodgson's The Night Land | J.D. Beresford's Goslings | E.V. Odle's The Clockwork Man | Cicely Hamilton's Theodore Savage | Muriel Jaeger's The Man With Six Senses | Jack London's "The Red One" | Philip Francis Nowlan's Armageddon 2419 A.D. | Homer Eon Flint's The Devolutionist | W.E.B. DuBois's "The Comet" | Edgar Rice Burroughs's The Moon Men | Charlotte Perkins Gilman's Herland | Sax Rohmer's "The Zayat Kiss" | Eimar O'Duffy's King Goshawk and the Birds | Frances Hodgson Burnett's The Lost Prince | Morley Roberts's The Fugitives | Helen MacInnes's The Unconquerable | Geoffrey Household's Watcher in the Shadows | William Haggard's The High Wire | Hammond Innes's Air Bridge | James Branch Cabell's Jurgen | John Buchan's "No Man's Land" | John Russell's "The Fourth Man" | E.M. Forster's "The Machine Stops" | John Buchan's Huntingtower | Arthur Conan Doyle's When the World Screamed | Victor Bridges' A Rogue By Compulsion | Jack London's The Iron Heel | H. De Vere Stacpoole's The Man Who Lost Himself | P.G. Wodehouse's Leave It to Psmith | Richard Connell's "The Most Dangerous Game" | Houdini and Lovecraft's "Imprisoned with the Pharaohs" | Arthur Conan Doyle's "The Sussex Vampire."
ORIGINAL FICTION: HILOBROW has serialized three novels: James Parker's The Ballad of Cocky The Fox ("a proof-of-concept that serialization can work on the Internet" — The Atlantic); Karinne Keithley Syers's Linda Linda Linda (which includes original music); and Robert Waldron's roman à clef The School on the Fens. We also publish original stories and comics. These include: Matthew Battles's stories "Gita Nova", "Makes the Man," "Imago," "Camera Lucida," "A Simple Message", "Children of the Volcano", "The Gnomon", "Billable Memories", "For Provisional Description of Superficial Features", "The Dogs in the Trees", "The Sovereignties of Invention", and "Survivor: The Island of Dr. Moreau"; several of these later appeared in the collection The Sovereignties of Invention | Peggy Nelson's "Mood Indigo", "Top Kill Fail", and "Mercerism" | Annalee Newitz's "The Great Oxygen Race" | Flourish Klink's Star Trek fanfic "Conference Comms" | Charlie Mitchell's "A Fantasy Land" | Charlie Mitchell's "Sentinels" | Joshua Glenn's "The Lawless One", and the mashup story "Zarathustra vs. Swamp Thing" | Adam McGovern and Paolo Leandri's Idoru Jones comics | John Holbo's "Sugarplum Squeampunk" | "Another Corporate Death" (1) and "Another Corporate Death" (2) by Mike Fleisch | Kathryn Kuitenbrouwer and Frank Fiorentino's graphic novel "The Song of Otto" (excerpt) | John Holbo's graphic novel On Beyond Zarathustra (excerpt) | "Manoj" and "Josh" by Vijay Balakrishnan | "Verge" by Chris Rossi, and his audio novel Low Priority Hero | EPIC WINS: THE ILIAD (1.408-415) by Flourish Klink | EPIC WINS: THE KALEVALA (3.1-278) by James Parker | EPIC WINS: THE ARGONAUTICA (2.815-834) by Joshua Glenn | EPIC WINS: THE MYTH OF THE ELK by Matthew Battles | TROUBLED SUPERHUMAN CONTEST: Charles Pappas, "The Law" | CATASTROPHE CONTEST: Timothy Raymond, "Hem and the Flood" | TELEPATHY CONTEST: Rachel Ellis Adams, "Fatima, Can You Hear Me?" | OIL SPILL CONTEST: A.E. Smith, "Sound Thinking | LITTLE NEMO CAPTION CONTEST: Joe Lyons, "Necronomicon" | SPOOKY-KOOKY CONTEST: Tucker Cummings, "Well Marbled" | INVENT-A-HERO CONTEST: TG Gibbon, "The Firefly" | FANFICTION CONTEST: Lyette Mercier's "Sex and the Single Superhero"