The High Wire (14)
By: William Haggard
February 2, 2015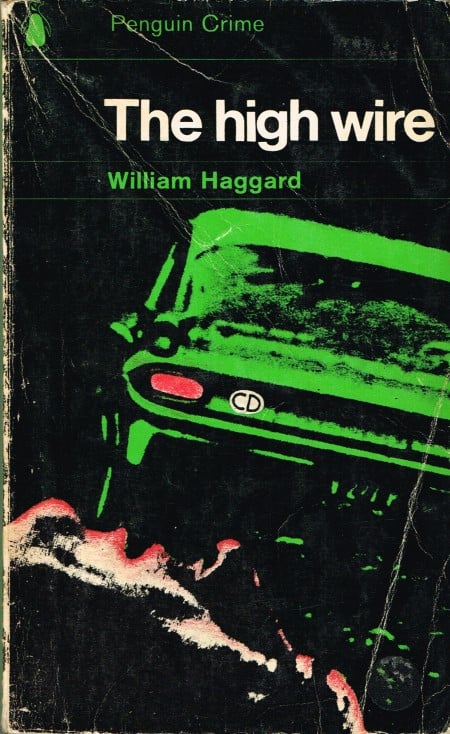 HiLoBooks is pleased to serialize William Haggard's 1963 novel The High Wire, the fifth title in his acclaimed Col. Charles Russell espionage adventure series — which, at the time, was considered by critics (if not the general public) superior to Ian Fleming's Bond series. "Haggard lacked Fleming's snooty dilettantism, and was better at creating subtle layers of political intrigue," Christopher Fowler has written. "Haggard treats his women with more respect, too. They are investigators and heroines with lives of their own. As for exoticism, try Haggard's character Miss Borrodaile, the elegant, black-clad, former French Resistance fighter with a steel foot." Under the editorship of HILOBROW's Joshua Glenn, the Save the Adventure book club will reissue The High Wire as an e-book for the first time ever. Enjoy!
ALL INSTALLMENTS
***
Chapter 14
Robert Mortimer had enjoyed his supper and had almost finished it. He had been thinking about Maraldi but not too hard, since to think about Maraldi wasn't fruitful. Undeniably he had done everything which Robert would have done himself, and undeniably this was his own territory, not Robert's. It was unfair to be influenced by a certain Latin airiness, unjustified to worry that perhaps….
Robert saw that a man was unexpectedly standing by his table. The man bowed politely, said with some formality, allowing himself the possibility of a retreat: 'My name is de Fleury and we met at London Airport. I should like to recall myself.'
It was a maxim in the Executive that over-subtlety was stupid. Robert accepted it gladly, for he didn't feel happy in verbal sparring, with foreigners especially. He left that to Russell. Now he said truthfully: 'I didn't think you wanted to be recognized. Won't you sit down?'
De Fleury did so, glancing round the dining-room. By now it was almost empty. In a voice neither loud nor soft he said: 'We've an interest in common or I wouldn't be intruding.'
'Yes?'
' It's a man called Victor, and I didn't know he was here.' De Fleury was observant and he saw Robert's face change: 'I've no right you should trust me but I hope that you will. A little, that is. I shan't make sense otherwise.'
'Let's begin on the hypothesis that you didn't know Victor was here.' Robert Mortimer was a cautious man.
"Thank you. So I'll tell you something else, though I dare say you know it already. I no longer work for Victor. I owe him no loyalty — if anything, to the contrary.'
'We did guess that.'
'So I'm a blackmailer out of a job, and Sestriere is a natural for a blackmailer. I had a little money saved, enough to stake me, and if I didn't touch here I was moving to San Remo in the spring. And I was booked to come back here — that could be verified.'
'It has.'
De Fleury smiled. 'You're thorough,' he said.
'We do what's obvious. Often it's all we can.'
'Then I'd like you to believe one thing, though I'm afraid it isn't obvious at all. I'm not a murderer. I went to London as Victor's agent, and I went because I had to. I was to obtain information from Rex Hadley by means which you now know about. I failed. It wasn't a creditable plan but it had nothing to do with kidnapping, nor the cold-blooded murder of innocent men.' De Fleury straightened suddenly. 'I'd like you to believe me.'
'I don't say I disbelieve you.'
'Then tell me why Victor is here.'
Robert said mildly: 'You're asking me?'
'I am.'
'I only know Hadley's here too.'
'And so is Miss Francom. Hadley's a man I once tried to blackmail. I've never been emotionally involved with him. But Miss Francom….' de Fleury hesitated, seemed to change his mind. 'Mary,' he said, and stopped.
There was a considerable silence whilst both men thought. Robert was thinking that the Victors were the bread and butter of a security officer's life — his own, Maraldi's, that of a hundred others. But the de Fleurys were something different. Robert had gifts, but he knew that imagination wasn't one of them. Normally its absence didn't worry him, but now he felt a need of it. He looked at de Fleury, trying to read him, failing.
De Fleury was a criminal — it was better to stick to that.
But he was speaking again, saying rather stiffly: 'I was attached to Miss Francom and that is an obligation. If Victor should harm either of them….' He rose unexpectedly, clearly on edge. 'I'm a man without honour but I'm not a dishonoured man.'
He walked away.
Robert finished his fruit. The remark had struck him as in very bad taste, the sort of thing only a foreigner would say. Maybe. And he wasn't a foreigner but a conscientious British security officer aware of his limitations. The paradox had been meaningless but it would be stupid to assume that it hadn't been important to de Fleury.
Robert Mortimer sighed. He was out of his depth with scoundrels with a sense of obligation.
*
He was woken next morning by Aunt Anna's single maid. She brought with her a smile, an undrinkable cup of tea made as a concession to an incomprehensible addiction, and the news that a Signor Maraldi was awaiting him downstairs.
'Please ask him up.'
Mortimer had discreetly disposed of the tea in the washbasin and was shaving as Maraldi came in. Maraldi was in splendid form. He said at once: 'I have very good news — but excellent. Victor has left us.'
Robert considered it. 'And when did he go?'
'Late last night. As it happened he was one jump ahead of us. A message came through from Rome for me, and we were going to pick him up a little later when we could have done it with the minimum of people noticing.'
'You think there was a leak?'
'It's possible.' Maraldi shrugged. 'I told you the second porter at the Vallata was one of Victor's men, and the porter has a brother in the telephone exchange. I've been wondering about that brother and now I'll go after him. Not that it matters at the moment. If the wretched man leaked, then in this case he obliged us.' Maraldi was clearly pleased; he didn't rub his hands since that wasn't a Latin gesture, but it was Robert's impression that he would have done so if he had been English. He went on buoyantly: 'So that, I suggest, is that. But I hope you won't leave us just yet. This is a very pleasant place when you're not on some tiresome job.' Maraldi grinned. 'A pro-posito, how's the skating?'
'I found I could still stand up.'
'Good. Then have lunch with me at the Vallata. A modest celebration.'
'It's a date.'
Maraldi waved gaily and left, and Robert finished dressing. He went downstairs and booked a call to London. It would be an open line, but he didn't have access to another except through Maraldi, and it was Maraldi he wanted to discuss with Russell. In any case, he told himself, smiling a little wryly, any telephone seemed to be suspect. He found that the delay would be less than he had expected and sat down to wait quietly.
Twenty minutes later Charles Russell was saying: 'Yes?'
'It's an open line, sir, but I'll have to risk it.'
'Right.'
'A certain party has left here.'
'Excellent news. And now?'
'It's the now I'm not too happy about. My good friend here is competent, but he's apt to swing high, swing low.'
'You mean he'll relax? Too much, perhaps. He'll let everything go by the board?'
Robert said deliberately: 'There are a good many men involved and no doubt they'll have other commitments. And the powers-that-be aren't generous. Spend a lira too much and you get dropped on.'
'I take your point.'
There was a silence, and Robert had to ask: 'Are you still there, sir?'
'I am. We'll have to chance this line a bit. Now tell me this. A principal has left the stage. What did he leave behind him as supporting cast?'
'Nothing of consequence, and nothing rough. He had an ear in the hotel where he was staying, and there's some sort of electrician, though he hasn't been active for years.'
'You accept that as correct?'
'Unhesitatingly. At that sort of thing my friend's first class.'
'Could anyone new get into the act?'
'He could if they took the doormen off.'
'Which you fear they may do?'
'Well….'
There was another long silence before Russell spoke again. 'And the happy couple we've also an interest in? They know nothing of this, I take it? They're with you still?'
"They are.'
Russell said promptly: "Then stay till they leave.'
He was gone.
Robert hung up; he wanted to think, to get it on paper as Russell had taught him. He never did. De Fleury was walking up to him, taut as a wire. Without preliminary courtesies he said: 'Victor has left Sestriere.'
'I know. How did you?' Robert, surprised, was a little short.
'It wasn't difficult to find out. We spoke of this before, and I told you I was worried. Frankly, I've been taking an interest in him.' De Fleury smiled. 'In an amateur sort of way, of course. You're a professional.'
'You must know I'm not the only one.'
'I guessed it, and that's what troubles me. If we're talking about your colleagues here…. Victor has gone and it all looks good.' De Fleury hesitated, finally said slowly: 'It might look too good. Too neat — too final.'
Robert thought it over for he had a difficult decision. He could smile politely and walk away, but a hunch constrained him. He was impressed that de Fleury's instinct wasn't different from his own: there were possibilities of an alliance with a man who feared as he did, and an alliance wasn't something to be lightly repulsed. On the other hand he couldn't see what alliance. De Fleury was a blackmailer, by all accounts a good one, but against the possibility that Victor might not have thrown his hand in the peculiar skills of an extortioner weren't obviously useful. Now if de Fleury had been a tough…. Robert could have used an experienced tough.
All too evidently he was not. Robert said in compromise: 'I expect you saw me telephoning, and I was talking to my boss. He told me to stay here till Hadley and Miss Francom left.'
'I'm delighted to hear it. Delighted.'
'Not that I really think…. For what I'm worth you could call it an insurance.'
'We'll call you an insurance then. And I'm staying myself and you can call that what you like. I have motive as I hinted, but I doubt if you'll find a word for it.' De Fleury smiled again and turned.
Robert shrugged irritably. He was an experienced security officer with years of precedent to guide him. But Francis de Fleury hadn't a precedent. Experience suggested that Maraldi might relax too much, and Russell, even more experienced, had just thought the same. But Francis de Fleury….
Robert decided that he could use a drink: dealing with de Fleury he had earned one. The man was a common criminal and an agent who had failed. He'd been living with Mary Francom who in turn had been Robert's agent. She'd taken him for a ride at that, she'd made him look a fool. Yet he was worrying about her openly, staying on in Sestriere, babbling about his honour in his sweat-making foreign way, hinting at private motive, obligations…. Major Mortimer snorted.
NEXT INSTALLMENT | ALL INSTALLMENTS SO FAR
***
RADIUM AGE SCIENCE FICTION: "Radium Age" is HILOBROW's name for the 1904–33 era, which saw the discovery of radioactivity, the revelation that matter itself is constantly in movement — a fitting metaphor for the first decades of the 20th century, during which old scientific, religious, political, and social certainties were shattered. This era also saw the publication of genre-shattering writing by Edgar Rice Burroughs, Sax Rohmer, E.E. "Doc" Smith, Jack London, Arthur Conan Doyle, Aldous Huxley, Olaf Stapledon, Karel Čapek, H.P. Lovecraft, Charlotte Perkins Gilman, Yevgeny Zamyatin, Philip Gordon Wylie, and other pioneers of post-Verne/Wells, pre-Golden Age "science fiction." More info here.
READ GORGEOUS PAPERBACKS: HiLoBooks has reissued the following 10 obscure but amazing Radium Age science fiction novels in beautiful print editions: Jack London's The Scarlet Plague, Rudyard Kipling's With the Night Mail (and "As Easy as A.B.C."), Arthur Conan Doyle's The Poison Belt, H. Rider Haggard's When the World Shook, Edward Shanks' The People of the Ruins, William Hope Hodgson's The Night Land, J.D. Beresford's Goslings, E.V. Odle's The Clockwork Man, Cicely Hamilton's Theodore Savage, and Muriel Jaeger's The Man with Six Senses. For more information, visit the HiLoBooks homepage.
SERIALIZED BY HILOBOOKS: Jack London's The Scarlet Plague | Rudyard Kipling's With the Night Mail (and "As Easy as A.B.C.") | Arthur Conan Doyle's The Poison Belt | H. Rider Haggard's When the World Shook | Edward Shanks' The People of the Ruins | William Hope Hodgson's The Night Land | J.D. Beresford's Goslings | E.V. Odle's The Clockwork Man | Cicely Hamilton's Theodore Savage | Muriel Jaeger's The Man With Six Senses | Jack London's "The Red One" | Philip Francis Nowlan's Armageddon 2419 A.D. | Homer Eon Flint's The Devolutionist | W.E.B. DuBois's "The Comet" | Edgar Rice Burroughs's The Moon Men | Charlotte Perkins Gilman's Herland | Sax Rohmer's "The Zayat Kiss" | Eimar O'Duffy's King Goshawk and the Birds | Frances Hodgson Burnett's The Lost Prince | Morley Roberts's The Fugitives | Helen MacInnes's The Unconquerable | Geoffrey Household's Watcher in the Shadows | William Haggard's The High Wire | Hammond Innes's Air Bridge | James Branch Cabell's Jurgen | John Buchan's "No Man's Land" | John Russell's "The Fourth Man" | E.M. Forster's "The Machine Stops" | John Buchan's Huntingtower | Arthur Conan Doyle's When the World Screamed | Victor Bridges' A Rogue By Compulsion | Jack London's The Iron Heel | H. De Vere Stacpoole's The Man Who Lost Himself | P.G. Wodehouse's Leave It to Psmith | Richard Connell's "The Most Dangerous Game" | Houdini and Lovecraft's "Imprisoned with the Pharaohs" | Arthur Conan Doyle's "The Sussex Vampire."
ORIGINAL FICTION: HILOBROW has serialized three novels: James Parker's The Ballad of Cocky The Fox ("a proof-of-concept that serialization can work on the Internet" — The Atlantic); Karinne Keithley Syers's Linda Linda Linda (which includes original music); and Robert Waldron's roman à clef The School on the Fens. We also publish original stories and comics. These include: Matthew Battles's stories "Gita Nova", "Makes the Man," "Imago," "Camera Lucida," "A Simple Message", "Children of the Volcano", "The Gnomon", "Billable Memories", "For Provisional Description of Superficial Features", "The Dogs in the Trees", "The Sovereignties of Invention", and "Survivor: The Island of Dr. Moreau"; several of these later appeared in the collection The Sovereignties of Invention | Peggy Nelson's "Mood Indigo", "Top Kill Fail", and "Mercerism" | Annalee Newitz's "The Great Oxygen Race" | Flourish Klink's Star Trek fanfic "Conference Comms" | Charlie Mitchell's "A Fantasy Land" | Charlie Mitchell's "Sentinels" | Joshua Glenn's "The Lawless One", and the mashup story "Zarathustra vs. Swamp Thing" | Adam McGovern and Paolo Leandri's Idoru Jones comics | John Holbo's "Sugarplum Squeampunk" | "Another Corporate Death" (1) and "Another Corporate Death" (2) by Mike Fleisch | Kathryn Kuitenbrouwer and Frank Fiorentino's graphic novel "The Song of Otto" (excerpt) | John Holbo's graphic novel On Beyond Zarathustra (excerpt) | "Manoj" and "Josh" by Vijay Balakrishnan | "Verge" by Chris Rossi, and his audio novel Low Priority Hero | EPIC WINS: THE ILIAD (1.408-415) by Flourish Klink | EPIC WINS: THE KALEVALA (3.1-278) by James Parker | EPIC WINS: THE ARGONAUTICA (2.815-834) by Joshua Glenn | EPIC WINS: THE MYTH OF THE ELK by Matthew Battles | TROUBLED SUPERHUMAN CONTEST: Charles Pappas, "The Law" | CATASTROPHE CONTEST: Timothy Raymond, "Hem and the Flood" | TELEPATHY CONTEST: Rachel Ellis Adams, "Fatima, Can You Hear Me?" | OIL SPILL CONTEST: A.E. Smith, "Sound Thinking | LITTLE NEMO CAPTION CONTEST: Joe Lyons, "Necronomicon" | SPOOKY-KOOKY CONTEST: Tucker Cummings, "Well Marbled" | INVENT-A-HERO CONTEST: TG Gibbon, "The Firefly" | FANFICTION CONTEST: Lyette Mercier's "Sex and the Single Superhero"