King Goshawk (39)
By: Eimar O'Duffy
September 23, 2014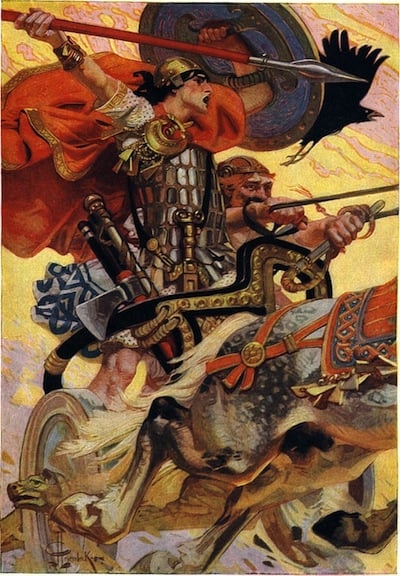 The 1926 satirical sf novel King Goshawk and the Birds, by Irish playwright and novelist Eimar O'Duffy, is set in a future world devastated by progress. When King Goshawk, the supreme ruler among a caste of "king capitalists," buys up all the wildflowers and songbirds, an aghast Dublin philosopher travels via the astral plane to Tír na nÓg. First the mythical Irish hero Cúchulainn, then his son Cuanduine, travel to Earth in order to combat the king capitalists. Thirty-five years before the hero of Robert Heinlein's Stranger in a Strange Land, these well-meaning aliens discover that cultural forms and norms are the most effective barrier to social or economic revolution.
HILOBROW is pleased to serialize King Goshawk and the Birds, which has long been out of print, in its entirety. A new installment will appear each week.
ALL INSTALLMENTS SO FAR
***
BOOK III: THE TRAVELS OF CUANDUINE
Chapter 13: How Cuanduine put his Foot in it
You will be relieved, virtuous reader, if from these wicked and licentious scenes I conduct you to the chamber within whose chaste seclusion the Lady Cumbersome is being habited for Ascot by her tirewomen. Five deft and tactful damsels were these. First they put on her a marvellous fine chemise of triple ninon, soft and pink as rose petals, and edged with lace. Then they drew over her noble thighs a pair of knickers of the same texture. Very fair and costly were these garments: a common fellow like you or me could keep himself and his family for a month on the price of them. Next they packed my Lady's noble figure into a goodly corset, and on her legs they put stockings of smooth spun silk. Poet never got as much for a lyric as the hosier got for those stockings. Afterwards they put on her a petticoat of swishing taffety that a worker might toil six weeks to pay for, and shoes on her feet that would keep him in comfort for a fortnight. Over all they put her gown, which I will not describe further than to say that I could live for two years on the money she paid for it, and so could any but the Devil's children. Come, let us drink, not forgetting that this excellent liquor, this Guinness, that warms the heart with the love of both God and man, is yet cheaper than my Lady's shoelace.
Forth then steps my Lady thus elegantly caparisoned, with a jewel or two added, and a hat proportionate to her frock; and is conveyed to Ascot, there to coruscate with others as richly apparelled under the benison of a June-day sun. The newspapers of the time say it was an historic Ascot, and the scene in the Royal Enclosure the most brilliant on record. There sat King Goshawk on his royal seat, and Queen Guzzelinda beside him. The two Oil Kings were there, the Banana King, a Tea King, and a Cotton King, each with his family; the King of England and his family; above three hundred and fifty monopolists; and a few determined members of the aristocracy — these, for the most part, carrying what little was left of their estates on their backs. Very dazzling was the play of colour, and bizarre and striking the shapes of frock and hat and parasol that were there on view. There was but one feature to mar the general radiance. "It was observed," said the newspapers next day, "that the Queen of England wore a dress that had already done duty on a previous occasion, and this breach of etiquette did not escape the notice of the Wheat Queen. Queen Lindy is unbending in all matters of decorum, and nobody will be surprised if the Englands' name does not appear on next year's invitation list to the enclosure."
But in the general brilliance Queen Henrietta's unfortunate gown was but as a fly-blow on the crystal mirror of a millionairess; and the papers all agreed that it was the most brilliant Ascot on record. The Less Rich, from their part of the course, watched all this grandeur through their field-glasses, with the thin acid saliva of envy dribbling on to their waistcoats and blouses. In like manner the Merely Rich stared at the Less Rich; and on the other side of the course the ordinary folk gave anxious ear to the tipsters advising them, for a consideration, how to Become Rich.
At last came the moment for the great event of the day, the race for the Gold Cup, and the stewards went around examining each horse (as had been the custom ever since that infamous and historic Derby) to see that none of them was a rejuvenescence of the Fuhzler process. While they were engaged in this scrutiny, a swelling murmur and a cry broke from the crowd, as a great black horse, with Cuanduine on its back, came trotting over the heath, and leaped the railings on to the course. Some of the people, and a policeman here and there, made essay to stop him, but fell back blasted by the light in the hero's eyes. Urging his horse to a gallop, he thundered along the course to where King Goshawk sat somnolent beside his Queen in the Royal Stand. Then, reining in, he stood erect in his stirrups, and cried out in a loud voice that was heard by every ear in the vast multitude that was now swarming to the rails and over them to see what was towards:
"Goshawk, give us back our birds and flowers."
You would have thought that at this war-cry a shout would have pealed from ten thousand throats, and that the tyrant would have cowered at the sight of Liberty in her Red Cap sprung full grown from the breasts of the people of England: at least I, a barbarous Irishman, would have thought so. But what fools we Gaels do be. There was no shout: only an embarrassed silence. Then the three hundred and fifty monopolists and their wives in the Royal Enclosure sniffed contemptuously in unison, and immediately afterwards the democracy outside called out in one voice: "Cheese it, Paddy. Get off the course."
Cuanduine looked at King Goshawk, who was too full of lunch to move; then at the monopolists and their ladies, who smiled uppishly; then at the democracy, who repeated their request; then at the police, who were advancing towards him, but were brought to a stand by his gaze. Then he gave another look at Goshawk, and "Long life to your Majesty," said he, and rode from the field, shouting with laughter.
You may guess that Cuanduine's goose was well cooked from that hour. Was he not a bounder and a low fellow and a spoil-sport and a kill-joy and no gentleman and no sportsman and a rotter and a cad and a general outsider to introduce politics and things like that into a race meeting? That sort of thing isn't done, you know. There was nothing for it but to cut the fellow. In the then unsatisfactory state of the law there was no statute under which he could be indicted, as it had not yet been made treason to annoy a millionaire. But social practice was as usual in advance of constitutional forms. Cuanduine was frozen out of England.
NEXT INSTALLMENT | ALL INSTALLMENTS SO FAR
***
RADIUM AGE SCIENCE FICTION: "Radium Age" is HILOBROW's name for the 1904–33 era, which saw the discovery of radioactivity, the revelation that matter itself is constantly in movement — a fitting metaphor for the first decades of the 20th century, during which old scientific, religious, political, and social certainties were shattered. This era also saw the publication of genre-shattering writing by Edgar Rice Burroughs, Sax Rohmer, E.E. "Doc" Smith, Jack London, Arthur Conan Doyle, Aldous Huxley, Olaf Stapledon, Karel Čapek, H.P. Lovecraft, Charlotte Perkins Gilman, Yevgeny Zamyatin, Philip Gordon Wylie, and other pioneers of post-Verne/Wells, pre-Golden Age "science fiction." More info here.
READ GORGEOUS PAPERBACKS: HiLoBooks has reissued the following 10 obscure but amazing Radium Age science fiction novels in beautiful print editions: Jack London's The Scarlet Plague, Rudyard Kipling's With the Night Mail (and "As Easy as A.B.C."), Arthur Conan Doyle's The Poison Belt, H. Rider Haggard's When the World Shook, Edward Shanks' The People of the Ruins, William Hope Hodgson's The Night Land, J.D. Beresford's Goslings, E.V. Odle's The Clockwork Man, Cicely Hamilton's Theodore Savage, and Muriel Jaeger's The Man with Six Senses. For more information, visit the HiLoBooks homepage.
SERIALIZED BY HILOBOOKS: Jack London's The Scarlet Plague | Rudyard Kipling's With the Night Mail (and "As Easy as A.B.C.") | Arthur Conan Doyle's The Poison Belt | H. Rider Haggard's When the World Shook | Edward Shanks' The People of the Ruins | William Hope Hodgson's The Night Land | J.D. Beresford's Goslings | E.V. Odle's The Clockwork Man | Cicely Hamilton's Theodore Savage | Muriel Jaeger's The Man With Six Senses | Jack London's "The Red One" | Philip Francis Nowlan's Armageddon 2419 A.D. | Homer Eon Flint's The Devolutionist | W.E.B. DuBois's "The Comet" | Edgar Rice Burroughs's The Moon Men | Charlotte Perkins Gilman's Herland | Sax Rohmer's "The Zayat Kiss" | Eimar O'Duffy's King Goshawk and the Birds | Frances Hodgson Burnett's The Lost Prince | Morley Roberts's The Fugitives | Helen MacInnes's The Unconquerable | Geoffrey Household's Watcher in the Shadows | William Haggard's The High Wire | Hammond Innes's Air Bridge | James Branch Cabell's Jurgen | John Buchan's "No Man's Land" | John Russell's "The Fourth Man" | E.M. Forster's "The Machine Stops" | John Buchan's Huntingtower | Arthur Conan Doyle's When the World Screamed | Victor Bridges' A Rogue By Compulsion | Jack London's The Iron Heel | H. De Vere Stacpoole's The Man Who Lost Himself | P.G. Wodehouse's Leave It to Psmith | Richard Connell's "The Most Dangerous Game" | Houdini and Lovecraft's "Imprisoned with the Pharaohs" | Arthur Conan Doyle's "The Sussex Vampire."
ORIGINAL FICTION: HILOBROW has serialized three novels: James Parker's The Ballad of Cocky The Fox ("a proof-of-concept that serialization can work on the Internet" — The Atlantic); Karinne Keithley Syers's Linda Linda Linda (which includes original music); and Robert Waldron's roman à clef The School on the Fens. We also publish original stories and comics. These include: Matthew Battles's stories "Gita Nova", "Makes the Man," "Imago," "Camera Lucida," "A Simple Message", "Children of the Volcano", "The Gnomon", "Billable Memories", "For Provisional Description of Superficial Features", "The Dogs in the Trees", "The Sovereignties of Invention", and "Survivor: The Island of Dr. Moreau"; several of these later appeared in the collection The Sovereignties of Invention | Peggy Nelson's "Mood Indigo", "Top Kill Fail", and "Mercerism" | Annalee Newitz's "The Great Oxygen Race" | Flourish Klink's Star Trek fanfic "Conference Comms" | Charlie Mitchell's "A Fantasy Land" | Charlie Mitchell's "Sentinels" | Joshua Glenn's "The Lawless One", and the mashup story "Zarathustra vs. Swamp Thing" | Adam McGovern and Paolo Leandri's Idoru Jones comics | John Holbo's "Sugarplum Squeampunk" | "Another Corporate Death" (1) and "Another Corporate Death" (2) by Mike Fleisch | Kathryn Kuitenbrouwer and Frank Fiorentino's graphic novel "The Song of Otto" (excerpt) | John Holbo's graphic novel On Beyond Zarathustra (excerpt) | "Manoj" and "Josh" by Vijay Balakrishnan | "Verge" by Chris Rossi, and his audio novel Low Priority Hero | EPIC WINS: THE ILIAD (1.408-415) by Flourish Klink | EPIC WINS: THE KALEVALA (3.1-278) by James Parker | EPIC WINS: THE ARGONAUTICA (2.815-834) by Joshua Glenn | EPIC WINS: THE MYTH OF THE ELK by Matthew Battles | TROUBLED SUPERHUMAN CONTEST: Charles Pappas, "The Law" | CATASTROPHE CONTEST: Timothy Raymond, "Hem and the Flood" | TELEPATHY CONTEST: Rachel Ellis Adams, "Fatima, Can You Hear Me?" | OIL SPILL CONTEST: A.E. Smith, "Sound Thinking | LITTLE NEMO CAPTION CONTEST: Joe Lyons, "Necronomicon" | SPOOKY-KOOKY CONTEST: Tucker Cummings, "Well Marbled" | INVENT-A-HERO CONTEST: TG Gibbon, "The Firefly" | FANFICTION CONTEST: Lyette Mercier's "Sex and the Single Superhero"