The Devolutionist (7)
By: Homer Eon Flint
April 4, 2013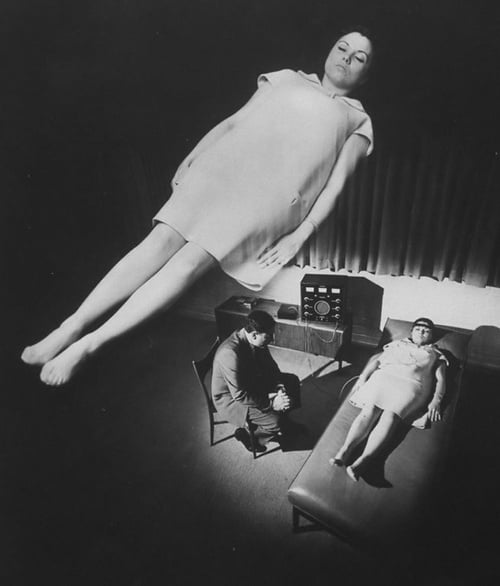 HILOBROW is pleased to present the seventh installment of our serialization of Homer Eon Flint's The Devolutionist. New installments will appear each Thursday for eighteen weeks.
"The Devolutionist" (Argosy All-Story Weekly, July 1921) is the third occult-science-fiction Dr. Kinney story; the others are "The Lord of Death" (June 1919), "The Queen of Life" (August 1919), and "The Emancipatrix" (September 1921). Having learned how to visit other worlds telepathically, without leaving Earth — by means of Venusian technology — Dr. Kinney and his companions enter the minds and share the sensations of the inhabitants of a human-like civilization on other planets. In this story, they visit a double planet: Hafen is the abode of capitalists, Holl of workers. A nearby planet of "cooperative democrats" is in trouble, so Kinney & co. step in.
Cobbler and one-reeler writer Homer Eon Flint (1888–1924) published a number of pulp science fiction stories — including "The Planeteer" (1918; one of the earliest examples of cosmic sci-fi) and The Blind Spot (1921, with Austin Hall) — during the genre's Radium Age. Everett Bleiler's Science Fiction: The Early Years calls Flint "in many ways the outstanding writer of s-f in the Munsey pulp magazines." Flint died in a crash near Oakland, Calif., after supposedly stealing a taxi at gunpoint in order to use it in a bank hold-up.
SUBSCRIBE to HILOBROW's serialized fiction via RSS.
ALL EXCERPTS: 1 | 2 | 3 | 4 | 5 | 6 | 7 | 8 | 9 | 10 | 11 | 12 | 13 | 14 | 15 |16 | 17 | 18
***

VII
A WORLD BECALMED
"I think we have learned enough to form some general conclusions," said the doctor, after the four had told what each had heard and seen. "Van Emmon's friend, Powart, seems to be anything but a democrat. He probably represents the most aristocratic element on the planet; while this man Fort, who rescued the girl, is also probably a member of the leisure class.
"On the other hand, we have Smith's agent, whose name we do not know; he seems to be one of the working class, which Powart despises. The two are at opposite ends of the social scale. Young Ernol, whose father is in trouble, appears to be a rising young revolutionist.
"But Mona — to use the name Powart gave his fiancee —Billie's surgeon — the girl whose life Fort saved — she is not so easy to classify. On the earth we would call her occupation a middle-class one; but that remark she made about people being cattle gives me the impression that she is an aristocrat at heart. I call her a mystery, for the time being.
"As for the planet itself — of course, the people simply refer to it as the earth, or some term which translates that way to us. We need a name for it. What shall we call her — this daughter of Capella's?"
"Capellette," from Billie promptly.
"Fine!" The other two looked their approval. "Now, we are ready to analyze things. What shall we say of her people in general?"
"Speaking for my surgeon," observed Billie, "doesn't she argue a rather high degree of development?"
The others were plainly willing for the doctor to take the lead. He rubbed his knuckles harder than ever as he considered Billie's suggestion.
"A higher degree of development? H-m! Not easy to say. Safer to assume that the development is higher in spots, not in general. Perhaps we'll do well to consider other things first.
"Take those two clocks, for instance. The one that I saw had a pendulum of ordinary length, which vibrated twice as fast as that"— indicating an astronomical clock at his side. "What about the time-piece you saw, Van?"
"Twenty-five-hour dial, and a pendulum of the usual length, same as yours. But — it vibrated no faster than any I ever saw before."
"You're sure?" At the emphatic nod the doctor frowned. "We are forced to conclude that Capellette is not as round as our earth. No other way to account for such a difference in gravitation as the two clocks indicate. Roughly, I should say that the planet's diameter, at the place where I saw the clock, is fifty per cent greater than at the point where Van's agent is located; maybe ten thousand miles in its greatest diameter, Capellette.
"Having greater gravitation would explain why that disabled aircraft which Smith saw fell so very slowly; the planet has much more air than the earth, which means far greater density near the surface. It also explains those big sailing cruisers; nothing else can.
"At any rate, we can guess why we have seen no surface travel. The people of Capellette never tried to work out such a thing as an automobile; why should they, with the birds to imitate, and extra dense air all about them?
"I think we have found the key." The doctor cogitated for a second or two.
"However, let's consider that schoolroom a bit. It was in no way different from what you will find on the earth right now. Why?"
Smith had a notion. "There is such a thing as perfection. Like some electrical apparatus; you simply can't improve them."
"Sounds reasonable," from Van Emmon.
"Yes. And that is undoubtedly how the Capellettes look at the matter.
"Why haven't they got talking-pictures? Because they've perfected the silent variety, of course. Why don't they reform their ways of living, instead of replacing a worn-out heart with a new one? They've perfected surgery, that's why! And why haven't they tried the screw-propeller? They've perfected the bird-wing principle!"
"But that doesn't explain," objected Billie, "why they've been content with an autocratic system of government."
Van Emmon considered this a dig at Powart. "Why, of course their government is autocratic, dear! How else can it be protective?"
"You seem to have a lot of admiration for your Mr. Powart," laying her hand on his.
"I have. He and the others seem to be highly capable fellows, who have undertaken to maintain happiness, and have made good."
"But without the direct consent of the people."
"What of that?" warmly. "Most folks don't care to burden their heads with law-making, anyhow. They'd rather leave it up to specialists."
"Who are only too willing, my dear, to handle the matter — at their own price!"
The doctor put in hastily: "From what you tell me, Van, this commission determines the living conditions for the majority, although it has no popular authority whatever. Moreover, conditions are no better than they were a hundred years ago. There's been no progress. Powart admits that.
"Now, placing that fact alongside the rest, I reach this conclusion: that the people of Capallette, no matter what may have been their experience in the past, do not now care for revolutionary ideas. They want standardization, not change.
"It all roots back in that extra dense air of theirs. See why?"
Apparently the three did not. The doctor explained: "Life is much easier for them than for us. It is no great struggle to gain a livelihood where transportation is so easy and simple. In consequence of this their advancement was much more rapid than ours here on the earth, up to a certain point; and they've reached that point already.
"Coming back to that commission again: instead of trying out a democratic form of government, in which every citizen would be equally responsible regardless of property — they've standardized the protective, paternalistic principle."
"Which is precisely the correct method!" insisted the geologist. "Radical changes of any kind are always dangerous. The only safe method is to improve what we already have."
"Suppose," remarked Billie —"suppose government becomes so thoroughly standardized that it can't be improved further?"
"Then it becomes permanent."
"If it isn't overthrown."
The doctor smilingly interposed. "Let me finish and get this out of my system. By their own confession, the commission's chief function is to keep the majority in ignorance, which is said to be the same thing as bliss. This man Ernol and his pitiful rebellion only serve to prove the rule.
"In a word, the Capellans have carried the principle of improvement, as opposed to reform, to its logical conclusion. They can go no further."
"And why not?" challenged Van Emmon. "Because the fittest have survived, on Capellette as elsewhere. These commissioners are the fittest."
The doctor nodded gravely. "True enough, Van. But the point I want to make is, the commissioners have put an end to the processes of evolution. They won't allow progress. They stopped all that a century ago.
"Friend, Capellette is a world that has given up. It has quit!"
***
RADIUM AGE SCIENCE FICTION: "Radium Age" is HILOBROW's name for the 1904–33 era, which saw the discovery of radioactivity, the revelation that matter itself is constantly in movement — a fitting metaphor for the first decades of the 20th century, during which old scientific, religious, political, and social certainties were shattered. This era also saw the publication of genre-shattering writing by Edgar Rice Burroughs, Sax Rohmer, E.E. "Doc" Smith, Jack London, Arthur Conan Doyle, Aldous Huxley, Olaf Stapledon, Karel Čapek, H.P. Lovecraft, Charlotte Perkins Gilman, Yevgeny Zamyatin, Philip Gordon Wylie, and other pioneers of post-Verne/Wells, pre-Golden Age "science fiction."
HILOBOOKS: The mission of HiLoBooks is to serialize novels (both original and reissued) on HiLobrow, and to reissue Radium Age science fiction in beautiful new print editions. The following titles can be read in serial form via HiLobrow.com and/or purchased in gorgeous paperback form online or via your local independent bookstore: Jack London's The Scarlet Plague, Rudyard Kipling's With the Night Mail (and "As Easy as A.B.C."), Arthur Conan Doyle's The Poison Belt, H. Rider Haggard's When the World Shook, Edward Shanks' The People of the Ruins, William Hope Hodgson's The Night Land, J.D. Beresford's Goslings, E.V. Odle's The Clockwork Man, Cicely Hamilton's Theodore Savage, and Muriel Jaeger's The Man with Six Senses. Also serialized on HiLobrow: W.E.B. DuBois's "The Comet", Homer Eon Flint's The Devolutionist, Philip Francis Nowlan's Armageddon — 2419 A.D., Jack London's "The Red One". For more information, visit the HiLoBooks homepage.
ORIGINAL FICTION from HILOBROW: James Parker's swearing-animal fable The Ballad of Cocky The Fox, later published in limited-edition paperback by HiLoBooks; plus: a newsletter, The Sniffer, by Patrick Cates, and further stories: "The Cockarillion") | Karinne Keithley Syers's hollow-earth adventure Linda, later published in limited-edition paperback; plus: ukulele music, and a "Floating Appendix") | Matthew Battles's stories "Gita Nova", "Makes the Man," "Imago," "Camera Lucida," "A Simple Message", "Children of the Volcano", "The Gnomon", "Billable Memories", "For Provisional Description of Superficial Features", "The Dogs in the Trees", "The Sovereignties of Invention", and "Survivor: The Island of Dr. Moreau"; several of these later appeared in the collection The Sovereignties of Invention, published by Red Lemonade | Robert Waldron's high-school campus roman à clef The School on the Fens | Peggy Nelson's "Mood Indigo", "Top Kill Fail", and "Mercerism" | Annalee Newitz's "The Great Oxygen Race" | Flourish Klink's Star Trek fanfic "Conference Comms" | Charlie Mitchell's "A Fantasy Land" | Charlie Mitchell's "Sentinels" | Joshua Glenn's "The Lawless One", and the mashup story "Zarathustra vs. Swamp Thing" | Adam McGovern and Paolo Leandri's Idoru Jones comics | John Holbo's "Sugarplum Squeampunk" | "Another Corporate Death" (1) and "Another Corporate Death" (2) by Mike Fleisch | Kathryn Kuitenbrouwer and Frank Fiorentino's graphic novel "The Song of Otto" (excerpt) | John Holbo's graphic novel On Beyond Zarathustra (excerpt) | "Manoj" and "Josh" by Vijay Balakrishnan | "Verge" by Chris Rossi, and his audio novel Low Priority Hero | EPIC WINS: THE ILIAD (1.408-415) by Flourish Klink | EPIC WINS: THE KALEVALA (3.1-278) by James Parker | EPIC WINS: THE ARGONAUTICA (2.815-834) by Joshua Glenn | EPIC WINS: THE ILIAD by Stephen Burt | EPIC WINS: THE MYTH OF THE ELK by Matthew Battles | EPIC WINS: GOTHAMIAD by Chad Parmenter | TROUBLED SUPERHUMAN CONTEST: Charles Pappas, "The Law" | CATASTROPHE CONTEST: Timothy Raymond, "Hem and the Flood" | TELEPATHY CONTEST: Rachel Ellis Adams, "Fatima, Can You Hear Me?" | OIL SPILL CONTEST: A.E. Smith, "Sound Thinking | LITTLE NEMO CAPTION CONTEST: Joe Lyons, "Necronomicon" | SPOOKY-KOOKY CONTEST: Tucker Cummings, "Well Marbled" | INVENT-A-HERO CONTEST: TG Gibbon, "The Firefly" | FANFICTION CONTEST: Lyette Mercier's "Sex and the Single Superhero"