The Devolutionist (4)
By: Homer Eon Flint
March 14, 2013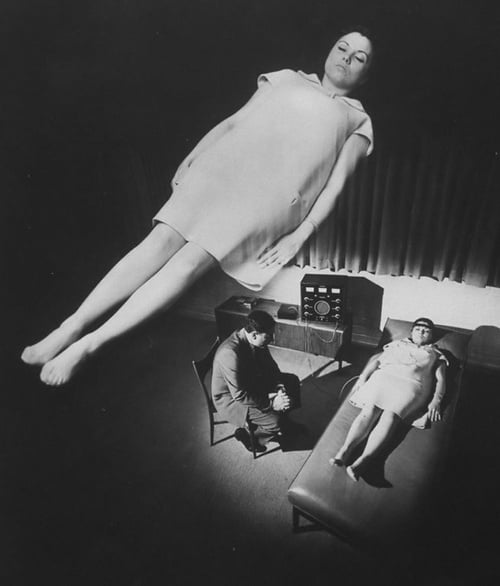 HILOBROW is pleased to present the fourth installment of our serialization of Homer Eon Flint's The Devolutionist. New installments will appear each Thursday for eighteen weeks.
"The Devolutionist" (Argosy All-Story Weekly, July 1921) is the third occult-science-fiction Dr. Kinney story; the others are "The Lord of Death" (June 1919), "The Queen of Life" (August 1919), and "The Emancipatrix" (September 1921). Having learned how to visit other worlds telepathically, without leaving Earth — by means of Venusian technology — Dr. Kinney and his companions enter the minds and share the sensations of the inhabitants of a human-like civilization on other planets. In this story, they visit a double planet: Hafen is the abode of capitalists, Holl of workers. A nearby planet of "cooperative democrats" is in trouble, so Kinney & co. step in.
Cobbler and one-reeler writer Homer Eon Flint (1888–1924) published a number of pulp science fiction stories — including "The Planeteer" (1918; one of the earliest examples of cosmic sci-fi) and The Blind Spot (1921, with Austin Hall) — during the genre's Radium Age. Everett Bleiler's Science Fiction: The Early Years calls Flint "in many ways the outstanding writer of s-f in the Munsey pulp magazines." Flint died in a crash near Oakland, Calif., after supposedly stealing a taxi at gunpoint in order to use it in a bank hold-up.
SUBSCRIBE to HILOBROW's serialized fiction via RSS.
ALL EXCERPTS: 1 | 2 | 3 | 4 | 5 | 6 | 7 | 8 | 9 | 10 | 11 | 12 | 13 | 14 | 15 |16 | 17 | 18
***

IV
NEW HEARTS FOR OLD
Billie's experience was totally different. She found herself transformed into a mental humming-bird.
Her mind seemed to be darting with infinite rapidity, here and there throughout the universe. She got only the most lightninglike glimpse of any one spot; flash after flash of unfamiliar, indescribable situations succeeded each other like the speeded-up scenes of a photoplay farce. For an unguessable length of time this helter-skelter process occupied her mind.
Then there came a scene which stayed. It was dim at first; she was more thoroughly aware of the sound of voices than anything else. Then she saw clearly.
She — that is, her agent — was in some sort of a room, giving instructions to a group of white-clad figures. Before Billie could concentrate upon what was being said the talk ceased; and next moment, amid perfect silence, the agent bent over something which lay on a high table.
Whereupon Billie got a severe jolt. For, unless she was most woefully mistaken, the thing she was now looking at was the unconscious form of a patient; the place was the operating-room of a hospital; and the eyes she was using belonged to a surgeon.
She watched breathlessly. The surgeon's nimble fingers proceeded with the utmost unconcern to open wide the patient's torso. Other pairs of hands, belonging to nurses, aided in this; and Billie found the intricate process decidedly interesting rather than otherwise. Of course she was spared the odor of blood.
As soon as the ribs were entirely displaced, the lungs were carefully laid aside. Extraordinary delicacy seemed called for here. Billie shortly began to wonder if it were not high time to quit when her agent, assisted as before, calmly exposed the patient's heart to full view.
Billie could see it throbbing; more, she could hear it. She watched in wonder for the next step.
They consisted in forcibly untangling the mass of tubes and arteries all about the organ. Presently everything was clear; and then, without delay, the nurses brought forward a strange-looking device.
It was of silver, shaped like a flattened egg, and a trifle smaller than that laboring, human blood-pump; To it was attached a pair of long, flexible, silver pipes, which led to Billie knew not where. And near one extremity the egg was provided with eight curious nozzles.
At times the flying hands partly interfered with Billie's vision; yet she saw nearly all that amazing process, from beginning to end. To put it briefly, the eight nozzles were boldly introduced, almost at a single operation, into tiny incisions in the eight corresponding tubes of the heart. In they were forced, until they filled the arteries and veins; and once inserted, silver clamps were instantly tightened on the outsides of the tubes. All this was done in two or three seconds; and when all was complete, the heart itself had been entirely isolated and its place absolutely taken by that little silver egg.
The patient gave no sign that anything out of the ordinary had occurred. Not a drop of blood had been spilled except in the process of getting at the organ; but now, with a few deft motions of certain instruments, the heart was sliced away from the surrounding tissues, the tubes were severed, and the whole powerful pump, still beating faintly, was removed from the body altogether.
Next, the surgeon proceeded to stanch the bleeding of the tubes; that is, of the stubs projecting below those tight silver nozzles. This done, the nimble fingers calmly replaced the lungs and other items, quite as though they were reassembling a piece of machinery. Lastly, the opening was sewed up in a manner which would have delighted any seamstress.
The two long silver pipes were left protruding. Now, for the first time, Billie saw where they led to.
On a stand alongisde the operating-table stood an extremely small, flat box, with its lid open. The pipes ended there. And as the surgeon inspected the outfit Billie saw that it comprised, in effect, a pair of diminutive air-pumps. There were two tiny dials, a regulating device, some sort of an automatic electric switch, and what looked like a steel storage tank; all on a watchlike scale.
Looking more closely, Billie made out two pairs of electric wires running from this case to another of the same size. The surgeon lifted its lid, disclosing two electric storage batteries, each with its own circuit.
In short, the arrangement provided duplicate sources, in vest-pocket size, of power for operating a mechanical heart. The electricity worked the air-pumps, which in turn supplied the little silver egg — implanted in the patient — with both pressure and vacuum, while doubtless the artificial organ itself housed a valve system which did the rest. The regulating device kept the blood circulating at the proper rate.
The surgeon seemed satisfied with it all, and, after another critical examination of the patient, glanced about the room, straightened up, took a deep breath, and spoke:
"Quick work. Thanks very much, everybody."
And Billie did not know which to be the more astonished at: the fact that the voice was unmistakably a woman's, or that she, Billie, was able to understand all that was said. She did not fully appreciate until afterward that it was her own brain which did the translating; the surgeon's subconscious mind had merely furnished a thought-image which would have been exactly the same, regardless of language.
"Any special instructions, Surgeon Aldor?" inquired one of the white-clad, face-swathed figures.
"No. The usual handling. Simply keep the batteries charged in rotation."
The surgeon took off a mouth mask and a blood-soaked apron, and then swiftly washed her hands. Next she stepped briskly from the room; and the architect who was using her eyes rejoiced to see the door-knobs of the standard height of thirty-five inches, indicating that this agent of hers was of about her own height. From the sound of her footsteps, however, Billie concluded that she was somewhat heavier than herself.
Reaching another room, the surgeon proceeded to don hat and coat. Next, she stepped in front of a long mirror; but the action was so quick, and it took Billie so completely by surprise, she was not able to inspect the image closely. To be frank, she looked first at the woman's clothes, finding that her suit was a very trim affair of blue leather, cut in a semi-military fashion. Slashes of dark-red material across the sleeves were repeated about the collar, while the cap, a jaunty affair with a bell crown, matched the suit. The lower ends of the breeches, much like ordinary riding trousers, were tucked into high lace-up boots of red leather.
Before Billie could see any more other than that the surgeon was small-featured in striking contrast to the robustness of her body, she stepped from the room. A moment later an automatic elevator took her to a lower floor, where she was greeted by a person whom Billie assumed to be a head nurse.
"Anything out of the ordinary, surgeon?"
"No," with a bruskness which was startling by comparison with her cheeriness upstairs. "I understand that Dr. Norbith wishes to go home as soon as possible?"
"Yes."
"He may go as soon as the cast is hard. Make sure his machine is a smooth one."
The nurse simply nodded as the surgeon stepped on, through a very ordinary pair of sliding doors, and so on out into an anteroom and thence to a porch, where she stood looking into the street for a moment.
It was exceedingly broad, and lined on both sides with imposing structures whose architecture was entirely strange to Billie. She would liked to have examined them all in detail; but she had no control over her agent, who straightway walked down a short flight of steps and thence to a sidewalk.
Here Billie became perfectly willing to neglect the architecture. People were coming and going; people apparently quite as human as herself. Except for a certain gorgeous voluminousness of dress, they seemed for the most part simply men and women of affairs.
For it was comparatively easy to distinguish the sexes. The women's garments, while not making any display of the strictly feminine lines, nevertheless did not attempt to disguise them. Billie saw that loose breeches had completely displaced the skirt with these women; while the men invariably wore either knickerbockers or some other form of short trousers; so that the general effect was very youthful. She saw no men with beards, although several wore their hair long, down to their shoulders, as though to compensate for those women who chose to wear theirs short.
The surgeon seemed to have more leisure than most doctors. She stood for some minutes, greeting perhaps a score of passers-by, all of whom seemed to be proud of the acquaintance. Presently, however, the sidewalk became temporarily clear of pedestrians; and then Billie heard the surgeon mutter something to herself, such as was past all understanding at the time:
"The fools! The poor, ignorant cattle!"
And she turned and stepped to the middle of the street, where Billie had already marked a large number of flying-machines. In fact, the space from curb to curb was practically filled with them, all neatly parked.
Without exception they were ornithopters; that is, machines built on the bird-wing principle, sustaining themselves by a flapping motion rather than by air-pressure due to a propeller. Their size varied from one-seater affairs of very small size to craft large enough to hold a score. Most were gaudily painted.
The surgeon's own machine was a two-seater, small but powerful in design. She stepped up a short ladder into a comfortable cockpit, provided with a folding top, which at that time was laid back out of the way. She proceeded to adjust various levers and hand-wheels, glanced at certain dials, touched a button, and immediately the craft took flight, its wings beating the air with a dull leathery rhythm which drowned out the faint clanking of the machinery.
A moment later the flier was high above the street. To Billie's disappointment, the surgeon did not glance down enough to tell the architect whether the street belonged to a city of any size. Instead, her agent drove carefully through the traffic, which Billie would have called dangerously dense. She remembered that she had seen nothing but aircraft in that street; no automobiles at all.
And then the flier was rushing through the air at a lively rate. Billie caught quick glimpses of innumerable machines, few of which were moving in the same direction as the surgeon's.
A few minutes more elapsed, and then Billie was experiencing a much higher level, with the machine flying at what must have been a tremendous velocity. Shortly it was all but alone in the sky.
After a while the surgeon's eyes made out something far below, which puzzled Billie exceedingly. It seemed to be a ship under full sail; only, so far as she could see the craft was resting upon clouds, not air. It was still a long way ahead.
And then Billie was given a glance aloft, where she saw another craft, a small flapping affair like the surgeon's. It was just rising on a long slant so as to cross above her course. And at that very instant there came a sharp crack, followed by a splintering crash. The surgeon's flier lurched heavily to one side.
Next second the woman was staring at her left wing. It was broken about the middle and thrashing wildly. Another instant, and a part of the thing came loose, flew off, and struck the surgeon on the top of her head. A muffled cry, and then blackness came.
And the next thing Billie saw was the emergency ward of Smith's great skycruiser, with the surgeon, blinking as she recovered, looking up into the smiling face of her big blond rescuer.
***
* "when all was complete, the heart itself had been entirely isolated and its place absolutely taken by that little silver egg." — note that on April 4, 1969, Domingo Liotta and Denton A. Cooley replaced a dying man's heart with a mechanical heart inside the chest at The Texas Heart Institute in Houston as a bridge for a transplant.
RADIUM AGE SCIENCE FICTION: "Radium Age" is HILOBROW's name for the 1904–33 era, which saw the discovery of radioactivity, the revelation that matter itself is constantly in movement — a fitting metaphor for the first decades of the 20th century, during which old scientific, religious, political, and social certainties were shattered. This era also saw the publication of genre-shattering writing by Edgar Rice Burroughs, Sax Rohmer, E.E. "Doc" Smith, Jack London, Arthur Conan Doyle, Aldous Huxley, Olaf Stapledon, Karel Čapek, H.P. Lovecraft, Charlotte Perkins Gilman, Yevgeny Zamyatin, Philip Gordon Wylie, and other pioneers of post-Verne/Wells, pre-Golden Age "science fiction."
HILOBOOKS: The mission of HiLoBooks is to serialize novels (both original and reissued) on HiLobrow, and to reissue Radium Age science fiction in beautiful new print editions. The following titles can be read in serial form via HiLobrow.com and/or purchased in gorgeous paperback form online or via your local independent bookstore: Jack London's The Scarlet Plague, Rudyard Kipling's With the Night Mail (and "As Easy as A.B.C."), Arthur Conan Doyle's The Poison Belt, H. Rider Haggard's When the World Shook, Edward Shanks' The People of the Ruins, William Hope Hodgson's The Night Land, J.D. Beresford's Goslings, E.V. Odle's The Clockwork Man, Cicely Hamilton's Theodore Savage, and Muriel Jaeger's The Man with Six Senses. Also serialized on HiLobrow: W.E.B. DuBois's "The Comet", Homer Eon Flint's The Devolutionist, Philip Francis Nowlan's Armageddon — 2419 A.D., Jack London's "The Red One". For more information, visit the HiLoBooks homepage.
ORIGINAL FICTION from HILOBROW: James Parker's swearing-animal fable The Ballad of Cocky The Fox, later published in limited-edition paperback by HiLoBooks; plus: a newsletter, The Sniffer, by Patrick Cates, and further stories: "The Cockarillion") | Karinne Keithley Syers's hollow-earth adventure Linda, later published in limited-edition paperback; plus: ukulele music, and a "Floating Appendix") | Matthew Battles's stories "Gita Nova", "Makes the Man," "Imago," "Camera Lucida," "A Simple Message", "Children of the Volcano", "The Gnomon", "Billable Memories", "For Provisional Description of Superficial Features", "The Dogs in the Trees", "The Sovereignties of Invention", and "Survivor: The Island of Dr. Moreau"; several of these later appeared in the collection The Sovereignties of Invention, published by Red Lemonade | Robert Waldron's high-school campus roman à clef The School on the Fens | Peggy Nelson's "Mood Indigo", "Top Kill Fail", and "Mercerism" | Annalee Newitz's "The Great Oxygen Race" | Flourish Klink's Star Trek fanfic "Conference Comms" | Charlie Mitchell's "A Fantasy Land" | Charlie Mitchell's "Sentinels" | Joshua Glenn's "The Lawless One", and the mashup story "Zarathustra vs. Swamp Thing" | Adam McGovern and Paolo Leandri's Idoru Jones comics | John Holbo's "Sugarplum Squeampunk" | "Another Corporate Death" (1) and "Another Corporate Death" (2) by Mike Fleisch | Kathryn Kuitenbrouwer and Frank Fiorentino's graphic novel "The Song of Otto" (excerpt) | John Holbo's graphic novel On Beyond Zarathustra (excerpt) | "Manoj" and "Josh" by Vijay Balakrishnan | "Verge" by Chris Rossi, and his audio novel Low Priority Hero | EPIC WINS: THE ILIAD (1.408-415) by Flourish Klink | EPIC WINS: THE KALEVALA (3.1-278) by James Parker | EPIC WINS: THE ARGONAUTICA (2.815-834) by Joshua Glenn | EPIC WINS: THE ILIAD by Stephen Burt | EPIC WINS: THE MYTH OF THE ELK by Matthew Battles | EPIC WINS: GOTHAMIAD by Chad Parmenter | TROUBLED SUPERHUMAN CONTEST: Charles Pappas, "The Law" | CATASTROPHE CONTEST: Timothy Raymond, "Hem and the Flood" | TELEPATHY CONTEST: Rachel Ellis Adams, "Fatima, Can You Hear Me?" | OIL SPILL CONTEST: A.E. Smith, "Sound Thinking | LITTLE NEMO CAPTION CONTEST: Joe Lyons, "Necronomicon" | SPOOKY-KOOKY CONTEST: Tucker Cummings, "Well Marbled" | INVENT-A-HERO CONTEST: TG Gibbon, "The Firefly" | FANFICTION CONTEST: Lyette Mercier's "Sex and the Single Superhero"