The Devo­lutionist (1)
By: Homer Eon Flint
February 21, 2013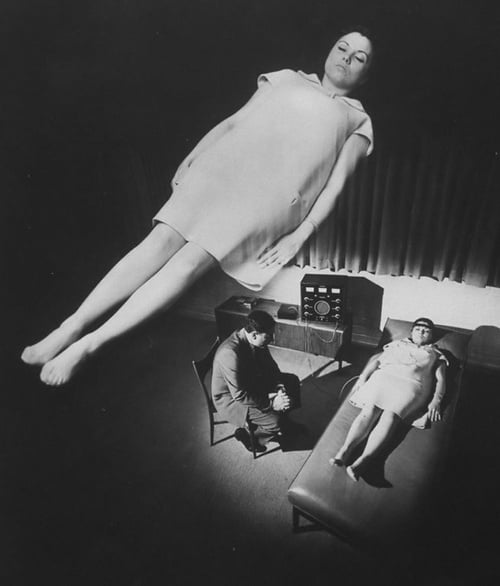 HILOBROW is pleased to present the first installment of our serialization of Homer Eon Flint's The Devolutionist. New installments will appear each Thursday for eighteen weeks.
"The Devolutionist" (Argosy All-Story Weekly, July 1921) is the third occult-science-fiction Dr. Kinney story; the others are "The Lord of Death" (June 1919), "The Queen of Life" (August 1919), and "The Emancipatrix" (September 1921). Having learned how to visit other worlds telepathically, without leaving Earth — by means of Venusian technology — Dr. Kinney and his companions enter the minds and share the sensations of the inhabitants of a human-like civilization on other planets. In this story, they visit a double planet: Hafen is the abode of capitalists, Holl of workers. A nearby planet of "cooperative democrats" is in trouble, so Kinney & co. step in.
Cobbler and one-reeler writer Homer Eon Flint (1888–1924) published a number of pulp science fiction stories — including "The Planeteer" (1918; one of the earliest examples of cosmic sci-fi) and The Blind Spot (1921, with Austin Hall) — during the genre's Radium Age. Everett Bleiler's Science Fiction: The Early Years calls Flint "in many ways the outstanding writer of s-f in the Munsey pulp magazines." Flint died in a crash near Oakland, Calif., after supposedly stealing a taxi at gunpoint in order to use it in a bank hold-up.
SUBSCRIBE to HILOBROW's serialized fiction via RSS.
ALL EXCERPTS: 1 | 2 | 3 | 4 | 5 | 6 | 7 | 8 | 9 | 10 | 11 | 12 | 13 | 14 | 15 |16 | 17 | 18
***

I
OUT OF THEIR MINDS
"Remember, now; don't make a sound, no matter what you see!"
Mrs. Kinney eyed her caller anxiously as they came to a pause in front of the door. His glance widened at her caution, but he nodded briefly. She turned the key in the lock.
Next second the two stepped softly into the room. Mrs. Kinney carefully closed and locked the door behind them; and meanwhile the man, peering closely into the shadows of the place, made out a scene of such strangeness that he nearly forgot the woman's injunction.
The room was the private study of Dr. William Kinney. In itself, it was not at all out of the ordinary. Shelves of books, cases of surgical and psychological instruments, star charts, maps and astronomical apparatus — these told at once both the man's vocation and avocation. With these contents and rather severe furnishings the room was merely interesting, not remarkable.
But its four chairs certainly were. Each of them was occupied by a human being; and as Mrs. Kinney and her caller entered, neither of the four so much as stirred. They were all asleep.
In the nearest chair was the doctor himself, half sitting and half reclining; in fact, all four of the sleepers were in attitudes of complete relaxation. The doctor's gray head was resting on one shoulder wearily.
On his left was a man of medium height and commonplace countenance. "Mr. Smith," whispered Mrs. Kinney, placing her mouth close to the caller's ear, so that he might hear the better.
Opposite these two sat a man and a woman, their chairs placed close together. The one was a slender, well-dressed, boyishly good looking young woman of perhaps thirty; the other a large, aggressively handsome fellow possibly five years older. "Mr. and Mrs. Van Emmon," explained Mrs. Kinney, still in a whisper.
The four sat absolutely motionless; the caller, looking very closely, could hardly make out the rising and falling of their chests as they breathed. Also, he saw that they were all connected, the one with the other by means of insulated wires which ran to brass bracelets around their wrists. At one point in this curious circuit, a wire ran to a small group of electrical appliances placed on a pedestal at the doctor's side; while the caller was still further puzzled to note that each of the sleepers was resting his or her feet on a stool, the legs of which, like the legs of each chair, were tipped with glass.
After a minute of this the caller turned upon Mrs. Kinney in such complete bewilderment that she instantly unlocked the door, and again cautioning perfect silence, led the way into the corridor. Here she again locked the door. Upon leaving the spot, a quiet young man with keen gray eyes stepped from a room opposite, and at a nod from Mrs. Kinney proceeded to do sentry duty outside the study.
Once down-stairs and safely within the living-room —"This is rather mean of you Mrs. Kinney!" protested the man. "Tell me all about it, quick!"
The lady complacently took a chair. "Well," she remarked innocently, "I knew you'd want to see him."
"Yes, but —"
"It serves you right," she went on blithely, "for staying away so long. Let's see — you left a year ago June, didn't you, Mr. Hill?"
He swallowed something and managed to reply, "Great guns, yes! I've been in the wilds of New Guinea for a year — without news of any kind! I saw my first newspaper on board the dirigible this morning!"
"Ah, well," commented Mrs. Kinney provokingly, "you'll have to be humored, I suppose." She cogitated unnecessarily long, then left the room to get a folio of newspapers and magazines. One of these she selected with great deliberation, and opened it at the leading article. Even then she would not hand it over right away. "You remember that sky-car idea of the doctor's, don't you?"
"His machine to explore space? He couldn't talk of anything else when I— you don't mean to say"— incredulously —"that he made a success of that!"
"He certainly did. Took a three weeks' tour of the planets, month before last!"
Hill stared in amazement, then leaned forward suddenly and whisked the magazine out of Mrs. Kinney's fingers. He held the paper with hands that trembled in excitement; and this is what he read, in the matter-of-fact black-and-white of The Scientific New Zealander:
STAR EXPLORERS RETURN

Dr. Kinney and Party Visit Venus and Mercury

Bringing proofs which will satisfy the most skeptical, Dr. William G. Kinney, G. Van Emmon, E. Williams Jackson, and John W. Smith, who left the earth on December 9 in a powerful sky-car of the doctor's design, returned on the 23rd, after having explored the two planets which lie between the earth and the sun.

They found Mercury to be a dead world, like the moon, except that it once supported a civilization nearly as advanced as our own. They tell of a giant human, a veritable colossus, who was the planet's last survivor.

But on Venus they discovered people still living! They are marvelously developed people, infinitely more advanced than the people of the earth, and enjoying a civilization that is well-nigh incredible. Among other things, they have learned how to visit other worlds without themselves leaving their planet. They do it by a kind of telepathy; they know all about us here on the earth; and they have accumulated data regarding the peoples of hundreds of thousands of other planets! The four explorers are able to prove their statements beyond the shadow of doubt. They possess photographs which speak for themselves; they have brought back relics from Mercury and materials from Venus, such as never existed on the earth. They submit a vast library of extraordinarily advanced scientific literature, which was given to them by the Venusians.
The article went on to detail, to the extent of some eight or ten pages, the main features of the exploration. Hill, however, did not stop to read it all just then. He looked up, his thoughts flying to the strange scene in the room up-stairs. "What are they doing — recuperating?"
"Not exactly." Mrs. Kinney was a little disappointed. "Here — let me point out the paragraph." And she ran a finger down the column until it indicated this line:
Among other things they have learned how to visit other worlds without themselves leaving their planet. They do this by a kind of telepathy.
"That's the explanation," Mrs. Kinney said quietly. Hill fairly blinked when he read the paragraph. "They are trying out one of the Venusian experiments?"
"Of course; you know the doctor. He couldn't resist the temptation. And I must say the others are just as bad.
"Mr. Smith is quite as much interested as Mr. Van Emmon. Mr. Smith is an electrical engineer; the other man is a geologist, and a very adventurous spirit. As for Mrs. Van Emmon —"
"But this account mentions"—Hill referred to the magazine —"'E. Williams Jackson.' Who was he?"
"She — not he. Mrs. Van Emmon now; she used to be an architect. She had the other three fooled for ten days; she passed herself off as a man!"
But Hill was too absorbed in the general strangeness of the affair to note this amazing item. He again glanced at the article, opened his mouth once or twice as though to ask a question, thought better of it each time, and finally got to his feet.
"Let me have this?" referring to the magazine.
Mrs. Kinney handed over the rest of the collection.
"I am sure the doctor would want you to read them. I remember he said, just before they started away, that he wished you could have gone with him."
"Did he?" Much pleased, Hill made some affectionate remark under his breath about "the star-gazing old fraud"; then, evidently in a hurry to get off by himself and read, he made his excuses and left the house.
Mrs. Kinney returned to the book she had been reading, glanced at the clock, and noted that it was almost at the hour, previously agreed upon, that she should arouse the four up-stairs. She put the book down and started toward the stairs.
At that instant a large gong sounded in the hall. In the study up-stairs, the doctor's hand moved away from a pushbutton. He stirred in his chair; and as he did so, the other three awakened. First Van Emmon, then "Billie," his wife, and lastly the engineer.
Next second all four were sitting bolt upright, and looking at each other eagerly.
***
RADIUM AGE SCIENCE FICTION: "Radium Age" is HILOBROW's name for the 1904–33 era, which saw the discovery of radioactivity, the revelation that matter itself is constantly in movement — a fitting metaphor for the first decades of the 20th century, during which old scientific, religious, political, and social certainties were shattered. This era also saw the publication of genre-shattering writing by Edgar Rice Burroughs, Sax Rohmer, E.E. "Doc" Smith, Jack London, Arthur Conan Doyle, Aldous Huxley, Olaf Stapledon, Karel Čapek, H.P. Lovecraft, Charlotte Perkins Gilman, Yevgeny Zamyatin, Philip Gordon Wylie, and other pioneers of post-Verne/Wells, pre-Golden Age "science fiction."
HILOBOOKS: The mission of HiLoBooks is to serialize novels (both original and reissued) on HiLobrow, and to reissue Radium Age science fiction in beautiful new print editions. The following titles can be read in serial form via HiLobrow.com and/or purchased in gorgeous paperback form online or via your local independent bookstore: Jack London's The Scarlet Plague, Rudyard Kipling's With the Night Mail (and "As Easy as A.B.C."), Arthur Conan Doyle's The Poison Belt, H. Rider Haggard's When the World Shook, Edward Shanks' The People of the Ruins, William Hope Hodgson's The Night Land, J.D. Beresford's Goslings, E.V. Odle's The Clockwork Man, Cicely Hamilton's Theodore Savage, and Muriel Jaeger's The Man with Six Senses. Also serialized on HiLobrow: W.E.B. DuBois's "The Comet", Homer Eon Flint's The Devolutionist, Philip Francis Nowlan's Armageddon — 2419 A.D., Jack London's "The Red One". For more information, visit the HiLoBooks homepage.
ORIGINAL FICTION from HILOBROW: James Parker's swearing-animal fable The Ballad of Cocky The Fox, later published in limited-edition paperback by HiLoBooks; plus: a newsletter, The Sniffer, by Patrick Cates, and further stories: "The Cockarillion") | Karinne Keithley Syers's hollow-earth adventure Linda, later published in limited-edition paperback; plus: ukulele music, and a "Floating Appendix") | Matthew Battles's stories "Gita Nova", "Makes the Man," "Imago," "Camera Lucida," "A Simple Message", "Children of the Volcano", "The Gnomon", "Billable Memories", "For Provisional Description of Superficial Features", "The Dogs in the Trees", "The Sovereignties of Invention", and "Survivor: The Island of Dr. Moreau"; several of these later appeared in the collection The Sovereignties of Invention, published by Red Lemonade | Robert Waldron's high-school campus roman à clef The School on the Fens | Peggy Nelson's "Mood Indigo", "Top Kill Fail", and "Mercerism" | Annalee Newitz's "The Great Oxygen Race" | Flourish Klink's Star Trek fanfic "Conference Comms" | Charlie Mitchell's "A Fantasy Land" | Charlie Mitchell's "Sentinels" | Joshua Glenn's "The Lawless One", and the mashup story "Zarathustra vs. Swamp Thing" | Adam McGovern and Paolo Leandri's Idoru Jones comics | John Holbo's "Sugarplum Squeampunk" | "Another Corporate Death" (1) and "Another Corporate Death" (2) by Mike Fleisch | Kathryn Kuitenbrouwer and Frank Fiorentino's graphic novel "The Song of Otto" (excerpt) | John Holbo's graphic novel On Beyond Zarathustra (excerpt) | "Manoj" and "Josh" by Vijay Balakrishnan | "Verge" by Chris Rossi, and his audio novel Low Priority Hero | EPIC WINS: THE ILIAD (1.408-415) by Flourish Klink | EPIC WINS: THE KALEVALA (3.1-278) by James Parker | EPIC WINS: THE ARGONAUTICA (2.815-834) by Joshua Glenn | EPIC WINS: THE ILIAD by Stephen Burt | EPIC WINS: THE MYTH OF THE ELK by Matthew Battles | EPIC WINS: GOTHAMIAD by Chad Parmenter | TROUBLED SUPERHUMAN CONTEST: Charles Pappas, "The Law" | CATASTROPHE CONTEST: Timothy Raymond, "Hem and the Flood" | TELEPATHY CONTEST: Rachel Ellis Adams, "Fatima, Can You Hear Me?" | OIL SPILL CONTEST: A.E. Smith, "Sound Thinking | LITTLE NEMO CAPTION CONTEST: Joe Lyons, "Necronomicon" | SPOOKY-KOOKY CONTEST: Tucker Cummings, "Well Marbled" | INVENT-A-HERO CONTEST: TG Gibbon, "The Firefly" | FANFICTION CONTEST: Lyette Mercier's "Sex and the Single Superhero"