King Goshawk (14)
By: Eimar O'Duffy
April 2, 2014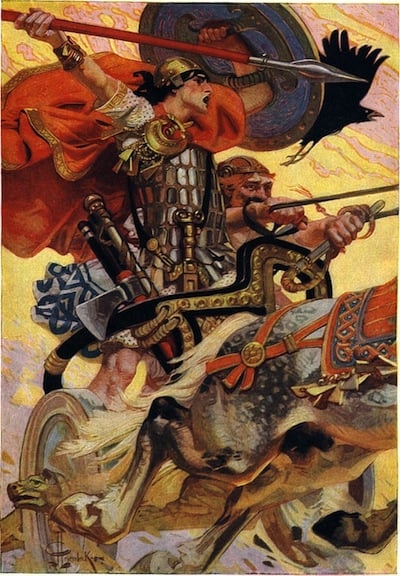 The 1926 satirical sf novel King Goshawk and the Birds, by Irish playwright and novelist Eimar O'Duffy, is set in a future world devastated by progress. When King Goshawk, the supreme ruler among a caste of "king capitalists," buys up all the wildflowers and songbirds, an aghast Dublin philosopher travels via the astral plane to Tír na nÓg. First the mythical Irish hero Cúchulainn, then his son Cuanduine, travel to Earth in order to combat the king capitalists. Thirty-five years before the hero of Robert Heinlein's Stranger in a Strange Land, these well-meaning aliens discover that cultural forms and norms are the most effective barrier to social or economic revolution.
HILOBROW is pleased to serialize King Goshawk and the Birds, which has long been out of print, in its entirety. A new installment will appear each week.
ALL INSTALLMENTS SO FAR
***
BOOK I: A Corner in Melody
Chapter 14: How Love and Laughter baffled the Tripe King
Next day, to celebrate the wedding, there was a great banquet, more gorgeous and delicious than you could possibly conceive; but not more so than the company that presently put themselves outside it. There were three kings among the guests, with huge numbers of monopolists and financiers, all good workers behind a knife and fork, and not one among them but was a millionaire, or the son or daughter of a millionaire, and a great personality in the financial world. You may be sure they wired in to the feast and packed their breadbaskets thoroughly. What a pity there was no wine served, according to Saint Paul's counsel, for their stomachs' sake. But King Boodleguts, who was of a gouty habit, would abate no jot of the law in this respect: alas! for, for the lack of such emollient, they were all very badly stodged, which was to prove a grave misfortune, as you shall hear.
When they were well gorged, and many of them in a mood to give all their wealth for a thimbleful of Benedictine, or even a pennorth of Aq. Menth. Pip.; just as the Chief Steward was assisting Mr. Garlic, the Best Man, to his feet, and wedging a couple of footstools between the seat of his chair and that of his pants in order that he might make some show of standing to propose the toast of the happy pair; a sudden fierce shout, louder than had ever issued from human throat, rang in the ears of the company. There was not a hair in the room that did not stand erect at this horrific sound, nor a skin that did not break into a cold sweat like the walls of a vault. You would not believe that kings and men of weight and influence could be so dismally affrighted.
It was Cúchulainn's voice that had put them into this fluster; who, coming on to the lawn in front of the house, and seeing the door guarded, made a leap at a window of the dining-hall, but fell short almost by the height of a man, to the huge merriment of the guards and other onlookers. At that Cúchulainn let his battle-cry out of him, and, taking a longer run, leaped again at the window, reaching this time to the sill, but, like a bird whose power is spent, fell from that perch even as his foot touched it. Then the guards and the onlookers began to laugh and to jeer, and to throw mud and stones at the hero, so that his anger kindled, and, standing back again, he made his salmon-leap and came flying through the window into the hall.
Mr. Garlic had begun to recover his nerve, and was just about to give the toast, holding aloft a tall tumbler overflowing with whipped cream and iced fruit syrup, when Cúchulainn landed upon the table with a crash and jingle of glass. Very beautiful and fierce he looked, his eyes flashing fire, a long bright sword in his hand, that had been put there by the Morrígu herself as he hurtled through the window. "Swine, stay at your troughs," he commanded, as one or two strove feebly to rise. "And you varlets, back" — this to some servitors that had first thought of interfering but now desisted, fancying from his imperious tone that he must be a financier or monopolist of eccentric habits arrived late for the feast. "I have come for my bride," said Cúchulainn, "and will harm no man that offers me no hindrance. Come, Thalia."
So saying he advanced towards the head of the table, over the white damask cloth, through the silver and the glasses; nor could any man rise up to stop him, no more than if the seat of each one's breeches had been caught between the jaws of a crocodile: though there were a few that strove to do so, and flopped off their chairs on to the floor in the effort. Cúchulainn offered his hand to Thalia, who, taking it, leaped lightly to the table beside him, leaving a yard of her gown in Scallion's podgy fist. The bosthoon dared no more resistance than that, for the sword of Cúchulainn gleamed bright and menacing. But old King Boodleguts at the other end of the board (though he could not rise any more than the rest of the roysterers), being near bursting with choler at the audacity of this intrusion, began bawling for the guards so urgently that these came rushing up from the lower courtyard, a score in number, and covered the hero with their guns, awaiting orders. A moment Cúchulainn stood facing them with Thalia upon his arm: then he brandished the sword above his head so fast and furious that a shaft of sunlight, striking it suddenly, flashed blinding white in every eye.
When they had recovered their sight, the first thing they perceived was that Cúchulainn and Thalia had vanished; and the next was a body that lay wrenched and distorted among the dishes and adornments of the table. It was the disjecta membra of Robert Emmett Aloysius O'Kennedy, now void of the strength and beauty which the spirit of Cúchulainn had filled them with; so that none of the company recognised the thing, nor did it occur to them to connect it in any way with the vision that had flashed upon them a moment before. Indeed, the Major Domo had the Chief Steward consigned to the dungeons for allowing such an object to get upon the table, and ordered the guards to throw it upon the refuse heap, where it was presently found by the Philosopher, by whom it was restored to its owner; who had been having rare adventures in far quarters of the universe, of which I will tell you in another book.
Meanwhile there was hurry and scurry in Boodleguts' halls and the surrounding demesne, of which there was neither hole nor corner, nook nor cranny, that they did not thoroughly poke into and search. When these efforts proved unavailing, King Scallion spoke winged words to King Boodleguts, and rode away with his son in high dudgeon to have the marriage annulled: there was near being a war between Tripe and Onion on the head of it. After they were gone, a pack of private detectives was called in from London, wily sleuths trained in the school of Sherlock, each with a Watson to heel, who, with high power lens and litmus-paper, scrutinised every inch of the place all over again, afterwards extending their operations over a large part of the surrounding country. Nevertheless they found no clue of any sort except a garter of Thalia's down by the river, which she had forgotten to put on in her hasty dressing. Here was a spicy headline for the newspapers, which a million crafty sub-editors made effective use of. I cannot tell how many variants upon the theme were rung in ribbon and triple column measure by these master musicians; but it is said on good authority that there were forty-three thousand photographs of the garter taken besides sketches; which were printed in fifteen million papers for the delectation of two thousand million readers. The more reputable of them were content to publish small-scale reproductions on their back pages for the criminological interest of the clue; others, less chary of their reputations, gave it greater prominence, figuring it large upon their front pages, with suggestive descriptions appended; while one very popular sheet, appearing on the Lord's Day, delighted its readers with a full-page picture of the article in situ upon a very shapely leg, complete with stocking and knicker-frill. Did not all this call for a far higher degree of enterprise, organisation, acumen, and knowledge of human nature than the mere unravelling of the mystery connected with it? as to which, I do not know what conclusion they came to; nor do I care.
NEXT INSTALLMENT | ALL INSTALLMENTS SO FAR
***
* The Morrígan ("phantom queen") or Mórrígan ("great queen"), also written as Morrígu or in the plural as Morrígna, is an Irish goddess of battle and strife, comparable with the Germanic Valkyries.
RADIUM AGE SCIENCE FICTION: "Radium Age" is HILOBROW's name for the 1904–33 era, which saw the discovery of radioactivity, the revelation that matter itself is constantly in movement — a fitting metaphor for the first decades of the 20th century, during which old scientific, religious, political, and social certainties were shattered. This era also saw the publication of genre-shattering writing by Edgar Rice Burroughs, Sax Rohmer, E.E. "Doc" Smith, Jack London, Arthur Conan Doyle, Aldous Huxley, Olaf Stapledon, Karel Čapek, H.P. Lovecraft, Charlotte Perkins Gilman, Yevgeny Zamyatin, Philip Gordon Wylie, and other pioneers of post-Verne/Wells, pre-Golden Age "science fiction." More info here.
READ GORGEOUS PAPERBACKS: HiLoBooks has reissued the following 10 obscure but amazing Radium Age science fiction novels in beautiful print editions: Jack London's The Scarlet Plague, Rudyard Kipling's With the Night Mail (and "As Easy as A.B.C."), Arthur Conan Doyle's The Poison Belt, H. Rider Haggard's When the World Shook, Edward Shanks' The People of the Ruins, William Hope Hodgson's The Night Land, J.D. Beresford's Goslings, E.V. Odle's The Clockwork Man, Cicely Hamilton's Theodore Savage, and Muriel Jaeger's The Man with Six Senses. For more information, visit the HiLoBooks homepage.
SERIALIZED BY HILOBOOKS: Jack London's The Scarlet Plague | Rudyard Kipling's With the Night Mail (and "As Easy as A.B.C.") | Arthur Conan Doyle's The Poison Belt | H. Rider Haggard's When the World Shook | Edward Shanks' The People of the Ruins | William Hope Hodgson's The Night Land | J.D. Beresford's Goslings | E.V. Odle's The Clockwork Man | Cicely Hamilton's Theodore Savage | Muriel Jaeger's The Man With Six Senses | Jack London's "The Red One" | Philip Francis Nowlan's Armageddon 2419 A.D. | Homer Eon Flint's The Devolutionist | W.E.B. DuBois's "The Comet" | Edgar Rice Burroughs's The Moon Men | Charlotte Perkins Gilman's Herland | Sax Rohmer's "The Zayat Kiss" | Eimar O'Duffy's King Goshawk and the Birds | Frances Hodgson Burnett's The Lost Prince | Morley Roberts's The Fugitives | Helen MacInnes's The Unconquerable | Geoffrey Household's Watcher in the Shadows | William Haggard's The High Wire | Hammond Innes's Air Bridge | James Branch Cabell's Jurgen | John Buchan's "No Man's Land" | John Russell's "The Fourth Man" | E.M. Forster's "The Machine Stops" | John Buchan's Huntingtower | Arthur Conan Doyle's When the World Screamed | Victor Bridges' A Rogue By Compulsion | Jack London's The Iron Heel | H. De Vere Stacpoole's The Man Who Lost Himself | P.G. Wodehouse's Leave It to Psmith | Richard Connell's "The Most Dangerous Game" | Houdini and Lovecraft's "Imprisoned with the Pharaohs" | Arthur Conan Doyle's "The Sussex Vampire."
ORIGINAL FICTION: HILOBROW has serialized three novels: James Parker's The Ballad of Cocky The Fox ("a proof-of-concept that serialization can work on the Internet" — The Atlantic); Karinne Keithley Syers's Linda Linda Linda (which includes original music); and Robert Waldron's roman à clef The School on the Fens. We also publish original stories and comics. These include: Matthew Battles's stories "Gita Nova", "Makes the Man," "Imago," "Camera Lucida," "A Simple Message", "Children of the Volcano", "The Gnomon", "Billable Memories", "For Provisional Description of Superficial Features", "The Dogs in the Trees", "The Sovereignties of Invention", and "Survivor: The Island of Dr. Moreau"; several of these later appeared in the collection The Sovereignties of Invention | Peggy Nelson's "Mood Indigo", "Top Kill Fail", and "Mercerism" | Annalee Newitz's "The Great Oxygen Race" | Flourish Klink's Star Trek fanfic "Conference Comms" | Charlie Mitchell's "A Fantasy Land" | Charlie Mitchell's "Sentinels" | Joshua Glenn's "The Lawless One", and the mashup story "Zarathustra vs. Swamp Thing" | Adam McGovern and Paolo Leandri's Idoru Jones comics | John Holbo's "Sugarplum Squeampunk" | "Another Corporate Death" (1) and "Another Corporate Death" (2) by Mike Fleisch | Kathryn Kuitenbrouwer and Frank Fiorentino's graphic novel "The Song of Otto" (excerpt) | John Holbo's graphic novel On Beyond Zarathustra (excerpt) | "Manoj" and "Josh" by Vijay Balakrishnan | "Verge" by Chris Rossi, and his audio novel Low Priority Hero | EPIC WINS: THE ILIAD (1.408-415) by Flourish Klink | EPIC WINS: THE KALEVALA (3.1-278) by James Parker | EPIC WINS: THE ARGONAUTICA (2.815-834) by Joshua Glenn | EPIC WINS: THE MYTH OF THE ELK by Matthew Battles | TROUBLED SUPERHUMAN CONTEST: Charles Pappas, "The Law" | CATASTROPHE CONTEST: Timothy Raymond, "Hem and the Flood" | TELEPATHY CONTEST: Rachel Ellis Adams, "Fatima, Can You Hear Me?" | OIL SPILL CONTEST: A.E. Smith, "Sound Thinking | LITTLE NEMO CAPTION CONTEST: Joe Lyons, "Necronomicon" | SPOOKY-KOOKY CONTEST: Tucker Cummings, "Well Marbled" | INVENT-A-HERO CONTEST: TG Gibbon, "The Firefly" | FANFICTION CONTEST: Lyette Mercier's "Sex and the Single Superhero"