Daniel Clowes
By: Joshua Glenn
April 14, 2015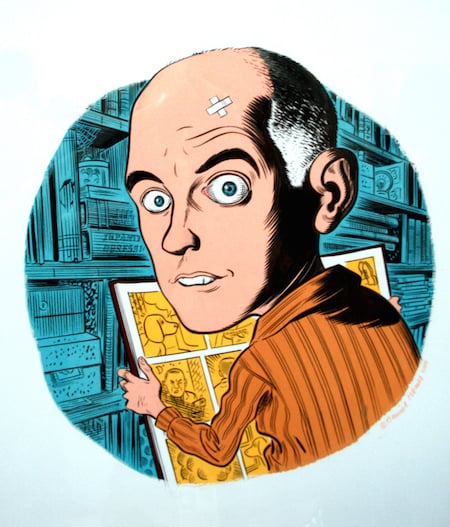 I was taking the school year 1988–89 off from college, working as a courier in Boston and trying to write, when Fantagraphics began publishing DANIEL CLOWES' (born 1961) comic Lloyd Llewellyn, an antic spoof on film noir and beatniksploitation. Although I'd stopped reading comics, by then, I devoured LLLL — which I discovered in Allston's Primal Plunge bookstore, and which I grokked as an anti-anti-utopian paean to pre-Sixties American lowbrow culture. Back in school, from fall '89 through spring '91, the first several issues of Clowes' extraordinary solo anthology comic Eightball permanently warped my mind. What a glorious time it was to be young and impressionable — back when Clowes's graphic novels Like a Velvet Glove Cast in Iron and Pussey!: The Complete Saga of Young Dan Pussey were appearing in serialized form, alongside shattering short comics like "Art School Confidential," "Marooned," "I Hate You Deeply" and "I Love You Tenderly." (Next month, Fantagraphics will reissue the complete Eightball run in a gorgeous archival edition.) I appreciated his contemporaries — extraordinary cartoonists like Lynda Barry, Matt Groening, Jaime and Gilbert Hernandez, Charles Burns, Chester Brown, and Seth, all of whom were abolishing-and-preserving the limits of literature and art. But Clowes, it seemed to me, was the brightest star in that firmament, endlessly restless and daring. He's gone from strength to strength, since then — with inventive, smart, funny, poignant, brilliantly weird graphic novels like Ghost World (1997), David Boring (2000), Ice Haven (2005), and The Death-Ray (2011), not to mention the terrific 2001 Ghost World movie, whose screenplay he coauthored. Daniel Clowes is the champ; long may he reign.
***
MORE CLOWES on HILOBROW: Joshua Glenn's 1999 Q&A with Daniel Clowes | Joshua Glenn's 2002 Q&A with Daniel Clowes | Josh also has an essay, "Against Groovy," on Clowes' anti-boomer ferocity, anti-hipsterism, apocalyptic fantasy, and trashy messianism, in The Daniel Clowes Reader.
On his or her birthday, HiLobrow irregularly pays tribute to one of our high-, low-, no-, or hilobrow heroes. Also born this date: Loretta Lynn, Sarah Michelle Gellar, Anthony Michael Hall, Bruce Sterling.
READ MORE about members of the Original Generation X (1954–1963).