Luc Sante
By: Jacob Mikanowski
May 25, 2013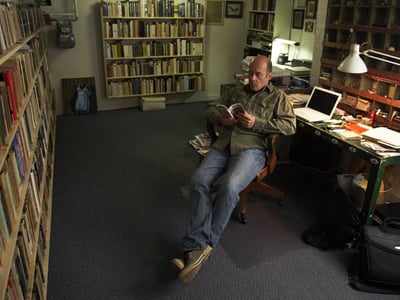 The writer LUC SANTE (born 1954) approaches the surrounding culture with an anthropologist's distance and a detective's intuition. His parents emigrated from Belgium to New Jersey when he was four years old; a short while later they changed their minds and moved back, and then back again, completing the same circuit multiple times in subsequent years. Sante grew accustomed to seeing both cultures with the acuity of an outsider. By the time he dropped out of Columbia, most of his obsessions — New York, Belgium, the Symbolists, Dylan, Tintin, vice, punk, and the long nineteenth century – were set, and a decade on the Lower East Side supplied the rest. His great themes are the persistence of history, the multiplicity of identity, and the power of vernacular forms, from photography to comics to the blues. Evidence and Folk Photography brought the forgotten realms of visual culture – the crime scene photograph and real photo postcard – to light. Low Life is the best book on New York since Joseph Mitchell.
Borges claimed that great writers create their own predecessors, but great critics can give birth to their subjects as well. Sante's subjects — his 2007 essay collection Kill All Your Darlings is essential — stretch from flea market tables to tenement courtyards and into police archives. He is our leading archaeologist of the present and a psychogeographer of the past. Like Walker Evans, he catches the transient beauty of the "cracked, crazed, foxed, tattered, rusted and bent"; like Dashiell Hammett or Robert Johnson, he does so in a prose so precise and plainspoken it can't be forgotten or gainsaid.
***
HILO HERO ITEMS by LUC SANTE: Dashiell Hammett | Pancho Villa | James M. Cain | Georges Bataille | Félix Fénéon | Émile Henry | A.J. Liebling | Jim Thompson | Joe Hill | Nestor Makhno | Hans Magnus Enzensberger | Captain Beefheart | William Burroughs | Ring Lardner | Lee "Scratch" Perry | Serge Gainsbourg | Kathy Acker | Arthur Cravan | Weegee | Alexander Trocchi | Ronnie Biggs | George Ade | Georges Darien | Zo d'Axa | Petrus Borel | Blaise Cendrars | Alexandre Jacob | Constance Rourke | Damia | J-P Manchette | Jean-Paul Clebert | Pierre Mac Orlan | Comte De Lautreamont | André Breton | Robert Desnos | Arthur Rimbaud |
EXCERPTS from LUC SANTE'S "PINAKOTHEK" BLOG.
On his or her birthday, HiLobrow irregularly pays tribute to one of our high-, low-, no-, or hilobrow heroes. Also born this date: Rosario Castellanos, Miles Davis, Tom T. Hall.
READ MORE about men and women born on the cusp between the Boomer (1944–1953) Generation and the Original Generation X (1954–1963).