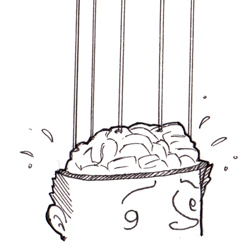 When I was a kid, I told friends that my parents wouldn't let me watch the diabolical movies of WES CRAVEN (born 1939). But the truth was that I'd been completely terrified when a friend had explained the concept of
Nightmare On Elm Street
to me in the schoolyard. In those days, I consumed slasher flicks featuring other antiheroes with joyous abandon. Jason Vorhees, Leatherface, Michael Meyers — they were merely men in masks; anyone could
see
them. But a bogeyman who stalked your dreams, and feasted upon your worst nightmares? The mere idea of Freddy Krueger shook me to the core, and left me fearing bedtime. Craven's astute dissection of scary, from
The Last House on the Left
through the
Scream
franchise, reveals what he'd learned as a student of literature and psychology. It's not what's outside the house that's terrifying; it's what's inside your head.
— Text and illustration by Joe Alterio. To view a gallery of Alterio's HiLobrow illustrations, click here.
***
On his or her birthday, HiLobrow irregularly pays tribute to one of our high-, low-, no-, or hilobrow heroes. Also born this date: | Myrna Loy |
READ MORE about members of the Anti-Anti-Utopian Generation (1934-43).