BOSKONE — RECAP
By: Joshua Glenn
February 20, 2023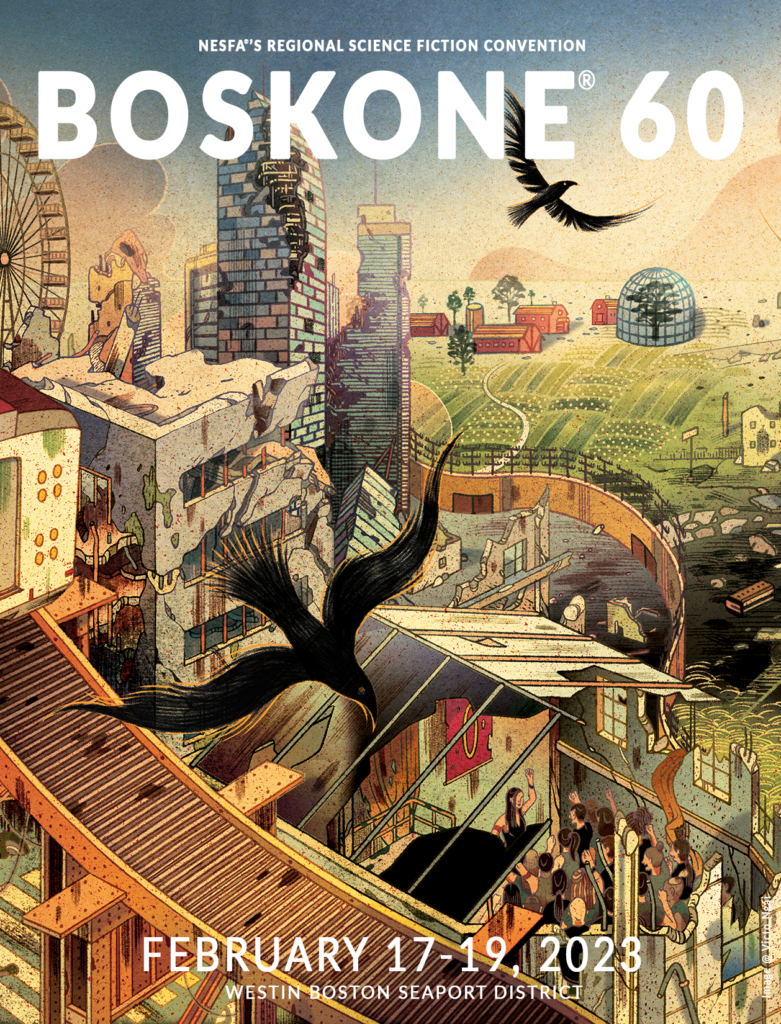 This past weekend, I represented the MIT Press's RADIUM AGE proto-sf reissue series at BOSKONE — an annual science fiction convention, the oldest in New England. It was my first BOSKONE, and I enjoyed the experience greatly.
A few highlights: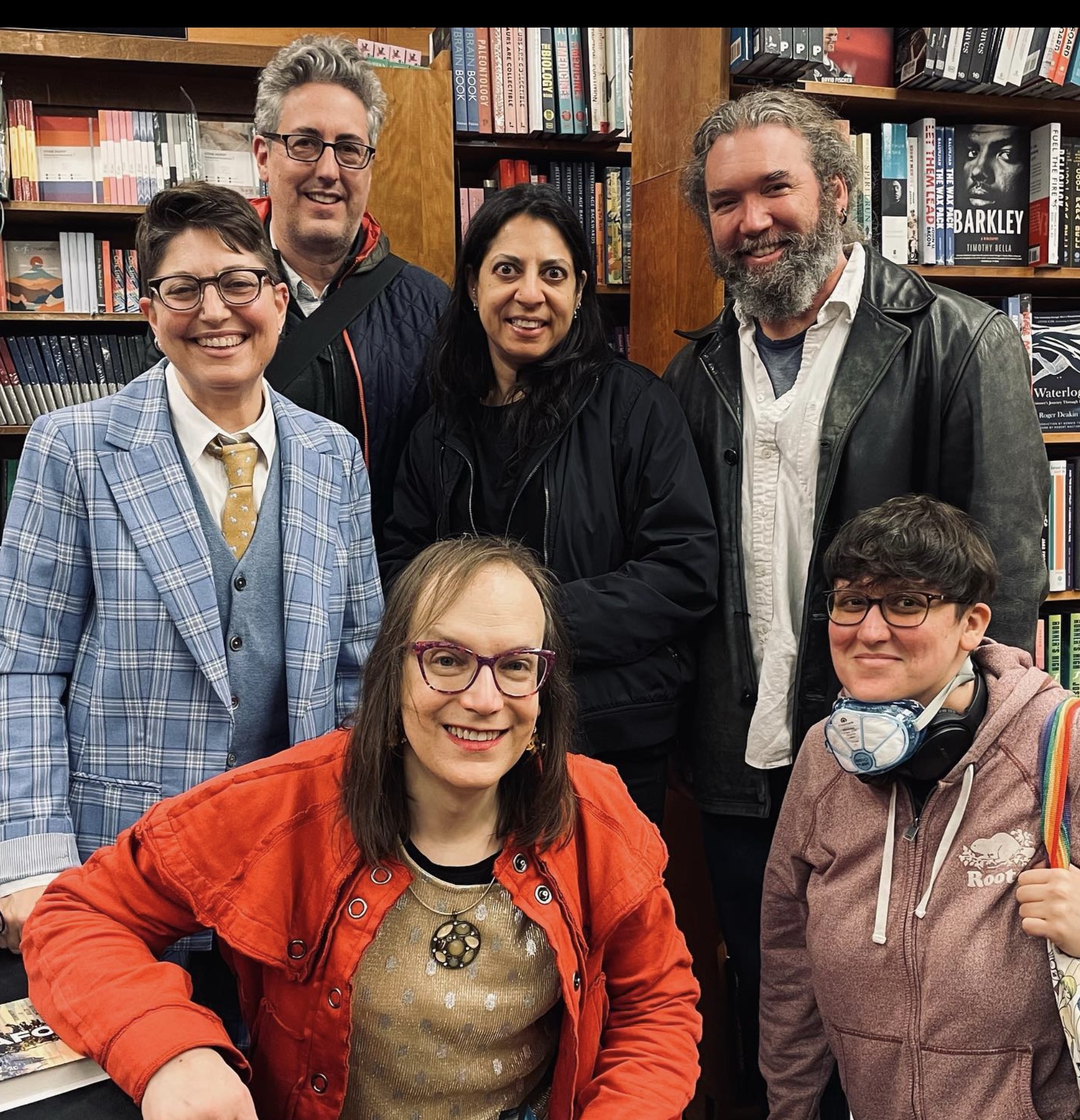 Om Friday night, I joined HILOBROW friends Deb Chachra, Tom Nealon, and Stephanie Burt at a well-attended Harvard Book Store event for (HILOBROW friend) Annalee Newitz's new novel, The Terraformers.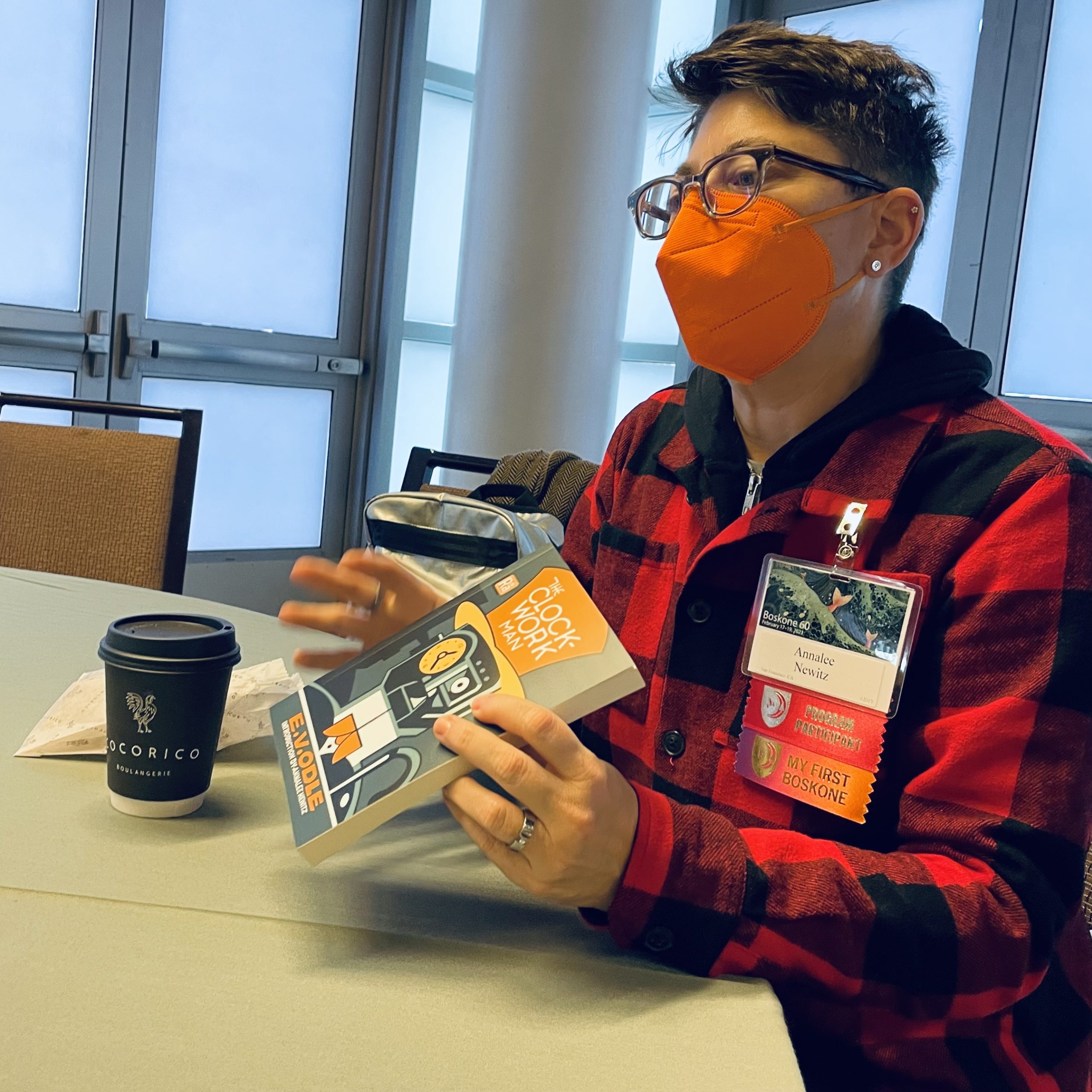 On Saturday morning, I hosted a (less well-attended, but intimate and fun) informal discussion, at BOSKONE, about sf's Radium Age era and also the MIT Press series. Shown above: Annalee Newitz, who generously took the time to chat with us about E.V. Odle's The Clockwork Man — they wrote the introduction for MITP's 2022 edition.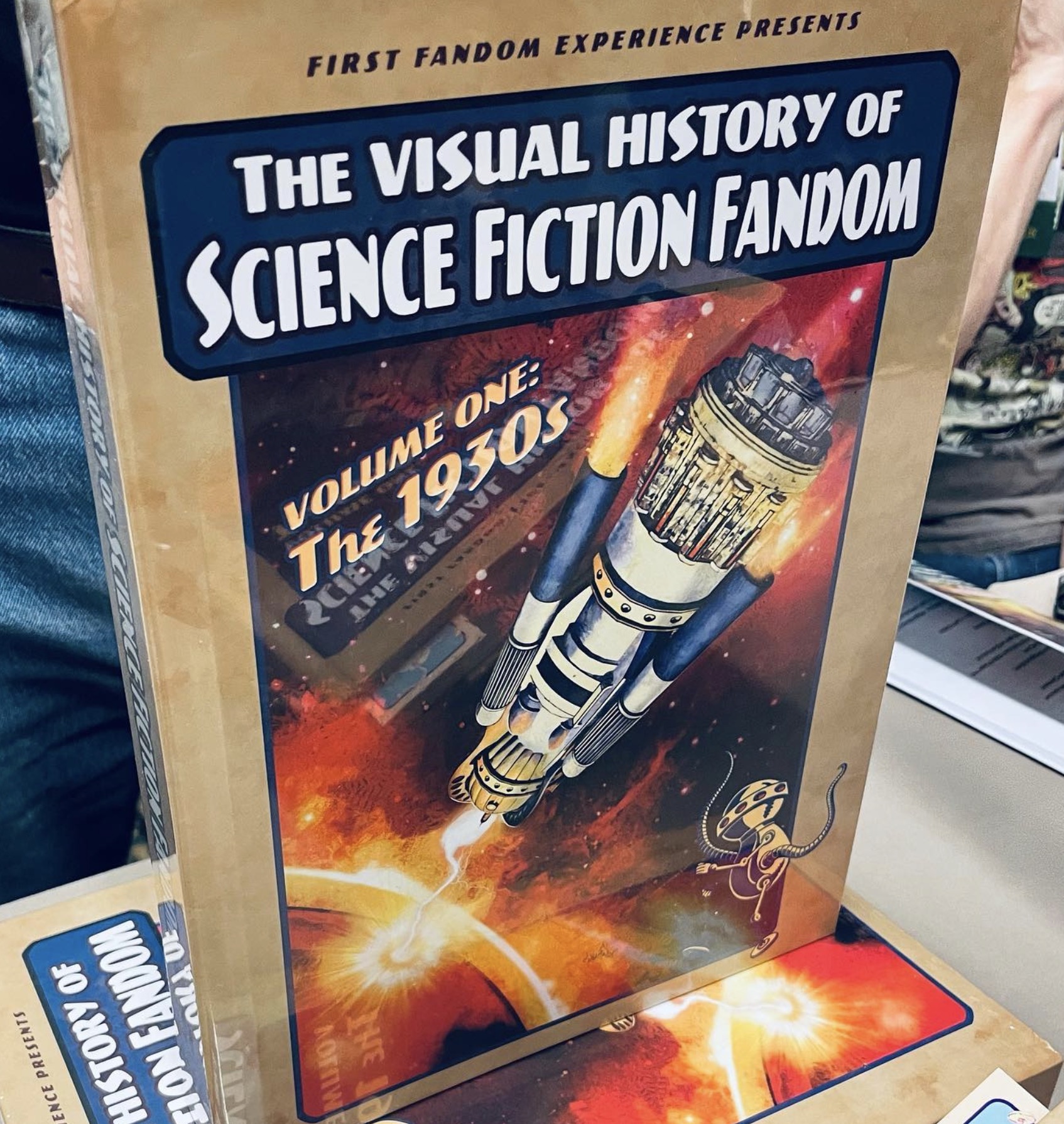 Unexpected bonus: One of the folks who showed up for the Radium Age conversation was Daniel Ritter, managing editor of the First Fandom Experience — which publishes gorgeous, meticulous visual histories of early sf fandom — full-color, oversized collections of photographs, magazine covers, artwork and articles, letters and typescripts. Among other cool projects.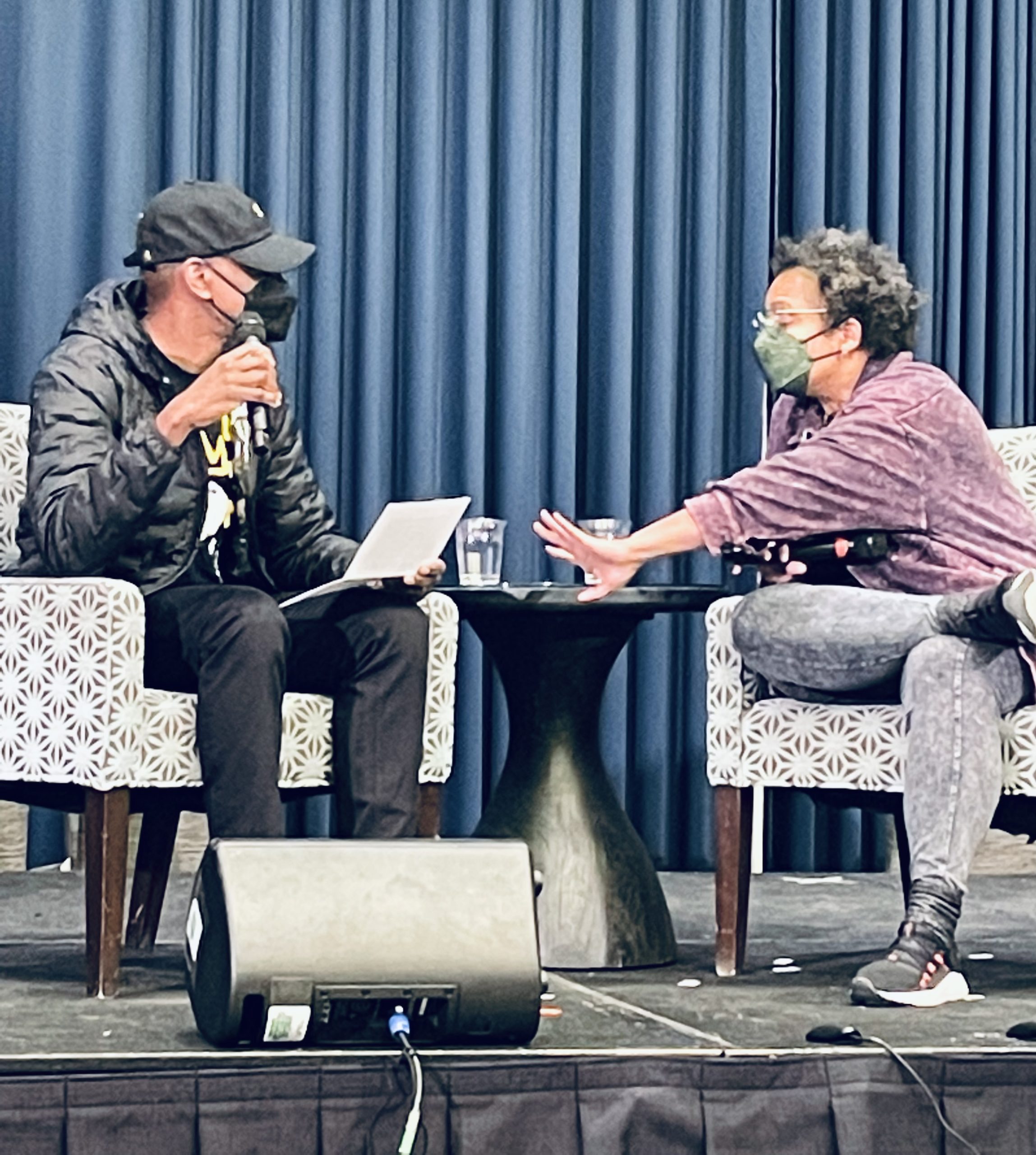 I'm a fan of the sf authors Nalo Hopkinson, about whose Midnight Robber (2000) and Brown Girl in the Ring (1998) I've written for HILOBROW; and P. Djèlí Clark, about whose 2021 novel A Master of Djinn I wrote for HILOBROW earlier this month. So it was a thrill to see them live, in conversation, at BOSKONE — and to chat with both of them later.
I attended various panels at BOSKONE but didn't take any photos. I was impressed with the discussions — wish I could have gone to more.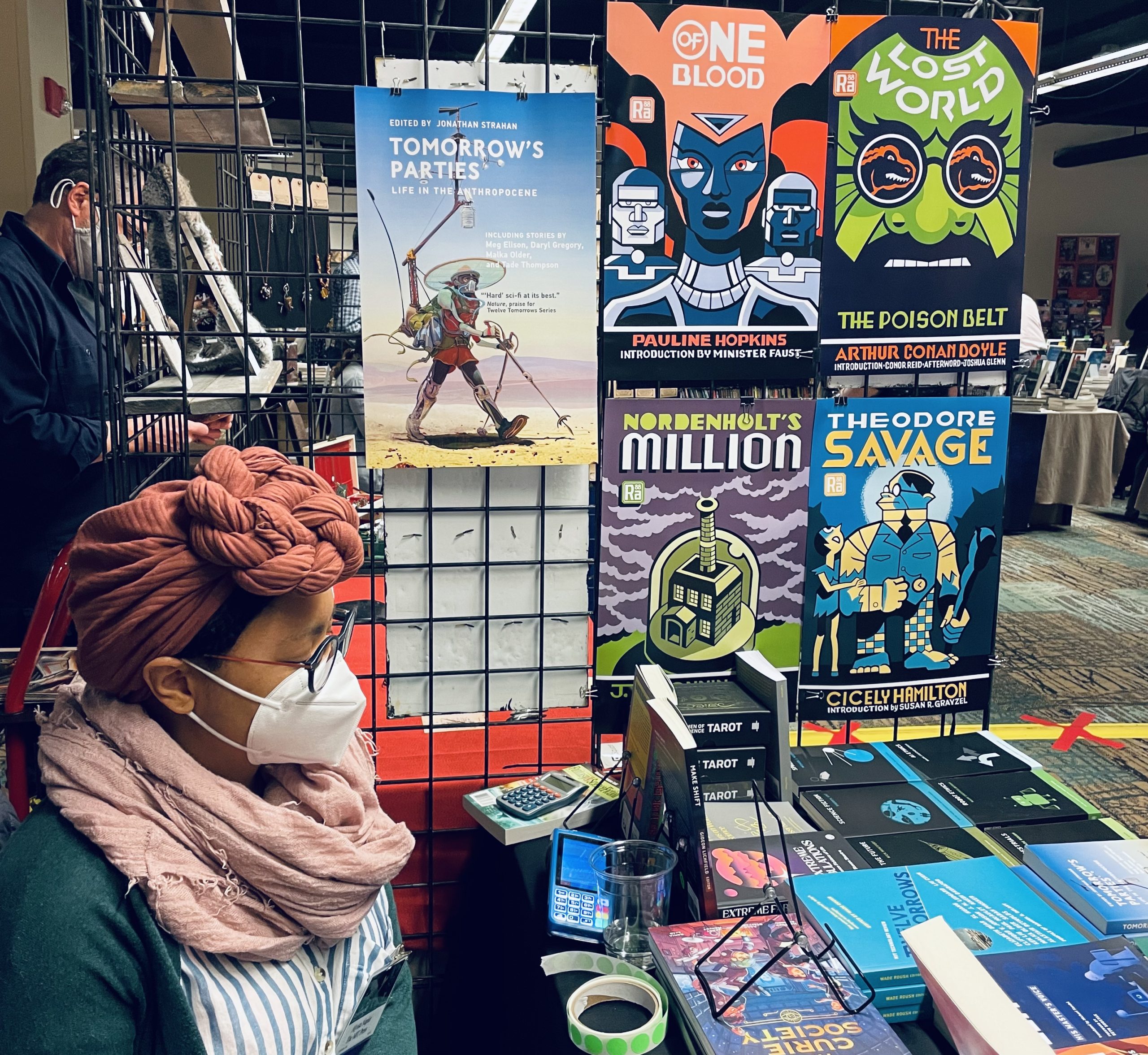 The MIT Press hosted a table at BOSKONE, and I spent a pleasant hour there on Saturday yakking not only with convention-goers, but with the MITP's Susan Buckley, the editor responsible for the Press's Stanislaw Lem (and Twelve Tomorrows) series; and also with recent MITP hire Alyssa Napier (above).
Small world: Alyssa has just published a History of Education Quarterly essay on "The Boston Freedom Schools as Places of Possibility for Reciprocal Integrated Education" about the 1963–1964 Freedom Stay-Outs and Freedom Schools organized by Black activists in Boston. As it happens, my father served on the steering committee of the first Freedom Stay-Out day in '63, so we chatted about this topic for a while — and I've now put them directly in touch with one another. Alyssa's essay is terrific.
I'm very grateful to the MIT Press Bookstore for setting up such a gorgeous display of wares — and check out those Radium Age posters!
On to Readercon — another annual sf convention in Boston. This year at the Boston Quincy Marriott (in Quincy) from July 13–16. Jeff VanderMeer and Justina Ireland will be the guests of honor. My proposal for another Radium Age discussion group was approved….
*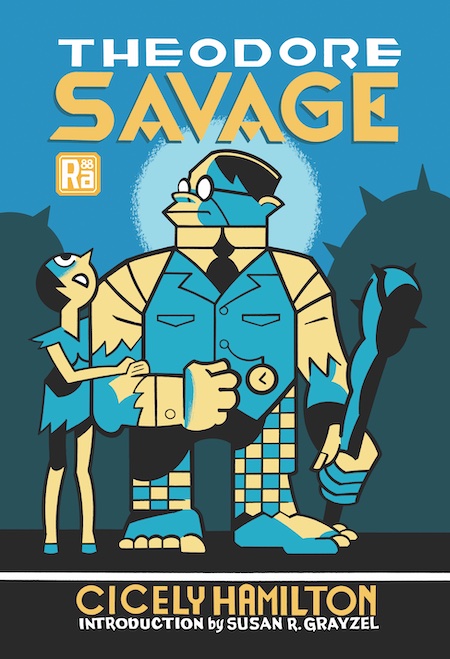 Here's info on forthcoming titles in the Radium Age series, as well as Radium Age proto-sf stories, novels, and poems that we'll serialize and reprint here at HILOBROW during 1Q2023.
Here's info about the Radium Age titles we published in 2022 — including press we received for the titles (and the series), ongoing research conducted here at HILOBROW, and more. And here's even more info about the series, including forthcoming titles not yet officially announced by the MIT Press, our advisory panel, and sneak peeks at Seth's cover art.
***
MORE RADIUM AGE SCI FI ON HILOBROW! RADIUM AGE SERIES from THE MIT PRESS: In-depth info on each book in the series; a sneak peek at what's coming in the months ahead; the secret identity of the series' advisory panel; and more. | RADIUM AGE: TIMELINE: Notes on proto-sf publications and related events from 1900–1935. | RADIUM AGE POETRY: Proto-sf and science-related poetry from 1900–1935. | RADIUM AGE 100: A list (now somewhat outdated) of Josh's 100 favorite proto-sf novels from the genre's emergent Radium Age | SISTERS OF THE RADIUM AGE: A resource compiled by Lisa Yaszek. HILOBOOKS INTROS: Matthew Battles vs. Jack London's The Scarlet Plague | Matthew De Abaitua vs. Rudyard Kipling's With the Night Mail (and "As Easy as A.B.C.") | Joshua Glenn vs. Arthur Conan Doyle's The Poison Belt | James Parker vs. H. Rider Haggard's When the World Shook | Tom Hodgkinson vs. Edward Shanks's The People of the Ruins | Erik Davis vs. William Hope Hodgson's The Night Land | Astra Taylor vs. J.D. Beresford's Goslings | Annalee Newitz vs. E.V. Odle's The Clockwork Man | Gary Panter vs. Cicely Hamilton's Theodore Savage | Mark Kingwell vs. Muriel Jaeger's The Man with Six Senses | Bruce Sterling vs. Rudyard Kipling's With the Night Mail (Afterword) | Gordon Dahlquist vs. Arthur Conan Doyle's The Poison Belt (Afterword). IO9.COM ESSAYS: | RADIUM AGE SUPERMEN | RADIUM AGE ROBOTS | RADIUM AGE APOCALYPSES | RADIUM AGE TELEPATHS | RADIUM AGE ECO-CATASTROPHES | RADIUM AGE COVER ART | 1912: SF'S BEST YEAR EVER. ONGOING RESEARCH: THE HIGHBROW VIRUS | BATHYBIUS | WAR AND PEACE GAMES | BEGUM ROKEYA | TWILIGHT | THOUGHT FORMS. RADIUM AGE AUTHORS: | J.D. Beresford | Algernon Blackwood | Edgar Rice Burroughs | Karel Čapek | Buster Crabbe | August Derleth | Arthur Conan Doyle | Hugo Gernsback | Charlotte Perkins Gilman | Cicely Hamilton | Hermann Hesse | William Hope Hodgson | Aldous Huxley | Inez Haynes Irwin | Alfred Jarry | Murray Leinster | Gustave Le Rouge | Gaston Leroux | David Lindsay | Jack London | H.P. Lovecraft | A. Merritt | Maureen O'Sullivan | Sax Rohmer | Paul Scheerbart | Upton Sinclair | Clark Ashton Smith | E.E. "Doc" Smith | Olaf Stapledon | John Taine | H.G. Wells | Jack Williamson | Stanisław Ignacy Witkiewicz | S. Fowler Wright | Philip Gordon Wylie | Yevgeny Zamyatin.