Best 1998 Adventures (1)
By: Joshua Glenn
October 5, 2020
One in a series of 10 posts identifying Josh Glenn's favorite 1998 adventure novels.
*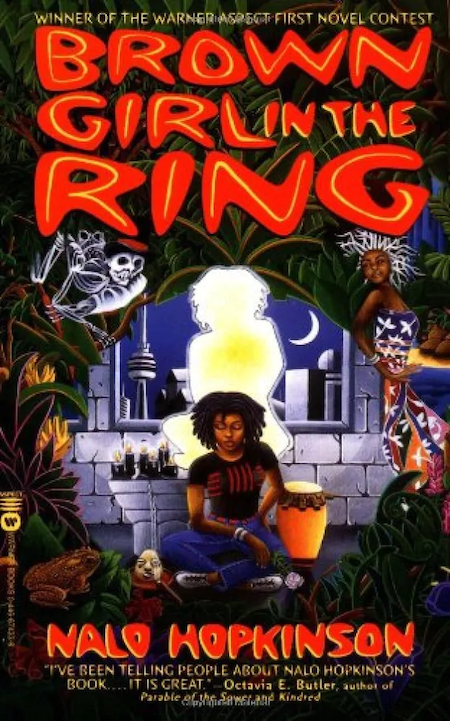 Nalo Hopkinson's sci-fi adventure Brown Girl in the Ring.
In the not-too distant future, some years after the city of Toronto has attempted to disenfranchise indigenous people, which led to international sanctions, which led resulted in the city's economic collapse, gangsters are in charge of the few inhabitants — mostly poor, marginalized folks who had nowhere else to go; the main characters are ethnically Afro-Caribbean. Toronto has become isolated, by roadblocks, from the surrounding areas. One of these gangsters, the criminal overlord Rudy Sheldon, desires to procure a human heart (for Canada's ailing Prime Minister), so he orders his henchman Tony, a young addict with some medical training, to get one. Our heroine, Ti-Jeanne, is the mother of Tony's infant son; her grandmother, Gros-Jeanne, is an herbalist and healer who practices Obeah — a form of magic that involves communicating with spirits. As in her 2000 book Midnight Robber, Hopkinson doesn't spare us the gruesome realities of life for a young female character who finds herself in such dire straits. When Tony shows up on Gros-Jeanne's doorstep, Ti-Jeanne is forced to open herself to Obeah, thus becoming involved in a fantastical struggle between good and evil. A heart is indeed stolen… but in the end, it may prove the salvation of Toronto.
Fun facts: Winner of the Locus Award for Best First Novel. "The genius of that novel," Charlie Jane Anders would write, of Brown Girl in the Ring, "is how effortlessly these two very different things go hand in hand: the dystopian future and the magical realism." (Anders would go on to write 2016's Nebula-winning All the Birds in the Sky, which also effectively blends science fiction with magic.) Sharon Lewis's 2017 movie, Brown Girl Begins, is a prequel to this story.
***
JOSH GLENN'S *BEST ADVENTURES* LISTS: BEST 250 ADVENTURES OF THE 20TH CENTURY | 100 BEST OUGHTS ADVENTURES | 100 BEST RADIUM AGE (PROTO-)SCI-FI ADVENTURES | 100 BEST TEENS ADVENTURES | 100 BEST TWENTIES ADVENTURES | 100 BEST THIRTIES ADVENTURES | 75 BEST GOLDEN AGE SCI-FI ADVENTURES | 100 BEST FORTIES ADVENTURES | 100 BEST FIFTIES ADVENTURES | 100 BEST SIXTIES ADVENTURES | 75 BEST NEW WAVE SCI FI ADVENTURES | 100 BEST SEVENTIES ADVENTURES | 100 BEST EIGHTIES ADVENTURES | 75 BEST DIAMOND AGE SCI-FI ADVENTURES | 100 BEST NINETIES ADVENTURES (in progress) | 1994 | 1995 | 1996 | 1997 | 1998 | 1999 | 2000 | 2001 | 2002 | 2003 | NOTES ON 21st-CENTURY ADVENTURES.