HADRON AGE SF (58)
By: Joshua Glenn
February 13, 2023
One in a series of posts about the 75 best sf adventures published during the genre's Hadron Age era (from 2004–2023, according to HILOBROW's periodization schema). For Josh Glenn's Hadron Age Sci-Fi 75 list (a work in progress), click here.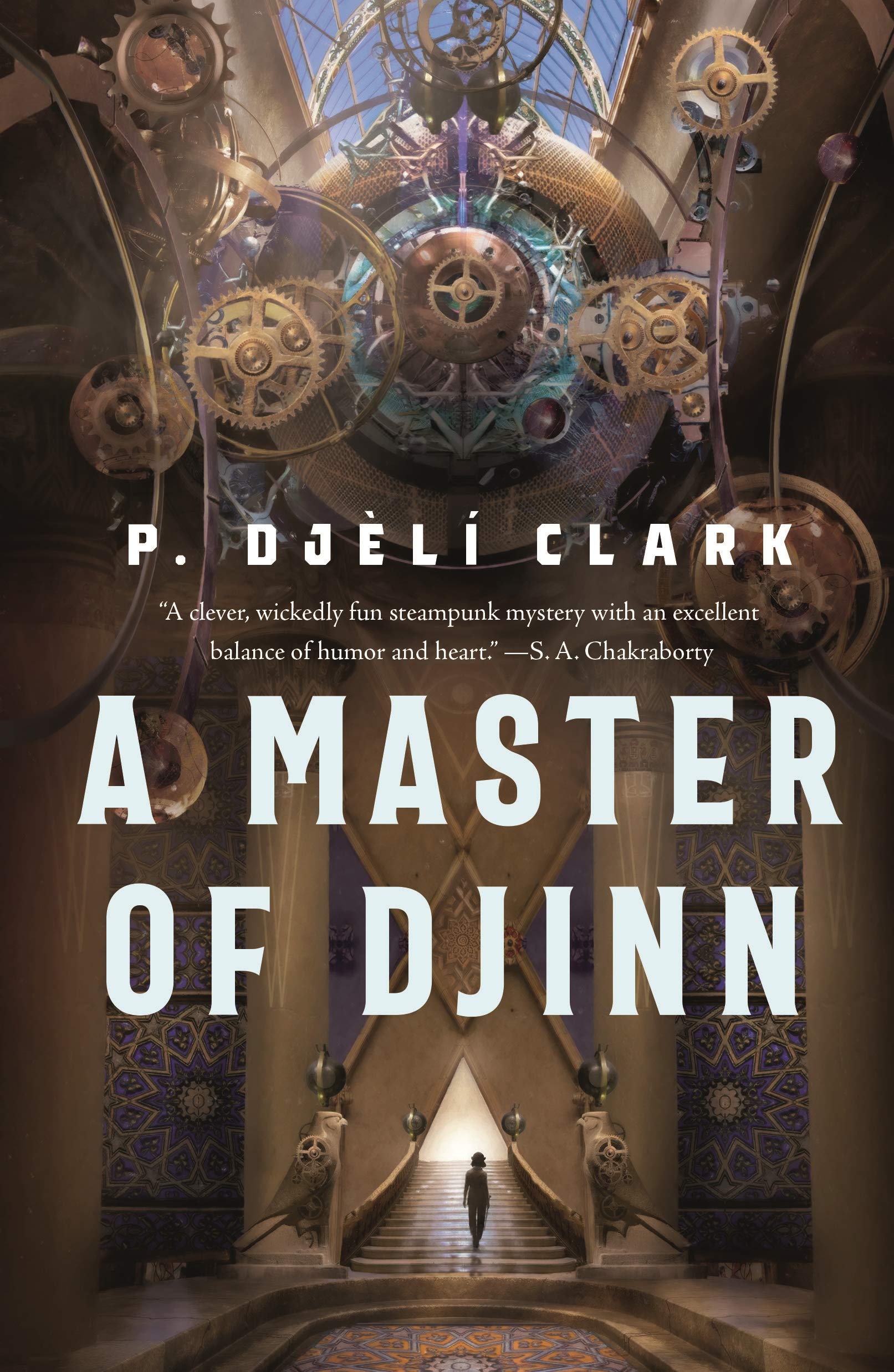 P. Djèlí Clark's A Master of Djinn (2021).
Following the events of "A Dead Djinn in Cairo" (2016), "The Angel of Khan el-Khalili" (2017), and The Haunting of Tram Car 015 (2019), like these other installments in Clark's Dead Djinn Universe series, A Master of Djinn is a dizzying genre hybrid: historical fantasy, steampunk sf, city chronicle, and mystery. In 1912, some decades after al-Jahiz, a mystic and inventor, has made contact with a realm/dimension populated by djinn, ifrit, angels, and other creatures capable of terrifying magic, leading to the transformation of Cairo and the world via magical and technological alliances between humans and djinn, Inspector Fatma el-Sha'arawi (of the Egyptian Ministry of Alchemy, Enchantments, and Supernatural Entities) is assigned to investigate the return of the long-disappeared al-Jahiz. A masked man claiming to be the mystic has murdered members of a Hermetic Brotherhood devoted to him, and is now scheming to disrupt an upcoming World Peace Summit, which (we're given to understand) might determine whether or not the First World War develops. Assisted here by her rookie partner at the Ministry, Hadia, and also by her lover, Siti, a not-entirely-human devotee of Sekhmet, Fatma (whom we've met before) is a terrific character — a brilliant sleuth, a tough cookie, and a gender-nonconforming dandy to boot. Other amazing characters we'll encounter in airship- and automata- crowded Cairo incldeu Siwa, a semi-domesticated djinn with a gambling addiction, as well as self-replicating ash-ghuls, flaming ifrits, giant flying rukhs, angels housed in clockwork devices, and… Kaiser Wilhelm too.
Fun facts: Dexter Gabriel, who writes as Phenderson Djèlí Clark, is an Assistant Professor in the Department of History at the University of Connecticut. (His pen name, "Djèlí", makes reference to the griots — traditional Western African storytellers, historians, and poets.) A Master of Djinn won the 2022 Nebula and Locus Awards.
***
JOSH GLENN'S *BEST ADVENTURES* LISTS: BEST 250 ADVENTURES OF THE 20TH CENTURY | 100 BEST OUGHTS ADVENTURES | 100 BEST RADIUM AGE (PROTO-)SCI-FI ADVENTURES | 100 BEST TEENS ADVENTURES | 100 BEST TWENTIES ADVENTURES | 100 BEST THIRTIES ADVENTURES | 75 BEST GOLDEN AGE SCI-FI ADVENTURES | 100 BEST FORTIES ADVENTURES | 100 BEST FIFTIES ADVENTURES | 100 BEST SIXTIES ADVENTURES | 75 BEST NEW WAVE SCI FI ADVENTURES | 100 BEST SEVENTIES ADVENTURES | 100 BEST EIGHTIES ADVENTURES | 75 BEST DIAMOND AGE SCI-FI ADVENTURES | 100 BEST NINETIES ADVENTURES | 75 BEST HADRON AGE SCI-FI ADVENTURES.