Armageddon — 2419 A.D. (2)
By: Philip Francis Nowlan
February 26, 2013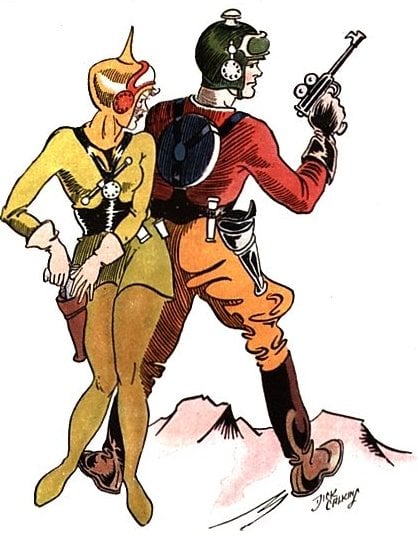 HILOBROW is pleased to present the second installment of our serialization of Philip Francis Nowlan's Armageddon —2419 A.D.. New installments will appear each Tuesday for 13 weeks.
In Philip Francis Nowlan's novella Armageddon 2419 A.D., which first appeared in the August 1928 issue of the pulp magazine Amazing Stories (the same issue which launched E.E. "Doc" Smith's serial The Skylark of Space), 29-year-old WWI vet and mining engineer Anthony Rogers falls into a state of suspended animation in the year 1927. Five hundred years later, he wakes up in an America that for the past three centuries has been a backward province of the globe-spanning, part-Mongolian part-alien Han Empire. Taken in by a gang of American rebels, he becomes a freedom fighter in the Second War of Independence.
Nowlan's long-running and much-imitated Buck Rogers comic strip, illustrated by Dick Calkins, first appeared in January 1929. The protagonist was renamed in imitation of the popular cowboy actor Buck Jones.
SUBSCRIBE to HILOBROW's serialized fiction via RSS.
ALL EXCERPTS: 1 | 2 | 3 | 4 | 5 | 6 | 7 | 8 | 9 | 10 | 11 | 12
***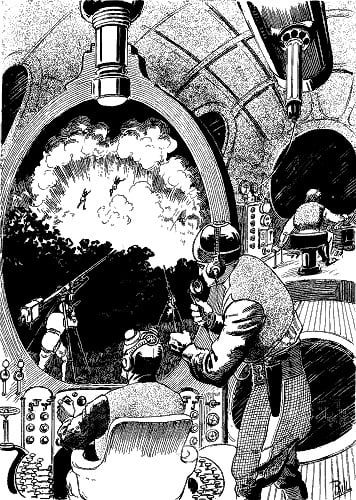 CHAPTER I
Floating Men
Seen upon the ultroscope viewplate, the battle looked as though it were being fought in daylight, perhaps on a cloudy day, while the explosions of the rockets appeared as flashes of extra brilliance.
My first glimpse of a human being of the 25th Century was obtained through a portion of woodland where the trees were thinly scattered, with a dense forest beyond.
I had been wandering along aimlessly, and hopelessly, musing over my strange fate, when I noticed a figure that cautiously backed out of the dense growth across the glade. I was about to call out joyfully, but there was something furtive about the figure that prevented me. The boy's attention (for it seemed to be a lad of fifteen or sixteen) was centered tensely on the heavy growth of trees from which he had just emerged.
He was clad in rather tight-fitting garments entirely of green, and wore a helmet-like cap of the same color. High around his waist he wore a broad, thick belt, which bulked up in the back across the shoulders, into something of the proportions of a knapsack.
As I was taking in these details, there came a vivid flash and heavy detonation, like that of a hand grenade, not far to the left of him. He threw up an arm and staggered a bit in a queer, gliding way; then he recovered himself and slipped cautiously away from the place of the explosion, crouching slightly, and still facing the denser part of the forest. Every few steps he would raise his arm, and point into the forest with something he held in his hand. Wherever he pointed there was a terrific explosion, deeper in among the trees. It came to me then that he was shooting with some form of pistol, though there was neither flash nor detonation from the muzzle of the weapon itself.
After firing several times, he seemed to come to a sudden resolution, and turning in my general direction, leaped — to my amazement sailing through the air between the sparsely scattered trees in such a jump as I had never in my life seen before. That leap must have carried him a full fifty feet, although at the height of his arc, he was not more than ten or twelve feet from the ground.
When he alighted, his foot caught in a projecting root, and he sprawled gently forward. I say "gently" for he did not crash down as I expected him to do. The only thing I could compare it with was a slow-motion cinema, although I had never seen one in which horizontal motions were registered at normal speed and only the vertical movements were slowed down.
Due to my surprise, I suppose my brain did not function with its normal quickness, for I gazed at the prone figure for several seconds before I saw the blood that oozed out from under the tight green cap. Regaining my power of action, I dragged him out of sight back of the big tree. For a few moments I busied myself in an attempt to staunch the flow of blood. The wound was not a deep one. My companion was more dazed than hurt. But what of the pursuers?
I took the weapon from his grasp and examined it hurriedly. It was not unlike the automatic pistol to which I was accustomed, except that it apparently fired with a button instead of a trigger. I inserted several fresh rounds of ammunition into its magazine from my companion's belt, as rapidly as I could, for I soon heard, near us, the suppressed conversation of his pursuers.
There followed a series of explosions round about us, but none very close. They evidently had not spotted our hiding place, and were firing at random.
I waited tensely, balancing the gun in my hand, to accustom myself to its weight and probable throw.
Then I saw a movement in the green foliage of a tree not far away, and the head and face of a man appeared. Like my companion, he was clad entirely in green, which made his figure difficult to distinguish. But his face could be seen clearly. It was an evil face, and had murder in it.
That decided me. I raised the gun and fired. My aim was bad, for there was no kick in the gun, as I had expected, and I hit the trunk of the tree several feet below him. It blew him from his perch like a crumpled bit of paper, and he floated down to the ground, like some limp, dead thing, gently lowered by an invisible hand. The tree, its trunk blown apart by the explosion, crashed down.
There followed another series of explosions around us. These guns we were using made no sound in the firing, and my opponents were evidently as much at sea as to my position as I was to theirs. So I made no attempt to reply to their fire, contenting myself with keeping a sharp lookout in their general direction. And patience had its reward.
Very soon I saw a cautious movement in the top of another tree. Exposing myself as little as possible, I aimed carefully at the tree trunk and fired again. A shriek followed the explosion. I heard the tree crash down; then a groan.
There was silence for a while. Then I heard a faint sound of boughs swishing. I shot three times in its direction, pressing the button as rapidly as I could. Branches crashed down where my shells had exploded, but there was no body.
Then I saw one of them. He was starting one of those amazing leaps from the bough of one tree to another, about forty feet away.
I threw up my gun impulsively and fired. By now I had gotten the feel of the weapon, and my aim was good. I hit him. The "bullet" must have penetrated his body and exploded. For one moment I saw him flying through the air. Then the explosion, and he had vanished. He never finished his leap. It was annihilation.
How many more of them there were I don't know. But this must have been too much for them. They used a final round of shells on us, all of which exploded harmlessly, and shortly after I heard them swishing and crashing away from us through the tree tops. Not one of them descended to earth.
Now I had time to give some attention to my companion. She was, I found, a girl, and not a boy. Despite her bulky appearance, due to the peculiar belt strapped around her body high up under the arms, she was very slender, and very pretty.
There was a stream not far away, from which I brought water and bathed her face and wound.
Apparently the mystery of these long leaps, the monkey-like ability to jump from bough to bough, and of the bodies that floated gently down instead of falling, lay in the belt. The thing was some sort of anti-gravity belt that almost balanced the weight of the wearer, thereby tremendously multiplying the propulsive power of the leg muscles, and the lifting power of the arms.
When the girl came to, she regarded me as curiously as I did her, and promptly began to quiz me. Her accent and intonation puzzled me a lot, but nevertheless we were able to understand each other fairly well, except for certain words and phrases. I explained what had happened while she lay unconscious, and she thanked me simply for saving her life.
"You are a strange exchange," she said, eying my clothing quizzically. Evidently she found it mirth provoking by contrast with her own neatly efficient garb. "Don't you understand what I mean by 'exchange?' I mean ah — let me see — a stranger, somebody from some other gang. What gang do you belong to?" (She pronounced it "gan," with only a suspicion of a nasal sound.)
I laughed. "I'm not a gangster," I said. But she evidently did not understand this word. "I don't belong to any gang," I explained, "and never did. Does everybody belong to a gang nowadays?"
"Naturally," she said, frowning. "If you don't belong to a gang, where and how do you live? Why have you not found and joined a gang? How do you eat? Where do you get your clothing?"
"I've been eating wild game for the past two weeks," I explained, "and this clothing I— er — ah —." I paused, wondering how I could explain that it must be many hundred years old.
In the end I saw I would have to tell my story as well as I could, piecing it together with my assumptions as to what had happened. She listened patiently; incredulously at first, but with more confidence as I went on. When I had finished, she sat thinking for a long time.
"That's hard to believe," she said, "but I believe it." She looked me over with frank interest.
"Were you married when you slipped into unconsciousness down in that mine?" she asked me suddenly. I assured her I had never married. "Well, that simplifies matters," she continued. "You see, if you were technically classed as a family man, I could take you back only as an invited exchange and I, being unmarried, and no relation of yours, couldn't do the inviting."
***
RADIUM AGE SCIENCE FICTION: "Radium Age" is HILOBROW's name for the 1904–33 era, which saw the discovery of radioactivity, the revelation that matter itself is constantly in movement — a fitting metaphor for the first decades of the 20th century, during which old scientific, religious, political, and social certainties were shattered. This era also saw the publication of genre-shattering writing by Edgar Rice Burroughs, Sax Rohmer, E.E. "Doc" Smith, Jack London, Arthur Conan Doyle, Aldous Huxley, Olaf Stapledon, Karel Čapek, H.P. Lovecraft, Charlotte Perkins Gilman, Yevgeny Zamyatin, Philip Gordon Wylie, and other pioneers of post-Verne/Wells, pre-Golden Age "science fiction."
HILOBOOKS: The mission of HiLoBooks is to serialize novels (both original and reissued) on HiLobrow, and to reissue Radium Age science fiction in beautiful new print editions. The following titles can be read in serial form via HiLobrow.com and/or purchased in gorgeous paperback form online or via your local independent bookstore: Jack London's The Scarlet Plague, Rudyard Kipling's With the Night Mail (and "As Easy as A.B.C."), Arthur Conan Doyle's The Poison Belt, H. Rider Haggard's When the World Shook, Edward Shanks' The People of the Ruins, William Hope Hodgson's The Night Land, J.D. Beresford's Goslings, E.V. Odle's The Clockwork Man, Cicely Hamilton's Theodore Savage, and Muriel Jaeger's The Man with Six Senses. Also serialized on HiLobrow: W.E.B. DuBois's "The Comet", Homer Eon Flint's The Devolutionist, Philip Francis Nowlan's Armageddon — 2419 A.D., Jack London's "The Red One". For more information, visit the HiLoBooks homepage.
ORIGINAL FICTION from HILOBROW: James Parker's swearing-animal fable The Ballad of Cocky The Fox, later published in limited-edition paperback by HiLoBooks; plus: a newsletter, The Sniffer, by Patrick Cates, and further stories: "The Cockarillion") | Karinne Keithley Syers's hollow-earth adventure Linda, later published in limited-edition paperback; plus: ukulele music, and a "Floating Appendix") | Matthew Battles's stories "Gita Nova", "Makes the Man," "Imago," "Camera Lucida," "A Simple Message", "Children of the Volcano", "The Gnomon", "Billable Memories", "For Provisional Description of Superficial Features", "The Dogs in the Trees", "The Sovereignties of Invention", and "Survivor: The Island of Dr. Moreau"; several of these later appeared in the collection The Sovereignties of Invention, published by Red Lemonade | Robert Waldron's high-school campus roman à clef The School on the Fens | Peggy Nelson's "Mood Indigo", "Top Kill Fail", and "Mercerism" | Annalee Newitz's "The Great Oxygen Race" | Flourish Klink's Star Trek fanfic "Conference Comms" | Charlie Mitchell's "A Fantasy Land" | Charlie Mitchell's "Sentinels" | Joshua Glenn's "The Lawless One", and the mashup story "Zarathustra vs. Swamp Thing" | Adam McGovern and Paolo Leandri's Idoru Jones comics | John Holbo's "Sugarplum Squeampunk" | "Another Corporate Death" (1) and "Another Corporate Death" (2) by Mike Fleisch | Kathryn Kuitenbrouwer and Frank Fiorentino's graphic novel "The Song of Otto" (excerpt) | John Holbo's graphic novel On Beyond Zarathustra (excerpt) | "Manoj" and "Josh" by Vijay Balakrishnan | "Verge" by Chris Rossi, and his audio novel Low Priority Hero | EPIC WINS: THE ILIAD (1.408-415) by Flourish Klink | EPIC WINS: THE KALEVALA (3.1-278) by James Parker | EPIC WINS: THE ARGONAUTICA (2.815-834) by Joshua Glenn | EPIC WINS: THE ILIAD by Stephen Burt | EPIC WINS: THE MYTH OF THE ELK by Matthew Battles | EPIC WINS: GOTHAMIAD by Chad Parmenter | TROUBLED SUPERHUMAN CONTEST: Charles Pappas, "The Law" | CATASTROPHE CONTEST: Timothy Raymond, "Hem and the Flood" | TELEPATHY CONTEST: Rachel Ellis Adams, "Fatima, Can You Hear Me?" | OIL SPILL CONTEST: A.E. Smith, "Sound Thinking | LITTLE NEMO CAPTION CONTEST: Joe Lyons, "Necronomicon" | SPOOKY-KOOKY CONTEST: Tucker Cummings, "Well Marbled" | INVENT-A-HERO CONTEST: TG Gibbon, "The Firefly" | FANFICTION CONTEST: Lyette Mercier's "Sex and the Single Superhero"