Pinakothek (6): Vile Smut
By: Lucy Sante
August 10, 2009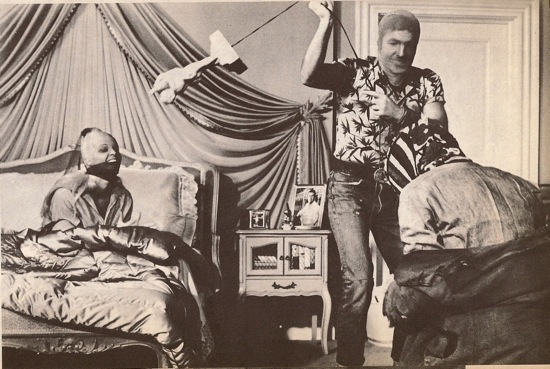 Reminiscing about my early days in the used-paper trade, I find that I can become tender if not actually moist-eyed at the thought of the publications that were both produced and purchased by the raincoat brigade. You young people today, saturated in smut, are so jaded and jaundiced and all that you may not immediately appreciate the pathos of the many approaches to porn in the time before the soi-disant sexual revolution. Consider the many shadings of the word "art," especially as applied to privately printed portfolios and editions of "exquisite" and "piquant" and sometimes "frank" character, intended exclusively for an audience of "discerning connoisseurs." Think of slim paperback novels, published in Hollywood in awkwardly boxy typefaces and dirt-colored wrappers, armed with introductions by persons able to append a Ph.D. to their names. Imagine a bookstore of the bygone sort, as discreet as a boudoir, with a curtained doorway in the rear leading to locked glass-fronted bookcases housing a category known as "curiosa."
These musings were occasioned by the rediscovery on my shelves of Sadism in the Movies, by one George [sic] de Coulteray, published in 1965, in a translation worthy of Babelfish, by the important-sounding Medical Press of New York City. "The book that shocked a nation," screams the dust jacket, an unlikely encomium coming from a starchy scientific publishing house. To read the book I find that I have to reverse-translate in my head, since many sentences make no sense whatever in English but are convincing in the presumed original as St.-Germain des Prés table talk:
But one must admit that since the end of the 19th century one is in the presence of a rise so brutal that in our times the spanking has become the privileged form of what may be called minor sadism, a harmonious mixture of pain, slight in itself, and a ceremony which by making ridiculous, emphasizes its humiliating character, followed by the double arousal, active and passive.
But nobody ever read it, anyway. They bought the book for the pictures, half of which derive from the original and look as though they were photocopied with a machine of the era — they're so murky you can barely make them out. All the pictures are stills, all are unidentified, some show garden-variety brawls and others get into skulls-and-chains territory. Nearly all are so smudgy and hasty and low-rent they seem much smuttier than the movies themselves (or even a decent print of any given still) ever could. The one shown above is in its own right a terrific example of the power of film stills — you just can't imagine that the rest of the movie, whatever it is, could possibly measure up to the sheer sordidness of the image.
But to go back to the French, the adjacent book on the shelf is Lo Duca's L'Érotisme au Cinéma (J.-J. Pauvert, 1957) which is both serious and sumptuous in exactly the ways its neighbor isn't. Just flipping through it is guaranteed to inspire indulgent fondness for the French at their most nominally insufferable. Take this chart, for example, which is worthy of Edward Tufte's books: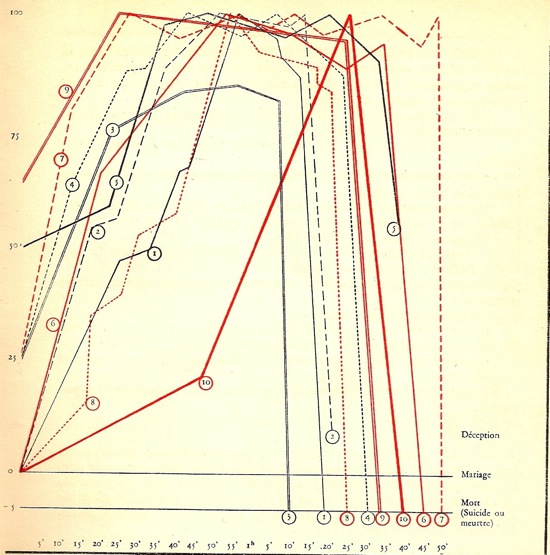 The movies are (1) The Blue Angel, (2) Ecstasy, (3) Tabu, (4) The Lady from Shanghai, (5) Notorious, (6) Bitter Rice, (7) Manon, (8) Los Olvidados, (9) Miss Julie, and (10) One Summer of Happiness. No, I'd never heard of that last one, either. Don't you wish you could nonchalantly illustrate your humid reveries with charts so rigorously white-smocked? I certainly do.
***
Originally published at Luc Sante's blog, Pinakothek. HiLobrow.com has curated a collection of our favorite Pinakothek installments. This is the sixth in a series of ten.
HILO HERO ITEMS by Luc Sante: Dashiell Hammett | Pancho Villa | James M. Cain | Georges Bataille | Félix Fénéon | Émile Henry | A.J. Liebling | Jim Thompson | Joe Hill | Nestor Makhno | Hans Magnus Enzensberger | Captain Beefheart | William Burroughs | Ring Lardner | Lee "Scratch" Perry | Serge Gainsbourg | Kathy Acker | Arthur Cravan | Weegee | Alexander Trocchi | Ronnie Biggs | George Ade | Georges Darien | Zo d'Axa | Petrus Borel | Blaise Cendrars | Alexandre Jacob | Constance Rourke | Damia | J-P Manchette | Jean-Paul Clebert | Pierre Mac Orlan | Comte De Lautreamont | André Breton | Robert Desnos | Arthur Rimbaud |