The Comet (2)
By: W.E.B. Du Bois
May 28, 2013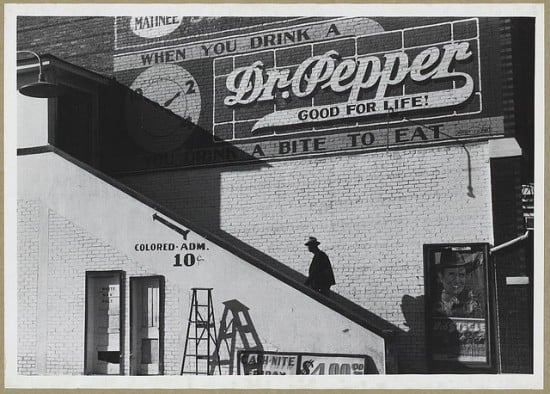 HILOBROW is pleased to present the second installment of our serialization of "The Comet," a 1920 science fiction story by W.E.B. DuBois, the most important black protest leader in the United States during the first half of the 20th century. "The Comet" was originally published as the tenth chapter of Du Bois's avant-garde fiction, poetry, and autobiographical collection Darkwater: Voices From Within the Veil. New installments will appear each Tuesday for five weeks.
SUBSCRIBE to HILOBROW's serialized fiction via RSS.
ALL INSTALLMENTS: 1 | 2 | 3 | 4 | 5
***
In the great stone doorway a hundred men and women and children lay crushed and twisted and jammed, forced into that great, gaping doorway like refuse in a can — as if in one wild, frantic rush to safety, they had rushed and ground themselves to death. Slowly the messenger crept along the walls, wetting his parched mouth and trying to comprehend, stilling the tremor in his limbs and the rising terror in his heart. He met a business man, silk-hatted and frock-coated, who had crept, too, along that smooth wall and stood now stone dead with wonder written on his lips. The messenger turned his eyes hastily away and sought the curb. A woman leaned wearily against the signpost, her head bowed motionless on her lace and silken bosom. Before her stood a street car, silent, and within — but the messenger but glanced and hurried on. A grimy newsboy sat in the gutter with the "last edition" in his uplifted hand: "Danger!" screamed its black headlines. "Warnings wired around the world. The Comet's tail sweeps past us at noon. Deadly gases expected. Close doors and windows. Seek the cellar." The messenger read and staggered on. Far out from a window above, a girl lay with gasping face and sleevelets on her arms. On a store step sat a little, sweet-faced girl looking upward toward the skies, and in the carriage by her lay — but the messenger looked no longer. The cords gave way — the terror burst in his veins, and with one great, gasping cry he sprang desperately forward and ran, — ran as only the frightened run, shrieking and fighting the air until with one last wail of pain he sank on the grass of Madison Square and lay prone and still.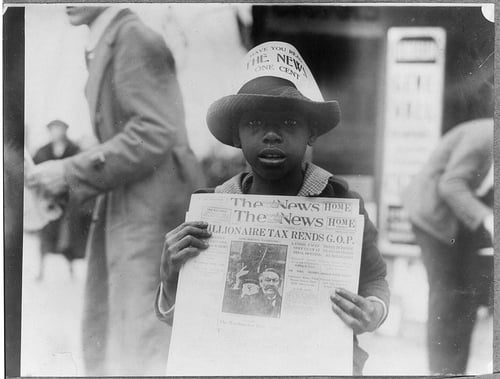 When he rose, he gave no glance at the still and silent forms on the benches, but, going to a fountain, bathed his face; then hiding himself in a corner away from the drama of death, he quietly gripped himself and thought the thing through: The comet had swept the earth and this was the end. Was everybody dead? He must search and see.
He knew that he must steady himself and keep calm, or he would go insane. First he must go to a restaurant. He walked up Fifth Avenue to a famous hostelry and entered its gorgeous, ghost-haunted halls. He beat back the nausea, and, seizing a tray from dead hands, hurried into the street and ate ravenously, hiding to keep out the sights.
"Yesterday, they would not have served me," he whispered, as he forced the food down.
Then he started up the street, — looking, peering, telephoning, ringing alarms; silent, silent all. Was nobody — nobody — he dared not think the thought and hurried on.
Suddenly he stopped still. He had forgotten. My God! How could he have forgotten? He must rush to the subway — then he almost laughed. No — a car; if he could find a Ford. He saw one. Gently he lifted off its burden, and took his place on the seat. He tested the throttle. There was gas. He glided off, shivering, and drove up the street. Everywhere stood, leaned, lounged, and lay the dead, in grim and awful silence. On he ran past an automobile, wrecked and overturned; past another, filled with a gay party whose smiles yet lingered on their death-struck lips; on past crowds and groups of cars, pausing by dead policemen; at 42nd Street he had to detour to Park Avenue to avoid the dead congestion. He came back on Fifth Avenue at 57th and flew past the Plaza and by the park with its hushed babies and silent throng, until as he was rushing past 72nd Street he heard a sharp cry, and saw a living form leaning wildly out an upper window. He gasped. The human voice sounded in his ears like the voice of God.
"Hello — hello — help, in God's name!" wailed the woman. "There's a dead girl in here and a man and — and see yonder dead men lying in the street and dead horses — for the love of God go and bring the officers —" And the words trailed off into hysterical tears.
He wheeled the car in a sudden circle, running over the still body of a child and leaping on the curb. Then he rushed up the steps and tried the door and rang violently. There was a long pause, but at last the heavy door swung back. They stared a moment in silence. She had not noticed before that he was a Negro. He had not thought of her as white. She was a woman of perhaps twenty-five — rarely beautiful and richly gowned, with darkly-golden hair, and jewels. Yesterday, he thought with bitterness, she would scarcely have looked at him twice. He would have been dirt beneath her silken feet. She stared at him. Of all the sorts of men she had pictured as coming to her rescue she had not dreamed of one like him. Not that he was not human, but he dwelt in a world so far from hers, so infinitely far, that he seldom even entered her thought. Yet as she looked at him curiously he seemed quite commonplace and usual. He was a tall, dark workingman of the better class, with a sensitive face trained to stolidity and a poor man's clothes and hands. His face was soft and slow and his manner at once cold and nervous, like fires long banked, but not out.
So a moment each paused and gauged the other; then the thought of the dead world without rushed in and they started toward each other.
***
RADIUM AGE SCIENCE FICTION: "Radium Age" is HILOBROW's name for the 1904–33 era, which saw the discovery of radioactivity, the revelation that matter itself is constantly in movement — a fitting metaphor for the first decades of the 20th century, during which old scientific, religious, political, and social certainties were shattered. This era also saw the publication of genre-shattering writing by Edgar Rice Burroughs, Sax Rohmer, E.E. "Doc" Smith, Jack London, Arthur Conan Doyle, Aldous Huxley, Olaf Stapledon, Karel Čapek, H.P. Lovecraft, Charlotte Perkins Gilman, Yevgeny Zamyatin, Philip Gordon Wylie, and other pioneers of post-Verne/Wells, pre-Golden Age "science fiction." More info here.
READ GORGEOUS PAPERBACKS: HiLoBooks has reissued the following 10 obscure but amazing Radium Age science fiction novels in beautiful print editions: Jack London's The Scarlet Plague, Rudyard Kipling's With the Night Mail (and "As Easy as A.B.C."), Arthur Conan Doyle's The Poison Belt, H. Rider Haggard's When the World Shook, Edward Shanks' The People of the Ruins, William Hope Hodgson's The Night Land, J.D. Beresford's Goslings, E.V. Odle's The Clockwork Man, Cicely Hamilton's Theodore Savage, and Muriel Jaeger's The Man with Six Senses. For more information, visit the HiLoBooks homepage.
SERIALIZED BY HILOBOOKS: Richard Connell's "The Most Dangerous Game" | Jack London's The Scarlet Plague | Rudyard Kipling's With the Night Mail (and "As Easy as A.B.C.") | Arthur Conan Doyle's The Poison Belt | H. Rider Haggard's When the World Shook | serialized between March and August 2012; Edward Shanks' The People of the Ruins, serialized between May and September 2012; William Hope Hodgson's The Night Land, serialized between June and December 2012; J.D. Beresford's Goslings, serialized between September 2012 and May 2013; E.V. Odle's The Clockwork Man, serialized between March 2013 and July 2013; and Cicely Hamilton's Theodore Savage, serialized between March and August 2013.
ORIGINAL FICTION: HILOBROW has serialized three novels: James Parker's The Ballad of Cocky The Fox ("a proof-of-concept that serialization can work on the Internet" — The Atlantic); Karinne Keithley Syers's Linda Linda Linda (which includes original music); and Robert Waldron's roman à clef The School on the Fens. We also publish original stories and comics. These include: Matthew Battles's stories "Gita Nova", "Makes the Man," "Imago," "Camera Lucida," "A Simple Message", "Children of the Volcano", "The Gnomon", "Billable Memories", "For Provisional Description of Superficial Features", "The Dogs in the Trees", "The Sovereignties of Invention", and "Survivor: The Island of Dr. Moreau"; several of these later appeared in the collection The Sovereignties of Invention | Peggy Nelson's "Mood Indigo", "Top Kill Fail", and "Mercerism" | Annalee Newitz's "The Great Oxygen Race" | Flourish Klink's Star Trek fanfic "Conference Comms" | Charlie Mitchell's "A Fantasy Land" | Charlie Mitchell's "Sentinels" | Joshua Glenn's "The Lawless One", and the mashup story "Zarathustra vs. Swamp Thing" | Adam McGovern and Paolo Leandri's Idoru Jones comics | John Holbo's "Sugarplum Squeampunk" | "Another Corporate Death" (1) and "Another Corporate Death" (2) by Mike Fleisch | Kathryn Kuitenbrouwer and Frank Fiorentino's graphic novel "The Song of Otto" (excerpt) | John Holbo's graphic novel On Beyond Zarathustra (excerpt) | "Manoj" and "Josh" by Vijay Balakrishnan | "Verge" by Chris Rossi, and his audio novel Low Priority Hero | EPIC WINS: THE ILIAD (1.408-415) by Flourish Klink | EPIC WINS: THE KALEVALA (3.1-278) by James Parker | EPIC WINS: THE ARGONAUTICA (2.815-834) by Joshua Glenn | EPIC WINS: THE MYTH OF THE ELK by Matthew Battles | TROUBLED SUPERHUMAN CONTEST: Charles Pappas, "The Law" | CATASTROPHE CONTEST: Timothy Raymond, "Hem and the Flood" | TELEPATHY CONTEST: Rachel Ellis Adams, "Fatima, Can You Hear Me?" | OIL SPILL CONTEST: A.E. Smith, "Sound Thinking | LITTLE NEMO CAPTION CONTEST: Joe Lyons, "Necronomicon" | SPOOKY-KOOKY CONTEST: Tucker Cummings, "Well Marbled" | INVENT-A-HERO CONTEST: TG Gibbon, "The Firefly" | FANFICTION CONTEST: Lyette Mercier's "Sex and the Single Superhero"