OBAACHAN'S NECKLACE
By: Rimika Solloway
June 30, 2017
This story is published as an adjunct to PROJECT:OBJECT's 25-part series of nonfiction stories about objects of talismanic significance.
*
CONTEST RUNNER-UP!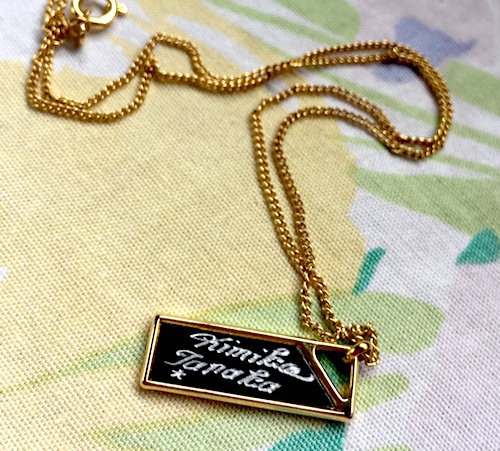 My grandfather Ogiichan was fond of going on trips. He went whenever he could with his friends and work colleagues, leaving my grandmother Obaachan behind to keep house. She didn't mind him travelling so much, but she did ask him to not go away for two or more nights on the trot, because it meant she had to wash more than the average number of pants on his return. After one of his weekends away Obaachan complained — perhaps she was more tired that day than usual — that he never brought her home any gifts, like the neighbor's husband always did when he travelled. Obaachan spoke up more than the usual Japanese wife of her day, reminding me a little of myself.
Upon hearing this Ogiichan sullenly took it to heart. The next vacation he went on was to the Tokyo Trade Expo '85 and that's where the necklace came from. He dutifully gave his wife her omiyage (gift): a golden black-lacquer pendant on a chain, engraved front and back in modish English script: Kimiko Tanaka / EXPO 85. 85.7.27 It's very New Era — before the 1990 crash.
In the classic marital way of things never working out quite right, Obaachan accepted the gift but told him not to buy her any more presents because he should save the money for the children. She tucked the necklace away in a box in a drawer and forgot about it. Thirty years later I discover it whilst on the hunt for a safety-pin, and learned my grandparents' story, which taught me so much about myself.
I live in London, my mother married an Englishman. I can barely speak Japanese and to me kanji is a foreign script. I love Obaachan dearly but I don't understand her — and my life is so foreign in her eyes. Though there's a gulf between us, Obaachan gave me the necklace and I'm wearing it now. We're learning to understand one another.
*
In April and May 2017, we ran a Talisman Story Contest. The stories were judged by PROJECT:OBJECT's Rob Walker and Josh Glenn, and by the legendary Annie Nocenti. Rimika's OBAACHAN'S NECKLACE story was one of three runners-up.
CONTEST-WINNING FICTION: 1. TROUBLED SUPERHUMAN: Charles Pappas's "The Law" | 2. CATASTROPHE: Timothy Raymond's "Hem and the Flood" | 3. TELEPATHY: Rachel Ellis Adams's "Fatima, Can You Hear Me?" | 4. OIL SPILL: A.E. Smith's "Sound Thinking" | 5. LITTLE NEMO CAPTION: Joe Lyons's "Necronomicon" | 6. SPOOKY-KOOKY: Tucker Cummings's "Well Marbled" | 7. PULP HERO: TG Gibbon's "The Firefly" | 8. FANFICTION: Lyette Mercier's "Sex and the Single Superhero"
TALISMANIC OBJECTS series: INTRODUCTION | Veda Hille on CROCHET SHEEP | Gary Panter on DINOSAUR BONES | Jami Attenberg on SELENITE CRYSTAL | Annie Nocenti on MINIATURE DICE | Wayne Curtis on CLOCK WINDING KEY | Judith Zissman on SPINDLE WHORL | Amy Fusselman on BOX OF PENCILS | Josh Glenn on MONKEY WHIMSEY | Mike Watt on DASHBOARD TOTEMS | Gordon Dahlquist on CLAY FOX | Mark Kingwell on ZIPPO | Jennifer Schuessler on BEER-CAN CHAIR | Anne Gisleson on WISDOM TEETH | Ben Ehrenreich on CHROME LUMP | Matthew De Abaitua on HATCHET | Ty Burr on INFLATABLE KING KONG | Jacob Covey on ARGUS COIN | Jessica Helfand on PILL BOTTLE | Shelley Jackson on IMPUNITY JANE | Jennifer Krasinski on LEO'S LIGHTER | Molly Heintz on EVIL EYE | Mark Frauenfelder on MARTIAN FINK RING | Amanda Fortini on PRAYER CARD | Ed Skoog on MAMMOTH IVORY | CONTEST-WINNING STORY: Seth on PEANUTS PAPERBACK.
POLITICAL OBJECTS series: INTRODUCTION | Luc Sante on CAMPAIGN PAMPHLETS | Lydia Millet on PVC POLAR BEAR | Ben Greenman on MATCHBOX CAR | Rob Baedeker on PRESIDENTS PLACEMAT | L.A. Kauffman on WHEATPASTE POSTER | & 20 MORE.
SIGNIFICANT OBJECTS at HILOBROW: PROJECT:OBJECT homepage | PROJECT:OBJECT newsletter | PROJECT:OBJECT objects (Threadless shop — all profits donated to the ACLU) | POLITICAL OBJECTS series (1Q2017) | TALISMANIC OBJECTS series (2Q2017) | ILLICIT OBJECTS series (3Q2017) | LOST OBJECTS vol. 1 series (4Q2017) | FLAIR series (2Q2018) | FOSSIL series (4Q2018). 12 DAYS OF SIGNIFICANCE | 12 MORE DAYS OF SIGNIFICANCE | 12 DAYS OF SIGNIFICANCE (AGAIN) | ANOTHER 12 DAYS OF SIGNIFICANCE . ALSO SEE: SIGNIFICANT OBJECTS website | SIGNIFICANT OBJECTS collection, ed. Rob Walker and Josh Glenn (Fantagraphics, 2012) | TAKING THINGS SERIOUSLY, ed. Josh Glenn (Princeton Architectural Press, 2007) | TAKING THINGS SERIOUSLY excerpts.