TALISMANIC OBJECTS (7)
By: Amy Fusselman
April 11, 2017
One in a 25-part series of nonfiction stories about objects of talismanic significance. This is the second volume in the PROJECT:OBJECT series. Please subscribe to the P:O newsletter; and purchase P:O apparel and accessories — all profits will be donated to the ACLU!
*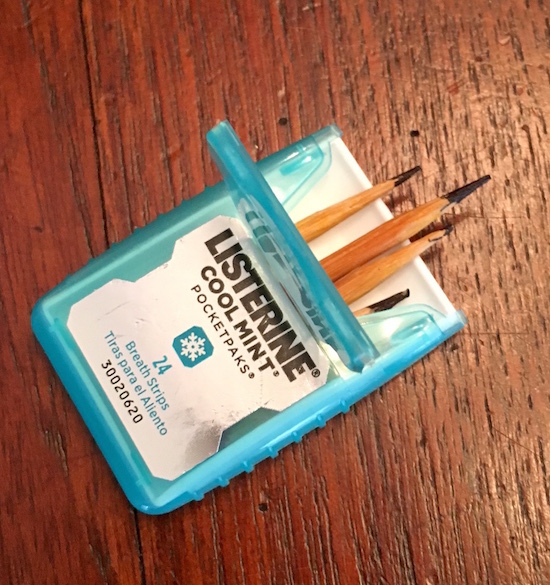 "Art is faith-based, in that it requires you to believe in it to make it work," said the artist and critic David Robbins. I am having something like a crisis of faith in art these days. I am not quite ready to say I don't believe in art, but I am definitely asking questions about it I never asked before.
I was about to start cooking dinner one night when I found that my 8-year-old daughter had made "pencils" out of the bamboo skewers I had bought to make our meal. She had cut them down with scissors, colored them with marker, and then placed them in a cast-off case.
With kabobs off the table, I took her out for Chinese food. Before we left home for the restaurant she asked me if I had the "pencils." I said "yes."
The restaurant had paper tablecloths. We ordered food and then asked the waitress for a ballpoint pen to play hangman.
Our food came and my kid put the pen down. She asked to see her "pencils" and I fished them out of my bag. She placed them in front of her plate and studied them as she chewed.
I have always been attracted to the art world because I thought it was the only real place a person could be free. But that's not correct, I see now. As Robbins observed, it's only a place to freely make art.
What would I make if I didn't automatically assume I had to make art, which in my case has meant to make writing that is art-like? What would I do if I were already free, not just free within that realm?
We finished eating and I paid with my card. My daughter asked to sign the charge slip. I watched her write a word on it that was neither her name nor my name.
I put the "pencils" back in my purse. I carry them around in part to remind me that I can make whatever I want.
*
TALISMANIC OBJECTS series: INTRODUCTION | Veda Hille on CROCHET SHEEP | Gary Panter on DINOSAUR BONES | Jami Attenberg on SELENITE CRYSTAL | Annie Nocenti on MINIATURE DICE | Wayne Curtis on CLOCK WINDING KEY | Judith Zissman on SPINDLE WHORL | Amy Fusselman on BOX OF PENCILS | Josh Glenn on MONKEY WHIMSEY | Mike Watt on DASHBOARD TOTEMS | Gordon Dahlquist on CLAY FOX | Mark Kingwell on ZIPPO | Jennifer Schuessler on BEER-CAN CHAIR | Anne Gisleson on WISDOM TEETH | Ben Ehrenreich on CHROME LUMP | Matthew De Abaitua on HATCHET | Ty Burr on INFLATABLE KING KONG | Jacob Covey on ARGUS COIN | Jessica Helfand on PILL BOTTLE | Shelley Jackson on IMPUNITY JANE | Jennifer Krasinski on LEO'S LIGHTER | Molly Heintz on EVIL EYE | Mark Frauenfelder on MARTIAN FINK RING | Amanda Fortini on PRAYER CARD | Ed Skoog on MAMMOTH IVORY | CONTEST-WINNING STORY: Seth on PEANUTS PAPERBACK.
POLITICAL OBJECTS series: INTRODUCTION | Luc Sante on CAMPAIGN PAMPHLETS | Lydia Millet on PVC POLAR BEAR | Ben Greenman on MATCHBOX CAR | Rob Baedeker on PRESIDENTS PLACEMAT | L.A. Kauffman on WHEATPASTE POSTER | & 20 MORE.
SIGNIFICANT OBJECTS at HILOBROW: PROJECT:OBJECT homepage | PROJECT:OBJECT newsletter | PROJECT:OBJECT objects (Threadless shop — all profits donated to the ACLU) | POLITICAL OBJECTS series (1Q2017) | TALISMANIC OBJECTS series (2Q2017) | ILLICIT OBJECTS series (3Q2017) | LOST OBJECTS vol. 1 series (4Q2017) | FLAIR series (2Q2018) | FOSSIL series (4Q2018). 12 DAYS OF SIGNIFICANCE | 12 MORE DAYS OF SIGNIFICANCE | 12 DAYS OF SIGNIFICANCE (AGAIN) | ANOTHER 12 DAYS OF SIGNIFICANCE . ALSO SEE: SIGNIFICANT OBJECTS website | SIGNIFICANT OBJECTS collection, ed. Rob Walker and Josh Glenn (Fantagraphics, 2012) | TAKING THINGS SERIOUSLY, ed. Josh Glenn (Princeton Architectural Press, 2007) | TAKING THINGS SERIOUSLY excerpts.