TALISMANIC OBJECTS (6)
By: Judith Zissman
April 7, 2017
One in a 25-part series of nonfiction stories about objects of talismanic significance. This is the second volume in the PROJECT:OBJECT series. Please subscribe to the P:O newsletter; and purchase P:O apparel and accessories — all profits will be donated to the ACLU!
*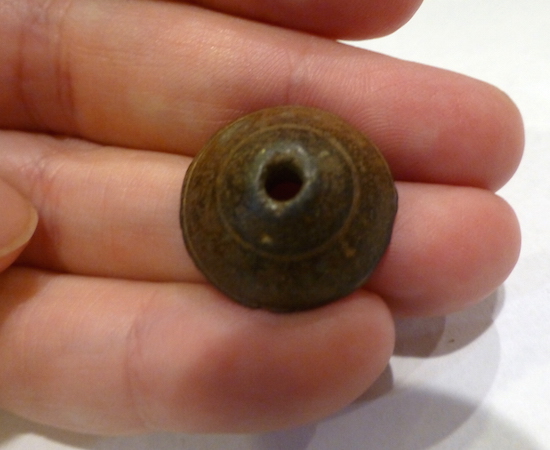 In my bag, next to my laptop and iPhone, is a spindle whorl, a tiny machine that I've never used. One of the first machines invented and used primarily by women, the spindle whorl is a small flywheel that attaches to a spindle and speeds the process of spinning. These small bead-like objects are found in fields, in graves, in the corners of houses, made of bone, metal, clay or glass. The oldest ones date to the fifth century or so, in civilizations from Peru to Morocco to Norway. Mine is from the Middle East, somewhere. I'm not sure exactly how old it is, maybe a thousand years. There is a faint pattern of lines and circles inscribed along each surface and some wear along the edges.
I think often about the woman who used this spindle whorl, how she fitted it to her spindle, what it looked like as the fibers flew through her hands, down to the spindle. How the weight of the whorl held the spindle true and kept a constant spin. How the fiber stretched and twisted on itself to become a thread. If she wove that thread into fabric, if she dyed it with vegetables and flowers, if she sold it at the market. What she understood about the intersections of gravity and centripetal force.
I have had her spindle whorl for more than twenty years now, most of my adult life. Perhaps longer than her adult life.
Future archaeologists will find no trace of my work. I will not be buried with my cloud-based technology platforms. Ethnomusicologists will uncover no work songs about digital strategy. A thousand years after this woman's death, her most valuable object, her livelihood, her creative output is still here. It fits in the palm of my hand.
*
TALISMANIC OBJECTS series: INTRODUCTION | Veda Hille on CROCHET SHEEP | Gary Panter on DINOSAUR BONES | Jami Attenberg on SELENITE CRYSTAL | Annie Nocenti on MINIATURE DICE | Wayne Curtis on CLOCK WINDING KEY | Judith Zissman on SPINDLE WHORL | Amy Fusselman on BOX OF PENCILS | Josh Glenn on MONKEY WHIMSEY | Mike Watt on DASHBOARD TOTEMS | Gordon Dahlquist on CLAY FOX | Mark Kingwell on ZIPPO | Jennifer Schuessler on BEER-CAN CHAIR | Anne Gisleson on WISDOM TEETH | Ben Ehrenreich on CHROME LUMP | Matthew De Abaitua on HATCHET | Ty Burr on INFLATABLE KING KONG | Jacob Covey on ARGUS COIN | Jessica Helfand on PILL BOTTLE | Shelley Jackson on IMPUNITY JANE | Jennifer Krasinski on LEO'S LIGHTER | Molly Heintz on EVIL EYE | Mark Frauenfelder on MARTIAN FINK RING | Amanda Fortini on PRAYER CARD | Ed Skoog on MAMMOTH IVORY | CONTEST-WINNING STORY: Seth on PEANUTS PAPERBACK.
POLITICAL OBJECTS series: INTRODUCTION | Luc Sante on CAMPAIGN PAMPHLETS | Lydia Millet on PVC POLAR BEAR | Ben Greenman on MATCHBOX CAR | Rob Baedeker on PRESIDENTS PLACEMAT | L.A. Kauffman on WHEATPASTE POSTER | & 20 MORE.
SIGNIFICANT OBJECTS at HILOBROW: PROJECT:OBJECT homepage | PROJECT:OBJECT newsletter | PROJECT:OBJECT objects (Threadless shop — all profits donated to the ACLU) | POLITICAL OBJECTS series (1Q2017) | TALISMANIC OBJECTS series (2Q2017) | ILLICIT OBJECTS series (3Q2017) | LOST OBJECTS vol. 1 series (4Q2017) | FLAIR series (2Q2018) | FOSSIL series (4Q2018). 12 DAYS OF SIGNIFICANCE | 12 MORE DAYS OF SIGNIFICANCE | 12 DAYS OF SIGNIFICANCE (AGAIN) | ANOTHER 12 DAYS OF SIGNIFICANCE . ALSO SEE: SIGNIFICANT OBJECTS website | SIGNIFICANT OBJECTS collection, ed. Rob Walker and Josh Glenn (Fantagraphics, 2012) | TAKING THINGS SERIOUSLY, ed. Josh Glenn (Princeton Architectural Press, 2007) | TAKING THINGS SERIOUSLY excerpts.